Best Time To Visit Armacao Dos Buzios
Explore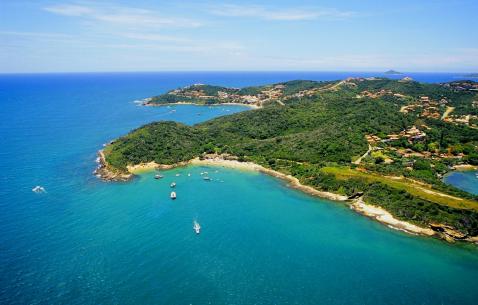 Best Time To Go To Armacao Dos Buzios
Armacao dos Buzios has a tropical climate with warm ocean breeze constant all year round. The rainy season overlaps with winters and sometimes well into summers as well. Winters are rather mild although the summers can creep higher than 30 degrees Celsius. Overall, the warm weather of Brazil is perfect to make even off-season visits worthwhile.
Summer (December to March): Summer season with hot and dry climate even though the humidity is rather high. The average temperature rises up to more than 30 degrees Celsius from November to February, being the warmest period.
Winter (June to October): Most of the rainfall is received during winters which are relatively mild and heavy showers are not uncommon during this time. The average temperature is around 25 degrees Celsius.
Spring(September to November): The brief Spring season with pleasant climate and a mild temperature. This is one of the best time to visit Armacao dos Buzios.
Rainy season: Rains are constant from January to October with an exception in November and April.
The best time to visit Armacao dos Buzios is during November to March.
Best time to go to Armacao Dos Buzios Attractions

: Everyday 10:00 AM - 6:00 PM
: Everyday 10:00 AM - 6:00 PM
: Everyday 10:00 AM - 6:00 PM
: Everyday 10:00 AM - 6:00 PM
: Everyday 10:00 AM - 6:00 PM
: Everyday 10:00 AM - 6:00 PM
: Everyday 10:00 AM - 6:00 PM
: Everyday 10:00 AM - 6:00 PM
: Everyday 10:00 AM - 6:00 PM
: Everyday 10:00 AM - 6:00 PM
: Everyday 10:00 AM - 6:00 PM
: Everyday 10:00 AM - 6:00 PM

: Everyday 9:00 AM - 5:00 PM
: Everyday 9:00 AM - 5:00 PM
: Everyday 9:00 AM - 5:00 PM
: Everyday 9:00 AM - 5:00 PM
: Everyday 9:00 AM - 5:00 PM
: Everyday 9:00 AM - 5:00 PM
: Everyday 9:00 AM - 5:00 PM
: Everyday 9:00 AM - 5:00 PM
: Everyday 9:00 AM - 5:00 PM
: Everyday 9:00 AM - 5:00 PM
: Everyday 9:00 AM - 5:00 PM
: Everyday 9:00 AM - 5:00 PM

: Everyday 9:00 AM - 5:00 PM
: Everyday 9:00 AM - 5:00 PM
: Everyday 9:00 AM - 5:00 PM
: Everyday 9:00 AM - 5:00 PM
: Everyday 9:00 AM - 5:00 PM
: Everyday 9:00 AM - 5:00 PM
: Everyday 9:00 AM - 5:00 PM
: Everyday 9:00 AM - 5:00 PM
: Everyday 9:00 AM - 5:00 PM
: Everyday 9:00 AM - 5:00 PM
: Everyday 9:00 AM - 5:00 PM
: Everyday 9:00 AM - 5:00 PM

: Everyday 8:00 AM - 9:00 PM
: Everyday 8:00 AM - 9:00 PM
: Everyday 8:00 AM - 9:00 PM
: Everyday 8:00 AM - 9:00 PM
: Everyday 8:00 AM - 9:00 PM
: Everyday 8:00 AM - 9:00 PM
: Everyday 8:00 AM - 9:00 PM
: Everyday 8:00 AM - 9:00 PM
: Everyday 8:00 AM - 9:00 PM
: Everyday 8:00 AM - 9:00 PM
: Everyday 8:00 AM - 9:00 PM
: Everyday 8:00 AM - 9:00 PM

: Everyday 9:00 AM - 5:00 PM
: Everyday 9:00 AM - 5:00 PM
: Everyday 9:00 AM - 5:00 PM
: Everyday 9:00 AM - 5:00 PM
: Everyday 9:00 AM - 5:00 PM
: Everyday 9:00 AM - 5:00 PM
: Everyday 9:00 AM - 5:00 PM
: Everyday 9:00 AM - 5:00 PM
: Everyday 9:00 AM - 5:00 PM
: Everyday 9:00 AM - 5:00 PM
: Everyday 9:00 AM - 5:00 PM
: Everyday 9:00 AM - 5:00 PM

: Everyday 9:00 AM - 5:00 PM
: Everyday 9:00 AM - 5:00 PM
: Everyday 9:00 AM - 5:00 PM
: Everyday 9:00 AM - 5:00 PM
: Everyday 9:00 AM - 5:00 PM
: Everyday 9:00 AM - 5:00 PM
: Everyday 9:00 AM - 5:00 PM
: Everyday 9:00 AM - 5:00 PM
: Everyday 9:00 AM - 5:00 PM
: Everyday 9:00 AM - 5:00 PM
: Everyday 9:00 AM - 5:00 PM
: Everyday 9:00 AM - 5:00 PM

: Everyday 8:00 AM - 5:00 PM
: Everyday 8:00 AM - 5:00 PM
: Everyday 8:00 AM - 5:00 PM
: Everyday 8:00 AM - 5:00 PM
: Everyday 8:00 AM - 5:00 PM
: Everyday 8:00 AM - 5:00 PM
: Everyday 8:00 AM - 5:00 PM
: Everyday 8:00 AM - 5:00 PM
: Everyday 8:00 AM - 5:00 PM
: Everyday 8:00 AM - 5:00 PM
: Everyday 8:00 AM - 5:00 PM
: Everyday 8:00 AM - 5:00 PM

: Everyday 8:00 AM - 5:00 PM
: Everyday 8:00 AM - 5:00 PM
: Everyday 8:00 AM - 5:00 PM
: Everyday 8:00 AM - 5:00 PM
: Everyday 8:00 AM - 5:00 PM
: Everyday 8:00 AM - 5:00 PM
: Everyday 8:00 AM - 5:00 PM
: Everyday 8:00 AM - 5:00 PM
: Everyday 8:00 AM - 5:00 PM
: Everyday 8:00 AM - 5:00 PM
: Everyday 8:00 AM - 5:00 PM
: Everyday 8:00 AM - 5:00 PM

: Everyday 24 Hrs
: Everyday 24 Hrs
: Everyday 24 Hrs
: Everyday 24 Hrs
: Everyday 24 Hrs
: Everyday 24 Hrs
: Everyday 24 Hrs
: Everyday 24 Hrs
: Everyday 24 Hrs
: Everyday 24 Hrs
: Everyday 24 Hrs
: Everyday 24 Hrs

: Everyday 9:00 AM - 5:00 PM
: Everyday 9:00 AM - 5:00 PM
: Everyday 9:00 AM - 5:00 PM
: Everyday 9:00 AM - 5:00 PM
: Everyday 9:00 AM - 5:00 PM
: Everyday 9:00 AM - 5:00 PM
: Everyday 9:00 AM - 5:00 PM
: Everyday 9:00 AM - 5:00 PM
: Everyday 9:00 AM - 5:00 PM
: Everyday 9:00 AM - 5:00 PM
: Everyday 9:00 AM - 5:00 PM
: Everyday 9:00 AM - 5:00 PM

: Everyday 1:00 AM - 10:00 PM
: Everyday 1:00 AM - 10:00 PM
: Everyday 1:00 AM - 10:00 PM
: Everyday 1:00 AM - 10:00 PM
: Everyday 1:00 AM - 10:00 PM
: Everyday 1:00 AM - 10:00 PM
: Everyday 1:00 AM - 10:00 PM
: Everyday 1:00 AM - 10:00 PM
: Everyday 1:00 AM - 10:00 PM
: Everyday 1:00 AM - 10:00 PM
: Everyday 1:00 AM - 10:00 PM
: Everyday 1:00 AM - 10:00 PM

: Everyday 8:00 AM - 4:00 PM
: Everyday 8:00 AM - 4:00 PM
: Everyday 8:00 AM - 4:00 PM
: Everyday 8:00 AM - 4:00 PM
: Everyday 8:00 AM - 4:00 PM
: Everyday 8:00 AM - 4:00 PM
: Everyday 8:00 AM - 4:00 PM
: Everyday 8:00 AM - 4:00 PM
: Everyday 8:00 AM - 4:00 PM
: Everyday 8:00 AM - 4:00 PM
: Everyday 8:00 AM - 4:00 PM
: Everyday 8:00 AM - 4:00 PM

: Everyday 1:00 PM - 10:00 PM
: Everyday 1:00 PM - 10:00 PM
: Everyday 1:00 PM - 10:00 PM
: Everyday 1:00 PM - 10:00 PM
: Everyday 1:00 PM - 10:00 PM
: Everyday 1:00 PM - 10:00 PM
: Everyday 1:00 PM - 10:00 PM
: Everyday 1:00 PM - 10:00 PM
: Everyday 1:00 PM - 10:00 PM
: Everyday 1:00 PM - 10:00 PM
: Everyday 1:00 PM - 10:00 PM
: Everyday 1:00 PM - 10:00 PM

: Everyday 9:00 AM - 4:00 PM
: Everyday 9:00 AM - 4:00 PM
: Everyday 9:00 AM - 4:00 PM
: Everyday 9:00 AM - 4:00 PM
: Everyday 9:00 AM - 4:00 PM
: Everyday 9:00 AM - 4:00 PM
: Everyday 9:00 AM - 4:00 PM
: Everyday 9:00 AM - 4:00 PM
: Everyday 9:00 AM - 4:00 PM
: Everyday 9:00 AM - 4:00 PM
: Everyday 9:00 AM - 4:00 PM
: Everyday 9:00 AM - 4:00 PM

: Everyday 9:00 AM - 5:00 PM
: Everyday 9:00 AM - 5:00 PM
: Everyday 9:00 AM - 5:00 PM
: Everyday 9:00 AM - 5:00 PM
: Everyday 9:00 AM - 5:00 PM
: Everyday 9:00 AM - 5:00 PM
: Everyday 9:00 AM - 5:00 PM
: Everyday 9:00 AM - 5:00 PM
: Everyday 9:00 AM - 5:00 PM
: Everyday 9:00 AM - 5:00 PM
: Everyday 9:00 AM - 5:00 PM
: Everyday 9:00 AM - 5:00 PM

: Everyday 8:00 AM - 4:00 PM
: Everyday 8:00 AM - 4:00 PM
: Everyday 8:00 AM - 4:00 PM
: Everyday 8:00 AM - 4:00 PM
: Everyday 8:00 AM - 4:00 PM
: Everyday 8:00 AM - 4:00 PM
: Everyday 8:00 AM - 4:00 PM
: Everyday 8:00 AM - 4:00 PM
: Everyday 8:00 AM - 4:00 PM
: Everyday 8:00 AM - 4:00 PM
: Everyday 8:00 AM - 4:00 PM
: Everyday 8:00 AM - 4:00 PM