Are you thinking of looking for things to do in Aspen on weekends?
Aspen is a ski resort town in Colorado which is known for its outdoor activities. If you are traveling to the United States, you must visit this beautiful ski resort town because it has so much to offer you!

Image Source: wikimedia.org
Check out some of the best places to visit in Aspen mentioned below. There is something for everyone in Aspen! Whether you are a peace lover or you have the need for speed, Aspen has something in store for everyone.
Let's explore 15 best things to do in Aspen:
1. Witness the beauty of Aspen Mountain
The Aspen Mountain is also known as Ajax. This is known for its lovely slopes and picturesque views. If you want to ski, this mountain could be the best place to visit in Aspen. Many skiers fly to Aspen to visit the Aspen Mountain for a fun-filled and exhilarating experience here. The slopes and steeps challenge the most professional skiers. That's the fun part! Do note that these slopes are not a child's play! Even if it is a World Cup champion, they would find it challenging too!
2. Visit the Lovely Maroon Bells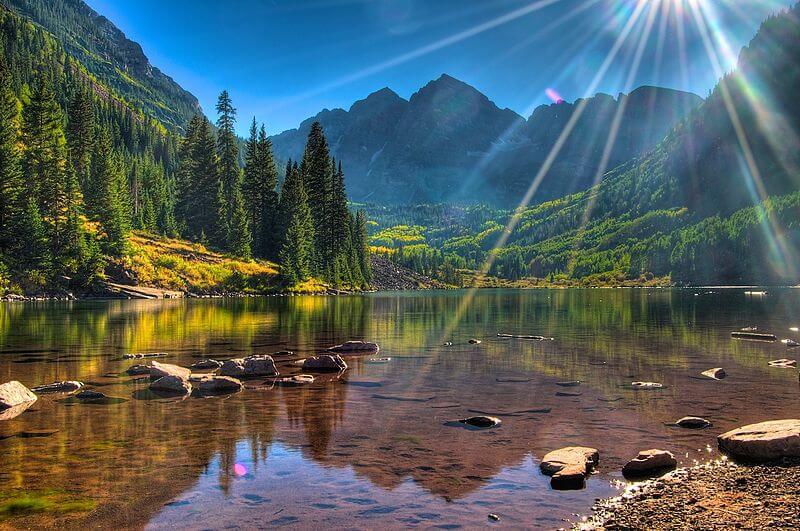 Image Source: wikimedia.org
This is one of the most photographed tourist destinations in Aspen. The beauty of Maroon Bells would mesmerize you and captivate you forever. These are two peaks of the Elk Mountains and the Sunshine falls beautifully on the still water of the Maroon Lake. Take a public bus and reach the Maroon Lake. Once you are here, you would find that the golden sun looks even more beautiful above the Maroon Lake. This is the type of sight you cannot miss for the world.
3. Skiing in Snow Mass, Aspen
Snow Mass has slopes and terrains for skiers of all abilities. If you are a beginner, you can start from here and spend your summer in Aspen. Learning skiing takes patience and a lot of determination. You will fall but you will get up and master the art as well! This is a must do things to do in Aspen.
You will have a terrific time at the Snowmass Park because it is a tourist heaven! Treehouse Kids Adventure Center provides day care and ski lessons. Both kids and adults will enjoy this!
4. Watch a performance at the Wheeler Opera House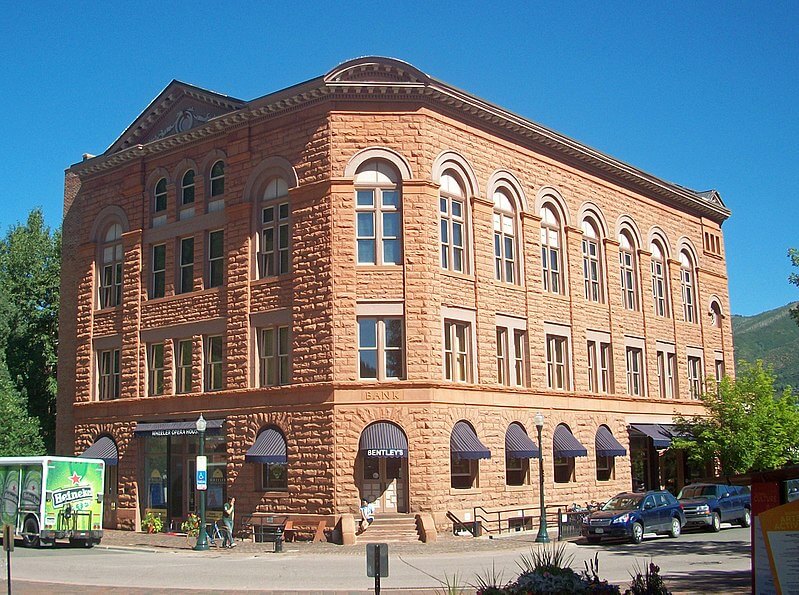 Image Source: wikipedia.org
This beautiful Opera house has seen it all! The Opera house opened its door in the year 1889 and it has beautiful Moroccan leather seats and a blue ceiling which looks charming! Even today, you can watch a performance here as it is the most loved venue for concerts, plays, festivals and movies. This is still one of the popular destionations in Aspen amongst travelers here.
5. Catch a Beer at the Aspen Brewing Company
While you are in Aspen, you must visit the Aspen Brewing Company to taste the finest beer. The famous beers offered by them are Silver Queen, Barrel Aged Temerity and Seasonally Inspired. These are available all over the country. You can visit the Tap Room and taste the fine beer! The atmosphere is lively and you are sure to make good friends over some great beer. In fact you get the chance to meet brewers and get some recipe secrets out of them!
6. Hike and Bike at Rio Grande Trail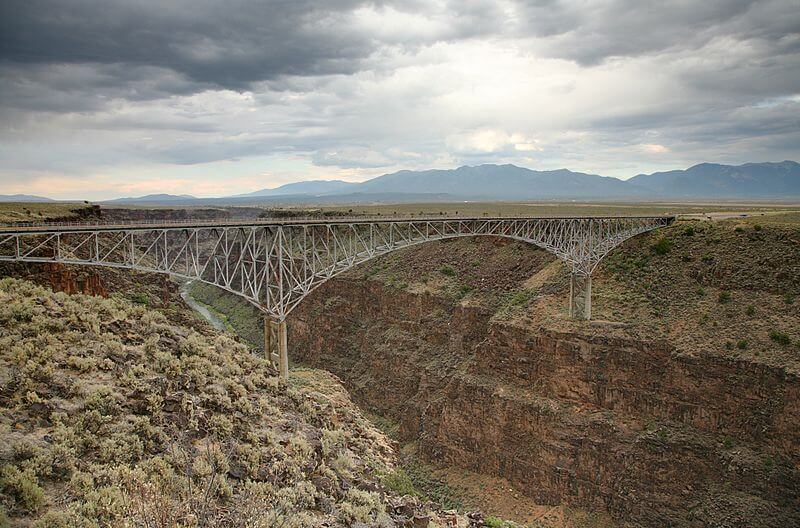 Image Source: wikipedia.org
Rio Grande Trail is the most loved hiking and biking trail. What makes it popular? It is the easiest hiking and biking trail. Also, you can bring your kids along as they would enjoy this the most. The roaring folk river will captivate you! You will find small canyons along the river which adds to the beauty of the place.
7. Paragliding in Aspen
If you are a true adventure lover, you must do paragliding in Aspen. It is a popular thing to do in the ski resort town! You would be soaring up above the world so high and it would be a breathtaking experience. Don't just focus on skiing and try paragliding as well! The pilots are certified and they would make sure that you have a safe and enjoyable experience. You must contact a professional at Aspen, who can offer you this experience. Imagine being above the ground and watching the valleys, rivers and mountain peaks from above! It will be a once in a lifetime experience!
8. Water Rafting at Elk Mountain
If you are thinking that skiing and paragliding is the only adventure that you can enjoy then you are wrong! There is water rafting as well! It is meant for all the adventure junkies, who wish to try all the different adventure activities. The water rafting takes place at the Upper Roaring Folk River. It is ideal for beginners! The Slaughterhouse Falls is challenging and you need to know swimming to try this! Also, you have to be very fit to stay upright for this water rafting experience.
9. Cycling at the Independence Pass
Independence Pass is also known as the Hunter Pass and this place is ideal for cycling. Enjoy the views while you are biking around. This is memrable free things to do in Aspen with friends and family along! This is a high mountain pass and taking your kids along may not be a great idea. Adventure lovers can hike, bike and even camp at the Independence Pass. This is going to be a fun experience for all of you because the Independence Pass is the third highest mountain pass in Colorado.
10. The Best Hiking Trail at Ute Trail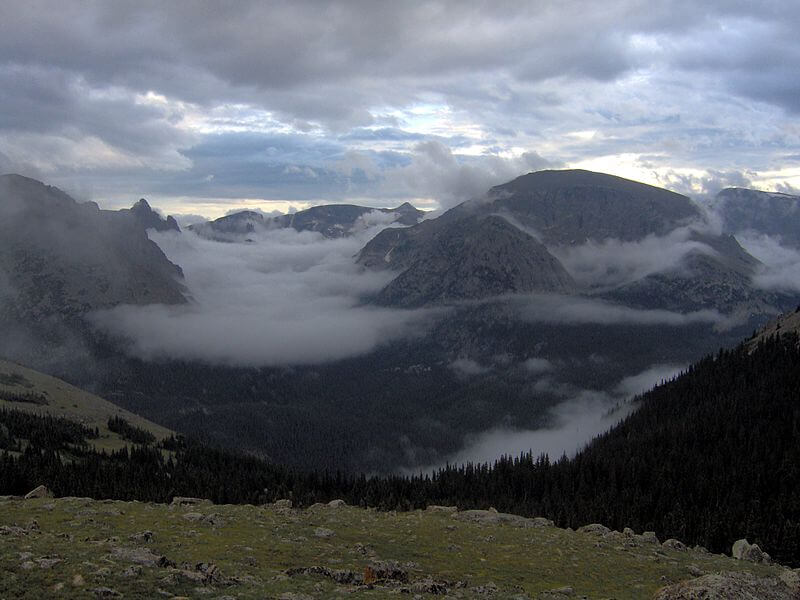 Image Source: wikipedia.org
Ute Trail offers you picturesque views of the mountains. You can do hiking here and enjoy the view. This is going to be the most romantic view and so, you must take your partner along.What makes it beautiful? Well, the skies fall on you and you feel like you are walking on the clouds. If being close to nature is on top of the list then visit the Ute Trail and have a great time hiking here.
11. Fishing in Aspen
After all the adventure, you can try a sport which requires patience and a peaceful time. You can try fishing at the Roaring Fork River, Maroon Creek, Snowmass Lake, Crystal River, Twin Lakes, and Frying Pan River. Fishing is the most enjoyable activity at the Snowmass Mountain. You might just find a friend, who is also trying to catch a fish!
12. Fine Dining at the White House Tavern
When you are in Aspen ski resort town, you must visit the White House Tavern to have dinner and a drink. You get local food at this restaurant and there are gluten-free options available. What's more? This restaurant is vegetarian-friendly and you get a variety of options in the vegetarian section. Additionally, the ambiance is beautiful and you would love to sit here for hours.
13. Dine at Meat & Cheese
This place offers exceptional dining! As the name suggests, you get a number of dishes made of cheese and meat. However, you would find gluten free options as well! Order for a platter of meat and cheese and you would absolutely love the taste of different types of cold cuts and cheese. They have a good wine and beer list as well!
14. Steak at Steak House No 316
Craving for delicious steak? Head to Steak at Steak House No 316. This place is offering lip-smacking food and you can go here for a happy family dinner. It is a bit on the expensive side but you must visit this restaurant for steak and wine. It is great for a romantic dinner as well! Make sure you book a table beforehand because this restaurant is popular!
15. Breakfast at Plato's
How about catching breakfast at Plato's restaurant? The large glass windows offer you a breathtaking view of the snow capped mountains. The food is detailed and it is the view which would captivate you.
Did you love reading it? We loved writing it for you! Aspen is the type of place you can visit a number of times. You would forget all other ski destinations in the world. If you are a keen traveler, do make it a point to visit Aspen and try all the things to do that we listed above.
Make sure you carry a high-quality camera with you. Capture all the fun memories and picturesque views. Happy Holidaying!