Theatre Of Dionysus, Athens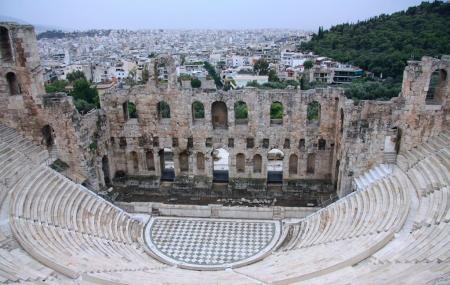 Theatre Of Dionysus - A Quick Overview
[Contribute/Review]
Address: Temple of Dyonysus, Acropolis, Athens, Greece
Phone: +30-2103224625
Ticket Price: 12 EUR
Time Required: 00:30 Mins
Timings: 08:00 am - 05:00 pm Details
Currently Open
Added 64K times in trip plans
Ancient Ruin, Historical Site, Theatre, Architecture
Effortlessly organise your trip plans using the trip itinerary creating tool
Are you associated with this business? Get in touch
About Theatre Of Dionysus, Athens
The Theatre of Dionysus may be a ruin but what a gorgeous ruin that is. The place in its hay days could accommodate a whopping 17000 residents of old Grecia. One of the oldest ones that have seen the light of day, the theatre was said to be the most prestigious in ancient times. Greece has been known as the motherland of drama as an art form. The Dionysus theatre was built at the time when 'drama' or 'theatre' was taking its nascent shape.
It was built in a natural hollow and still retains the main stage and parts of the steps leading up to it. It was built in honor of Dionysus and the performances that took place there were also dedicated to him. The Greek God of Wine and Madness, finds a lovely homage through the sculptures that depict his life, many of which still adorn the place. It is certainly worth the visit due to these carvings while at the Acropolis.
Theatre Of Dionysus Ticket Prices
You can take a combined ticket for all the archeologically important sights and it will prove to be a much cheaper option.
How To reach Theatre Of Dionysus by Public Transport
Restaurants Near Theatre Of Dionysus
Fresko Yoghurt Bar
Daphne's
365
Love this? Explore the entire list of things to do in Athens before you plan your trip.
Fancy a good night's sleep after a tiring day? Check out where to stay in Athens and book an accommodation of your choice.
Theatre Of Dionysus Culture & Theme Based Tours
Theatre Of Dionysus Sightseeing Tours
Theatre Of Dionysus Food & Nightlife Tours
Theatre Of Dionysus, Athens Reviews
If you're a theatre enthusiast or study drama then this is a must-go landmark. One of the first places where theatrical performances were put on to the public and home to some of the most famous plays and playwrights of the Ancient Greek era. It is dainty and not as jaw dropping as the Odeon, however it has a lot of history and is a wonderful place to sit and relax, imagining your in the crowd 1000s of years ago.

Simple but lovely theatre in the grounds of the acropolis. Its part of the multi site ticket you can buy for 30 euro. Would have been fantastic to see a performance here.

Not as well kept as many of the other sights on the Acopolis, but it is still very impressive

The Ancient Greek drama originated here. Located at the foot of the acropolis. The theater can be reached either through the Acropolis or through the entrance to the Acropolis Museum. The theater is relatively well preserved, but the Odeon of Herod Attic who is nearby looks better.

I wish I could experience a performance here, it's just spectacular to think how this was built and how they made their own technology (in a sense).
Read all reviews
Find places near Theatre Of Dionysus, Athens
Piraeus Bank

25ης Μαρτίου 21
View On Map
Τράπεζα Πειραιώς

Λεωφόρος Βενιζέλου Ελευθέριου 167 Καλλιθέα

Alpha Bank

Γκύζη Νικολάου 16

Alpha Bank

Χατζηγιάννη Μέξη 5
View On Map
ΑΣΤΥΝΟΜΙΚΟ ΤΜΗΜΑ ΕΞΑΡΧΕΙΩΝ - Τηλεφωνικό Κέντρο

Καλλιδρομίου 12

Ελληνικη Αστυνομια - Τμημα Ασφαλειασ Ακροπολεωσ - Αξιωματικοσ Υπηρεσιασ

Λεωχάρους 4

Ελληνικη Αστυνομια - Αστυνομικο Τμημα Δαφνησ - Τηλεφωνικο Κεντρο

Λυσίππου 20

Αστυνομικό Τμήμα Εξαρχείων

-

Α.Τ. - Τροχαία Καλλιθέας

Λασκαρίδου 44-46

Διεύθυνση Αστυνομικών Επιχειρήσεων Αττικής

Χίου 8
View On Map
Κυφιδησ Ορθοπεδικοσ Κοσμοσ

Λεωφ. Συγγρού 29

Χατζοπουλου Αννα Νικολαου Στελλα Οε

Σόλωνος 54

Φαρμακαποθήκη Γεώργιος Σαράντης

Βατσαξή 3-5

Frezyderm Abee

Μενάνδρου 75

Λιποβατσ Α. & Σια Ε.Ε.

Σωκράτους 63
View On Map
Salon De Bricolage

Αλωπεκής 9
View On Map
Ioannis Bar

Αθανασίου Διάκου 28-34

Galaxy Restaurant & Bar

Λεωφόρος Βασιλίσσης Σοφίας 46

Oasis Pool Bar And Grill

Λεωφόρος Βασιλίσσης Σοφίας 46

Thea Terrace Bar

Απόλλωνος 21

Alexander's Cigar Lounge

Πλατεία Συντάγματος

Point Of View

Πειραιώς 17-19
View On Map
Gelee Royal - Triplets

Σκουφά 67

Intrepid Fox

Τριπτολέμου 30

Starbucks

Πατριάρχου Ιωακείμ 38
View On Map
Athens Sports Bar

Βεΐκου 3Α

Sports Cafe

Τριών Ιεραρχών 114
View On Map
Chocolat Royal

Αποστόλου Παύλου 27

Fabrica De Vino

Εμμανουήλ Μπενάκη 3

El Convento Del Arte

Βιργινίας Μπενάκη 7
View On Map
Nanou Donuts House

Μεγάλου Αλεξάνδρου 104

Leo's House of Bagels

Αθηνάς 50
View On Map
Creme Royale

Λεωφ. Ελευθερίου Βενιζέλου 136

Δεληολανησ

Λεωφόρος Συγγρού Ανδρέα 100

Λουκουμαδεσ Αιγαιον

Πανεπιστημίου 46

Φούρνος Βενέτη

Ευτυχίδου 32

Press Cafe

Αρριανού 31-33
View On Map
Nespresso Boutique

Κωνσταντίνου Κανάρη 26

Pa|Plou

Πατριάρχου Ιωακείμ 45

Rosebud

Ομήρου 60 και Σκουφά 42

TGI Fridays

Νεοφύτου Βάμβα 2
View On Map
Ice Queen Gelato

Στρατηγού Μακρυγιάννη 9
View On Map
Monte Carlo Net Cafe

Λεωφόρος Συγγρού Ανδρέα 58

Xp Spot

ΚΑΣΟΜΟΥΛΗ 36 ΚΑΙ ΚΛΕΜΑΝΣΩ

Bits And Bytes Αφοι Ρουσσελη Θεοδοσιου Οε

Ακαδημίας 78
View On Map
Fresh Juice Bar

Περικλέους 24
View On Map
Osterman

Πλατεία Αγ. Ειρήνης 10

Centrale

Ευαγγελιστρίας 2

Shamone

Κωνσταντινουπόλεως 46

Chez Michel

Ηροδότου 15 και Καψάλη
View On Map
Hard Rock Cafe Athens

Αδριανού 52

New York Sandwiches

Νίκης 23

Papa George's

Μεγάλου Αλεξάνδρου 4

Home Burger

Λεωφόρος Βουλιαγμένης 258
View On Map
Momo

Κολοκοτρώνη 59 και Λιμπόνα

Wabi-Sabi

Μπενάκη Εμμανουήλ 9

St' Astra East

Λεωφόρος Αλεξάνδρας 10
View On Map
Food Street

Καλαμιώτου 14

Simply Burgers

Αντήνορος 38

Hot Hot Burger Bar

Πραξιτέλους 2

Barrow Burger Bar

Ειρήνης 2
View On Map
China Town

Λεωφόρος Βουλιαγμένης 10

Lou Wai Lou

Νικολάου Πλαστήρα 69

Attic Moon

Ξενοφώντος 10-12
View On Map
Comtesse Du Barry

Σπύρου Μερκούρη 64

Malotira Deli

Απόλλωνος 30
View On Map
Colibri

Εμπεδοκλέους 9-13

Γρηγορησ Μικρογευματα - Coffee Right

Φραγκούδη 9

Η Πιττα Του Παππου

Λεωφ. Αλεξάνδρας 152
View On Map
Johnie Hot Dog

Λεωφόρος Συγγρού Ανδρέα 136

Καντίνα Μιχαλακοπούλου

Μιχαλακοπούλου

Jimmy's Kantina

Πέτρου Ράλλη 2

Βρώμικο Χαμοστέρνας

Χαμοστερνας
View On Map
L'Abreuvoir

Ξενοκράτους 51

Bistrot Le Mignon

Χάριτος 39Β
View On Map
Indian Kitchen

Απόλλωνος 6

Namaste Indian Restaurant

-
View On Map
Malconi's

Πατριάρχου Ιωακείμ 43 & Πλουτάρχου 23

Capanna

Πλουτάρχου 38 και Χάρητος 42

Ciao Italia

Σπύρου Μερκούρη 4

Codice Blu

ΛΟΥΚΙΑΝΟΥ 34 ΚΑΙ ΧΑΡΗΤΟΣ 15Α

Montalbano

Κολοκοτρώνη 12

Pizza Chalet

Δημοσθένους 75
View On Map
Rincon Mexicano

Δημητρακοπούλου 5

SOUVLAKI HECHO EN MEXICO Μεξικάνικη - Κουβανέζικη Κουζίνα

Γαργηττίων 19

Etnico

Κολοκοτρώνη 22 και Χαβρίου
View On Map
Cross

Βασιλέως Αλεξάνδρου 5-7

Eat At Milton's

Αδριανού 91
View On Map
Pizza Hut

Λεωφόρος Αλεξάνδρας 108

Pizza Hut

Λ. Ελευθερίου Βενιζέλου 62

L'Artigiano

Αγ. Σοφίας 40

Domino's Pizza

Ερατοσθένους 2

Ciao Italia

Λεωφόρος Συγγρού Ανδρέα 133
View On Map
Milos

Λεωφόρος Βασιλέως Αλεξάνδρου 1 και Λεωφόρος Βασιλίσσης Σοφίας

Αϊ Νικόλας

Λεωφόρος Συγγρού 156

Milos Restaurant

Λεωφ. Βασιλίσσης Σοφίας 46

Λίγο... Θάλασσα

Πλατεία Μεσολογγίου 6

Παλαια Ιθακη

Αγίας Φιλοθέης 2
View On Map
Γυριστρουλα

Πλατεία Αγίων Ασωμάτων 9

Κώστα

Πλατεία Αγίας Ειρήνης 2

Ντερλικατέσεν

Τσακάλωφ 14

Piggy-πόπουλο

Αρχελάου 16

Βύρωνας Grill

Μεσολογγίου 46
View On Map
Freud Oriental

Ξενοκράτους 21

The Sushi Bar

Στίλπωνος 2

Nakama Casual Sushi Bar

Μασσαλίας 5

Yoko Sushi & Bento

Πατριάρχου Ιωακείμ 39
View On Map
Tamarind Thai Kitchen

Κεραμεικού 51

Blue Bamboo

Κυδαντιδών 24
View On Map
Shell

Λεωφ. Ελευθερίου Βενιζέλου 2

Βενζιναδικο Bp - Στελλασ Κωνσταντινοσ - Αθηνα

Ράλλη Πέτρου 14

Bp - Κουφοσ Δημητριοσ Kai Σια Εε

Λεωφόρος Βουλιαγμένης 60
View On Map
Σταθμοσ Αυτοκινητων Συνταγματοσ

Ναύαρχου Νικόδημου 4-6 & Φιλελλήνων 12

Polis Park-Νέα Σμύρνη

Πλατεία Καρύλλου Αθανάσιου Νέα Σμύρνη

Parking Land

Αιγαίου 1 & Λεωφ. Συγγρού 137

City Park Σταθμοι Αυτοκινητων

Λυκαβηττού 3Γ

Metropark

Μητροπόλεως 23 & Πατρώου 8
View On Map
Κτελ Νομου Αττικησ

ΚΟΤΣΙΚΑ 2

Αφετηρία ΚΤΕΛ Δυτικής Αττικής

Πλατεία Ασωμάτων

Sygrou Bus Stop

Αθανασίου Διάκου 16
View On Map
The Athenian Callirhoe Exclusive Hotel

Λεωφ. Καλλιρόης 32 & Πετμεζά, Αθήνα 117 43

Hermes Hotel

Απόλλωνος 19

Marble House

Ζιννη Αναστασιου 35

Alice Inn Athens

Τσάτσου Κωνσταντίνου 9

Ilion Hotel

Αγίου Κωνσταντίνου 7, Πλατεία Ομονοίας 104 31
View On Map
Athens Backpackers

Μακρή 12

Dioskouros Hotel

Πιττακού 6

Athens International Youth Hostel

Βίκτωρος Ουγκώ 16

AthenStyle

Αγίας Θέκλας 10

The Student & Travellers Inn

Κυδαθηναίων 16
View On Map