25 Best Things To Do in Athens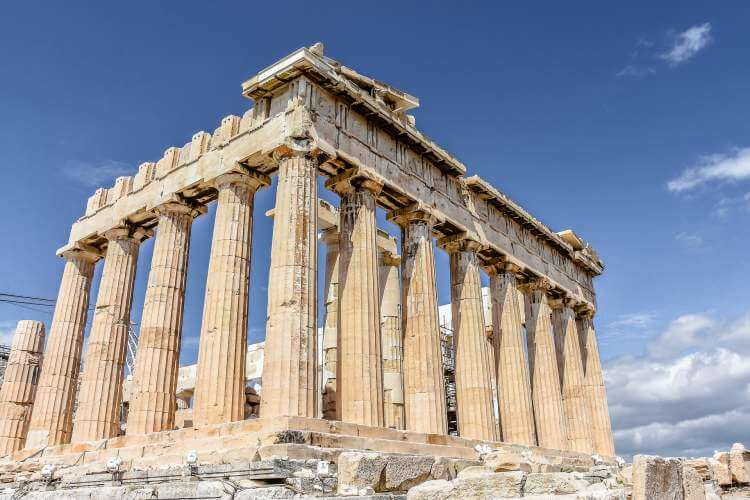 Image Source: pixabay.com
Known as the world's ancient city, Athens in Greece is every history buff's heaven. From Byzantine to Roman, we get an insight into various eras as we explore the many ruins in the capital Greek city. While showcasing heritage at every corner, Athens does not fall back in disclosing its modern times. Walk through its age-old neighbourhoods like Plaka and you will see the olden times, and a simple stroll through the buzzing Psiri neighborhood makes you see the hub of Greek youth. With a plethora of things to do in Athens, you have a lot to explore during your vacation here.
Let's explore the best things to do in Athens:
1. See numerous ancient remains at Acropolis of Athens
Located on a rocky hill, Acropolis of Athens is an ancient citadel, dating back to 510 and 400 BC. Popularly known as The Acropolis, this is the place where you will come across famous ruins of historic buildings that represent architectural achievements during olden times. A few of these buildings include the Parthenon, Temple of Athena Nike, and the Erechtheion. You can visit Acropolis of Athens on any day of the week, except for special holidays in Greece. It is open between 8:00 AM to 5:00 PM and can be accessed at a ticket price of 22 USD per person. Hiking to The Acropolis early morning and then exploring it till noon lies amongst the best things to do in Athens in one day.
2. Be impressed by the classic Greek architecture of Parthenon
The Parthenon is an ancient Greek temple in Athens which was built in between 447 BC and 438 BC. Located within the Acropolis of Athens, Parthenon is the most significant building amongst all others. It exhibits the classic Greece style of architecture and was decorated with sculptures that exemplify spectacular Greek art. The temple is primarily dedicated to goddess Athena of Athens and was also turned into other places of worship like Christian church and mosque in the subsequent years. During the Venetian bombardment in 1687, Parthenon was severely damaged. Later, its sculptures, known as Parthenon Marbles, were sold in 1816 to be displayed in the British Museum in London.
3. Visit Acropolis Museum to marvel at the ancient art
Acropolis Museum in Athens was founded in 2003 and was opened to public in 2009. This archaeological museum houses all the artifacts that are found on the Acropolis of Athens' rocky hill and the surrounding slopes. Located over the ruins of a part of Roman and former Byzantine Athens, it is spread over an area of 14,000 square meters. The museum houses more than 4,000 artifacts that belong to the Greek Bronze Age, the Roman Empire, and the Byzantine Empire. The Acropolis Museum itself is a state-of-the-art facility and has won many awards for architecture and design. One amongst the top Athens Greece points of interest, the Acropolis Museum should be added to your Athens vacation itinerary without fail.
4. Admire the Ionic architectural style of Erechtheion
Erechtheion is another ancient Greek temple located within the Acropolis of Athens. The temple was built in between 421 BC to 406 BC, and represents the Ionic style of architecture. It is predicted to be designed by the architect Mnesicles. Erechtheion was primarily a Greek temple dedicated to Athena and Poseidon, but later served as a church, a palace, and then a residence of the Turkish commander's harem during the Ottoman Period. The most spectacular part of the temple is the Porch of the Caryatids which has finely sculpted statues as supporting columns. However,the sculptures you see today at the temple are replicas, while the originals ones are showcased at the Acropolis Museum.
5. See the old gathering place at Ancient Agora of Athens
Located beneath the northwest slope of The Acropolis, Ancient Agora of Athens exemplifies a Greek agora which equals to a marketplace. The Ancient Agora was founded in the 6th century BC and houses many historical ruins. It served as a commercial and residential gathering place for more than 5000 years. Dipped in rich history, here you will find ruins of many buildings, structures, and other notable monuments. These include peristyle court, Agora stone, Monument of the Eponymous Heroes, Stoa of Zeus, Altar of the Twelve Gods, Temple of Ares, a synagogue, and many more. Amongst these ruins, there are two well-preserved buildings at the archaeological site that give you an insight into the Greek glory. These are the Temple of Hephaestus belonging to the classical Athens era and the Stoa of Attalos which was reconstructed between 1952-1956.
6. Praise the extensive art collection at Benaki Museum
Benaki Museum in Athens was established in the year 1930 and is a place which focuses on exhibiting the Greek culture. It has thousands of artifacts that range from prehistoric to modern times. These include paintings, drawings, engravings, ancient Greek and Roman artwork, post-Byzantine and modern artwork, and Byzantine art. Benaki Museum initially housed an extensive collection of Chinese and Islamic art as well. However, it later expanded to form various branches and shifted these exhibits to the satellite museums. Established by Antonis Benakis, the Benaki Museum is accommodated in the Benakis mansion located in downtown Athens, Greece.
7. Travel back to the antique Greek world at National Archaeological Museum
Established in the year of 1829, National Archaeological Museum in Athens is considered to be one of the best museums in the world with an extensive collection of artifacts. Showcasing the Greek antiquity, this museum houses thousands of exhibits that date back from prehistoric era to late antiquity. The artifacts are displayed under various sections such as sculptures section, prehistoric collection, Santorini collection, vase and minor objects collection, Egyptian and near Eastern antiquities collection, metallurgy collection, and epigraphical collection. The building of National Archaeological Museum is constructed in neoclassical style of architecture. There is a large garden in front designed in the same style and beautified with many sculptures. One of the best things to do in Athens is visiting this museum.
8. Be a spectator at Odeon of Herodes Atticus
Located on the southwest slope of The Acropolis, Odeon of Herodes Atticus is a huge stone amphitheater, first built in 161 AD. The theater was built by Greek aristocrat Herodes Atticus. It boasted of a capacity of 5,000 and served as a prime venue for concerts, until it was ruined in 267 AD by the Herules. The ancient three-storey front wall stands to showcase ruins of the old stone theater. Herodes Atticus Theater exhibits the classical style of architecture. Odeon of Herodes Atticus was restored in 1950 using Pentelic Marble and has been the main venue of Athens Festival ever since. Many renowned artists have performed at this amphitheater including Alicia de Larrocha, George Dalaras, Diana Ross, Haris Alexiou, and many more.
9. Stroll through the galleries of Museum of Cycladic Art
Another great place to witness prehistoric art is the Museum of Cycladic Art, centrally located in Athens. The museum was established in 1986 and showcases Greek and Cycladic art collected Nicholas and Dolly Goulandris. These artifacts were collected from the Cyclades islands of the Aegean Sea. The building of the museum was designed by Ioannis Vikelas - a well-known Greek architect. It was expanded in 1991 with the acquirement of Stathatos Mansion which houses the temporary exhibitions of Museum of Cycladic Art. The mansion is designed in neoclassical style of architecture. Although the museum is small, it has an extensive collection of Cycladic art.
10. Meander through the ancient Greek neighborhood - Plaka
To soak in the history and culture of Athens, Greece, one must explore its historic neighborhood called Plaka. This is the oldest part of the city and is located on northern and eastern slopes of The Acropolis. Walking along the quaint streets of this neighborhood, you will come across beautiful neoclassical structure at every corner. Plaka has many museums located within and is visited by thousands of tourists every year. It is also a prime archaeological site where excavations continue till this date. Anafiotika is another beautiful neighborhood, which is a part of Plaka. The streets here are line with tiny houses and different structures that are built in Cycladic style of architecture. One of the best things to in Athens at night is to sit on terraces of these cubic houses and drink in the city views.
11. Indulge in the Byzantine art at Byzantine and Christian Museum
Byzantine and Christian Museum in Athens was established in the year of 1921. Known to be one of the best museum in the world to showcase Byzantine art, it houses more than 25,000 exhibits. These include antique collection of pottery, manuscripts, pictures, frescoes, fabrics, scriptures, and replicas of artifacts. All these antiquities are from the 3rd century AD to the late medieval era. It is conveniently located at Vassilissis Sofias Avenue in Athens. Byzantine and Christian Museum is surrounded by gardens that only bear fruit trees and flowering plants, but also has three exhibition stands. There is even a cafe-restaurant, named Ilissia, serving delicious cuisines. You may also buy certified copies of all the exhibits in the museum from their shop.
12. Be stunned by the architectural vastness of Temple of Olympian Zeus
Temple of Olympian Zeus is considered to be one of the most important archaeological site in Athens, Greece. The construction of this enormous monument, which started in 6th century BC, was finished in 2nd century AD during the Roman Empire. It took around 638 years for the construction to get completed due to various reasons. It was known to be the largest temple in Greece, having 104 massive columns, during the Roman era. The temple then housed one of the largest cult statues in the ancient world. It was, however, destroyed by the Herules in 267 AD. Now, the Temple of Olympian Zeus has only 16 surviving columns that come quite close to giving you an idea about its enormity.
13. Hike up to the top of Mount Lycabettus
Besides offering a number of historical places to visit, Athens also presents the opportunity of a good hike. Mount Lycabettus has easy winding trails that can be hiked within 15-20 minutes to reach the top. At the peak, you will be welcomed with panoramic views. While the base of the hill is covered in pine trees, its top has a huge amphitheater, a 19th century Chapel of St George, and a restaurant. Mount Lycabettus is a cretaceous limestone hill and is 300 meters above sea level.
14. Take a leisure walk through the National Garden
Created in 1838, National Garden in Athens was formerly known as Royal Garden. It is spread over an area of 38 acres and can be visited any time between sunrise and sunset. The National Garden also has many ancient ruins within its premises. Other features to see upon visiting this garden include mosaics, tambourines and Corinthian capitals of columns, bust of Ioannis Kapodistrias, and bust of the Greek poet Dionysios Solomos. The monument of Lord Byron is also quite notable in the National Garden. The most attractive feature of this garden are the 12 palms at its entrance. Exploring this garden is one of the fun things to do in Athens with dear ones.
15. Visit the Olympic center, Panathenaic Stadium
Built entirely in marble, Panathenaic Stadium is a multipurpose stadium in Athens. It is built on what used to be a racecourse during the 6th century BC. Panathenaic Stadium was first built in limestone in 330 BC and then reconstructed in 114 AD by Herodes Atticus. It was then that the stadium got rebuilt in marble. It underwent renovation in 1896 and it holds a capacity of around 50,000. Panathenaic Stadium was previously used to host Panathenaic Games. It is the last place from where the Olympic flame is given to the host nation. It has also hosted the first modern Olympic games in 1896 and has been the venue for Olympic 2004.
16. Get an insight into Roman Empire at Roman Agora
Roman Agora is another interesting point of interest in Athens presenting many ancient ruins from the Roman Empire. The ruined buildings and structures found at this ancient marketplace date back to 15 BC. A few of the notable ruins found here include Tower of the Winds, Gate of Athena Archegetis, East Propylon, and Fethiye Mosque. After excavation of Roman Agora, it is known that the place had a fountain to its east, shops and an Ionic entrance to its east, and a Doric entrance to its west. The most attractive feature of this place is the row of ancient marble columns.
17. Watch a classic movie outdoor at Thiseion Cinema
Athens is home to multiple outdoor movie theaters and Thiseion Cinema is one of the oldest Summer theater. It was built in 1935 and has been ever since providing the wonderful experience of watching cinema outdoors in Athens. The theater is very well maintained by the Maniaki family who make sure that the visitors have a great time here. The theater is located just below the Acropolis of Athens. Watching a classic movie under the stars at Thiseion Cinema defines the nightlife in Athens.
18. Spend some quiet time at Church of Panagia Kapnikarea
Considered to be one of the oldest church in Athens, Church of Panagia Kapnikarea is predicted to be built around 11th century. It is a Greek orthodox church and is centrally located, along the busy Ermou street in Athens. The arresting feature of the church are the Byzantine frescoes and the mosaic of the Madonna and child at the south portico. The church is a complex of three different units that are the chapel of St Barbara, a church to the south, and the exonarthex with the propylon.
19. Shop until you drop Monastiraki Flea Market
All the things to buy in Athens, Greece, can be found at Monastiraki Flea Market. This huge marketplace has a variety of stores selling a wide range of products. From books to replicas of artifacts, from busts of deities to football jerseys, you will find it all here. Monastriraki Flea Market compels you to go on a shopping spree and allows you to test your bargaining skills. The best time to visit the flea market is Sunday. Monastiraki Flea Market hours are marked from 8:00 AM to 6:00 PM. Visit it any time between these hours and return with a bagful of gifts and souvenirs from Athens.
20. Observe the architectural grandeur of Temple of Hephaestus
Located within the Ancient Agora of Athens, the Temple of Hephaestus is an age-old Greek temple. It is a well-preserved ancient building which was constructed between 449 BC and 415 BC. The temple is built using pentelic and parian marble, and exhibits Doric style of architecture. A few of the major features of the Temple of Hephaestus are the cella, the portico, and opisthodomos. The cella houses cult images at the center of the structure. The temple also served as a Christian church around 700 AD.
21. Watch the changing of guards at Syntagma Square
Located in front of the Old Royal Palace, Syntagma square is a huge central square in Athens, Greece. Situated in the heart of the city, the square is considered to be an important landmark. It was created in the 19th century, under the rule of King Otto. It has the Old Royal Palace and National Gardens as the nearest attractions. Other famous attractions in Athens that lie within a walking distance from Syntagma Square include Plaka, Tower of the Winds, Mount Lycabettus, Arch of Hadrian, The Acropolis, and many more. The Old Royal Palace, across the square, houses the Greek Parliament. Although it is not open to public, one of the interesting routine to observe here is the changing of guards. Every morning at 11:00 AM, tourists gather in the Syntagma Square to witness this ceremony.
22. Indulge in some delectable Athenian food at Spondi
Spondi is a two Michelin star restaurant in Athens, Greece. This upscale restaurant is the right place to embark on an Athenian gastronomic journey. With a stone vaulted dining room and a courtyard, Spondi offers the most elegant setting for a fine dining experience in Athens. It was started in 1996 and has been serving artistic flavorful dishes ever since. One must try their wine dessert which is a favorite amongst all the customers. With an extensive menu, serving wide range of delicious dishes, Spondi classifies as one of the best restaurants in Athens, Greece.
23. Hangout with your companions at Psiri
Psiri is a neighborhood in Athens, Greece, that is best to see the city of modern times. The beautiful streets are lined with many restaurants, bars, and trendy shops. One of the fun things to around Athens, Greece, is strolling through the streets of Psiri. The hidden alleys, street art, traditional restaurants, and artisans workshops in this neighborhood, make it a favorite place amongst youngsters. The small buzzing bars here make the nightlife in Athens even more vibrant.
24. Spend some time in harmony at Church of the Holy Apostles
Church of the Holy Apostles is another surviving structure within the Ancient Agora of Athens. Its creation can be traced back to late 10th century. The temple is considered to be one of the significant churches during the middle Byzantine era in Athens. It is also known as the Holy Apostles of Solaki and is predicted to be named so after the family name of the renovation sponsorer. The Church of Holy Apostles underwent renovation in the subsequent years of 1954 and 1957. Once inside the church, you can see a few paintings that date back to the 17th century.
25. Be at the oldest amphitheater - Theater of Dionysus
Known to be the first ever built theater, the Theater of Dionysus is considered as one of the important points of interest in Athens, Greece. It dates back to the early 6th century BC and is dedicated to Dionysus - the God of plays and wine. It holds a capacity of 17,000 and has been hosting performance ever since its creation. What you see today, mostly belongs to 4th century BC, with parts of renovations carried out in later years. The seats here are made of marble. With excellent acoustics, the Theater of Dionysus served as a perfect venue for the festival called Great Dionysia in the ancient times.
Are you looking for a Athens travel itinerary? Create an itinerary within minutes, on your own!
Top-Rated Tourist Attractions in Athens, Greece
Must see places in Athens ranked on popularity. Here is the complete list of best attractions in Athens and point of interests to visit.
Tourist Attractions Near Athens
Find Your Athens Attractions on Map
Types of Things To Do in Athens
Find more attractions and places to visit in Athens under these things to do categories.
Top Athens Activities And Tours
Explore the best things to do in Athens. These are the most preferred tourist activities.
Find more places to see in Athens
Ρωμαϊκή Αγορά Αθηνών

Οδός Πελοπίδα & Αιόλου

Historic and Protected Sites

Propylaea

Historic and Protected Sites

Ωδείο Ηρώδου Αττικού

Πεζόδρομος Διον. Αρεοπαγίτου

Historic and Protected Sites

Αρχαία Αγορά Αθηνών

Αδριανού 24

Historic and Protected Sites

Theatre of Dionysus Eleuthereus

Νότια κλιτύς Ακροπόλεως

Historic and Protected Sites

Παρθενώνας

Βράχος Ακρόπολης

Historic and Protected Sites
View On Map
Λίμνη Μαραθώνα

Τεχνητή Λίμνη Μαραθώνα

Lakes
View On Map
Αρχαιολογικο Μουσειο Πειραια

Τρικουπη Χαρ. 31

Museums

Πολεμικό Μουσείο

Ριζάρη 2

Museums

Μουσείο Γουλανδρή Φυσικής Ιστορίας

Λεβίδου 13

Museums

Εβραϊκό Μουσείο Ελλάδος

Νίκης 39

Museums

Ξενοδοχείο St George Lycabettus

Κλεομένους 2

Museums

Νομισματικό Μουσείο

Ιλίου Μέλαθρον, Ελ. Βενιζέλου (Πανεπιστημίου) 12

Museums
View On Map
Allou Fun Park

Κηφισού & Πέτρου Ράλλη

Amusement Parks

Volta Fun Park Σπατα

Amusement Parks

Playmobil Fun Park

Amusement Parks

Athens Holiday Park - Mec Παιανιασ

Λεωφόρος Λαυρίου 301

Amusement Parks

Destiny

Amusement Parks

Cafes, Coffee and Tea Houses
View On Map
Stars

Αγίου Ιωάννου 69

Cafes, Coffee and Tea Houses

Bars

360 Degrees

Ηφαίστου 2

Bars

Restaurants

Terra Petra

Θέατρο Πέτρας

Cafes, Coffee and Tea Houses

Bars

Night Clubs

Notos

Λεωφόρος Καραμανλή Κωνσταντίνου 12

Restaurants

Bars

Cafes, Coffee and Tea Houses

George's Steak House

Κωνσταντινουπόλεως 4-6

Bars

Steakhouses

Bartesera

Κολοκοτρώνη 25

Bars

Night Clubs
View On Map
Regency Casino Mont Parnes

Πάρνηθα

Casinos and Gaming

Casinotravel

25 Κωνσταντινουπόλεως

Casinos and Gaming
View On Map
Βουνό Αγία Μαύρα

Dog Parks

Παρκο Κάτω Πατήσια

Dog Parks

Dog Park

Πανόρμου

Dog Parks
View On Map
Votsalakia

Πλαζ Βοτσαλάκια

Beaches

Μικρό Καβούρι

Παραλία Μικρό Καβούρι

Beaches

Astir Beach Volley

Beaches

Παραλία Νέας Μάκρης

Παραλία Νέας Μάκρης

Beaches

Astir Beach Club Vouliagmeni

Beaches
View On Map
Ιπποκαμποσ

Ηρώων Πολυτεχνείου 146 Ελευσίνα

Hunting and Fishing

Alfa Game

Αγίου Δημητρίου 61 Πειραιάς

Hunting and Fishing

Terra Mare

Λεωφόρος Ομηρίδου-Σκυλίτση 2 & Ευαγγελιστρίας 1 Πειραιάς

Hunting and Fishing

Sport Fishing Center

Λ ΕΛΕΥΘΕΡΙΑΣ 5

Hunting and Fishing

Kartelias

Λεωφόρος Βουλιαγμένης 44

Hunting and Fishing

Πεππασ Παναγιωτησ Α.

Ξάνθου 3

Hunting and Fishing
View On Map
K1 & K2 Oaka

Stadiums and Arenas

Olympic Velodrome

Λεωφ. Κηφισίας 37

Stadiums and Arenas

SEF - Peace & Friendship Stadium

Λεωφ. Εθνάρχου Μακαρίου

Stadiums and Arenas

Athletic Football Center

Εριφύλης 9

Stadiums and Arenas

Γήπεδο Απόστολος Νικολαΐδης

Λεωφ. Αλεξάνδρας 160

Stadiums and Arenas

Κλειστό Περιστερίου "Ανδρέας Παπανδρέου"

Stadiums and Arenas
View On Map
What To Do in Athens: Day-Wise Ideas
Find what not to miss in Athens! Recommended Athens itineraries and vacation ideas created by travelers across the world.