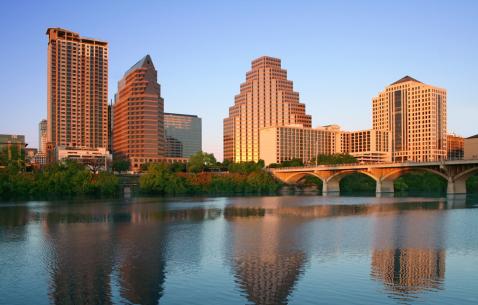 Imagine standing atop a bridge, the breeze in your hair while the setting sun, gently moving downwards, lends a mellow orange tinge to the evening sky. As it sets deeper into the water and the skies darken, stray slivers of wind tickle your neck and as you turn your head, you see a barrage of bats screeching and swirling into the sky above... Welcome to the weird city! Austin, as it's more commonly known, is a big, beautiful metropolis that's got something for everyone to appreciate. A few days here and you'll see what makes Texas's capital city so unique, its flora and fauna so special and its population so diverse. Whether you're athletic, artistic, intellectual and fashionable, a techie, a wannabe entrepreneur or a foodie, you'll find this city has exactly what you want, and then some! The 'Under 30' crown find Austin particularly attractive, since it's home to all kinds of concerts, musical scenes, crazy resto-pubs that enhance the Austin nightlife, colleges and its international reputation as a hub for start-ups and technology. The older crowd has tons of fun too as the city offers up all kinds of fascinating museums, serene nature reserves and parks and even clubs themed around retro night, where you can go square dancing!
Historically, Austin's always been a prominent player in the Texan state. The area was inhabited as long ago as 9200 B.C and was home to numerous indigenous tribes, until the onset of European settlers. During 1835 – 1836, the Texans fought and won independence from Mexico and became its own country, called the 'Republic of Texas'. It's around this time the locals decided that the scenic area of Waterloo would be an ideal capital, and thus 'Austin' was born. The area's population was low and the city, unassuming, until after the Amercan Civil War. It was in this post war period that Austin suddenly grew in terms of population and economy, and the opening of the Houston and Texas Central Railway further cause the city to grow at an exponential rate. Soon, Austin was a major trading center and as the years went by, the city became home to the world's 7th largest building, the University of Texas and numerous other now famous institutions. It was an important mid twentieth century high-tech hub, and it holds this moniker even today. Music hit Austin with full force during the 70's with legends like Willie Nelson and Stevie Ray Vaughn hailing from the city. Austin tourism welcomes you on a musical note!
Today, Austin is the 11th most populated city in the United States and one of the fastest growing. Its residents like being called 'Austinites' and are comprised of hard working government employees, a smorgasbord of hip college students from all over the world, musicians, IT professionals, blue caller workers and entrepreneurs. The city is the headquarters of numerous famous technology companies, Apple Inc., eBay, Google, IBM and Intel, to name a few.
Austin's vacation planner is full of parks and nature preserves, many of them courtesy of Texas natives' former president Lyndon B Johnon and the former first lady Ladybird Johnson. Ladybird Johnson specifically ensured that the city's natural foliage and animal life was preserved, making many of the parks and gardens in Austin highly important to the conservation of indigenous Texan plant life and natural beauty. The city itself has numerous monikers and slogans, ranging from 'Keep Austin Weird', 'Violet Crown', 'Silicon Hills' and 'The Live Music Capital of the World', which should tell you about the kind of independent, unusual spirit the city has fostered and is famous for. It was even ranked as the second safest major city in the United States. With all this going on, it's no wonder that the city is slowly becoming increasingly popular amongst tourists.
A trip to Austin promises to be action packed and fun for all kinds of people. Nature lovers, athletes and biking buffs will find the city a delight, and should start their visit at the famous Lady Bird Lake Trail, which is also a great place to get your bearings of the city. It circles a serene waterway, that cuts right through the heart of Austin and links to some of the city's greenest places such as Zilker Park and Barton Springs, where you can unleash you inner water baby. There's the Lady Bird Johnson Wildflower Center, filled with the finest samples of the city's naturally growing wild flowers. McKinney Falls State Park will take you on a journey to a cave, surrounded by small waterfalls. The Austin Zoo and Westcave Preserve will help you get in touch with the city's animal population, all looked after by doting and devoted volunteers, in clean environments. If it's a bite of Austin history you're after, the State Capitol building, the vast LBJ Presidential Library, the uniquely entertaining and enlightening Texas Military Forces Museum and the State History Museum will satisfy your cravings, the latter fully equipped with 3-D displays and a theater. Artistically inclined folks will adore the four storied graffiti-d work of art that is the HOPE Outdoor Gallery, a symbol of exactly how youthful and artistic the city really is.
The Umlauf Sculpture Garden and Museum is another artistic treasure chest, filled with flowers and statuettes of extraordinary beauty. For those who love and appreciate the quirky, Austin has two stellar examples of just that; the bat population under the Congress Avenue bridge that take flight every evening and the unique 'Cathedral of Junk', an organic- meets- inorganic backyard project. It is definitely a must-do on your Austin itinerary planner. You can take the family out to for an Austin getaway to any of the green, grassy parks and trails in Austin; the enormous Zilker Metropolitan Park is especially popular for just that. Finally, hike up Mount Bonnell and get an eyeful of this brilliant, diverse, green city and while you relish the cool, clear weather and fresh air and reminisce about your exciting holiday, pay heed to yet another popular Austin Slogan, 'Welcome to Austin, Please Don't Move Here!'.
Essential travel information and Austin tips for your visit
Don't light up those cigarettes just anywhere. Austin prides itself in being a 'clean air city' and public smoking is banned in many places. Make sure to ask whether it's okay if you really want to light one up.
Austin's a very clean, green city so make sure you help maintain that.
You can take your dog or other pets to the city as most places are pet-friendly.
Austin gets really hot in the summer so wear sunscreen and stay hydrated!
Do ask for vegetarian or vegan restaurant if that's what you' prefer, Austin is super veggie friendly.
Donate to all the museums, preserves, the Zoo, whichever institution you visit. Most of these are run by hard working, dedicated volunteers.
Austin travel can be tough as it has a lot of traffic, so avoid driving.
Austin Trip Planner
Plan your customized day by day trip plan for Austin. Choose from various experinces categories as adventure, romantic and family and kids friendly for your trip using using Austin trip planner.
The best tours and activities in the city, guided by experts to give you a local insight to the best of Austin
I cant afford the parking at the Fairmont Hotel on Red River downtown- is there parking on that same block while I am at a convention there this Thursday thru Sunday?

Answer

Report Abuse

I am not sure if there is any parking facility on the same block. It would be best to ask the locals around as they'll be able to help you.

Report Abuse