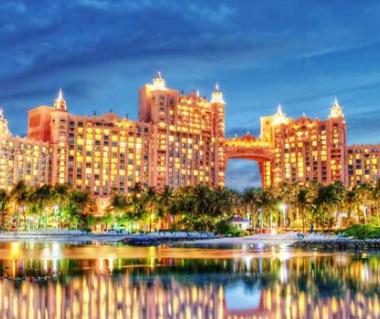 Bahamas Trip Planner
Plan your customized trip plan for Bahamas. Choose from Top Toursim cities and tourist attarctions of Bahamas using trip planner.
Bahamas Overview
Plan your travel to Bahamas. Seven Hundred tiny islands with their pristine white sand and gorgeous blue waters await you. What more could one ask from a beach holiday? The Bahamas are this fascinating, exotic place where beauty and luxury come together to form a heady cocktail along with the sun the sand and the sultriness. Visiting Bahamas? Our Bahamas vacation itinerary builder is here to help you along every step!
The crystal clear waters of the bright blue sea and the shade of the glorious palm trees will make you long to sink your feet into the white of the sandy shores. Just a long relaxing walk down one of the beaches in the Bahamas is sure to be worth your entire trip.
But there is a lot more to look forward to in these Caribbean islands. It isn't just about lazy evenings on the sandy shores. Bahamas is much more. From the amazing tropical fruits you can eat to the superb fresh seafood, the Bahamas are undoubtedly a foodie's paradise. You can get a taste of the amazing flavors of Bahamas at its beach-side restaurants.
If you are adventurous, you can try your hand at scuba diving. The ocean with its vibrant colors and textures will surprise you beyond imagination. You can also try boating and a wide array of water sports ranging from simple canoes to fast paced jet skiing. Interestingly, Bahamas is also home to several rare marine as well as land species making it a nature lover's paradise as well.
Not to forget that it is a very popular wedding destination. This makes sense! What better way to make a lifetime commitment than a picturesque start at the Bahamas.
In short, the Bahamas have a lot to offer and are much more than a beach destination. If you have the explorer's spirit and the heart of an adventurer you will love every minute of your Bahamian retreat. Build a step-by-step plan using our day by day Bahamas vacation itinerary creator.
Best season to travel to Bahamas
This tropical paradise has two major seasons, summers and winters.
Rainfall: The region receives rainfall in the months of May June, August, September and October. The rainfall is quite erratic and only comes in very short bursts so you can easily enjoy your holiday even in the months in which it rains.
Summer: Summers aren't too harsh and neither are they too mild. The weather is simply perfect for tourism. Summer is undoubtedly the best time to visit the Bahamas. The sunny beaches and the warm sands are the most welcoming during this time. The Monthis of July and November are absolutely perfect but throughout May to November, the weather is quite pleasant
Winter: Winters can get surprisingly cold in the Bahamas. The season isn't recommended for visits. Although, the tourists don't flock to the islands during winter so if you are looking for a quiet time at the beach, it might be a good option. But the cold weather is likely to disappoint you on your beach holiday.
Planning transport to and around Bahamas
Lynden Pindling International Airport is the biggest airport in the Bahamas. You are bound to get flights from all major airports to this one quite easily. Airfares are higher in summer especially July and November. There are a few smaller airports if you plan on taking a hopping flight.
Bahamas transport
Being Seven hundred in number, the Bahamas have developed an excellent water network when it comes to going from one island to the other. You can choose to travel by a public ferry, which will be cheaper, or smaller boats which might be more expensive, depending upon the size of your group.
When it comes to getting around the individual islands, cars, scooters and bicycles are available on rent. These are the best way to travel. Taxis are convenient but comparatively expensive. You can also use the local bus services which aren't too crowded. Dont hesitate! Organise your plan with best Bahamas itinerary maker.
Top experiences and places to include in Bahamas vacation planner
Nassau: Nassau is on the main island of New Providence and the capital of the Bahamas. The Atlantic Hotel which has a huge ocean aquarium is a big tourist attraction here. Nassau has everything you expect from a beach holiday. Whether it is snorkeling, scuba or water sports you desire you will find it here. The food is rather expensive so make sure you carry a lot of cash. However with the sea-food as fresh as it gets, the extra price is worth it. The Straw Market in this place is a great place for souvenirs. The Thunder ball Grotto near Nassau is a wonderful place to Scuba Dive. It has also been featured in not one, but two BOND movies, it is also an amazing place to experience some 007 Nostalgia.
Bimini: If you want to walk the path of the Great writer Earnest Hemmingway, be sure to visit Bimini. Being at the northernmost tip it can get quite cold in the winter. You can try actual fishing here (Old Man and the Sea style). There is a myth that Biminis is where the fountain of youth lies. And with the pristine sand and dense mangrove forests, why in the world not?
Lucaya: Lucaya is home to the Lucayan National Park. If you love nature, this is the place to be. The underwater caves are an amazing sight to see. This place is a part of Freeport on the island of Grand Bahamas, which is quite picturesque place to begin with. Besides, you will not find too many beach tourists here, making it a serene heaven. Even other than this, there are several islands to explore in this fascinating place. Do enjoy the sunsets. Try scuba diving and try out the awesome sea-food no matter where you go. The simple and yet elegant architecture is also something worth noticing. In short Bahamas is certainly the most perfect beach holiday one can imagine. Stop procrastinating and start planning your Bahamas trip!
Festivals and events:
Junkanoo: In December, usually in the second week, the Bahamas play host to this very unique festival. There are parades and colorful costumes and the whole nine yards. But the really interesting thing is the Kangaroo dancing that many Bahamian children are trained to do since a very young age. The children put up quite vibrant performances of Kangaroo Dancing wherever you go. If you are in the Bahamas in winters you can look forward to this.
Bahamas International Film Festival: BIFF is a huge event in the Bahamas. The stunning location is certainly a big plus but the events and the upcoming films that are showcased also make a huge difference. The festival has been gaining tremendous popularity on the world scene and if you love films but cannot afford Cannes, keep your eye on this one.
What to do and what not to do:
Dos
Do try out the local beer. It is much cheaper and it is also reputed to be quite tasty.
Do try to avoid the crowds. You can do this by exploring the unexplored parts of the islands. Not only will your holiday be more exciting, you will be thoroughly rewarded with the amazing things to see.
Do try out activities like snorkeling even if you aren't adventurous. The marine life of this place is rare to see anywhere else in the world.
Do get your hair braided by the locals especially if you have long hair. It is an amazing experience.
There are a lot of awesome things about the Bahamas but one also has to be a bit careful here. Read ahead for a few things you shouldn't do while here.
Don'ts
Don't parade your wallet around in public. It is not entirely unheard of that muggings or robberies have taken place on the crowded beach. Be careful with your belongings
Don't carry anything but your bare essentials to the beach. Things have a way of getting lost here.
Don't drive a car unless you are absolutely sure you can handle the driving style here. It depends on which country you are from but some tourists find it hard to adjust to drive on the opposite side of what they are used to.
Don't be susceptible to scams while shopping. Check prices with two or three shops and if possible negotiate before buying anything.
Don't roam around too late in the night. The public transport system and even the taxis may be very scarce late into the night. Besides, secluded areas on the beach are a complete no-no at night as they can invite big trouble.
Searching for something specific?