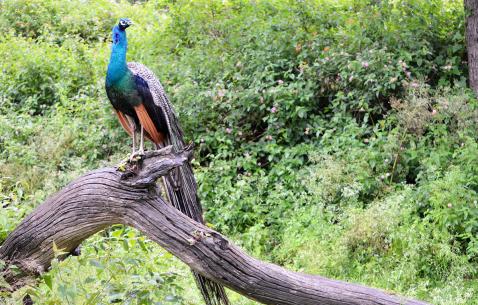 Bandipur, a small town in Mysore is primarily known for the Bandipur National Park. Engraved in the greens and forests, it has the most fascinating of wildlife and nature, exquisitely on display. The drive to the place is a trail in its own. With trees and greenery on both sides, once you enter the national park you'll be beaconed by deers in herds. There's the occasional spotting of bisons and herds of elephants. There's a hawk flying by and some perched on branches too. Pretty little colorful birds and if you are lucky, then the tiger too.
It was once the private hunting ground of the Maharaja himself and was preserved as the National Park under the Project Tiger. This and a conglomeration of other parks around forms a major part of the Nilgiri Biosphere Reserve. It is the largest Biosphere Reserve Zone. Considered to be one of the best managed park in South India, it is a site to visit for the dry deciduous forests and the wildlife. Stretched far and wide, it is considered to be one of the best managed park in the country. It was mainly christened off to preserve the tigers and elephants in the region and also to curb the over usage of sandalwood.
It falls enroute Ooty, which is a popular hill station and is known for its warm and comfortable climate throughout the year. The rains are erratic here and usually sporadic. But when it does rain, it blooms up the lushy greens and adds to the variety of flora here. One can enjoy camping and comfortable camping here or the sightseeing safari tours that form the basis of all here.
The Nilgiri fauna has some of the most vulnerable kind of species, which are protected and preserved here. A lot of species of this and the adjoining areas are preserved here. The Bandipur National Park holds a large variety of flora too apart from its exquisite and extravagant fauna. It is home to sandalwood and rosewood trees, apart from luscious variety of fruit and flower trees and shrubs.
Essential travel information and Bandipur tips for your visit
General Info
Time Zone: UTC+05:30
Currency: Rupees
Electricity and Internet: The electricity output is 220-240 Volts AC. 2G and 3G Wi-Fi services are available in most hotels. There's availability of 3G broadband services on mobile phones.
Languages: The official language of Bandipur is Hindi.
Security: Police: 100, Fire Department: 101, Ambulance: 102 & Emergency Disaster Management: 108
Tipping: It is not expected of people to tip, but it is no doubt appreciated.
Customs
Joining hands to a "Namaste" is a common form of greeting people.
Remove your shoes before entering a temple or any other religious place and wash your hands before entering the premises.
Dress for comfort. Avoid bright colours.
Wear comfortable walking shoes.
Avoid smoking. Anything can start a fire.
Avoid plastics. It's not in sync with the norms of this place.