Best Time To Visit Bandung
Explore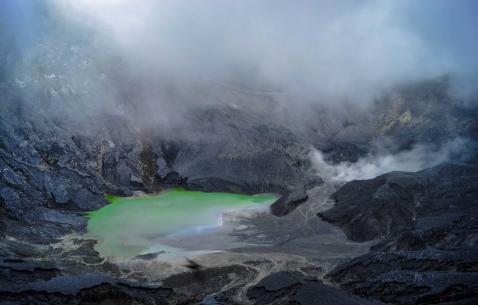 Best Time To Go To Bandung
The best time to visit Bandung is during the dry season months of June – September as there are lesser chances of sudden heavy rainfalls due to which exploring the city and its nearby attractions can be difficult.
Bandung has a typical tropical monsoon climate where the summers are hot and humid but the winters are cool and pleasant due to its high altitude when compared to the rest of Indonesia. As it is located quite close to the equator, Bandung doesn't have much temperature variation. So best month to visit bandung is during dry season.
Dry Season: This season stretches across the months of June – September and the temperature is usually around 23 degree Celsius.The bandung weather in september is end of dry season.
Wet Season: The months of October, November and December till March bring heavy rainfall with them and are frequented by flooding and road blocks.
Best time to go to Bandung Attractions

: Everyday 8:00 AM - 5:00 PM
: Everyday 8:00 AM - 5:00 PM
: Everyday 8:00 AM - 5:00 PM
: Everyday 8:00 AM - 5:00 PM
: Everyday 8:00 AM - 5:00 PM
: Everyday 8:00 AM - 5:00 PM
: Everyday 8:00 AM - 5:00 PM
: Everyday 8:00 AM - 5:00 PM
: Everyday 8:00 AM - 5:00 PM
: Everyday 8:00 AM - 5:00 PM
: Everyday 8:00 AM - 5:00 PM
: Everyday 8:00 AM - 5:00 PM

: Everyday 6:00 AM - 11:00 PM
: Everyday 6:00 AM - 11:00 PM
: Everyday 6:00 AM - 11:00 PM
: Everyday 6:00 AM - 11:00 PM
: Everyday 6:00 AM - 11:00 PM
: Everyday 6:00 AM - 11:00 PM
: Everyday 6:00 AM - 11:00 PM
: Everyday 6:00 AM - 11:00 PM
: Everyday 6:00 AM - 11:00 PM
: Everyday 6:00 AM - 11:00 PM
: Everyday 6:00 AM - 11:00 PM
: Everyday 6:00 AM - 11:00 PM

: Everyday 10:00 AM - 7:00 PM
: Everyday 10:00 AM - 7:00 PM
: Everyday 10:00 AM - 7:00 PM
: Everyday 10:00 AM - 7:00 PM
: Everyday 10:00 AM - 7:00 PM
: Everyday 10:00 AM - 7:00 PM
: Everyday 10:00 AM - 7:00 PM
: Everyday 10:00 AM - 7:00 PM
: Everyday 10:00 AM - 7:00 PM
: Everyday 10:00 AM - 7:00 PM
: Everyday 10:00 AM - 7:00 PM
: Everyday 10:00 AM - 7:00 PM

: Everyday 3:30 PM - 5:00 PM
: Everyday 3:30 PM - 5:00 PM
: Everyday 3:30 PM - 5:00 PM
: Everyday 3:30 PM - 5:00 PM
: Everyday 3:30 PM - 5:00 PM
: Everyday 3:30 PM - 5:00 PM
: Everyday 3:30 PM - 5:00 PM
: Everyday 3:30 PM - 5:00 PM
: Everyday 3:30 PM - 5:00 PM
: Everyday 3:30 PM - 5:00 PM
: Everyday 3:30 PM - 5:00 PM
: Everyday 3:30 PM - 5:00 PM

: Everyday 6:00 PM - 10:00 PM
: Everyday 6:00 PM - 10:00 PM
: Everyday 6:00 PM - 10:00 PM
: Everyday 6:00 PM - 10:00 PM
: Everyday 6:00 PM - 10:00 PM
: Everyday 6:00 PM - 10:00 PM
: Everyday 6:00 PM - 10:00 PM
: Everyday 6:00 PM - 10:00 PM
: Everyday 6:00 PM - 10:00 PM
: Everyday 6:00 PM - 10:00 PM
: Everyday 6:00 PM - 10:00 PM
: Everyday 6:00 PM - 10:00 PM

: Everyday 10:00 AM - 6:00 PM
: Everyday 10:00 AM - 6:00 PM
: Everyday 10:00 AM - 6:00 PM
: Everyday 10:00 AM - 6:00 PM
: Everyday 10:00 AM - 6:00 PM
: Everyday 10:00 AM - 6:00 PM
: Everyday 10:00 AM - 6:00 PM
: Everyday 10:00 AM - 6:00 PM
: Everyday 10:00 AM - 6:00 PM
: Everyday 10:00 AM - 6:00 PM
: Everyday 10:00 AM - 6:00 PM
: Everyday 10:00 AM - 6:00 PM

: Monday, Tuesday, Wednesday, Thursday, Saturday, Sunday 10:00 AM - 3:00 PM
: Monday, Tuesday, Wednesday, Thursday, Saturday, Sunday 10:00 AM - 3:00 PM
: Monday, Tuesday, Wednesday, Thursday, Saturday, Sunday 10:00 AM - 3:00 PM
: Monday, Tuesday, Wednesday, Thursday, Saturday, Sunday 10:00 AM - 3:00 PM
: Monday, Tuesday, Wednesday, Thursday, Saturday, Sunday 10:00 AM - 3:00 PM
: Monday, Tuesday, Wednesday, Thursday, Saturday, Sunday 10:00 AM - 3:00 PM
: Monday, Tuesday, Wednesday, Thursday, Saturday, Sunday 10:00 AM - 3:00 PM
: Monday, Tuesday, Wednesday, Thursday, Saturday, Sunday 10:00 AM - 3:00 PM
: Monday, Tuesday, Wednesday, Thursday, Saturday, Sunday 10:00 AM - 3:00 PM
: Monday, Tuesday, Wednesday, Thursday, Saturday, Sunday 10:00 AM - 3:00 PM
: Monday, Tuesday, Wednesday, Thursday, Saturday, Sunday 10:00 AM - 3:00 PM
: Monday, Tuesday, Wednesday, Thursday, Saturday, Sunday 10:00 AM - 3:00 PM

: Everyday 8:00 AM - 5:00 PM
: Everyday 8:00 AM - 5:00 PM
: Everyday 8:00 AM - 5:00 PM
: Everyday 8:00 AM - 5:00 PM
: Everyday 8:00 AM - 5:00 PM
: Everyday 8:00 AM - 5:00 PM
: Everyday 8:00 AM - 5:00 PM
: Everyday 8:00 AM - 5:00 PM
: Everyday 8:00 AM - 5:00 PM
: Everyday 8:00 AM - 5:00 PM
: Everyday 8:00 AM - 5:00 PM
: Everyday 8:00 AM - 5:00 PM

: Tuesday, Wednesday, Thursday, Saturday, Sunday 9:00 AM - 3:30 PM; Friday 2:00 PM - 3:30 PM
: Tuesday, Wednesday, Thursday, Saturday, Sunday 9:00 AM - 3:30 PM; Friday 2:00 PM - 3:30 PM
: Tuesday, Wednesday, Thursday, Saturday, Sunday 9:00 AM - 3:30 PM; Friday 2:00 PM - 3:30 PM
: Tuesday, Wednesday, Thursday, Saturday, Sunday 9:00 AM - 3:30 PM; Friday 2:00 PM - 3:30 PM
: Tuesday, Wednesday, Thursday, Saturday, Sunday 9:00 AM - 3:30 PM; Friday 2:00 PM - 3:30 PM
: Tuesday, Wednesday, Thursday, Saturday, Sunday 9:00 AM - 3:30 PM; Friday 2:00 PM - 3:30 PM
: Tuesday, Wednesday, Thursday, Saturday, Sunday 9:00 AM - 3:30 PM; Friday 2:00 PM - 3:30 PM
: Tuesday, Wednesday, Thursday, Saturday, Sunday 9:00 AM - 3:30 PM; Friday 2:00 PM - 3:30 PM
: Tuesday, Wednesday, Thursday, Saturday, Sunday 9:00 AM - 3:30 PM; Friday 2:00 PM - 3:30 PM
: Tuesday, Wednesday, Thursday, Saturday, Sunday 9:00 AM - 3:30 PM; Friday 2:00 PM - 3:30 PM
: Tuesday, Wednesday, Thursday, Saturday, Sunday 9:00 AM - 3:30 PM; Friday 2:00 PM - 3:30 PM
: Tuesday, Wednesday, Thursday, Saturday, Sunday 9:00 AM - 3:30 PM; Friday 2:00 PM - 3:30 PM

: Everyday 4:00 PM - 6:00 PM
: Everyday 4:00 PM - 6:00 PM
: Everyday 4:00 PM - 6:00 PM
: Everyday 4:00 PM - 6:00 PM
: Everyday 4:00 PM - 6:00 PM
: Everyday 4:00 PM - 6:00 PM
: Everyday 4:00 PM - 6:00 PM
: Everyday 4:00 PM - 6:00 PM
: Everyday 4:00 PM - 6:00 PM
: Everyday 4:00 PM - 6:00 PM
: Everyday 4:00 PM - 6:00 PM
: Everyday 4:00 PM - 6:00 PM

: Everyday 9:00 AM - 11:00 PM
: Everyday 9:00 AM - 11:00 PM
: Everyday 9:00 AM - 11:00 PM
: Everyday 9:00 AM - 11:00 PM
: Everyday 9:00 AM - 11:00 PM
: Everyday 9:00 AM - 11:00 PM
: Everyday 9:00 AM - 11:00 PM
: Everyday 9:00 AM - 11:00 PM
: Everyday 9:00 AM - 11:00 PM
: Everyday 9:00 AM - 11:00 PM
: Everyday 9:00 AM - 11:00 PM
: Everyday 9:00 AM - 11:00 PM

: Everyday 5:00 PM - 8:00 PM
: Everyday 5:00 PM - 8:00 PM
: Everyday 5:00 PM - 8:00 PM
: Everyday 5:00 PM - 8:00 PM
: Everyday 5:00 PM - 8:00 PM
: Everyday 5:00 PM - 8:00 PM
: Everyday 5:00 PM - 8:00 PM
: Everyday 5:00 PM - 8:00 PM
: Everyday 5:00 PM - 8:00 PM
: Everyday 5:00 PM - 8:00 PM
: Everyday 5:00 PM - 8:00 PM
: Everyday 5:00 PM - 8:00 PM

: Everyday 8:00 AM - 1:00 PM
: Everyday 8:00 AM - 1:00 PM
: Everyday 8:00 AM - 1:00 PM
: Everyday 8:00 AM - 1:00 PM
: Everyday 8:00 AM - 1:00 PM
: Everyday 8:00 AM - 1:00 PM
: Everyday 8:00 AM - 1:00 PM
: Everyday 8:00 AM - 1:00 PM
: Everyday 8:00 AM - 1:00 PM
: Everyday 8:00 AM - 1:00 PM
: Everyday 8:00 AM - 1:00 PM
: Everyday 8:00 AM - 1:00 PM

: Everyday 7:00 AM - 8:00 PM
: Everyday 7:00 AM - 8:00 PM
: Everyday 7:00 AM - 8:00 PM
: Everyday 7:00 AM - 8:00 PM
: Everyday 7:00 AM - 8:00 PM
: Everyday 7:00 AM - 8:00 PM
: Everyday 7:00 AM - 8:00 PM
: Everyday 7:00 AM - 8:00 PM
: Everyday 7:00 AM - 8:00 PM
: Everyday 7:00 AM - 8:00 PM
: Everyday 7:00 AM - 8:00 PM
: Everyday 7:00 AM - 8:00 PM

: Everyday 10:00 AM - 10:00 PM
: Everyday 10:00 AM - 10:00 PM
: Everyday 10:00 AM - 10:00 PM
: Everyday 10:00 AM - 10:00 PM
: Everyday 10:00 AM - 10:00 PM
: Everyday 10:00 AM - 10:00 PM
: Everyday 10:00 AM - 10:00 PM
: Everyday 10:00 AM - 10:00 PM
: Everyday 10:00 AM - 10:00 PM
: Everyday 10:00 AM - 10:00 PM
: Everyday 10:00 AM - 10:00 PM
: Everyday 10:00 AM - 10:00 PM

: Everyday 3:00 AM - 7:00 PM
: Everyday 3:00 AM - 7:00 PM
: Everyday 3:00 AM - 7:00 PM
: Everyday 3:00 AM - 7:00 PM
: Everyday 3:00 AM - 7:00 PM
: Everyday 3:00 AM - 7:00 PM
: Everyday 3:00 AM - 7:00 PM
: Everyday 3:00 AM - 7:00 PM
: Everyday 3:00 AM - 7:00 PM
: Everyday 3:00 AM - 7:00 PM
: Everyday 3:00 AM - 7:00 PM
: Everyday 3:00 AM - 7:00 PM

: Everyday 7:00 AM - 8:00 PM
: Everyday 7:00 AM - 8:00 PM
: Everyday 7:00 AM - 8:00 PM
: Everyday 7:00 AM - 8:00 PM
: Everyday 7:00 AM - 8:00 PM
: Everyday 7:00 AM - 8:00 PM
: Everyday 7:00 AM - 8:00 PM
: Everyday 7:00 AM - 8:00 PM
: Everyday 7:00 AM - 8:00 PM
: Everyday 7:00 AM - 8:00 PM
: Everyday 7:00 AM - 8:00 PM
: Everyday 7:00 AM - 8:00 PM

: Tuesday to Sunday 9:00 AM - 3:00 PM
: Tuesday to Sunday 9:00 AM - 3:00 PM
: Tuesday to Sunday 9:00 AM - 3:00 PM
: Tuesday to Sunday 9:00 AM - 3:00 PM
: Tuesday to Sunday 9:00 AM - 3:00 PM
: Tuesday to Sunday 9:00 AM - 3:00 PM
: Tuesday to Sunday 9:00 AM - 3:00 PM
: Tuesday to Sunday 9:00 AM - 3:00 PM
: Tuesday to Sunday 9:00 AM - 3:00 PM
: Tuesday to Sunday 9:00 AM - 3:00 PM
: Tuesday to Sunday 9:00 AM - 3:00 PM
: Tuesday to Sunday 9:00 AM - 3:00 PM

: Everyday 9:00 AM - 5:00 PM
: Everyday 9:00 AM - 5:00 PM
: Everyday 9:00 AM - 5:00 PM
: Everyday 9:00 AM - 5:00 PM
: Everyday 9:00 AM - 5:00 PM
: Everyday 9:00 AM - 5:00 PM
: Everyday 9:00 AM - 5:00 PM
: Everyday 9:00 AM - 5:00 PM
: Everyday 9:00 AM - 5:00 PM
: Everyday 9:00 AM - 5:00 PM
: Everyday 9:00 AM - 5:00 PM
: Everyday 9:00 AM - 5:00 PM

: Everyday 9:00 AM - 3:00 PM
: Everyday 9:00 AM - 3:00 PM
: Everyday 9:00 AM - 3:00 PM
: Everyday 9:00 AM - 3:00 PM
: Everyday 9:00 AM - 3:00 PM
: Everyday 9:00 AM - 3:00 PM
: Everyday 9:00 AM - 3:00 PM
: Everyday 9:00 AM - 3:00 PM
: Everyday 9:00 AM - 3:00 PM
: Everyday 9:00 AM - 3:00 PM
: Everyday 9:00 AM - 3:00 PM
: Everyday 9:00 AM - 3:00 PM

: Everyday 8:00 AM - 2:00 PM
: Everyday 8:00 AM - 2:00 PM
: Everyday 8:00 AM - 2:00 PM
: Everyday 8:00 AM - 2:00 PM
: Everyday 8:00 AM - 2:00 PM
: Everyday 8:00 AM - 2:00 PM
: Everyday 8:00 AM - 2:00 PM
: Everyday 8:00 AM - 2:00 PM
: Everyday 8:00 AM - 2:00 PM
: Everyday 8:00 AM - 2:00 PM
: Everyday 8:00 AM - 2:00 PM
: Everyday 8:00 AM - 2:00 PM

: Everyday 7:00 AM - 7:00 PM
: Everyday 7:00 AM - 7:00 PM
: Everyday 7:00 AM - 7:00 PM
: Everyday 7:00 AM - 7:00 PM
: Everyday 7:00 AM - 7:00 PM
: Everyday 7:00 AM - 7:00 PM
: Everyday 7:00 AM - 7:00 PM
: Everyday 7:00 AM - 7:00 PM
: Everyday 7:00 AM - 7:00 PM
: Everyday 7:00 AM - 7:00 PM
: Everyday 7:00 AM - 7:00 PM
: Everyday 7:00 AM - 7:00 PM

: Everyday 10:00 AM - 7:00 PM
: Everyday 10:00 AM - 7:00 PM
: Everyday 10:00 AM - 7:00 PM
: Everyday 10:00 AM - 7:00 PM
: Everyday 10:00 AM - 7:00 PM
: Everyday 10:00 AM - 7:00 PM
: Everyday 10:00 AM - 7:00 PM
: Everyday 10:00 AM - 7:00 PM
: Everyday 10:00 AM - 7:00 PM
: Everyday 10:00 AM - 7:00 PM
: Everyday 10:00 AM - 7:00 PM
: Everyday 10:00 AM - 7:00 PM

: Everyday 7:00 AM - 7:00 PM
: Everyday 7:00 AM - 7:00 PM
: Everyday 7:00 AM - 7:00 PM
: Everyday 7:00 AM - 7:00 PM
: Everyday 7:00 AM - 7:00 PM
: Everyday 7:00 AM - 7:00 PM
: Everyday 7:00 AM - 7:00 PM
: Everyday 7:00 AM - 7:00 PM
: Everyday 7:00 AM - 7:00 PM
: Everyday 7:00 AM - 7:00 PM
: Everyday 7:00 AM - 7:00 PM
: Everyday 7:00 AM - 7:00 PM

: Everyday 24 Hrs
: Everyday 24 Hrs
: Everyday 24 Hrs
: Everyday 24 Hrs
: Everyday 24 Hrs
: Everyday 24 Hrs
: Everyday 24 Hrs
: Everyday 24 Hrs
: Everyday 24 Hrs
: Everyday 24 Hrs
: Everyday 24 Hrs
: Everyday 24 Hrs

: Everyday 24 Hrs
: Everyday 24 Hrs
: Everyday 24 Hrs
: Everyday 24 Hrs
: Everyday 24 Hrs
: Everyday 24 Hrs
: Everyday 24 Hrs
: Everyday 24 Hrs
: Everyday 24 Hrs
: Everyday 24 Hrs
: Everyday 24 Hrs
: Everyday 24 Hrs