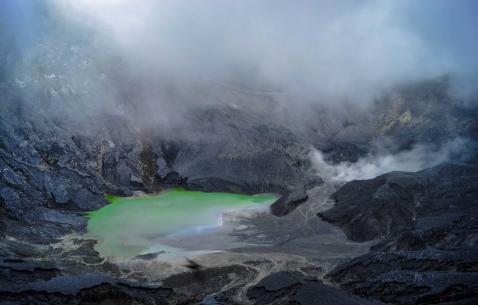 The Best Things To Do in Bandung

1. Visit Villa Isola: Villa Isola is an Architectural jewel in Badung and is one of the most charming buildings in the region. It makes a great spot for photography and videography. The destination was built in 1932 for an Italian millionaire D.W. Berretty as a villa and has now transformed into a hot tourist spot in the city.
2. Experience Saung Angklung Udjo: Angklung is a traditional South-East Asian musical instrument made out of Bamboo and the destination was made to learn the art of playing the instrument. Visit the place and know the sound of music in a totally different way that is sure to make you fall in love with the city
3. Go to Bosscha Observatory: Bosscha Observatory was built in 1923 by Nederlandsch-Indische Sterrekundige Vereeniging and is the only observatory in Indonesia, so be sure to check the place out as it will give you an experience that you will not forget.
4. Visit Geological Museum: Geological Museum is one of the best places in the city to actually witness the history of the city. Visit the charming museum and witness for yourself the art-deco style and the grandeur of the whole location.
5. Do some shopping at Lori: This is the place to be for buying ethnic contemporary jewelry and handicraft accessories for women and men. Products use natural, environmentally friendly materials such as stones, seeds, cow stone and woods.
6. Go shopping at Paris Van Java Mall: This is an excellent place to be, with an attractive atmosphere with a mixed environment of indoor and outdoor mall. Both smaller shops and high end clothing stores can be found here. Restaurants and cafes, bookstores and supermarkets are also found here.
7. Tangkuban Perahu: Tangkuban Perahu is a picturesque volcano 30 km north of the city of Bandung and is a must visit place near Bandung for any traveller in the region as it has some of the most amazing views.
Explore the travel planning tool for your visit to Bandung and create a flawless plan in few simple steps!
50 Tourist Attractions in Bandung

Must see places in Bandung ranked on popularity. Here is the complete list of best attractions in Bandung and point of interests to visit.
Tourist Attractions Near Bandung
Find Your Bandung Attractions on Map
Types of Things To Do in Bandung
Find more attractions and places to visit in Bandung under these things to do categories.
Top Bandung Activities And Tours
Explore the best things to do in Bandung. These are the most preferred tourist activities.
Save 7%

New on TripHobo

Duration: 9 Hrs

Enjoy this full-day Bandung heritage and culture tour from your hotel in Bandung. You will be able to experience another side...

Save 12%

2 Reviews

Duration: 9 Hrs

This full day tour will take you to North Bandung.North Bandung is a cool temperatured area,which we can take a visit to our ...

Save 9%

4 Reviews

Duration: 10 Hrs

This is a 10-hour tour to Kawah Putih, otherwise known as White Crater, in the south of Bandung. Other than a volcanic crater...
What To Do in Bandung: Day-Wise Ideas
Find what not to miss in Bandung! Recommended Bandung itineraries and vacation ideas created by travelers across the world.