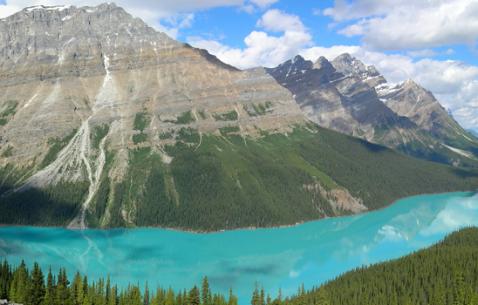 A UNESCO World Heritage Site, Banff is totally a force to be reckoned with. Marking its 125th birthday, Banff National Park is Canada's oldest and most famous national park. Forming a part of the national park, Banff is conveniently located and accessible for travelers looking to visit the Banff National Park.
A small town in size, the spirit of the place goes beyond its realms. You could actually cover the whole town on foot! Pristine landscapes, a crisp in the air with the Banff National Park in the backdrop; a walk through town with the constant reminder that the wilderness is a stone's throw away is a beautiful feeling.
Essential travel information and Banff tips for your visit
TRAVEL TIPS
Banff is one of the safest places you can ever visit; that doesn't excuse you from not being caution. Maintain an awareness of your surroundings.
The only real danger you need to be weary of is coming in contact with the wildlife; Banff being a part of the National Park, animals tend to wander into town.
It's common to come in contact with deer while driving and bears when on trails. Keep a lookout and whatever happens, never feed the wildlife.
Respect the wildlife.
Time Zone:
Banff, a resort town in Alberta, Canada observes the Mountain Time Zone/ UTC-07:00 hour.
Currency:
While U.S. dollars are accepted everywhere, but it is advisable to use the Canadian dollars.
Electrcity :
240 V with Primary Socket Type being Type B North American NEMA 5-15 (Grounded, Non-polarised)
Internet:
The internet country code top level domain(ccTLD) for Canada is .ca . Currently Internet access is available for businesses and home users in various forms, including dial up, cable, DSL, nd wireless.
Languages:
English is the predominant language in Banff
Security:
911 is the official emergency number in Banff.
General Tips:
Avoid talking loudly in public.
Avoid spitting and littering on streets.
Keep yourself well informed with the history of Banfe before the actual visit.
The best tours and activities in the city, guided by experts to give you a local insight to the best of Banff
We are tent campers looking for a site near Banff/Lake Louise during the week of August 26th. Are most of the campgrounds offered on a first-come, first-served basis or do we need reservations? When do Canadian schools begin?

Answer

Report Abuse

You can reserve the campsites by calling on 1-877-737-3783 or 519-826-5391. If not reserved, then the sites will be allocated on the first-come-first-serve basis. It is recommended to book your campsite in advance as June through September is the peak season. I am not sure about the schools though.

Report Abuse