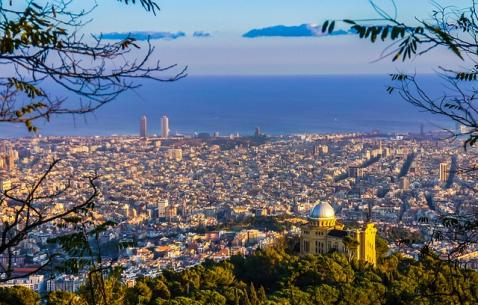 Barcelona, being the busiest city of Catalonia, is an interesting place to visit. Not only is it very busy, but it is also Spain's second biggest city. One of the most beautiful cities around, Barcelona sees several million visitors a year. This capital city is situated right on the Mediterranean coast and it is known to be the sixth most visited urban area out of the European Union. Just in the metropolitan area alone, there are approximately five million residents. A wonderful place to visit for a vacation (check out all the Barcelona tours available), but once you have experienced Barcelona you might not want to go back home.
Barcelona is one place on Earth where you are bound to meet that decadent culture at its best. Its fabled architecture has been eulogized in literature and tourist books. One of the most beautiful seaside towns, Barcelona inspires imagination and that artist in you. On his visit to the city in 1862, Hans Christian Andersen remarked that Barcelona was the "Paris of Spain." The city is indeed a major cultural centre with a remarkable history. It abounds with archives, libraries, museums, and buildings of interest, featuring superb examples of Modernist and Art Nouveau decor and architecture. This vitality combines with the striking physical setting of Barcelona—between scenic mountains and theMediterranean Sea, with a benign climate that fosters street life—and its significance as an economic power and a major port to create a city of infinite variety.
For the visitor, the main attraction tends to be in the city centre, particularly around the Ramblas. The famous promenade is separated from L'Eixample by the monumental Catalunya Square, and it leads down to the port and the Portal de la Pau Square, where the Christopher Columbus monument stands in commemoration of the discovery of America and the explorer's announcement of it in Barcelona.
The city definitely holds a lot of possibilities to explore and to learn. Barcelona's infinite Mediterranean charm can never cease to surprise you. Each one of you should visit Barcelona at least once and experience all that it has to offer considering the best time to visit Barcelona.
Essential travel information and Barcelona tips for your visit
Essential Info
· Time Zone: Barcelona follows the GMT/UTC + 01:00 hour. Time zone differences will vary during the year, as different countries observe DST during different periods. Therefore, you should usually use The World Clock instead.
· Currency: The currency operational in Barcelona is Euro.
· Electricity: Electricity supply is 220 volts throughout Spain with 2 pin wall sockets. If you want to use electric equipment with UK electrical plugs, you will need an electricity plug adapter that will convert the standard 3 pin socket into a 2 pin socket.
· Internet: Telefonica - ADSL broadband are Internet providers in Barcelona. You will be able to find wifi connection in your hotels very easily.
· Language: The predominant language spoken in Barcelona is Catalan.
· Emergency contacts: Police- 932 903 000, Emergency: 112, Medical Help: 061.
· Tipping: In Barcelona you can choose to tip or not at your own discretion. Tipping in restaurants in generally restricted to a few Euros for a regular lunch or dinner.
· Do not carry around a haversack on your back - be especially aware of this on the metro. Pickpockets have been known to steal from haversacks on people's backs when on the metro.
· Only carry around as much money as you need for that day no more. Leave valuables that you aren't going to use on the day in the hotel safe.
· Avoid walking in dark isolated back streets, especially if you are alone.
Barcelona Trip Planner
Plan your customized day by day trip plan for Barcelona. Choose from various experinces categories as adventure, romantic and family and kids friendly for your trip using using Barcelona trip planner.
The best tours and activities in the city, guided by experts to give you a local insight to the best of Barcelona