Best Time To Visit Bari
Explore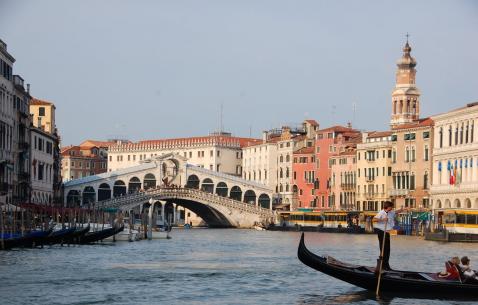 Best Time To Go To Bari
Summer season, especially the months of May and June are best time to visit Bari. It is when the days are hot and nights are colder. But be warned, you might need air conditioners in the morning.
Summer (May – August): The warm season has a daily temperature of around 26 degree Celsius. This is a peak season in Bari as all the attractions are open for a longer period of time.
Winter (December – February): Winters generally experience temperatures below 15 degree Celsius. Avoid Bari in the months of December to January, when the chances of rain increase slightly and the weather becomes cool and bleak. This time of the year is an off season in Bari.
Spring (March – May): The temperatures in these months range around 17 degree Celsius to 24 degree Celsius. This is also a good season to visit Bari as the weather is very pleasant this time of the year.
Autumn (September – November): Autumn sees the same climate like in spring with weather in Bari slowly getting colder.
So, the best time to visit Bari is from May to June.
Best time to go to Bari Attractions

: Everyday 8:00 AM - 9:00 AM
: Everyday 8:00 AM - 9:00 AM
: Everyday 8:00 AM - 9:00 AM
: Everyday 8:00 AM - 9:00 AM
: Everyday 8:00 AM - 9:00 AM
: Everyday 8:00 AM - 9:00 AM
: Everyday 8:00 AM - 9:00 AM
: Everyday 8:00 AM - 9:00 AM
: Everyday 8:00 AM - 9:00 AM
: Everyday 8:00 AM - 9:00 AM
: Everyday 8:00 AM - 9:00 AM
: Everyday 8:00 AM - 9:00 AM

: Everyday 10:00 AM - 7:00 PM
: Everyday 10:00 AM - 7:00 PM
: Everyday 10:00 AM - 7:00 PM
: Everyday 10:00 AM - 7:00 PM
: Everyday 10:00 AM - 7:00 PM
: Everyday 10:00 AM - 7:00 PM
: Everyday 10:00 AM - 7:00 PM
: Everyday 10:00 AM - 7:00 PM
: Everyday 10:00 AM - 7:00 PM
: Everyday 10:00 AM - 7:00 PM
: Everyday 10:00 AM - 7:00 PM
: Everyday 10:00 AM - 7:00 PM

: Everyday 9:00 AM - 7:45 PM
: Everyday 9:00 AM - 7:45 PM
: Everyday 9:00 AM - 7:45 PM
: Everyday 9:00 AM - 7:45 PM
: Everyday 9:00 AM - 7:45 PM
: Everyday 9:00 AM - 7:45 PM
: Everyday 9:00 AM - 7:45 PM
: Everyday 9:00 AM - 7:45 PM
: Everyday 9:00 AM - 7:45 PM
: Everyday 9:00 AM - 7:45 PM
: Everyday 9:00 AM - 7:45 PM
: Everyday 9:00 AM - 7:45 PM

: Everyday 6:30 PM - 8:30 PM
: Everyday 6:30 PM - 8:30 PM
: Everyday 6:30 PM - 8:30 PM
: Everyday 6:30 PM - 8:30 PM
: Everyday 6:30 PM - 8:30 PM
: Everyday 6:30 PM - 8:30 PM
: Everyday 6:30 PM - 8:30 PM
: Everyday 6:30 PM - 8:30 PM
: Everyday 6:30 PM - 8:30 PM
: Everyday 6:30 PM - 8:30 PM
: Everyday 6:30 PM - 8:30 PM
: Everyday 6:30 PM - 8:30 PM

: Everyday 8:30 AM - 10:30 AM
: Everyday 8:30 AM - 10:30 AM
: Everyday 8:30 AM - 10:30 AM
: Everyday 8:30 AM - 10:30 AM
: Everyday 8:30 AM - 10:30 AM
: Everyday 8:30 AM - 10:30 AM
: Everyday 8:30 AM - 10:30 AM
: Everyday 8:30 AM - 10:30 AM
: Everyday 8:30 AM - 10:30 AM
: Everyday 8:30 AM - 10:30 AM
: Everyday 8:30 AM - 10:30 AM
: Everyday 8:30 AM - 10:30 AM

: Everyday 11:00 AM - 7:00 PM
: Everyday 11:00 AM - 7:00 PM
: Everyday 11:00 AM - 7:00 PM
: Everyday 11:00 AM - 7:00 PM
: Everyday 11:00 AM - 7:00 PM
: Everyday 11:00 AM - 7:00 PM
: Everyday 11:00 AM - 7:00 PM
: Everyday 11:00 AM - 7:00 PM
: Everyday 11:00 AM - 7:00 PM
: Everyday 11:00 AM - 7:00 PM
: Everyday 11:00 AM - 7:00 PM
: Everyday 11:00 AM - 7:00 PM

: Monday to Saturday 6:00 PM - 7:00 PM
: Monday to Saturday 6:00 PM - 7:00 PM
: Monday to Saturday 6:00 PM - 7:00 PM
: Monday to Saturday 6:00 PM - 7:00 PM
: Monday to Saturday 6:00 PM - 7:00 PM
: Monday to Saturday 6:00 PM - 7:00 PM
: Monday to Saturday 6:00 PM - 7:00 PM
: Monday to Saturday 6:00 PM - 7:00 PM
: Monday to Saturday 6:00 PM - 7:00 PM
: Monday to Saturday 6:00 PM - 7:00 PM
: Monday to Saturday 6:00 PM - 7:00 PM
: Monday to Saturday 6:00 PM - 7:00 PM

: Everyday 3:30 PM - 4:30 PM
: Everyday 3:30 PM - 4:30 PM
: Everyday 3:30 PM - 4:30 PM
: Everyday 3:30 PM - 4:30 PM
: Everyday 3:30 PM - 4:30 PM
: Everyday 3:30 PM - 4:30 PM
: Everyday 3:30 PM - 4:30 PM
: Everyday 3:30 PM - 4:30 PM
: Everyday 3:30 PM - 4:30 PM
: Everyday 3:30 PM - 4:30 PM
: Everyday 3:30 PM - 4:30 PM
: Everyday 3:30 PM - 4:30 PM

: Everyday 9:00 AM - 9:00 PM
: Everyday 9:00 AM - 9:00 PM
: Everyday 9:00 AM - 9:00 PM
: Everyday 9:00 AM - 9:00 PM
: Everyday 9:00 AM - 9:00 PM
: Everyday 9:00 AM - 9:00 PM
: Everyday 9:00 AM - 9:00 PM
: Everyday 9:00 AM - 9:00 PM
: Everyday 9:00 AM - 9:00 PM
: Everyday 9:00 AM - 9:00 PM
: Everyday 9:00 AM - 9:00 PM
: Everyday 9:00 AM - 9:00 PM

: Everyday 10:00 AM - 9:00 PM
: Everyday 10:00 AM - 9:00 PM
: Everyday 10:00 AM - 9:00 PM
: Everyday 10:00 AM - 9:00 PM
: Everyday 10:00 AM - 9:00 PM
: Everyday 10:00 AM - 9:00 PM
: Everyday 10:00 AM - 9:00 PM
: Everyday 10:00 AM - 9:00 PM
: Everyday 10:00 AM - 9:00 PM
: Everyday 10:00 AM - 9:00 PM
: Everyday 10:00 AM - 9:00 PM
: Everyday 10:00 AM - 9:00 PM

: Everyday 11:00 AM - 2:00 PM
: Everyday 11:00 AM - 2:00 PM
: Everyday 11:00 AM - 2:00 PM
: Everyday 11:00 AM - 2:00 PM
: Everyday 11:00 AM - 2:00 PM
: Everyday 11:00 AM - 2:00 PM
: Everyday 11:00 AM - 2:00 PM
: Everyday 11:00 AM - 2:00 PM
: Everyday 11:00 AM - 2:00 PM
: Everyday 11:00 AM - 2:00 PM
: Everyday 11:00 AM - 2:00 PM
: Everyday 11:00 AM - 2:00 PM

: Monday to Friday 9:00 AM - 4:00 PM
: Monday to Friday 9:00 AM - 4:00 PM
: Monday to Friday 9:00 AM - 4:00 PM
: Monday to Friday 9:00 AM - 4:00 PM
: Monday to Friday 9:00 AM - 4:00 PM
: Monday to Friday 9:00 AM - 4:00 PM
: Monday to Friday 9:00 AM - 4:00 PM
: Monday to Friday 9:00 AM - 4:00 PM
: Monday to Friday 9:00 AM - 4:00 PM
: Monday to Friday 9:00 AM - 4:00 PM
: Monday to Friday 9:00 AM - 4:00 PM
: Monday to Friday 9:00 AM - 4:00 PM

: Everyday 10:00 AM - 11:59 PM
: Everyday 10:00 AM - 11:59 PM
: Everyday 10:00 AM - 11:59 PM
: Everyday 10:00 AM - 11:59 PM
: Everyday 10:00 AM - 11:59 PM
: Everyday 10:00 AM - 11:59 PM
: Everyday 10:00 AM - 11:59 PM
: Everyday 10:00 AM - 11:59 PM
: Everyday 10:00 AM - 11:59 PM
: Everyday 10:00 AM - 11:59 PM
: Everyday 10:00 AM - 11:59 PM
: Everyday 10:00 AM - 11:59 PM

: Everyday 10:30 AM - 5:30 PM
: Everyday 10:30 AM - 5:30 PM
: Everyday 10:30 AM - 5:30 PM
: Everyday 10:30 AM - 5:30 PM
: Everyday 10:30 AM - 5:30 PM
: Everyday 10:30 AM - 5:30 PM
: Everyday 10:30 AM - 5:30 PM
: Everyday 10:30 AM - 5:30 PM
: Everyday 10:30 AM - 5:30 PM
: Everyday 10:30 AM - 5:30 PM
: Everyday 10:30 AM - 5:30 PM
: Everyday 10:30 AM - 5:30 PM

: Everyday 3:00 PM - 5:00 PM
: Everyday 3:00 PM - 5:00 PM
: Everyday 3:00 PM - 5:00 PM
: Everyday 3:00 PM - 5:00 PM
: Everyday 3:00 PM - 5:00 PM
: Everyday 3:00 PM - 5:00 PM
: Everyday 3:00 PM - 5:00 PM
: Everyday 3:00 PM - 5:00 PM
: Everyday 3:00 PM - 5:00 PM
: Everyday 3:00 PM - 5:00 PM
: Everyday 3:00 PM - 5:00 PM
: Everyday 3:00 PM - 5:00 PM

: Everyday 7:00 PM - 11:00 PM
: Everyday 7:00 PM - 11:00 PM
: Everyday 7:00 PM - 11:00 PM
: Everyday 7:00 PM - 11:00 PM
: Everyday 7:00 PM - 11:00 PM
: Everyday 7:00 PM - 11:00 PM
: Everyday 7:00 PM - 11:00 PM
: Everyday 7:00 PM - 11:00 PM
: Everyday 7:00 PM - 11:00 PM
: Everyday 7:00 PM - 11:00 PM
: Everyday 7:00 PM - 11:00 PM
: Everyday 7:00 PM - 11:00 PM

: Everyday 2:00 PM - 5:00 PM
: Everyday 2:00 PM - 5:00 PM
: Everyday 2:00 PM - 5:00 PM
: Everyday 2:00 PM - 5:00 PM
: Everyday 2:00 PM - 5:00 PM
: Everyday 2:00 PM - 5:00 PM
: Everyday 2:00 PM - 5:00 PM
: Everyday 2:00 PM - 5:00 PM
: Everyday 2:00 PM - 5:00 PM
: Everyday 2:00 PM - 5:00 PM
: Everyday 2:00 PM - 5:00 PM
: Everyday 2:00 PM - 5:00 PM

: Monday 9:00 AM - 11:00 AM; Wednesday to Sunday 3:00 PM - 6:00 PM
: Monday 9:00 AM - 11:00 AM; Wednesday to Sunday 3:00 PM - 6:00 PM
: Monday 9:00 AM - 11:00 AM; Wednesday to Sunday 3:00 PM - 6:00 PM
: Monday 9:00 AM - 11:00 AM; Wednesday to Sunday 3:00 PM - 6:00 PM
: Monday 9:00 AM - 11:00 AM; Wednesday to Sunday 3:00 PM - 6:00 PM
: Monday 9:00 AM - 11:00 AM; Wednesday to Sunday 3:00 PM - 6:00 PM
: Monday 9:00 AM - 11:00 AM; Wednesday to Sunday 3:00 PM - 6:00 PM
: Monday 9:00 AM - 11:00 AM; Wednesday to Sunday 3:00 PM - 6:00 PM
: Monday 9:00 AM - 11:00 AM; Wednesday to Sunday 3:00 PM - 6:00 PM
: Monday 9:00 AM - 11:00 AM; Wednesday to Sunday 3:00 PM - 6:00 PM
: Monday 9:00 AM - 11:00 AM; Wednesday to Sunday 3:00 PM - 6:00 PM
: Monday 9:00 AM - 11:00 AM; Wednesday to Sunday 3:00 PM - 6:00 PM

: Everyday 2:00 PM - 5:00 PM
: Everyday 2:00 PM - 5:00 PM
: Everyday 2:00 PM - 5:00 PM
: Everyday 2:00 PM - 5:00 PM
: Everyday 2:00 PM - 5:00 PM
: Everyday 2:00 PM - 5:00 PM
: Everyday 2:00 PM - 5:00 PM
: Everyday 2:00 PM - 5:00 PM
: Everyday 2:00 PM - 5:00 PM
: Everyday 2:00 PM - 5:00 PM
: Everyday 2:00 PM - 5:00 PM
: Everyday 2:00 PM - 5:00 PM

: Saturday, Sunday 10:00 AM - 5:00 PM
: Saturday, Sunday 10:00 AM - 5:00 PM
: Saturday, Sunday 10:00 AM - 5:00 PM
: Saturday, Sunday 10:00 AM - 5:00 PM
: Saturday, Sunday 10:00 AM - 5:00 PM
: Saturday, Sunday 10:00 AM - 5:00 PM
: Saturday, Sunday 10:00 AM - 5:00 PM
: Saturday, Sunday 10:00 AM - 5:00 PM
: Saturday, Sunday 10:00 AM - 5:00 PM
: Saturday, Sunday 10:00 AM - 5:00 PM
: Saturday, Sunday 10:00 AM - 5:00 PM
: Saturday, Sunday 10:00 AM - 5:00 PM

: Monday to Saturday 10:00 AM - 5:00 PM; Sunday 10:00 AM - 2:00 PM
: Monday to Saturday 10:00 AM - 5:00 PM; Sunday 10:00 AM - 2:00 PM
: Monday to Saturday 10:00 AM - 5:00 PM; Sunday 10:00 AM - 2:00 PM
: Monday to Saturday 10:00 AM - 5:00 PM; Sunday 10:00 AM - 2:00 PM
: Monday to Saturday 10:00 AM - 5:00 PM; Sunday 10:00 AM - 2:00 PM
: Monday to Saturday 10:00 AM - 5:00 PM; Sunday 10:00 AM - 2:00 PM
: Monday to Saturday 10:00 AM - 5:00 PM; Sunday 10:00 AM - 2:00 PM
: Monday to Saturday 10:00 AM - 5:00 PM; Sunday 10:00 AM - 2:00 PM
: Monday to Saturday 10:00 AM - 5:00 PM; Sunday 10:00 AM - 2:00 PM
: Monday to Saturday 10:00 AM - 5:00 PM; Sunday 10:00 AM - 2:00 PM
: Monday to Saturday 10:00 AM - 5:00 PM; Sunday 10:00 AM - 2:00 PM
: Monday to Saturday 10:00 AM - 5:00 PM; Sunday 10:00 AM - 2:00 PM

: Monday to Friday 10:00 AM - 2:00 PM
: Monday to Friday 10:00 AM - 2:00 PM
: Monday to Friday 10:00 AM - 2:00 PM
: Monday to Friday 10:00 AM - 2:00 PM
: Monday to Friday 10:00 AM - 2:00 PM
: Monday to Friday 10:00 AM - 2:00 PM
: Monday to Friday 10:00 AM - 2:00 PM
: Monday to Friday 10:00 AM - 2:00 PM
: Monday to Friday 10:00 AM - 2:00 PM
: Monday to Friday 10:00 AM - 2:00 PM
: Monday to Friday 10:00 AM - 2:00 PM
: Monday to Friday 10:00 AM - 2:00 PM

: Everyday 8:30 AM - 8:30 PM
: Everyday 8:30 AM - 8:30 PM
: Everyday 8:30 AM - 8:30 PM
: Everyday 8:30 AM - 8:30 PM
: Everyday 8:30 AM - 8:30 PM
: Everyday 8:30 AM - 8:30 PM
: Everyday 8:30 AM - 8:30 PM
: Everyday 8:30 AM - 8:30 PM
: Everyday 8:30 AM - 8:30 PM
: Everyday 8:30 AM - 8:30 PM
: Everyday 8:30 AM - 8:30 PM
: Everyday 8:30 AM - 8:30 PM

: Everyday 24 Hrs
: Everyday 24 Hrs
: Everyday 24 Hrs
: Everyday 24 Hrs
: Everyday 24 Hrs
: Everyday 24 Hrs
: Everyday 24 Hrs
: Everyday 24 Hrs
: Everyday 24 Hrs
: Everyday 24 Hrs
: Everyday 24 Hrs
: Everyday 24 Hrs

: Everyday 24 Hrs
: Everyday 24 Hrs
: Everyday 24 Hrs
: Everyday 24 Hrs
: Everyday 24 Hrs
: Everyday 24 Hrs
: Everyday 24 Hrs
: Everyday 24 Hrs
: Everyday 24 Hrs
: Everyday 24 Hrs
: Everyday 24 Hrs
: Everyday 24 Hrs

: Everyday 24 Hrs
: Everyday 24 Hrs
: Everyday 24 Hrs
: Everyday 24 Hrs
: Everyday 24 Hrs
: Everyday 24 Hrs
: Everyday 24 Hrs
: Everyday 24 Hrs
: Everyday 24 Hrs
: Everyday 24 Hrs
: Everyday 24 Hrs
: Everyday 24 Hrs

: Everyday 24 Hrs
: Everyday 24 Hrs
: Everyday 24 Hrs
: Everyday 24 Hrs
: Everyday 24 Hrs
: Everyday 24 Hrs
: Everyday 24 Hrs
: Everyday 24 Hrs
: Everyday 24 Hrs
: Everyday 24 Hrs
: Everyday 24 Hrs
: Everyday 24 Hrs

: Everyday 24 Hrs
: Everyday 24 Hrs
: Everyday 24 Hrs
: Everyday 24 Hrs
: Everyday 24 Hrs
: Everyday 24 Hrs
: Everyday 24 Hrs
: Everyday 24 Hrs
: Everyday 24 Hrs
: Everyday 24 Hrs
: Everyday 24 Hrs
: Everyday 24 Hrs

: Everyday 24 Hrs
: Everyday 24 Hrs
: Everyday 24 Hrs
: Everyday 24 Hrs
: Everyday 24 Hrs
: Everyday 24 Hrs
: Everyday 24 Hrs
: Everyday 24 Hrs
: Everyday 24 Hrs
: Everyday 24 Hrs
: Everyday 24 Hrs
: Everyday 24 Hrs