Best Time To Visit Belem
Explore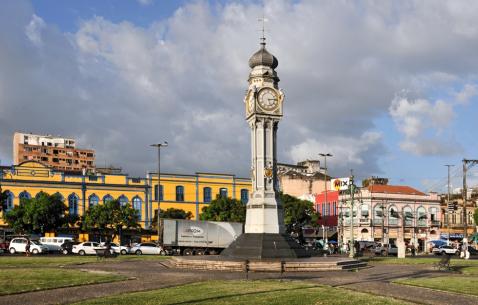 Best Time To Go To Belem
Belem is in the Amazon tropical rainforest. In other words, temperatures remain constant throughout the year. What really drives weather here isn't temperature, but rain. There are no winters and summers, only the wet season and the dry season:
Dry Season: June to December: This is the best time to visit. Though temperatures in the day time will hover around 32 degrees Celsius, and the humidity will be high, you will at least get to go around. At nights the temperature is 22 degrees Celsius.
Wet Season: January – May: Temperature is between 23-31 degrees Celsius, but that barely matters, because it's going to rain torrential rain every afternoon. This can severely curtail your sightseeing plans.
The only reason to visit Belem during the wet season is if you're also planning to check out the rest of Brazil's north coast.
Best time to go to Belem Attractions

: Everyday 10:00 AM - 11:00 PM
: Everyday 10:00 AM - 11:00 PM
: Everyday 10:00 AM - 11:00 PM
: Everyday 10:00 AM - 11:00 PM
: Everyday 10:00 AM - 11:00 PM
: Everyday 10:00 AM - 11:00 PM
: Everyday 10:00 AM - 11:00 PM
: Everyday 10:00 AM - 11:00 PM
: Everyday 10:00 AM - 11:00 PM
: Everyday 10:00 AM - 11:00 PM
: Everyday 10:00 AM - 11:00 PM
: Everyday 10:00 AM - 11:00 PM

: Tuesday to Friday 9:00 AM - 3:00 PM
: Tuesday to Friday 9:00 AM - 3:00 PM
: Tuesday to Friday 9:00 AM - 3:00 PM
: Tuesday to Friday 9:00 AM - 3:00 PM
: Tuesday to Friday 9:00 AM - 3:00 PM
: Tuesday to Friday 9:00 AM - 3:00 PM
: Tuesday to Friday 9:00 AM - 3:00 PM
: Tuesday to Friday 9:00 AM - 3:00 PM
: Tuesday to Friday 9:00 AM - 3:00 PM
: Tuesday to Friday 9:00 AM - 3:00 PM
: Tuesday to Friday 9:00 AM - 3:00 PM
: Tuesday to Friday 9:00 AM - 3:00 PM

: Everyday 7:00 AM - 6:00 PM
: Everyday 7:00 AM - 6:00 PM
: Everyday 7:00 AM - 6:00 PM
: Everyday 7:00 AM - 6:00 PM
: Everyday 7:00 AM - 6:00 PM
: Everyday 7:00 AM - 6:00 PM
: Everyday 7:00 AM - 6:00 PM
: Everyday 7:00 AM - 6:00 PM
: Everyday 7:00 AM - 6:00 PM
: Everyday 7:00 AM - 6:00 PM
: Everyday 7:00 AM - 6:00 PM
: Everyday 7:00 AM - 6:00 PM

: Everyday 10:00 AM - 2:00 PM
: Everyday 10:00 AM - 2:00 PM
: Everyday 10:00 AM - 2:00 PM
: Everyday 10:00 AM - 2:00 PM
: Everyday 10:00 AM - 2:00 PM
: Everyday 10:00 AM - 2:00 PM
: Everyday 10:00 AM - 2:00 PM
: Everyday 10:00 AM - 2:00 PM
: Everyday 10:00 AM - 2:00 PM
: Everyday 10:00 AM - 2:00 PM
: Everyday 10:00 AM - 2:00 PM
: Everyday 10:00 AM - 2:00 PM

: Monday to Friday 9:00 AM - 3:00 PM; Saturday, Sunday 9:00 AM - 10:00 AM
: Monday to Friday 9:00 AM - 3:00 PM; Saturday, Sunday 9:00 AM - 10:00 AM
: Monday to Friday 9:00 AM - 3:00 PM; Saturday, Sunday 9:00 AM - 10:00 AM
: Monday to Friday 9:00 AM - 3:00 PM; Saturday, Sunday 9:00 AM - 10:00 AM
: Monday to Friday 9:00 AM - 3:00 PM; Saturday, Sunday 9:00 AM - 10:00 AM
: Monday to Friday 9:00 AM - 3:00 PM; Saturday, Sunday 9:00 AM - 10:00 AM
: Monday to Friday 9:00 AM - 3:00 PM; Saturday, Sunday 9:00 AM - 10:00 AM
: Monday to Friday 9:00 AM - 3:00 PM; Saturday, Sunday 9:00 AM - 10:00 AM
: Monday to Friday 9:00 AM - 3:00 PM; Saturday, Sunday 9:00 AM - 10:00 AM
: Monday to Friday 9:00 AM - 3:00 PM; Saturday, Sunday 9:00 AM - 10:00 AM
: Monday to Friday 9:00 AM - 3:00 PM; Saturday, Sunday 9:00 AM - 10:00 AM
: Monday to Friday 9:00 AM - 3:00 PM; Saturday, Sunday 9:00 AM - 10:00 AM

: Tuesday to Sunday 10:00 AM - 4:00 PM
: Tuesday to Sunday 10:00 AM - 4:00 PM
: Tuesday to Sunday 10:00 AM - 4:00 PM
: Tuesday to Sunday 10:00 AM - 4:00 PM
: Tuesday to Sunday 10:00 AM - 4:00 PM
: Tuesday to Sunday 10:00 AM - 4:00 PM
: Tuesday to Sunday 10:00 AM - 4:00 PM
: Tuesday to Sunday 10:00 AM - 4:00 PM
: Tuesday to Sunday 10:00 AM - 4:00 PM
: Tuesday to Sunday 10:00 AM - 4:00 PM
: Tuesday to Sunday 10:00 AM - 4:00 PM
: Tuesday to Sunday 10:00 AM - 4:00 PM

: Monday 24 Hrs
: Monday 24 Hrs
: Monday 24 Hrs
: Monday 24 Hrs
: Monday 24 Hrs
: Monday 24 Hrs
: Monday 24 Hrs
: Monday 24 Hrs
: Monday 24 Hrs
: Monday 24 Hrs
: Monday 24 Hrs
: Monday 24 Hrs

: Monday to Friday 2:00 PM - 6:00 PM; Saturday, Sunday 4:00 PM - 7:00 PM
: Monday to Friday 2:00 PM - 6:00 PM; Saturday, Sunday 4:00 PM - 7:00 PM
: Monday to Friday 2:00 PM - 6:00 PM; Saturday, Sunday 4:00 PM - 7:00 PM
: Monday to Friday 2:00 PM - 6:00 PM; Saturday, Sunday 4:00 PM - 7:00 PM
: Monday to Friday 2:00 PM - 6:00 PM; Saturday, Sunday 4:00 PM - 7:00 PM
: Monday to Friday 2:00 PM - 6:00 PM; Saturday, Sunday 4:00 PM - 7:00 PM
: Monday to Friday 2:00 PM - 6:00 PM; Saturday, Sunday 4:00 PM - 7:00 PM
: Monday to Friday 2:00 PM - 6:00 PM; Saturday, Sunday 4:00 PM - 7:00 PM
: Monday to Friday 2:00 PM - 6:00 PM; Saturday, Sunday 4:00 PM - 7:00 PM
: Monday to Friday 2:00 PM - 6:00 PM; Saturday, Sunday 4:00 PM - 7:00 PM
: Monday to Friday 2:00 PM - 6:00 PM; Saturday, Sunday 4:00 PM - 7:00 PM
: Monday to Friday 2:00 PM - 6:00 PM; Saturday, Sunday 4:00 PM - 7:00 PM

: Everyday 10:00 AM - 6:00 PM
: Everyday 10:00 AM - 6:00 PM
: Everyday 10:00 AM - 6:00 PM
: Everyday 10:00 AM - 6:00 PM
: Everyday 10:00 AM - 6:00 PM
: Everyday 10:00 AM - 6:00 PM
: Everyday 10:00 AM - 6:00 PM
: Everyday 10:00 AM - 6:00 PM
: Everyday 10:00 AM - 6:00 PM
: Everyday 10:00 AM - 6:00 PM
: Everyday 10:00 AM - 6:00 PM
: Everyday 10:00 AM - 6:00 PM

: Tuesday to Sunday 9:00 AM - 4:00 PM
: Tuesday to Sunday 9:00 AM - 4:00 PM
: Tuesday to Sunday 9:00 AM - 4:00 PM
: Tuesday to Sunday 9:00 AM - 4:00 PM
: Tuesday to Sunday 9:00 AM - 4:00 PM
: Tuesday to Sunday 9:00 AM - 4:00 PM
: Tuesday to Sunday 9:00 AM - 4:00 PM
: Tuesday to Sunday 9:00 AM - 4:00 PM
: Tuesday to Sunday 9:00 AM - 4:00 PM
: Tuesday to Sunday 9:00 AM - 4:00 PM
: Tuesday to Sunday 9:00 AM - 4:00 PM
: Tuesday to Sunday 9:00 AM - 4:00 PM

: Everyday 10:00 AM - 6:00 PM
: Everyday 10:00 AM - 6:00 PM
: Everyday 10:00 AM - 6:00 PM
: Everyday 10:00 AM - 6:00 PM
: Everyday 10:00 AM - 6:00 PM
: Everyday 10:00 AM - 6:00 PM
: Everyday 10:00 AM - 6:00 PM
: Everyday 10:00 AM - 6:00 PM
: Everyday 10:00 AM - 6:00 PM
: Everyday 10:00 AM - 6:00 PM
: Everyday 10:00 AM - 6:00 PM
: Everyday 10:00 AM - 6:00 PM

: Tuesday, Wednesday, Thursday, Friday, Sunday 10:00 AM - 5:00 PM; Saturday 10:00 AM - 1:00 PM
: Tuesday, Wednesday, Thursday, Friday, Sunday 10:00 AM - 5:00 PM; Saturday 10:00 AM - 1:00 PM
: Tuesday, Wednesday, Thursday, Friday, Sunday 10:00 AM - 5:00 PM; Saturday 10:00 AM - 1:00 PM
: Tuesday, Wednesday, Thursday, Friday, Sunday 10:00 AM - 5:00 PM; Saturday 10:00 AM - 1:00 PM
: Tuesday, Wednesday, Thursday, Friday, Sunday 10:00 AM - 5:00 PM; Saturday 10:00 AM - 1:00 PM
: Tuesday, Wednesday, Thursday, Friday, Sunday 10:00 AM - 5:00 PM; Saturday 10:00 AM - 1:00 PM
: Tuesday, Wednesday, Thursday, Friday, Sunday 10:00 AM - 5:00 PM; Saturday 10:00 AM - 1:00 PM
: Tuesday, Wednesday, Thursday, Friday, Sunday 10:00 AM - 5:00 PM; Saturday 10:00 AM - 1:00 PM
: Tuesday, Wednesday, Thursday, Friday, Sunday 10:00 AM - 5:00 PM; Saturday 10:00 AM - 1:00 PM
: Tuesday, Wednesday, Thursday, Friday, Sunday 10:00 AM - 5:00 PM; Saturday 10:00 AM - 1:00 PM
: Tuesday, Wednesday, Thursday, Friday, Sunday 10:00 AM - 5:00 PM; Saturday 10:00 AM - 1:00 PM
: Tuesday, Wednesday, Thursday, Friday, Sunday 10:00 AM - 5:00 PM; Saturday 10:00 AM - 1:00 PM

: Monday to Friday 10:00 AM - 4:00 PM; Saturday, Sunday 10:00 AM - 4:00 PM
: Monday to Friday 10:00 AM - 4:00 PM; Saturday, Sunday 10:00 AM - 4:00 PM
: Monday to Friday 10:00 AM - 4:00 PM; Saturday, Sunday 10:00 AM - 4:00 PM
: Monday to Friday 10:00 AM - 4:00 PM; Saturday, Sunday 10:00 AM - 4:00 PM
: Monday to Friday 10:00 AM - 4:00 PM; Saturday, Sunday 10:00 AM - 4:00 PM
: Monday to Friday 10:00 AM - 4:00 PM; Saturday, Sunday 10:00 AM - 4:00 PM
: Monday to Friday 10:00 AM - 4:00 PM; Saturday, Sunday 10:00 AM - 4:00 PM
: Monday to Friday 10:00 AM - 4:00 PM; Saturday, Sunday 10:00 AM - 4:00 PM
: Monday to Friday 10:00 AM - 4:00 PM; Saturday, Sunday 10:00 AM - 4:00 PM
: Monday to Friday 10:00 AM - 4:00 PM; Saturday, Sunday 10:00 AM - 4:00 PM
: Monday to Friday 10:00 AM - 4:00 PM; Saturday, Sunday 10:00 AM - 4:00 PM
: Monday to Friday 10:00 AM - 4:00 PM; Saturday, Sunday 10:00 AM - 4:00 PM

: Everyday 7:00 AM - 5:00 PM
: Everyday 7:00 AM - 5:00 PM
: Everyday 7:00 AM - 5:00 PM
: Everyday 7:00 AM - 5:00 PM
: Everyday 7:00 AM - 5:00 PM
: Everyday 7:00 AM - 5:00 PM
: Everyday 7:00 AM - 5:00 PM
: Everyday 7:00 AM - 5:00 PM
: Everyday 7:00 AM - 5:00 PM
: Everyday 7:00 AM - 5:00 PM
: Everyday 7:00 AM - 5:00 PM
: Everyday 7:00 AM - 5:00 PM

: Everyday 6:00 AM - 6:00 PM
: Everyday 6:00 AM - 6:00 PM
: Everyday 6:00 AM - 6:00 PM
: Everyday 6:00 AM - 6:00 PM
: Everyday 6:00 AM - 6:00 PM
: Everyday 6:00 AM - 6:00 PM
: Everyday 6:00 AM - 6:00 PM
: Everyday 6:00 AM - 6:00 PM
: Everyday 6:00 AM - 6:00 PM
: Everyday 6:00 AM - 6:00 PM
: Everyday 6:00 AM - 6:00 PM
: Everyday 6:00 AM - 6:00 PM

: Monday to Friday 6:45 AM - 11:00 PM; Saturday 6:45 AM - 11:00 PM
: Monday to Friday 6:45 AM - 11:00 PM; Saturday 6:45 AM - 11:00 PM
: Monday to Friday 6:45 AM - 11:00 PM; Saturday 6:45 AM - 11:00 PM
: Monday to Friday 6:45 AM - 11:00 PM; Saturday 6:45 AM - 11:00 PM
: Monday to Friday 6:45 AM - 11:00 PM; Saturday 6:45 AM - 11:00 PM
: Monday to Friday 6:45 AM - 11:00 PM; Saturday 6:45 AM - 11:00 PM
: Monday to Friday 6:45 AM - 11:00 PM; Saturday 6:45 AM - 11:00 PM
: Monday to Friday 6:45 AM - 11:00 PM; Saturday 6:45 AM - 11:00 PM
: Monday to Friday 6:45 AM - 11:00 PM; Saturday 6:45 AM - 11:00 PM
: Monday to Friday 6:45 AM - 11:00 PM; Saturday 6:45 AM - 11:00 PM
: Monday to Friday 6:45 AM - 11:00 PM; Saturday 6:45 AM - 11:00 PM
: Monday to Friday 6:45 AM - 11:00 PM; Saturday 6:45 AM - 11:00 PM

: Monday to Friday 8:00 AM - 6:00 PM
: Monday to Friday 8:00 AM - 6:00 PM
: Monday to Friday 8:00 AM - 6:00 PM
: Monday to Friday 8:00 AM - 6:00 PM
: Monday to Friday 8:00 AM - 6:00 PM
: Monday to Friday 8:00 AM - 6:00 PM
: Monday to Friday 8:00 AM - 6:00 PM
: Monday to Friday 8:00 AM - 6:00 PM
: Monday to Friday 8:00 AM - 6:00 PM
: Monday to Friday 8:00 AM - 6:00 PM
: Monday to Friday 8:00 AM - 6:00 PM
: Monday to Friday 8:00 AM - 6:00 PM

: Monday to Friday 8:00 AM - 3:00 PM
: Monday to Friday 8:00 AM - 3:00 PM
: Monday to Friday 8:00 AM - 3:00 PM
: Monday to Friday 8:00 AM - 3:00 PM
: Monday to Friday 8:00 AM - 3:00 PM
: Monday to Friday 8:00 AM - 3:00 PM
: Monday to Friday 8:00 AM - 3:00 PM
: Monday to Friday 8:00 AM - 3:00 PM
: Monday to Friday 8:00 AM - 3:00 PM
: Monday to Friday 8:00 AM - 3:00 PM
: Monday to Friday 8:00 AM - 3:00 PM
: Monday to Friday 8:00 AM - 3:00 PM

: Monday to Friday 9:00 AM - 7:00 PM
: Monday to Friday 9:00 AM - 7:00 PM
: Monday to Friday 9:00 AM - 7:00 PM
: Monday to Friday 9:00 AM - 7:00 PM
: Monday to Friday 9:00 AM - 7:00 PM
: Monday to Friday 9:00 AM - 7:00 PM
: Monday to Friday 9:00 AM - 7:00 PM
: Monday to Friday 9:00 AM - 7:00 PM
: Monday to Friday 9:00 AM - 7:00 PM
: Monday to Friday 9:00 AM - 7:00 PM
: Monday to Friday 9:00 AM - 7:00 PM
: Monday to Friday 9:00 AM - 7:00 PM

: Everyday 24 Hrs
: Everyday 24 Hrs
: Everyday 24 Hrs
: Everyday 24 Hrs
: Everyday 24 Hrs
: Everyday 24 Hrs
: Everyday 24 Hrs
: Everyday 24 Hrs
: Everyday 24 Hrs
: Everyday 24 Hrs
: Everyday 24 Hrs
: Everyday 24 Hrs

: Tuesday, Wednesday, Thursday, Friday, Saturday, Sunday 8:00 AM - 5:00 PM
: Tuesday, Wednesday, Thursday, Friday, Saturday, Sunday 8:00 AM - 5:00 PM
: Tuesday, Wednesday, Thursday, Friday, Saturday, Sunday 8:00 AM - 5:00 PM
: Tuesday, Wednesday, Thursday, Friday, Saturday, Sunday 8:00 AM - 5:00 PM
: Tuesday, Wednesday, Thursday, Friday, Saturday, Sunday 8:00 AM - 5:00 PM
: Tuesday, Wednesday, Thursday, Friday, Saturday, Sunday 8:00 AM - 5:00 PM
: Tuesday, Wednesday, Thursday, Friday, Saturday, Sunday 8:00 AM - 5:00 PM
: Tuesday, Wednesday, Thursday, Friday, Saturday, Sunday 8:00 AM - 5:00 PM
: Tuesday, Wednesday, Thursday, Friday, Saturday, Sunday 8:00 AM - 5:00 PM
: Tuesday, Wednesday, Thursday, Friday, Saturday, Sunday 8:00 AM - 5:00 PM
: Tuesday, Wednesday, Thursday, Friday, Saturday, Sunday 8:00 AM - 5:00 PM
: Tuesday, Wednesday, Thursday, Friday, Saturday, Sunday 8:00 AM - 5:00 PM