Best Time To Visit Belgrade
Explore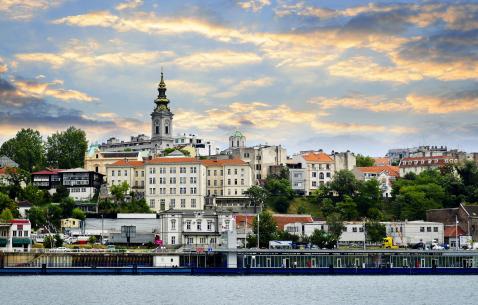 Accommodations with

See All
Best Time To Go To Belgrade
Belgrade is characterized by a moderate continental climate with an average yearly temperature of 11.7°C.
Summer (June – August): Summers begin abruptly and usually have a warm and humid weather. The average temperature is around 21°C.
Winter (December – February): Winters are cold, with temperatures dropping below 0°C often.
Spring (March – May): Springs are short and the weather is often rainy.
Autumn (September – November): Autumns are longer, warm and sunny.
Belgrade can be on your trip planners all year long except winter, unless you are planning to ski. However, the best time to visit the city is between late spring and summer. (May through August)
Explore the best travel planner for your visit to Belgrade and create a flawless plan in few simple steps!
Best time to go to Belgrade Attractions

: Everyday 9:00 AM - 4:00 PM
: Everyday 9:00 AM - 4:00 PM
: Everyday 9:00 AM - 4:00 PM
: Everyday 9:00 AM - 4:00 PM
: Everyday 9:00 AM - 4:00 PM
: Everyday 9:00 AM - 4:00 PM
: Everyday 9:00 AM - 4:00 PM
: Everyday 9:00 AM - 4:00 PM
: Everyday 9:00 AM - 4:00 PM
: Everyday 9:00 AM - 4:00 PM
: Everyday 9:00 AM - 4:00 PM
: Everyday 9:00 AM - 4:00 PM

: Everyday 00:1 AM - 1:00 AM; Everyday 00:1 AM - 1:00 AM
: Everyday 00:1 AM - 1:00 AM; Everyday 00:1 AM - 1:00 AM
: Everyday 00:1 AM - 1:00 AM; Everyday 00:1 AM - 1:00 AM
: Everyday 00:1 AM - 1:00 AM; Everyday 00:1 AM - 1:00 AM
: Everyday 00:1 AM - 1:00 AM; Everyday 00:1 AM - 1:00 AM
: Everyday 00:1 AM - 1:00 AM; Everyday 00:1 AM - 1:00 AM
: Everyday 00:1 AM - 1:00 AM; Everyday 00:1 AM - 1:00 AM
: Everyday 00:1 AM - 1:00 AM; Everyday 00:1 AM - 1:00 AM
: Everyday 00:1 AM - 1:00 AM; Everyday 00:1 AM - 1:00 AM
: Everyday 00:1 AM - 1:00 AM; Everyday 00:1 AM - 1:00 AM
: Everyday 00:1 AM - 1:00 AM; Everyday 00:1 AM - 1:00 AM
: Everyday 00:1 AM - 1:00 AM; Everyday 00:1 AM - 1:00 AM

: Everyday 11:00 AM - 3:00 PM
: Everyday 11:00 AM - 3:00 PM
: Everyday 11:00 AM - 3:00 PM
: Everyday 11:00 AM - 3:00 PM
: Everyday 11:00 AM - 3:00 PM
: Everyday 11:00 AM - 3:00 PM
: Everyday 11:00 AM - 3:00 PM
: Everyday 11:00 AM - 3:00 PM
: Everyday 11:00 AM - 3:00 PM
: Everyday 11:00 AM - 3:00 PM
: Everyday 11:00 AM - 3:00 PM
: Everyday 11:00 AM - 3:00 PM

: Everyday 10:00 AM - 3:00 PM
: Everyday 10:00 AM - 3:00 PM
: Everyday 10:00 AM - 3:00 PM
: Everyday 10:00 AM - 3:00 PM
: Everyday 10:00 AM - 3:00 PM
: Everyday 10:00 AM - 3:00 PM
: Everyday 10:00 AM - 3:00 PM
: Everyday 10:00 AM - 3:00 PM
: Everyday 10:00 AM - 3:00 PM
: Everyday 10:00 AM - 3:00 PM
: Everyday 10:00 AM - 3:00 PM
: Everyday 10:00 AM - 3:00 PM

: Tuesday to Sunday 10:00 AM - 3:00 PM
: Tuesday to Sunday 10:00 AM - 3:00 PM
: Tuesday to Sunday 10:00 AM - 3:00 PM
: Tuesday to Sunday 10:00 AM - 3:00 PM
: Tuesday to Sunday 10:00 AM - 3:00 PM
: Tuesday to Sunday 10:00 AM - 3:00 PM
: Tuesday to Sunday 10:00 AM - 3:00 PM
: Tuesday to Sunday 10:00 AM - 3:00 PM
: Tuesday to Sunday 10:00 AM - 3:00 PM
: Tuesday to Sunday 10:00 AM - 3:00 PM
: Tuesday to Sunday 10:00 AM - 3:00 PM
: Tuesday to Sunday 10:00 AM - 3:00 PM

: Everyday 11:00 AM - 9:00 PM
: Everyday 11:00 AM - 9:00 PM
: Everyday 11:00 AM - 9:00 PM
: Everyday 11:00 AM - 9:00 PM
: Everyday 11:00 AM - 9:00 PM
: Everyday 11:00 AM - 9:00 PM
: Everyday 11:00 AM - 9:00 PM
: Everyday 11:00 AM - 9:00 PM
: Everyday 11:00 AM - 9:00 PM
: Everyday 11:00 AM - 9:00 PM
: Everyday 11:00 AM - 9:00 PM
: Everyday 11:00 AM - 9:00 PM

: Everyday 8:00 AM - 2:00 PM
: Everyday 8:00 AM - 2:00 PM
: Everyday 8:00 AM - 2:00 PM
: Everyday 8:00 AM - 2:00 PM
: Everyday 8:00 AM - 2:00 PM
: Everyday 8:00 AM - 2:00 PM
: Everyday 8:00 AM - 2:00 PM
: Everyday 8:00 AM - 2:00 PM
: Everyday 8:00 AM - 2:00 PM
: Everyday 8:00 AM - 2:00 PM
: Everyday 8:00 AM - 2:00 PM
: Everyday 8:00 AM - 2:00 PM

: Tuesday to Sunday 11:00 AM - 2:00 PM
: Tuesday to Sunday 11:00 AM - 2:00 PM
: Tuesday to Sunday 11:00 AM - 2:00 PM
: Tuesday to Sunday 11:00 AM - 2:00 PM
: Tuesday to Sunday 11:00 AM - 2:00 PM
: Tuesday to Sunday 11:00 AM - 2:00 PM
: Tuesday to Sunday 11:00 AM - 2:00 PM
: Tuesday to Sunday 11:00 AM - 2:00 PM
: Tuesday to Sunday 11:00 AM - 2:00 PM
: Tuesday to Sunday 11:00 AM - 2:00 PM
: Tuesday to Sunday 11:00 AM - 2:00 PM
: Tuesday to Sunday 11:00 AM - 2:00 PM

: Everyday 7:00 AM - 5:00 PM
: Everyday 7:00 AM - 5:00 PM
: Everyday 7:00 AM - 5:00 PM
: Everyday 7:00 AM - 5:00 PM
: Everyday 7:00 AM - 5:00 PM
: Everyday 7:00 AM - 5:00 PM
: Everyday 7:00 AM - 5:00 PM
: Everyday 7:00 AM - 5:00 PM
: Everyday 7:00 AM - 5:00 PM
: Everyday 7:00 AM - 5:00 PM
: Everyday 7:00 AM - 5:00 PM
: Everyday 7:00 AM - 5:00 PM

: Tuesday to Sunday 10:00 AM - 3:30 PM
: Tuesday to Sunday 10:00 AM - 3:30 PM
: Tuesday to Sunday 10:00 AM - 3:30 PM
: Tuesday to Sunday 10:00 AM - 3:30 PM
: Tuesday to Sunday 10:00 AM - 3:30 PM
: Tuesday to Sunday 10:00 AM - 3:30 PM
: Tuesday to Sunday 10:00 AM - 3:30 PM
: Tuesday to Sunday 10:00 AM - 3:30 PM
: Tuesday to Sunday 10:00 AM - 3:30 PM
: Tuesday to Sunday 10:00 AM - 3:30 PM
: Tuesday to Sunday 10:00 AM - 3:30 PM
: Tuesday to Sunday 10:00 AM - 3:30 PM

: Everyday 9:00 AM - 3:00 PM
: Everyday 9:00 AM - 3:00 PM
: Everyday 9:00 AM - 3:00 PM
: Everyday 9:00 AM - 3:00 PM
: Everyday 9:00 AM - 3:00 PM
: Everyday 9:00 AM - 3:00 PM
: Everyday 9:00 AM - 3:00 PM
: Everyday 9:00 AM - 3:00 PM
: Everyday 9:00 AM - 3:00 PM
: Everyday 9:00 AM - 3:00 PM
: Everyday 9:00 AM - 3:00 PM
: Everyday 9:00 AM - 3:00 PM

: Monday, Tuesday, Wednesday, Thursday, Friday, Sunday 10:00 AM - 2:00 PM; Saturday 10:00 AM - 2:00 PM
: Monday, Tuesday, Wednesday, Thursday, Friday, Sunday 10:00 AM - 2:00 PM; Saturday 10:00 AM - 2:00 PM
: Monday, Tuesday, Wednesday, Thursday, Friday, Sunday 10:00 AM - 2:00 PM; Saturday 10:00 AM - 2:00 PM
: Monday, Tuesday, Wednesday, Thursday, Friday, Sunday 10:00 AM - 2:00 PM; Saturday 10:00 AM - 2:00 PM
: Monday, Tuesday, Wednesday, Thursday, Friday, Sunday 10:00 AM - 2:00 PM; Saturday 10:00 AM - 2:00 PM
: Monday, Tuesday, Wednesday, Thursday, Friday, Sunday 10:00 AM - 2:00 PM; Saturday 10:00 AM - 2:00 PM
: Monday, Tuesday, Wednesday, Thursday, Friday, Sunday 10:00 AM - 2:00 PM; Saturday 10:00 AM - 2:00 PM
: Monday, Tuesday, Wednesday, Thursday, Friday, Sunday 10:00 AM - 2:00 PM; Saturday 10:00 AM - 2:00 PM
: Monday, Tuesday, Wednesday, Thursday, Friday, Sunday 10:00 AM - 2:00 PM; Saturday 10:00 AM - 2:00 PM
: Monday, Tuesday, Wednesday, Thursday, Friday, Sunday 10:00 AM - 2:00 PM; Saturday 10:00 AM - 2:00 PM
: Monday, Tuesday, Wednesday, Thursday, Friday, Sunday 10:00 AM - 2:00 PM; Saturday 10:00 AM - 2:00 PM
: Monday, Tuesday, Wednesday, Thursday, Friday, Sunday 10:00 AM - 2:00 PM; Saturday 10:00 AM - 2:00 PM

: Everyday 9:00 AM - 3:00 PM
: Everyday 9:00 AM - 3:00 PM
: Everyday 9:00 AM - 3:00 PM
: Everyday 9:00 AM - 3:00 PM
: Everyday 9:00 AM - 3:00 PM
: Everyday 9:00 AM - 3:00 PM
: Everyday 9:00 AM - 3:00 PM
: Everyday 9:00 AM - 3:00 PM
: Everyday 9:00 AM - 3:00 PM
: Everyday 9:00 AM - 3:00 PM
: Everyday 9:00 AM - 3:00 PM
: Everyday 9:00 AM - 3:00 PM

: Everyday 11:00 AM - 5:00 PM
: Everyday 11:00 AM - 5:00 PM
: Everyday 11:00 AM - 5:00 PM
: Everyday 11:00 AM - 5:00 PM
: Everyday 11:00 AM - 5:00 PM
: Everyday 11:00 AM - 5:00 PM
: Everyday 11:00 AM - 5:00 PM
: Everyday 11:00 AM - 5:00 PM
: Everyday 11:00 AM - 5:00 PM
: Everyday 11:00 AM - 5:00 PM
: Everyday 11:00 AM - 5:00 PM
: Everyday 11:00 AM - 5:00 PM

: Everyday 9:00 AM - 4:00 PM
: Everyday 9:00 AM - 4:00 PM
: Everyday 9:00 AM - 4:00 PM
: Everyday 9:00 AM - 4:00 PM
: Everyday 9:00 AM - 4:00 PM
: Everyday 9:00 AM - 4:00 PM
: Everyday 9:00 AM - 4:00 PM
: Everyday 9:00 AM - 4:00 PM
: Everyday 9:00 AM - 4:00 PM
: Everyday 9:00 AM - 4:00 PM
: Everyday 9:00 AM - 4:00 PM
: Everyday 9:00 AM - 4:00 PM

: Everyday 7:00 PM - 11:00 PM
: Everyday 7:00 PM - 11:00 PM
: Everyday 7:00 PM - 11:00 PM
: Everyday 7:00 PM - 11:00 PM
: Everyday 7:00 PM - 11:00 PM
: Everyday 7:00 PM - 11:00 PM
: Everyday 7:00 PM - 11:00 PM
: Everyday 7:00 PM - 11:00 PM
: Everyday 7:00 PM - 11:00 PM
: Everyday 7:00 PM - 11:00 PM
: Everyday 7:00 PM - 11:00 PM
: Everyday 7:00 PM - 11:00 PM

: Everyday 10:00 AM - 11:59 PM
: Everyday 10:00 AM - 11:59 PM
: Everyday 10:00 AM - 11:59 PM
: Everyday 10:00 AM - 11:59 PM
: Everyday 10:00 AM - 11:59 PM
: Everyday 10:00 AM - 11:59 PM
: Everyday 10:00 AM - 11:59 PM
: Everyday 10:00 AM - 11:59 PM
: Everyday 10:00 AM - 11:59 PM
: Everyday 10:00 AM - 11:59 PM
: Everyday 10:00 AM - 11:59 PM
: Everyday 10:00 AM - 11:59 PM

: Everyday 6:00 AM - 11:00 AM; Everyday 6:00 AM - 11:00 AM | 6:00 PM - 8:00 PM
: Everyday 6:00 AM - 11:00 AM; Everyday 6:00 AM - 11:00 AM | 6:00 PM - 8:00 PM
: Everyday 6:00 AM - 11:00 AM; Everyday 6:00 AM - 11:00 AM | 6:00 PM - 8:00 PM
: Everyday 6:00 AM - 11:00 AM; Everyday 6:00 AM - 11:00 AM | 6:00 PM - 8:00 PM
: Everyday 6:00 AM - 11:00 AM; Everyday 6:00 AM - 11:00 AM | 6:00 PM - 8:00 PM
: Everyday 6:00 AM - 11:00 AM; Everyday 6:00 AM - 11:00 AM | 6:00 PM - 8:00 PM
: Everyday 6:00 AM - 11:00 AM; Everyday 6:00 AM - 11:00 AM | 6:00 PM - 8:00 PM
: Everyday 6:00 AM - 11:00 AM; Everyday 6:00 AM - 11:00 AM | 6:00 PM - 8:00 PM
: Everyday 6:00 AM - 11:00 AM; Everyday 6:00 AM - 11:00 AM | 6:00 PM - 8:00 PM
: Everyday 6:00 AM - 11:00 AM; Everyday 6:00 AM - 11:00 AM | 6:00 PM - 8:00 PM
: Everyday 6:00 AM - 11:00 AM; Everyday 6:00 AM - 11:00 AM | 6:00 PM - 8:00 PM
: Everyday 6:00 AM - 11:00 AM; Everyday 6:00 AM - 11:00 AM | 6:00 PM - 8:00 PM

: Tuesday to Sunday 10:00 AM - 2:00 PM
: Tuesday to Sunday 10:00 AM - 2:00 PM
: Tuesday to Sunday 10:00 AM - 2:00 PM
: Tuesday to Sunday 10:00 AM - 2:00 PM
: Tuesday to Sunday 10:00 AM - 2:00 PM
: Tuesday to Sunday 10:00 AM - 2:00 PM
: Tuesday to Sunday 10:00 AM - 2:00 PM
: Tuesday to Sunday 10:00 AM - 2:00 PM
: Tuesday to Sunday 10:00 AM - 2:00 PM
: Tuesday to Sunday 10:00 AM - 2:00 PM
: Tuesday to Sunday 10:00 AM - 2:00 PM
: Tuesday to Sunday 10:00 AM - 2:00 PM

: Everyday 11:00 AM - 5:00 PM
: Everyday 11:00 AM - 5:00 PM
: Everyday 11:00 AM - 5:00 PM
: Everyday 11:00 AM - 5:00 PM
: Everyday 11:00 AM - 5:00 PM
: Everyday 11:00 AM - 5:00 PM
: Everyday 11:00 AM - 5:00 PM
: Everyday 11:00 AM - 5:00 PM
: Everyday 11:00 AM - 5:00 PM
: Everyday 11:00 AM - 5:00 PM
: Everyday 11:00 AM - 5:00 PM
: Everyday 11:00 AM - 5:00 PM

: Everyday 11:00 AM - 6:00 PM
: Everyday 11:00 AM - 6:00 PM
: Everyday 11:00 AM - 6:00 PM
: Everyday 11:00 AM - 6:00 PM
: Everyday 11:00 AM - 6:00 PM
: Everyday 11:00 AM - 6:00 PM
: Everyday 11:00 AM - 6:00 PM
: Everyday 11:00 AM - 6:00 PM
: Everyday 11:00 AM - 6:00 PM
: Everyday 11:00 AM - 6:00 PM
: Everyday 11:00 AM - 6:00 PM
: Everyday 11:00 AM - 6:00 PM

: Everyday 10:00 AM - 5:00 PM
: Everyday 10:00 AM - 5:00 PM
: Everyday 10:00 AM - 5:00 PM
: Everyday 10:00 AM - 5:00 PM
: Everyday 10:00 AM - 5:00 PM
: Everyday 10:00 AM - 5:00 PM
: Everyday 10:00 AM - 5:00 PM
: Everyday 10:00 AM - 5:00 PM
: Everyday 10:00 AM - 5:00 PM
: Everyday 10:00 AM - 5:00 PM
: Everyday 10:00 AM - 5:00 PM
: Everyday 10:00 AM - 5:00 PM

: Everyday 7:00 PM - 9:00 PM
: Everyday 7:00 PM - 9:00 PM
: Everyday 7:00 PM - 9:00 PM
: Everyday 7:00 PM - 9:00 PM
: Everyday 7:00 PM - 9:00 PM
: Everyday 7:00 PM - 9:00 PM
: Everyday 7:00 PM - 9:00 PM
: Everyday 7:00 PM - 9:00 PM
: Everyday 7:00 PM - 9:00 PM
: Everyday 7:00 PM - 9:00 PM
: Everyday 7:00 PM - 9:00 PM
: Everyday 7:00 PM - 9:00 PM

: Everyday 10:00 AM - 4:00 PM
: Everyday 10:00 AM - 4:00 PM
: Everyday 10:00 AM - 4:00 PM
: Everyday 10:00 AM - 4:00 PM
: Everyday 10:00 AM - 4:00 PM
: Everyday 11:00 AM - 4:00 PM
: Everyday 11:00 AM - 4:00 PM
: Everyday 11:00 AM - 4:00 PM
: Everyday 11:00 AM - 4:00 PM
: Everyday 10:00 AM - 4:00 PM
: Everyday 10:00 AM - 4:00 PM
: Everyday 10:00 AM - 4:00 PM

: Tuesday, Wednesday, Friday, Sunday 10:00 AM - 8:00 PM; Thursday, Saturday 10:00 AM - 10:00 PM
: Tuesday, Wednesday, Friday, Sunday 10:00 AM - 8:00 PM; Thursday, Saturday 10:00 AM - 10:00 PM
: Tuesday, Wednesday, Friday, Sunday 10:00 AM - 8:00 PM; Thursday, Saturday 10:00 AM - 10:00 PM
: Tuesday, Wednesday, Friday, Sunday 10:00 AM - 8:00 PM; Thursday, Saturday 10:00 AM - 10:00 PM
: Tuesday, Wednesday, Friday, Sunday 10:00 AM - 8:00 PM; Thursday, Saturday 10:00 AM - 10:00 PM
: Tuesday, Wednesday, Friday, Sunday 10:00 AM - 8:00 PM; Thursday, Saturday 10:00 AM - 10:00 PM
: Tuesday, Wednesday, Friday, Sunday 10:00 AM - 8:00 PM; Thursday, Saturday 10:00 AM - 10:00 PM
: Tuesday, Wednesday, Friday, Sunday 10:00 AM - 8:00 PM; Thursday, Saturday 10:00 AM - 10:00 PM
: Tuesday, Wednesday, Friday, Sunday 10:00 AM - 8:00 PM; Thursday, Saturday 10:00 AM - 10:00 PM
: Tuesday, Wednesday, Friday, Sunday 10:00 AM - 8:00 PM; Thursday, Saturday 10:00 AM - 10:00 PM
: Tuesday, Wednesday, Friday, Sunday 10:00 AM - 8:00 PM; Thursday, Saturday 10:00 AM - 10:00 PM
: Tuesday, Wednesday, Friday, Sunday 10:00 AM - 8:00 PM; Thursday, Saturday 10:00 AM - 10:00 PM

: Everyday 11:00 AM - 5:00 PM
: Everyday 11:00 AM - 5:00 PM
: Everyday 11:00 AM - 5:00 PM
: Everyday 11:00 AM - 5:00 PM
: Everyday 11:00 AM - 5:00 PM
: Everyday 11:00 AM - 5:00 PM
: Everyday 11:00 AM - 5:00 PM
: Everyday 11:00 AM - 5:00 PM
: Everyday 11:00 AM - 5:00 PM
: Everyday 11:00 AM - 5:00 PM
: Everyday 11:00 AM - 5:00 PM
: Everyday 11:00 AM - 5:00 PM

: Everyday 24 Hrs
: Everyday 24 Hrs
: Everyday 24 Hrs
: Everyday 24 Hrs
: Everyday 24 Hrs
: Everyday 24 Hrs
: Everyday 24 Hrs
: Everyday 24 Hrs
: Everyday 24 Hrs
: Everyday 24 Hrs
: Everyday 24 Hrs
: Everyday 24 Hrs