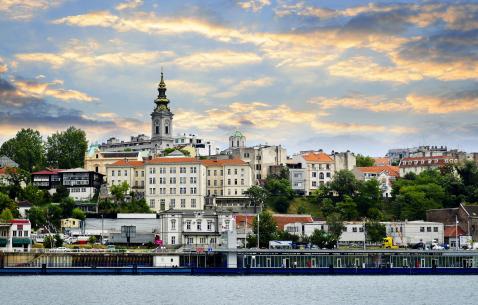 The Best Things To Do in Belgrade
Belgrade is one of those places on earth that attracts every type of tourist. Whether you are interested in history and architecture, whether you enjoy strolling through parks or spending nice afternoon in one of numerous cafés or restaurants, you will always find something a relaxing and fun thing to do in Belgrade. Enjoy the beautiful views over the Danube and Sara Rivers and spend an afternoon visiting its main attractions such as the Belgrade Fortress and the Kalemegdan Park which together represent the culture and history of Belgrade. For recreation, you can visit Belgrade's main pedestrian street, Knez Mihailova Street, which is alive with trendy shops and cafes.For an eclectic experience, you can visit Skadarlija, the bohemian quarter similar to the Montmartre in Paris, where you can find classic taverns (kafana) serving traditional Serbian dishes as musicians roam from table to table.Ada Ciganlija (an island in the Sava) is an ideal place for sport and recreation.
Explore the travel planning tool for your visit to Belgrade and create a flawless plan in few simple steps!
41 Tourist Attractions in Belgrade

Must see places in Belgrade ranked on popularity. Here is the complete list of best attractions in Belgrade and point of interests to visit.
Tourist Attractions Near Belgrade
Find Your Belgrade Attractions on Map
Types of Things To Do in Belgrade
Find more attractions and places to visit in Belgrade under these things to do categories.
Top Belgrade Activities And Tours
Explore the best things to do in Belgrade. These are the most preferred tourist activities.
What To Do in Belgrade: Day-Wise Ideas
Find what not to miss in Belgrade! Recommended Belgrade itineraries and vacation ideas created by travelers across the world.