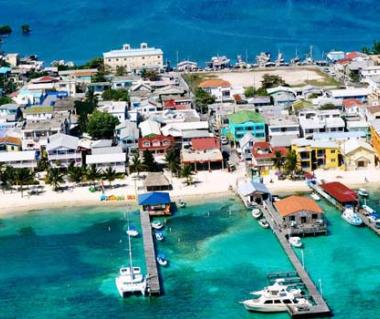 Belize Trip Planner
Plan your customized trip plan for Belize. Choose from Top Toursim cities and tourist attarctions of Belize using trip planner.
Belize Overview
While half of us can't even place Belize on the map, the other half won't even know that it's a part of North America. Nestled between Guatemala and Mexico, Belize is a fine destination for a holiday. Don't be fooled by the size of the country! This little patch of paradise will have you come back for more. Rife with history, the quintessential Central American jungle cover and the Caribbean coastline makes a vacation in Belize the perfect blend of both worlds.
Best Time to Visit:
Belize is one the few places that you can visit anytime, all around the year! Though for certain activities like scuba diving or diving with the whale sharks, people prefer to do it during the summer when the waters are calmer. That being said, Belize does have its peak and off-season for tourism. One thing you should probably know about the weather is that there is a minimal difference of 4 degrees (Celsius) between Belize's coldest and warmest temperature.
November-May: The 'winter' in Belize is referred to as the dry season. The days of winter mark cool gusts of breeze and lots of sunshine. This then escalates into cloudless days and harsh sunshine. A lot of tourists prefer to visit Belize during the dry season since it gives way to a lot of activities that involve the water and venturing into jungles.
June-October: If you're looking to holiday on a budget, plan your vacation to Belize between June and October! The rates reduce drastically to facilitate tourism even during Belize's rainy season. The upside of visiting Belize during their monsoon is reduced rates and no crowds. The downside however is unexpected spells of rain that can range anywhere between an hour to a thundering tropical storm. Many attractions like snorkeling and scuba diving are shut until the possible danger has passed.
How to Get There & Around:
Get There:
If you're a first world country passport holder, you can land up at Belize without a visa. The best way to get to Belize is by air. The international airport is located at Ladyville, north of Belize City. If you want to travel overland from Mexico or Guatemala there a bus services that run between the countries. There are many cruise liners that schedule a halt at Belize City for a day.
Get Around:
To experience the authentic feel of Belize, travel within Belize by water taxis. Between 9 am to 5:30 pm, there a lot of water taxis that ferry people to and from Belize City, San Pedro and Caye Caulker. Prices vary from 30-55 Belize Dollars.
If you have an unlimited budget and are looking to shorten traveling time, flying between cities is the option to go for. There are multiple flights flying to and from major cities on a daily basis; book in advance though, as the seating capacity of these domestic flights is very limited.
Buses too are a favourite choice if you want to catch a bit country life. There are main terminals in the city and you could also stand on a highway and wave at an approaching bus. Tickets range anywhere from 2-25 Belize Dollars, depending on the distance traveled.
Hiring a car is preferred if you want to see Belize on your own and make your own itinerary. Rental charges usually start from 80 Belize Dollars a day. Driving around in Belize is unadvisable due to not-so-good roads with low lighting and right-hand drive vehicles.
Belize has no taxi service as such, but you could always ask the hotel you're staying at, to provide a reliable taxi driver to take you around the city. Remember to agree upon a price before you sit in the taxi.
Must Do's:
Explore the Mayan ruins that can be found in plenty, all over Belize. Most of the ruins are structurally the same, though they do vary in the amount of excavation done on the sites; Caracol is the largest but not well excavated, whereas Xunantunich is very well-excavated and a treat to watch. You can explore these ruins up close and personal, so seize this opportunity and visit one of the many Mayan ruins.
Home to over 120 species, the Belize Zoo was founded during the expedition of an American film-maker's documentary on wildlife in Belize. Running more like a rehabilitation centre than a zoo, the authorities like to release the rescues back into the wild once they're rehabilitated and ready to survive in the wild. Of the animals that are on display, most of them are indigenous to the country. The best time to visit the zoo is at night, as most animals are nocturnal and are easily spotted then.
Belize is a part of the 'Mundo Maya', which means that the Belize we know today was once a part of the Mayan civilization. The caves at Actun Tunichil Muknal speak of one such ritual. Used as a place to carry out sacrifices to please the Mayan Gods, the caves even today, are lined with human skeletons. An admission fee is required to tour the cave, but it's one of those freaky things that you can't leave Belize without undertaking. There are other caves as well, which are not so spooky but do exhibit Mayan sacrifices and ceremonies.
The Old Belize Cultural and Historical Centre is the best place you can learn about Belize's past and get to know the essence of the place. The centre is built in a way to take you back to another time- the time of the Mayan influence, colonized Belize city and the days of the logging camps are a few of Belize's milestones that you'll be familiarized with. The centre is adjacent to the only beach in Belize City, so be sure to take a walk along the little stretch of the Caribbean coastline.
Traveling to Belize during the dry season is sure to pique your interest in a few adventure sports. Having some of the most beautiful diving spots, scuba diving and snorkeling is a popular activity and done in abundance during the peak season. If you want an aerial view of the thick rainforest cover, the best way to do so is by zip-lining across the forest. A short training session is conducted to educate you and then off into the horizon you are…
Last but not the least, you can't have been to Belize and not paid the Barrier Reef a visit. For the people living in the west, if you can't visit the reef in Australia, you could certainly take a plunge into the world's second largest Barrier Reef. Even those who aren't a fan of the water will be awestruck at the sheer beauty visible from the surface…just imagine how beautiful it would look from down under.
People and Culture:
Being a former British Colony, unlike its Spanish speaking neighbours, the primary language of Belize is English followed by Spanish, being spoken in some parts of the island. When it comes to the culture, it's quite similar to many of the West Indian island colonies. Part of the Mayan civilization, the inland natives of the northern part of Belize are called the Maya people, while those in the south, Garifuna (Afro-Amerindian).
In spite of the top-of-the-notch attractions, the island country overall is not all that developed and crime rates are a little above average; tourists are constantly warned of being mugged or hustled. But as long as your exercise enough caution and mind your manners, the people of Belize are known to be the most socially relaxed people and are warm and friendly, even in the interiors of the island.
Travel Tips:
Check with your doctor if any vaccinations need to be taken prior to your arrival in Belize.
Try to eat in a decent enough restaurants to avoid any indigestion/ touch of dysentery and drink only bottled water.
When in Belize City, don't wander off into unknown areas. Stick to the tourist zones and exercise caution when you come across any stranger.
You might come across peddlers who are very persistent and might force you to buy what they're selling. Firmly stand your ground, refuse politely and walk away.
Whenever you're speaking to any local person, mind your manners and be prepared for some small talk; it's considered to be polite.
Festivals & Events:
Toledo Cacao Fest (May): Central America is known for its exquisite Cacao (cocoa bean) and every year, to celebrate and spread this unique taste of chocolate across various pallets. Rich fine wine along with some of the finest hand-crafted and one-of-a-kind chocolate dishes run rampant throughout the festival. A definite stop for every chocolate enthusiast!
Lobster Festival (June-July): In late June and early July, the Lobster Festival is held at Placencia and Caye Caulker. People binge on lobster throughout the season, in every conceivable manner. Restaurants and food stalls serve a variety of lobster and seafood foodies travel to Belize to go on a binge. The recent addition to the roster is the San Pedro Lobster Fest which kicks off this food festival.
International Costa Maya festival (Early August): Held in San Pedro, over the course of 5 days, the International Costa Maya Festival celebrates dance, cuisine, music, the performing arts and the cultures of the 'Mundo Maya' countries, namely- Belize, El Salvador, Guatemala, Honduras and Mexico.
St. George's Caye Day (September): Celebrated every year on the 10th of September, St.George's Caye Day commemorates the battle that took place between the invading Mexicans and the settlers of now known Belize. Every year, the battle is enacted at the very same venue it took place the first time in 1798.
Searching for something specific?