Best Time To Visit Belo Horizonte
Explore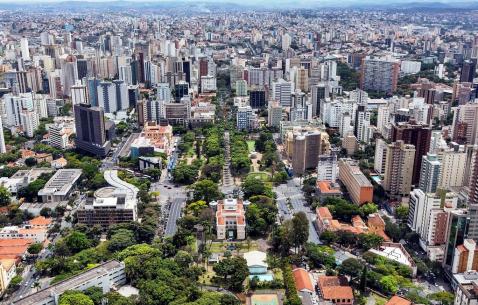 Best Time To Go To Belo Horizonte
The climate is tropical savannah. The city is south of the equator, which means the seasons are opposite to the northern hemisphere. There is not much seasonal variation in temperature though.
Spring (September – November): Temperatures of 17-27 degrees Celsius. The colors really explore across the countryside at this time.
Summer (December – February): Temperatures of19-27 degrees Celsius. This is the wettest season, which makes the humidity irritating. Don't travel here at this time.
Autumn (March – May): Temperatures of 15-27 degrees Celsius.
Winter (June – August): Temperatures of 13-25 degrees Celsius. This is driest, coolest season. Don't miss the carnival at the end of winter.
The best time to visit is in spring, mainly for the burst of color across the landscape. Definitely avoid visiting in December; it's too rainy to enjoy anything. The city sits on a well-elevated area, so the temperature rarely becomes unbearable.
Best time to go to Belo Horizonte Attractions

: Everyday 7:00 AM - 8:00 PM
: Everyday 7:00 AM - 8:00 PM
: Everyday 7:00 AM - 8:00 PM
: Everyday 7:00 AM - 8:00 PM
: Everyday 7:00 AM - 8:00 PM
: Everyday 7:00 AM - 8:00 PM
: Everyday 7:00 AM - 8:00 PM
: Everyday 7:00 AM - 8:00 PM
: Everyday 7:00 AM - 8:00 PM
: Everyday 7:00 AM - 8:00 PM
: Everyday 7:00 AM - 8:00 PM
: Everyday 7:00 AM - 8:00 PM

: Everyday 9:00 AM - 5:00 PM
: Everyday 9:00 AM - 5:00 PM
: Everyday 9:00 AM - 5:00 PM
: Everyday 9:00 AM - 5:00 PM
: Everyday 9:00 AM - 5:00 PM
: Everyday 9:00 AM - 5:00 PM
: Everyday 9:00 AM - 5:00 PM
: Everyday 9:00 AM - 5:00 PM
: Everyday 9:00 AM - 5:00 PM
: Everyday 9:00 AM - 5:00 PM
: Everyday 9:00 AM - 5:00 PM
: Everyday 9:00 AM - 5:00 PM

: Monday to Saturday 9:00 AM - 6:00 PM; Sunday 2:00 PM - 6:00 PM
: Monday to Saturday 9:00 AM - 6:00 PM; Sunday 2:00 PM - 6:00 PM
: Monday to Saturday 9:00 AM - 6:00 PM; Sunday 2:00 PM - 6:00 PM
: Monday to Saturday 9:00 AM - 6:00 PM; Sunday 2:00 PM - 6:00 PM
: Monday to Saturday 9:00 AM - 6:00 PM; Sunday 2:00 PM - 6:00 PM
: Monday to Saturday 9:00 AM - 6:00 PM; Sunday 2:00 PM - 6:00 PM
: Monday to Saturday 9:00 AM - 6:00 PM; Sunday 2:00 PM - 6:00 PM
: Monday to Saturday 9:00 AM - 6:00 PM; Sunday 2:00 PM - 6:00 PM
: Monday to Saturday 9:00 AM - 6:00 PM; Sunday 2:00 PM - 6:00 PM
: Monday to Saturday 9:00 AM - 6:00 PM; Sunday 2:00 PM - 6:00 PM
: Monday to Saturday 9:00 AM - 6:00 PM; Sunday 2:00 PM - 6:00 PM
: Monday to Saturday 9:00 AM - 6:00 PM; Sunday 2:00 PM - 6:00 PM

: Everyday 9:00 AM - 1:00 PM
: Everyday 9:00 AM - 1:00 PM
: Everyday 9:00 AM - 1:00 PM
: Everyday 9:00 AM - 1:00 PM
: Everyday 9:00 AM - 1:00 PM
: Everyday 9:00 AM - 1:00 PM
: Everyday 9:00 AM - 1:00 PM
: Everyday 9:00 AM - 1:00 PM
: Everyday 9:00 AM - 1:00 PM
: Everyday 9:00 AM - 1:00 PM
: Everyday 9:00 AM - 1:00 PM
: Everyday 9:00 AM - 1:00 PM

: Monday, Wednesday, Thursday, Friday, Saturday, Sunday 9:00 AM - 7:00 PM
: Monday, Wednesday, Thursday, Friday, Saturday, Sunday 9:00 AM - 7:00 PM
: Monday, Wednesday, Thursday, Friday, Saturday, Sunday 9:00 AM - 7:00 PM
: Monday, Wednesday, Thursday, Friday, Saturday, Sunday 9:00 AM - 7:00 PM
: Monday, Wednesday, Thursday, Friday, Saturday, Sunday 9:00 AM - 7:00 PM
: Monday, Wednesday, Thursday, Friday, Saturday, Sunday 9:00 AM - 7:00 PM
: Monday, Wednesday, Thursday, Friday, Saturday, Sunday 9:00 AM - 7:00 PM
: Monday, Wednesday, Thursday, Friday, Saturday, Sunday 9:00 AM - 7:00 PM
: Monday, Wednesday, Thursday, Friday, Saturday, Sunday 9:00 AM - 7:00 PM
: Monday, Wednesday, Thursday, Friday, Saturday, Sunday 9:00 AM - 7:00 PM
: Monday, Wednesday, Thursday, Friday, Saturday, Sunday 9:00 AM - 7:00 PM
: Monday, Wednesday, Thursday, Friday, Saturday, Sunday 9:00 AM - 7:00 PM

: Everyday 10:00 AM - 9:00 PM
: Everyday 10:00 AM - 9:00 PM
: Everyday 10:00 AM - 9:00 PM
: Everyday 10:00 AM - 9:00 PM
: Everyday 10:00 AM - 9:00 PM
: Everyday 10:00 AM - 9:00 PM
: Everyday 10:00 AM - 9:00 PM
: Everyday 10:00 AM - 9:00 PM
: Everyday 10:00 AM - 9:00 PM
: Everyday 10:00 AM - 9:00 PM
: Everyday 10:00 AM - 9:00 PM
: Everyday 10:00 AM - 9:00 PM

: Tuesday to Saturday 9:00 AM - 4:00 PM; Sunday 9:00 AM - 2:00 PM
: Tuesday to Saturday 9:00 AM - 4:00 PM; Sunday 9:00 AM - 2:00 PM
: Tuesday to Saturday 9:00 AM - 4:00 PM; Sunday 9:00 AM - 2:00 PM
: Tuesday to Saturday 9:00 AM - 4:00 PM; Sunday 9:00 AM - 2:00 PM
: Tuesday to Saturday 9:00 AM - 4:00 PM; Sunday 9:00 AM - 2:00 PM
: Tuesday to Saturday 9:00 AM - 4:00 PM; Sunday 9:00 AM - 2:00 PM
: Tuesday to Saturday 9:00 AM - 4:00 PM; Sunday 9:00 AM - 2:00 PM
: Tuesday to Saturday 9:00 AM - 4:00 PM; Sunday 9:00 AM - 2:00 PM
: Tuesday to Saturday 9:00 AM - 4:00 PM; Sunday 9:00 AM - 2:00 PM
: Tuesday to Saturday 9:00 AM - 4:00 PM; Sunday 9:00 AM - 2:00 PM
: Tuesday to Saturday 9:00 AM - 4:00 PM; Sunday 9:00 AM - 2:00 PM
: Tuesday to Saturday 9:00 AM - 4:00 PM; Sunday 9:00 AM - 2:00 PM

: Tuesday to Sunday 10:00 AM - 3:00 PM
: Tuesday to Sunday 10:00 AM - 3:00 PM
: Tuesday to Sunday 10:00 AM - 3:00 PM
: Tuesday to Sunday 10:00 AM - 3:00 PM
: Tuesday to Sunday 10:00 AM - 3:00 PM
: Tuesday to Sunday 10:00 AM - 3:00 PM
: Tuesday to Sunday 10:00 AM - 3:00 PM
: Tuesday to Sunday 10:00 AM - 3:00 PM
: Tuesday to Sunday 10:00 AM - 3:00 PM
: Tuesday to Sunday 10:00 AM - 3:00 PM
: Tuesday to Sunday 10:00 AM - 3:00 PM
: Tuesday to Sunday 10:00 AM - 3:00 PM

: Everyday 8:00 AM - 4:00 PM
: Everyday 8:00 AM - 4:00 PM
: Everyday 8:00 AM - 4:00 PM
: Everyday 8:00 AM - 4:00 PM
: Everyday 8:00 AM - 4:00 PM
: Everyday 8:00 AM - 4:00 PM
: Everyday 8:00 AM - 4:00 PM
: Everyday 8:00 AM - 4:00 PM
: Everyday 8:00 AM - 4:00 PM
: Everyday 8:00 AM - 4:00 PM
: Everyday 8:00 AM - 4:00 PM
: Everyday 8:00 AM - 4:00 PM

: Sunday 8:00 AM - 1:00 PM
: Sunday 8:00 AM - 1:00 PM
: Sunday 8:00 AM - 1:00 PM
: Sunday 8:00 AM - 1:00 PM
: Sunday 8:00 AM - 1:00 PM
: Sunday 8:00 AM - 1:00 PM
: Sunday 8:00 AM - 1:00 PM
: Sunday 8:00 AM - 1:00 PM
: Sunday 8:00 AM - 1:00 PM
: Sunday 8:00 AM - 1:00 PM
: Sunday 8:00 AM - 1:00 PM
: Sunday 8:00 AM - 1:00 PM

: Tuesday to Sunday 8:00 AM - 4:00 PM
: Tuesday to Sunday 8:00 AM - 4:00 PM
: Tuesday to Sunday 8:00 AM - 4:00 PM
: Tuesday to Sunday 8:00 AM - 4:00 PM
: Tuesday to Sunday 8:00 AM - 4:00 PM
: Tuesday to Sunday 8:00 AM - 4:00 PM
: Tuesday to Sunday 8:00 AM - 4:00 PM
: Tuesday to Sunday 8:00 AM - 4:00 PM
: Tuesday to Sunday 8:00 AM - 4:00 PM
: Tuesday to Sunday 8:00 AM - 4:00 PM
: Tuesday to Sunday 8:00 AM - 4:00 PM
: Tuesday to Sunday 8:00 AM - 4:00 PM

: Saturday, Sunday 10:00 AM - 2:30 PM
: Saturday, Sunday 10:00 AM - 2:30 PM
: Saturday, Sunday 10:00 AM - 2:30 PM
: Saturday, Sunday 10:00 AM - 2:30 PM
: Saturday, Sunday 10:00 AM - 2:30 PM
: Saturday, Sunday 10:00 AM - 2:30 PM
: Saturday, Sunday 10:00 AM - 2:30 PM
: Saturday, Sunday 10:00 AM - 2:30 PM
: Saturday, Sunday 10:00 AM - 2:30 PM
: Saturday, Sunday 10:00 AM - 2:30 PM
: Saturday, Sunday 10:00 AM - 2:30 PM
: Saturday, Sunday 10:00 AM - 2:30 PM

: Everyday 10:00 AM - 5:00 PM
: Everyday 10:00 AM - 5:00 PM
: Everyday 10:00 AM - 5:00 PM
: Everyday 10:00 AM - 5:00 PM
: Everyday 10:00 AM - 5:00 PM
: Everyday 10:00 AM - 5:00 PM
: Everyday 10:00 AM - 5:00 PM
: Everyday 10:00 AM - 5:00 PM
: Everyday 10:00 AM - 5:00 PM
: Everyday 10:00 AM - 5:00 PM
: Everyday 10:00 AM - 5:00 PM
: Everyday 10:00 AM - 5:00 PM

: Everyday 6:00 AM - 4:00 PM
: Everyday 6:00 AM - 4:00 PM
: Everyday 6:00 AM - 4:00 PM
: Everyday 6:00 AM - 4:00 PM
: Everyday 6:00 AM - 4:00 PM
: Everyday 6:00 AM - 4:00 PM
: Everyday 6:00 AM - 4:00 PM
: Everyday 6:00 AM - 4:00 PM
: Everyday 6:00 AM - 4:00 PM
: Everyday 6:00 AM - 4:00 PM
: Everyday 6:00 AM - 4:00 PM
: Everyday 6:00 AM - 4:00 PM

: Everyday 8:00 AM - 2:00 PM
: Everyday 8:00 AM - 2:00 PM
: Everyday 8:00 AM - 2:00 PM
: Everyday 8:00 AM - 2:00 PM
: Everyday 8:00 AM - 2:00 PM
: Everyday 8:00 AM - 2:00 PM
: Everyday 8:00 AM - 2:00 PM
: Everyday 8:00 AM - 2:00 PM
: Everyday 8:00 AM - 2:00 PM
: Everyday 8:00 AM - 2:00 PM
: Everyday 8:00 AM - 2:00 PM
: Everyday 8:00 AM - 2:00 PM

: Tuesday to Friday 8:00 AM - 5:00 PM
: Tuesday to Friday 8:00 AM - 5:00 PM
: Tuesday to Friday 8:00 AM - 5:00 PM
: Tuesday to Friday 8:00 AM - 5:00 PM
: Tuesday to Friday 8:00 AM - 5:00 PM
: Tuesday to Friday 8:00 AM - 5:00 PM
: Tuesday to Friday 8:00 AM - 5:00 PM
: Tuesday to Friday 8:00 AM - 5:00 PM
: Tuesday to Friday 8:00 AM - 5:00 PM
: Tuesday to Friday 8:00 AM - 5:00 PM
: Tuesday to Friday 8:00 AM - 5:00 PM
: Tuesday to Friday 8:00 AM - 5:00 PM

: Everyday 7:30 AM - 4:00 PM
: Everyday 7:30 AM - 4:00 PM
: Everyday 7:30 AM - 4:00 PM
: Everyday 7:30 AM - 4:00 PM
: Everyday 7:30 AM - 4:00 PM
: Everyday 7:30 AM - 4:00 PM
: Everyday 7:30 AM - 4:00 PM
: Everyday 7:30 AM - 4:00 PM
: Everyday 7:30 AM - 4:00 PM
: Everyday 7:30 AM - 4:00 PM
: Everyday 7:30 AM - 4:00 PM
: Everyday 7:30 AM - 4:00 PM

: Tuesday to Sunday 9:00 AM - 1:00 PM
: Tuesday to Sunday 9:00 AM - 1:00 PM
: Tuesday to Sunday 9:00 AM - 1:00 PM
: Tuesday to Sunday 9:00 AM - 1:00 PM
: Tuesday to Sunday 9:00 AM - 1:00 PM
: Tuesday to Sunday 9:00 AM - 1:00 PM
: Tuesday to Sunday 9:00 AM - 1:00 PM
: Tuesday to Sunday 9:00 AM - 1:00 PM
: Tuesday to Sunday 9:00 AM - 1:00 PM
: Tuesday to Sunday 9:00 AM - 1:00 PM
: Tuesday to Sunday 9:00 AM - 1:00 PM
: Tuesday to Sunday 9:00 AM - 1:00 PM

: Everyday 9:00 AM - 7:00 PM
: Everyday 9:00 AM - 7:00 PM
: Everyday 9:00 AM - 7:00 PM
: Everyday 9:00 AM - 7:00 PM
: Everyday 9:00 AM - 7:00 PM
: Everyday 9:00 AM - 7:00 PM
: Everyday 9:00 AM - 7:00 PM
: Everyday 9:00 AM - 7:00 PM
: Everyday 9:00 AM - 7:00 PM
: Everyday 9:00 AM - 7:00 PM
: Everyday 9:00 AM - 7:00 PM
: Everyday 9:00 AM - 7:00 PM

: Monday, Tuesday, Wednesday, Thursday, Friday, Sunday 1:00 PM - 4:00 PM; Saturday 8:00 AM - 11:00 AM
: Monday, Tuesday, Wednesday, Thursday, Friday, Sunday 1:00 PM - 4:00 PM; Saturday 8:00 AM - 11:00 AM
: Monday, Tuesday, Wednesday, Thursday, Friday, Sunday 1:00 PM - 4:00 PM; Saturday 8:00 AM - 11:00 AM
: Monday, Tuesday, Wednesday, Thursday, Friday, Sunday 1:00 PM - 4:00 PM; Saturday 8:00 AM - 11:00 AM
: Monday, Tuesday, Wednesday, Thursday, Friday, Sunday 1:00 PM - 4:00 PM; Saturday 8:00 AM - 11:00 AM
: Monday, Tuesday, Wednesday, Thursday, Friday, Sunday 1:00 PM - 4:00 PM; Saturday 8:00 AM - 11:00 AM
: Monday, Tuesday, Wednesday, Thursday, Friday, Sunday 1:00 PM - 4:00 PM; Saturday 8:00 AM - 11:00 AM
: Monday, Tuesday, Wednesday, Thursday, Friday, Sunday 1:00 PM - 4:00 PM; Saturday 8:00 AM - 11:00 AM
: Monday, Tuesday, Wednesday, Thursday, Friday, Sunday 1:00 PM - 4:00 PM; Saturday 8:00 AM - 11:00 AM
: Monday, Tuesday, Wednesday, Thursday, Friday, Sunday 1:00 PM - 4:00 PM; Saturday 8:00 AM - 11:00 AM
: Monday, Tuesday, Wednesday, Thursday, Friday, Sunday 1:00 PM - 4:00 PM; Saturday 8:00 AM - 11:00 AM
: Monday, Tuesday, Wednesday, Thursday, Friday, Sunday 1:00 PM - 4:00 PM; Saturday 8:00 AM - 11:00 AM

: Monday to Saturday 10:00 AM - 10:00 PM; Sunday 2:00 PM - 8:00 PM
: Monday to Saturday 10:00 AM - 10:00 PM; Sunday 2:00 PM - 8:00 PM
: Monday to Saturday 10:00 AM - 10:00 PM; Sunday 2:00 PM - 8:00 PM
: Monday to Saturday 10:00 AM - 10:00 PM; Sunday 2:00 PM - 8:00 PM
: Monday to Saturday 10:00 AM - 10:00 PM; Sunday 2:00 PM - 8:00 PM
: Monday to Saturday 10:00 AM - 10:00 PM; Sunday 2:00 PM - 8:00 PM
: Monday to Saturday 10:00 AM - 10:00 PM; Sunday 2:00 PM - 8:00 PM
: Monday to Saturday 10:00 AM - 10:00 PM; Sunday 2:00 PM - 8:00 PM
: Monday to Saturday 10:00 AM - 10:00 PM; Sunday 2:00 PM - 8:00 PM
: Monday to Saturday 10:00 AM - 10:00 PM; Sunday 2:00 PM - 8:00 PM
: Monday to Saturday 10:00 AM - 10:00 PM; Sunday 2:00 PM - 8:00 PM
: Monday to Saturday 10:00 AM - 10:00 PM; Sunday 2:00 PM - 8:00 PM

: Monday to Saturday 9:00 AM - 10:00 PM; Sunday 10:00 AM - 4:00 PM
: Monday to Saturday 9:00 AM - 10:00 PM; Sunday 10:00 AM - 4:00 PM
: Monday to Saturday 9:00 AM - 10:00 PM; Sunday 10:00 AM - 4:00 PM
: Monday to Saturday 9:00 AM - 10:00 PM; Sunday 10:00 AM - 4:00 PM
: Monday to Saturday 9:00 AM - 10:00 PM; Sunday 10:00 AM - 4:00 PM
: Monday to Saturday 9:00 AM - 10:00 PM; Sunday 10:00 AM - 4:00 PM
: Monday to Saturday 9:00 AM - 10:00 PM; Sunday 10:00 AM - 4:00 PM
: Monday to Saturday 9:00 AM - 10:00 PM; Sunday 10:00 AM - 4:00 PM
: Monday to Saturday 9:00 AM - 10:00 PM; Sunday 10:00 AM - 4:00 PM
: Monday to Saturday 9:00 AM - 10:00 PM; Sunday 10:00 AM - 4:00 PM
: Monday to Saturday 9:00 AM - 10:00 PM; Sunday 10:00 AM - 4:00 PM
: Monday to Saturday 9:00 AM - 10:00 PM; Sunday 10:00 AM - 4:00 PM

: Everyday 24 Hrs
: Everyday 24 Hrs
: Everyday 24 Hrs
: Everyday 24 Hrs
: Everyday 24 Hrs
: Everyday 24 Hrs
: Everyday 24 Hrs
: Everyday 24 Hrs
: Everyday 24 Hrs
: Everyday 24 Hrs
: Everyday 24 Hrs
: Everyday 24 Hrs