Best Time To Visit Bern
Explore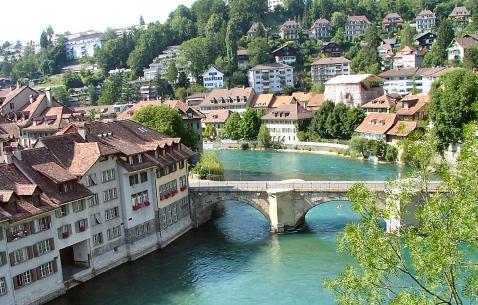 Accommodations with

See All
Best Time To Go To Bern
Bern's weather is best described as cold. The city experiences winter for the better part of the year. Travelers not accustomed to European weather should carry a something warm even if they're visiting Bern in the summer. The weather is Bern however is not a deterrent when it comes to tourist. The capital city of one of the most beautiful country's is always thronged by tourists.
The city's peak season is during summer when the weather is mild, tourist attractions are open and accessible with a lot of events happening in the city. All winter enthusiasts flock to the city during the last quarter of the year when winter activities commence operations.
Explore the best travel planner for your visit to Bern and create a flawless plan in few simple steps!
Best time to go to Bern Attractions

: Everyday 9:00 AM - 5:00 PM
: Everyday 9:00 AM - 5:00 PM
: Everyday 9:00 AM - 5:00 PM
: Everyday 9:00 AM - 5:00 PM
: Everyday 9:00 AM - 5:00 PM
: Everyday 9:00 AM - 5:00 PM
: Everyday 9:00 AM - 5:00 PM
: Everyday 9:00 AM - 5:00 PM
: Everyday 9:00 AM - 5:00 PM
: Everyday 9:00 AM - 5:00 PM
: Everyday 9:00 AM - 5:00 PM
: Everyday 9:00 AM - 5:00 PM

: Everyday 10:00 AM - 1:00 PM
: Everyday 10:00 AM - 1:00 PM
: Everyday 10:00 AM - 1:00 PM
: Everyday 10:00 AM - 1:00 PM
: Everyday 10:00 AM - 1:00 PM
: Everyday 10:00 AM - 1:00 PM
: Everyday 10:00 AM - 1:00 PM
: Everyday 10:00 AM - 1:00 PM
: Everyday 10:00 AM - 1:00 PM
: Everyday 10:00 AM - 1:00 PM
: Everyday 10:00 AM - 1:00 PM
: Everyday 10:00 AM - 1:00 PM

: Everyday 1:30 PM - 3:00 PM
: Everyday 1:30 PM - 3:00 PM
: Everyday 1:30 PM - 3:00 PM
: Everyday 1:30 PM - 3:00 PM
: Everyday 1:30 PM - 3:00 PM
: Everyday 1:30 PM - 3:00 PM
: Everyday 1:30 PM - 3:00 PM
: Everyday 1:30 PM - 3:00 PM
: Everyday 1:30 PM - 3:00 PM
: Everyday 1:30 PM - 3:00 PM
: Everyday 1:30 PM - 3:00 PM
: Everyday 1:30 PM - 3:00 PM

: Everyday 5:00 PM - 7:00 PM
: Everyday 5:00 PM - 7:00 PM
: Everyday 5:00 PM - 7:00 PM
: Everyday 5:00 PM - 7:00 PM
: Everyday 5:00 PM - 7:00 PM
: Everyday 5:00 PM - 7:00 PM
: Everyday 5:00 PM - 7:00 PM
: Everyday 5:00 PM - 7:00 PM
: Everyday 5:00 PM - 7:00 PM
: Everyday 5:00 PM - 7:00 PM
: Everyday 5:00 PM - 7:00 PM
: Everyday 5:00 PM - 7:00 PM

: Everyday 10:00 AM - 7:00 PM
: Everyday 10:00 AM - 7:00 PM
: Everyday 10:00 AM - 7:00 PM
: Everyday 10:00 AM - 7:00 PM
: Everyday 10:00 AM - 7:00 PM
: Everyday 10:00 AM - 7:00 PM
: Everyday 10:00 AM - 7:00 PM
: Everyday 10:00 AM - 7:00 PM
: Everyday 10:00 AM - 7:00 PM
: Everyday 10:00 AM - 7:00 PM
: Everyday 10:00 AM - 7:00 PM
: Everyday 10:00 AM - 7:00 PM

: Tuesday to Sunday 11:00 AM - 2:00 PM
: Tuesday to Sunday 11:00 AM - 2:00 PM
: Tuesday to Sunday 11:00 AM - 2:00 PM
: Tuesday to Sunday 11:00 AM - 2:00 PM
: Tuesday to Sunday 11:00 AM - 2:00 PM
: Tuesday to Sunday 11:00 AM - 2:00 PM
: Tuesday to Sunday 11:00 AM - 2:00 PM
: Tuesday to Sunday 11:00 AM - 2:00 PM
: Tuesday to Sunday 11:00 AM - 2:00 PM
: Tuesday to Sunday 11:00 AM - 2:00 PM
: Tuesday to Sunday 11:00 AM - 2:00 PM
: Tuesday to Sunday 11:00 AM - 2:00 PM

: Everyday 9:00 AM - 5:00 PM
: Everyday 9:00 AM - 5:00 PM
: Everyday 9:00 AM - 5:00 PM
: Everyday 9:00 AM - 5:00 PM
: Everyday 9:00 AM - 5:00 PM
: Everyday 9:00 AM - 5:00 PM
: Everyday 9:00 AM - 5:00 PM
: Everyday 9:00 AM - 5:00 PM
: Everyday 9:00 AM - 5:00 PM
: Everyday 9:00 AM - 5:00 PM
: Everyday 9:00 AM - 5:00 PM
: Everyday 9:00 AM - 5:00 PM

: Everyday 2:00 PM - 4:00 PM
: Everyday 2:00 PM - 4:00 PM
: Everyday 2:00 PM - 4:00 PM
: Everyday 2:00 PM - 4:00 PM
: Everyday 2:00 PM - 4:00 PM
: Everyday 2:00 PM - 4:00 PM
: Everyday 2:00 PM - 4:00 PM
: Everyday 2:00 PM - 4:00 PM
: Everyday 2:00 PM - 4:00 PM
: Everyday 2:00 PM - 4:00 PM
: Everyday 2:00 PM - 4:00 PM
: Everyday 2:00 PM - 4:00 PM

: Everyday 10:00 AM - 5:00 PM
: Everyday 10:00 AM - 5:00 PM
: Everyday 10:00 AM - 5:00 PM
: Everyday 10:00 AM - 5:00 PM
: Everyday 10:00 AM - 5:00 PM
: Everyday 10:00 AM - 5:00 PM
: Everyday 10:00 AM - 5:00 PM
: Everyday 10:00 AM - 5:00 PM
: Everyday 10:00 AM - 5:00 PM
: Everyday 10:00 AM - 5:00 PM
: Everyday 10:00 AM - 5:00 PM
: Everyday 10:00 AM - 5:00 PM

:
: Monday to Saturday 10:00 AM - 3:00 PM
: Monday to Saturday 10:00 AM - 3:00 PM
: Everyday 10:00 AM - 3:00 PM
: Everyday 10:00 AM - 3:00 PM
: Everyday 10:00 AM - 3:00 PM
: Everyday 10:00 AM - 3:00 PM
: Everyday 10:00 AM - 3:00 PM
: Everyday 10:00 AM - 3:00 PM
: Everyday 10:00 AM - 3:00 PM
: Everyday 10:00 AM - 3:00 PM
: Everyday 10:00 AM - 3:00 PM

: Tuesday to Sunday 1:00 PM - 4:00 PM
: Tuesday to Sunday 1:00 PM - 4:00 PM
: Tuesday to Sunday 1:00 PM - 4:00 PM
: Tuesday to Sunday 1:00 PM - 4:00 PM
: Tuesday to Sunday 1:00 PM - 4:00 PM
: Tuesday to Sunday 1:00 PM - 4:00 PM
: Tuesday to Sunday 1:00 PM - 4:00 PM
: Tuesday to Sunday 1:00 PM - 4:00 PM
: Tuesday to Sunday 1:00 PM - 4:00 PM
: Tuesday to Sunday 1:00 PM - 4:00 PM
: Tuesday to Sunday 1:00 PM - 4:00 PM
: Tuesday to Sunday 1:00 PM - 4:00 PM

: Monday, Tuesday, Wednesday, Thursday, Friday, Sunday 11:00 AM - 3:00 PM; Saturday 9:30 AM - 3:00 PM
: Monday, Tuesday, Wednesday, Thursday, Friday, Sunday 11:00 AM - 3:00 PM; Saturday 9:30 AM - 3:00 PM
: Monday, Tuesday, Wednesday, Thursday, Friday, Sunday 11:00 AM - 3:00 PM; Saturday 9:30 AM - 3:00 PM
: Monday, Tuesday, Wednesday, Thursday, Friday, Sunday 11:00 AM - 3:00 PM; Saturday 9:30 AM - 3:00 PM
: Monday, Tuesday, Wednesday, Thursday, Friday, Sunday 11:00 AM - 3:00 PM; Saturday 9:30 AM - 3:00 PM
: Monday, Tuesday, Wednesday, Thursday, Friday, Sunday 11:00 AM - 3:00 PM; Saturday 9:30 AM - 3:00 PM
: Monday, Tuesday, Wednesday, Thursday, Friday, Sunday 11:00 AM - 3:00 PM; Saturday 9:30 AM - 3:00 PM
: Monday, Tuesday, Wednesday, Thursday, Friday, Sunday 11:00 AM - 3:00 PM; Saturday 9:30 AM - 3:00 PM
: Monday, Tuesday, Wednesday, Thursday, Friday, Sunday 11:00 AM - 3:00 PM; Saturday 9:30 AM - 3:00 PM
: Monday, Tuesday, Wednesday, Thursday, Friday, Sunday 11:00 AM - 3:00 PM; Saturday 9:30 AM - 3:00 PM
: Monday, Tuesday, Wednesday, Thursday, Friday, Sunday 11:00 AM - 3:00 PM; Saturday 9:30 AM - 3:00 PM
: Monday, Tuesday, Wednesday, Thursday, Friday, Sunday 11:00 AM - 3:00 PM; Saturday 9:30 AM - 3:00 PM

: Everyday 9:00 AM - 11:00 AM
: Everyday 9:00 AM - 11:00 AM
: Everyday 9:00 AM - 11:00 AM
: Everyday 9:00 AM - 11:00 AM
: Everyday 9:00 AM - 11:00 AM
: Everyday 9:00 AM - 11:00 AM
: Everyday 9:00 AM - 11:00 AM
: Everyday 9:00 AM - 11:00 AM
: Everyday 9:00 AM - 11:00 AM
: Everyday 9:00 AM - 11:00 AM
: Everyday 9:00 AM - 11:00 AM
: Everyday 9:00 AM - 11:00 AM

: Tuesday to Sunday 1:00 PM - 3:00 PM
: Tuesday to Sunday 1:00 PM - 3:00 PM
: Tuesday to Sunday 1:00 PM - 3:00 PM
: Tuesday to Sunday 1:00 PM - 3:00 PM
: Tuesday to Sunday 1:00 PM - 3:00 PM
: Tuesday to Sunday 1:00 PM - 3:00 PM
: Tuesday to Sunday 1:00 PM - 3:00 PM
: Tuesday to Sunday 1:00 PM - 3:00 PM
: Tuesday to Sunday 1:00 PM - 3:00 PM
: Tuesday to Sunday 1:00 PM - 3:00 PM
: Tuesday to Sunday 1:00 PM - 3:00 PM
: Tuesday to Sunday 1:00 PM - 3:00 PM

: Everyday 9:00 AM - 2:00 PM
: Everyday 9:00 AM - 2:00 PM
: Everyday 9:00 AM - 2:00 PM
: Everyday 9:00 AM - 2:00 PM
: Everyday 9:00 AM - 2:00 PM
: Everyday 9:00 AM - 2:00 PM
: Everyday 9:00 AM - 2:00 PM
: Everyday 9:00 AM - 2:00 PM
: Everyday 9:00 AM - 2:00 PM
: Everyday 9:00 AM - 2:00 PM
: Everyday 9:00 AM - 2:00 PM
: Everyday 9:00 AM - 2:00 PM

: Everyday 11:00 AM - 2:00 PM
: Everyday 11:00 AM - 2:00 PM
: Everyday 11:00 AM - 2:00 PM
: Everyday 11:00 AM - 2:00 PM
: Everyday 11:00 AM - 2:00 PM
: Everyday 11:00 AM - 2:00 PM
: Everyday 11:00 AM - 2:00 PM
: Everyday 11:00 AM - 2:00 PM
: Everyday 11:00 AM - 2:00 PM
: Everyday 11:00 AM - 2:00 PM
: Everyday 11:00 AM - 2:00 PM
: Everyday 11:00 AM - 2:00 PM

: Everyday 10:00 AM - 5:00 PM
: Everyday 10:00 AM - 5:00 PM
: Everyday 10:00 AM - 5:00 PM
: Everyday 10:00 AM - 5:00 PM
: Everyday 10:00 AM - 5:00 PM
: Everyday 10:00 AM - 5:00 PM
: Everyday 10:00 AM - 5:00 PM
: Everyday 10:00 AM - 5:00 PM
: Everyday 10:00 AM - 5:00 PM
: Everyday 10:00 AM - 5:00 PM
: Everyday 10:00 AM - 5:00 PM
: Everyday 10:00 AM - 5:00 PM

: Everyday 10:00 AM - 4:00 PM
: Everyday 10:00 AM - 4:00 PM
: Everyday 10:00 AM - 4:00 PM
: Everyday 10:00 AM - 4:00 PM
: Everyday 10:00 AM - 4:00 PM
: Everyday 10:00 AM - 4:00 PM
: Everyday 10:00 AM - 4:00 PM
: Everyday 10:00 AM - 4:00 PM
: Everyday 10:00 AM - 4:00 PM
: Everyday 10:00 AM - 4:00 PM
: Everyday 10:00 AM - 4:00 PM
: Everyday 10:00 AM - 4:00 PM

: Everyday 11:00 AM - 2:00 PM
: Everyday 11:00 AM - 2:00 PM
: Everyday 11:00 AM - 2:00 PM
: Everyday 11:00 AM - 2:00 PM
: Everyday 11:00 AM - 2:00 PM
: Everyday 11:00 AM - 2:00 PM
: Everyday 11:00 AM - 2:00 PM
: Everyday 11:00 AM - 2:00 PM
: Everyday 11:00 AM - 2:00 PM
: Everyday 11:00 AM - 2:00 PM
: Everyday 11:00 AM - 2:00 PM
: Everyday 11:00 AM - 2:00 PM

: Tuesday to Sunday 10:00 AM - 2:00 PM
: Tuesday to Sunday 10:00 AM - 2:00 PM
: Tuesday to Sunday 10:00 AM - 2:00 PM
: Tuesday to Sunday 10:00 AM - 2:00 PM
: Tuesday to Sunday 10:00 AM - 2:00 PM
: Tuesday to Sunday 10:00 AM - 2:00 PM
: Tuesday to Sunday 10:00 AM - 2:00 PM
: Tuesday to Sunday 10:00 AM - 2:00 PM
: Tuesday to Sunday 10:00 AM - 2:00 PM
: Tuesday to Sunday 10:00 AM - 2:00 PM
: Tuesday to Sunday 10:00 AM - 2:00 PM
: Tuesday to Sunday 10:00 AM - 2:00 PM

:
:
:
: Everyday 9:00 AM - 6:00 PM
: Everyday 9:00 AM - 6:00 PM
: Monday to Friday 7:00 AM - 5:00 PM; Saturday, Sunday 9:00 AM - 5:00 PM
: Monday to Friday 7:00 AM - 5:00 PM; Saturday, Sunday 9:00 AM - 5:00 PM
: Monday to Friday 7:00 AM - 5:00 PM; Saturday, Sunday 9:00 AM - 5:00 PM
: Everyday 9:00 AM - 6:00 PM
:
:
:

: Everyday 9:00 AM - 2:30 PM; Everyday 9:00 AM - 2:30 PM | 6:00 PM - 10:00 PM
: Everyday 9:00 AM - 2:30 PM; Everyday 9:00 AM - 2:30 PM | 6:00 PM - 10:00 PM
: Everyday 9:00 AM - 2:30 PM; Everyday 9:00 AM - 2:30 PM | 6:00 PM - 10:00 PM
: Everyday 9:00 AM - 2:30 PM; Everyday 9:00 AM - 2:30 PM | 6:00 PM - 10:00 PM
: Everyday 9:00 AM - 2:30 PM; Everyday 9:00 AM - 2:30 PM | 6:00 PM - 10:00 PM
: Everyday 9:00 AM - 2:30 PM; Everyday 9:00 AM - 2:30 PM | 6:00 PM - 10:00 PM
: Everyday 9:00 AM - 2:30 PM; Everyday 9:00 AM - 2:30 PM | 6:00 PM - 10:00 PM
: Everyday 9:00 AM - 2:30 PM; Everyday 9:00 AM - 2:30 PM | 6:00 PM - 10:00 PM
: Everyday 9:00 AM - 2:30 PM; Everyday 9:00 AM - 2:30 PM | 6:00 PM - 10:00 PM
: Everyday 9:00 AM - 2:30 PM; Everyday 9:00 AM - 2:30 PM | 6:00 PM - 10:00 PM
: Everyday 9:00 AM - 2:30 PM; Everyday 9:00 AM - 2:30 PM | 6:00 PM - 10:00 PM
: Everyday 9:00 AM - 2:30 PM; Everyday 9:00 AM - 2:30 PM | 6:00 PM - 10:00 PM

: Everyday 24 Hrs
: Everyday 24 Hrs
: Everyday 24 Hrs
: Everyday 24 Hrs
: Everyday 24 Hrs
: Everyday 24 Hrs
: Everyday 24 Hrs
: Everyday 24 Hrs
: Everyday 24 Hrs
: Everyday 24 Hrs
: Everyday 24 Hrs
: Everyday 24 Hrs

: Everyday 24 Hrs
: Everyday 24 Hrs
: Everyday 24 Hrs
: Everyday 24 Hrs
: Everyday 24 Hrs
: Everyday 24 Hrs
: Everyday 24 Hrs
: Everyday 24 Hrs
: Everyday 24 Hrs
: Everyday 24 Hrs
: Everyday 24 Hrs
: Everyday 24 Hrs

: Everyday 24 Hrs
: Everyday 24 Hrs
: Everyday 24 Hrs
: Everyday 24 Hrs
: Everyday 24 Hrs
: Everyday 24 Hrs
: Everyday 24 Hrs
: Everyday 24 Hrs
: Everyday 24 Hrs
: Everyday 24 Hrs
: Everyday 24 Hrs
: Everyday 24 Hrs

: Everyday 24 Hrs
: Everyday 24 Hrs
: Everyday 24 Hrs
: Everyday 24 Hrs
: Everyday 24 Hrs
: Everyday 24 Hrs
: Everyday 24 Hrs
: Everyday 24 Hrs
: Everyday 24 Hrs
: Everyday 24 Hrs
: Everyday 24 Hrs
: Everyday 24 Hrs

: Everyday 24 Hrs
: Everyday 24 Hrs
: Everyday 24 Hrs
: Everyday 24 Hrs
: Everyday 24 Hrs
: Everyday 24 Hrs
: Everyday 24 Hrs
: Everyday 24 Hrs
: Everyday 24 Hrs
: Everyday 24 Hrs
: Everyday 24 Hrs
: Everyday 24 Hrs