Best Time To Visit Beziers
Explore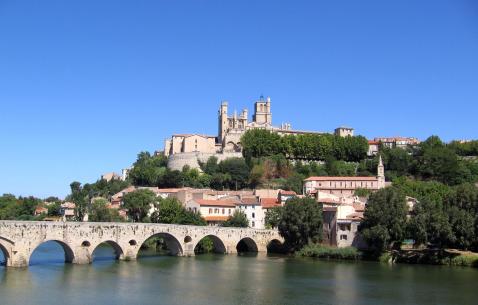 Best Time To Go To Beziers
Beziers experiences a humid Mediterranean climate. A little rainfall can be expected all through the year.
Summer (June – August): The summers have a pleasantly warm weather with temperature always staying in the Mid 20s.
Winter (December – February): Winters have unexpected weather, from mild to cool, and raining sometimes. The average high is around 12°C while the low is around 4°C on an average.
Spring (March – May): The average temperature is around 12°C during springs.
Autumn (September – November): The average temperature in Autumn is around 17°C.
Beziers is a pleasant place to visit all year round. But the best time to visit the town is during the month of August. It is generally the peak time attracting millions of tourists. So, if you want to travel off season when there's less crowd, try planning your vacation late spring to early summer.
Best time to go to Beziers Attractions

: Everyday 11:00 AM - 5:00 PM
: Everyday 11:00 AM - 5:00 PM
: Everyday 11:00 AM - 5:00 PM
: Everyday 11:00 AM - 5:00 PM
: Everyday 11:00 AM - 5:00 PM
: Everyday 11:00 AM - 5:00 PM
: Everyday 11:00 AM - 5:00 PM
: Everyday 11:00 AM - 5:00 PM
: Everyday 11:00 AM - 5:00 PM
: Everyday 11:00 AM - 5:00 PM
: Everyday 11:00 AM - 5:00 PM
: Everyday 11:00 AM - 5:00 PM

: Everyday 2:30 PM - 5:30 PM
: Everyday 2:30 PM - 5:30 PM
: Everyday 2:30 PM - 5:30 PM
: Everyday 2:30 PM - 5:30 PM
: Everyday 2:30 PM - 5:30 PM
: Everyday 2:30 PM - 5:30 PM
: Everyday 2:30 PM - 5:30 PM
: Everyday 2:30 PM - 5:30 PM
: Everyday 2:30 PM - 5:30 PM
: Everyday 2:30 PM - 5:30 PM
: Everyday 2:30 PM - 5:30 PM
: Everyday 2:30 PM - 5:30 PM

: Monday to Saturday 11:00 AM - 11:59 PM
: Monday to Saturday 11:00 AM - 11:59 PM
: Monday to Saturday 11:00 AM - 11:59 PM
: Monday to Saturday 11:00 AM - 11:59 PM
: Monday to Saturday 11:00 AM - 11:59 PM
: Monday to Saturday 11:00 AM - 11:59 PM
: Monday to Saturday 11:00 AM - 11:59 PM
: Monday to Saturday 11:00 AM - 11:59 PM
: Monday to Saturday 11:00 AM - 11:59 PM
: Monday to Saturday 11:00 AM - 11:59 PM
: Monday to Saturday 11:00 AM - 11:59 PM
: Monday to Saturday 11:00 AM - 11:59 PM

: Everyday 7:00 AM - 7:00 PM
: Everyday 7:00 AM - 7:00 PM
: Everyday 7:00 AM - 7:00 PM
: Everyday 7:00 AM - 7:00 PM
: Everyday 7:00 AM - 7:00 PM
: Everyday 7:00 AM - 7:00 PM
: Everyday 7:00 AM - 7:00 PM
: Everyday 7:00 AM - 7:00 PM
: Everyday 7:00 AM - 7:00 PM
: Everyday 7:00 AM - 7:00 PM
: Everyday 7:00 AM - 7:00 PM
: Everyday 7:00 AM - 7:00 PM

: Everyday 2:00 PM - 6:00 PM
: Everyday 2:00 PM - 6:00 PM
: Everyday 2:00 PM - 6:00 PM
: Everyday 2:00 PM - 6:00 PM
: Everyday 2:00 PM - 6:00 PM
: Everyday 2:00 PM - 6:00 PM
: Everyday 2:00 PM - 6:00 PM
: Everyday 2:00 PM - 6:00 PM
: Everyday 2:00 PM - 6:00 PM
: Everyday 2:00 PM - 6:00 PM
: Everyday 2:00 PM - 6:00 PM
: Everyday 2:00 PM - 6:00 PM

: Everyday 7:00 AM - 6:00 PM
: Everyday 7:00 AM - 6:00 PM
: Everyday 7:00 AM - 6:00 PM
: Everyday 7:00 AM - 6:00 PM
: Everyday 7:00 AM - 6:00 PM
: Everyday 7:00 AM - 6:00 PM
: Everyday 7:00 AM - 6:00 PM
: Everyday 7:00 AM - 6:00 PM
: Everyday 7:00 AM - 6:00 PM
: Everyday 7:00 AM - 6:00 PM
: Everyday 7:00 AM - 6:00 PM
: Everyday 7:00 AM - 6:00 PM

: Everyday 2:30 PM - 5:30 PM
: Everyday 2:30 PM - 5:30 PM
: Everyday 2:30 PM - 5:30 PM
: Everyday 2:30 PM - 5:30 PM
: Everyday 2:30 PM - 5:30 PM
: Everyday 2:30 PM - 5:30 PM
: Monday to Friday 2:30 PM - 5:30 PM
: Monday to Friday 2:30 PM - 5:30 PM
: Everyday 2:30 PM - 5:30 PM
: Everyday 2:30 PM - 5:30 PM
: Everyday 2:30 PM - 5:30 PM
: Everyday 2:30 PM - 5:30 PM

: Tuesday to Sunday 10:00 AM - 5:30 PM
: Tuesday to Sunday 10:00 AM - 5:30 PM
: Tuesday to Sunday 10:00 AM - 5:30 PM
: Tuesday to Sunday 10:00 AM - 5:30 PM
: Tuesday to Sunday 10:00 AM - 5:30 PM
: Tuesday to Sunday 10:00 AM - 5:30 PM
: Tuesday to Sunday 10:00 AM - 5:30 PM
: Tuesday to Sunday 10:00 AM - 5:30 PM
: Tuesday to Sunday 10:00 AM - 5:30 PM
: Tuesday to Sunday 10:00 AM - 5:30 PM
: Tuesday to Sunday 10:00 AM - 5:30 PM
: Tuesday to Sunday 10:00 AM - 5:30 PM

: Everyday 8:00 PM - 11:59 PM
: Everyday 8:00 PM - 11:59 PM
: Everyday 8:00 PM - 11:59 PM
: Everyday 8:00 PM - 11:59 PM
: Everyday 8:00 PM - 11:59 PM
: Everyday 8:00 PM - 11:59 PM
: Everyday 8:00 PM - 11:59 PM
: Everyday 8:00 PM - 11:59 PM
: Everyday 8:00 PM - 11:59 PM
: Everyday 8:00 PM - 11:59 PM
: Everyday 8:00 PM - 11:59 PM
: Everyday 8:00 PM - 11:59 PM

: Everyday 9:00 AM - 11:59 PM; Everyday 9:00 AM - 11:59 PM | 3:00 PM - 7:00 PM
: Everyday 9:00 AM - 11:59 PM; Everyday 9:00 AM - 11:59 PM | 3:00 PM - 7:00 PM
: Everyday 9:00 AM - 11:59 PM; Everyday 9:00 AM - 11:59 PM | 3:00 PM - 7:00 PM
: Everyday 9:00 AM - 11:59 PM; Everyday 9:00 AM - 11:59 PM | 3:00 PM - 7:00 PM
: Everyday 9:00 AM - 11:59 PM; Everyday 9:00 AM - 11:59 PM | 3:00 PM - 7:00 PM
: Everyday 9:00 AM - 11:59 PM; Everyday 9:00 AM - 11:59 PM | 3:00 PM - 7:00 PM
: Everyday 9:00 AM - 11:59 PM; Everyday 9:00 AM - 11:59 PM | 3:00 PM - 7:00 PM
: Everyday 9:00 AM - 11:59 PM; Everyday 9:00 AM - 11:59 PM | 3:00 PM - 7:00 PM
: Everyday 9:00 AM - 11:59 PM; Everyday 9:00 AM - 11:59 PM | 3:00 PM - 7:00 PM
: Everyday 9:00 AM - 11:59 PM; Everyday 9:00 AM - 11:59 PM | 3:00 PM - 7:00 PM
: Everyday 9:00 AM - 11:59 PM; Everyday 9:00 AM - 11:59 PM | 3:00 PM - 7:00 PM
: Everyday 9:00 AM - 11:59 PM; Everyday 9:00 AM - 11:59 PM | 3:00 PM - 7:00 PM

: Everyday 1:00 PM - 4:00 PM
: Everyday 1:00 PM - 4:00 PM
: Everyday 1:00 PM - 4:00 PM
: Everyday 1:00 PM - 4:00 PM
: Everyday 1:00 PM - 4:00 PM
: Everyday 1:00 PM - 4:00 PM
: Everyday 1:00 PM - 4:00 PM
: Everyday 1:00 PM - 4:00 PM
: Everyday 1:00 PM - 4:00 PM
: Everyday 1:00 PM - 4:00 PM
: Everyday 1:00 PM - 4:00 PM
: Everyday 1:00 PM - 4:00 PM

: Everyday 10:00 AM - 4:00 PM
: Everyday 10:00 AM - 4:00 PM
: Everyday 10:00 AM - 4:00 PM
: Everyday 10:00 AM - 4:00 PM
: Everyday 10:00 AM - 4:00 PM
: Everyday 10:00 AM - 4:00 PM
: Everyday 10:00 AM - 4:00 PM
: Everyday 10:00 AM - 4:00 PM
: Everyday 10:00 AM - 4:00 PM
: Everyday 10:00 AM - 4:00 PM
: Everyday 10:00 AM - 4:00 PM
: Everyday 10:00 AM - 4:00 PM

: Tuesday to Sunday 10:00 AM - 4:00 PM
: Tuesday to Sunday 10:00 AM - 4:00 PM
: Tuesday to Sunday 10:00 AM - 4:00 PM
: Tuesday to Sunday 10:00 AM - 4:00 PM
: Tuesday to Sunday 10:00 AM - 4:00 PM
: Tuesday to Sunday 10:00 AM - 4:00 PM
: Tuesday to Sunday 10:00 AM - 4:00 PM
: Tuesday to Sunday 10:00 AM - 4:00 PM
: Tuesday to Sunday 10:00 AM - 4:00 PM
: Tuesday to Sunday 10:00 AM - 4:00 PM
: Tuesday to Sunday 10:00 AM - 4:00 PM
: Tuesday to Sunday 10:00 AM - 4:00 PM

: Tuesday to Sunday 10:00 AM - 4:00 PM
: Tuesday to Sunday 10:00 AM - 4:00 PM
: Tuesday to Sunday 10:00 AM - 4:00 PM
: Tuesday to Sunday 10:00 AM - 4:00 PM
: Tuesday to Sunday 10:00 AM - 4:00 PM
: Tuesday to Sunday 10:00 AM - 4:00 PM
: Tuesday to Sunday 10:00 AM - 4:00 PM
: Tuesday to Sunday 10:00 AM - 4:00 PM
: Tuesday to Sunday 10:00 AM - 4:00 PM
: Tuesday to Sunday 10:00 AM - 4:00 PM
: Tuesday to Sunday 10:00 AM - 4:00 PM
: Tuesday to Sunday 10:00 AM - 4:00 PM

: Everyday 8:00 PM - 11:59 PM
: Everyday 8:00 PM - 11:59 PM
: Everyday 8:00 PM - 11:59 PM
: Everyday 8:00 PM - 11:59 PM
: Everyday 8:00 PM - 11:59 PM
: Everyday 8:00 PM - 11:59 PM
: Everyday 8:00 PM - 11:59 PM
: Everyday 8:00 PM - 11:59 PM
: Everyday 8:00 PM - 11:59 PM
: Everyday 8:00 PM - 11:59 PM
: Everyday 8:00 PM - 11:59 PM
: Everyday 8:00 PM - 11:59 PM

: Everyday 7:00 AM - 11:00 PM
: Everyday 7:00 AM - 11:00 PM
: Everyday 7:00 AM - 11:00 PM
: Everyday 7:00 AM - 11:00 PM
: Everyday 7:00 AM - 11:00 PM
: Everyday 7:00 AM - 11:00 PM
: Everyday 7:00 AM - 11:00 PM
: Everyday 7:00 AM - 11:00 PM
: Everyday 7:00 AM - 11:00 PM
: Everyday 7:00 AM - 11:00 PM
: Everyday 7:00 AM - 11:00 PM
: Everyday 7:00 AM - 11:00 PM

: Everyday 10:30 AM - 7:00 PM
: Everyday 10:30 AM - 7:00 PM
: Everyday 10:30 AM - 7:00 PM
: Everyday 10:30 AM - 7:00 PM
: Everyday 10:30 AM - 7:00 PM
: Everyday 10:30 AM - 7:00 PM
: Everyday 10:30 AM - 7:00 PM
: Everyday 10:30 AM - 7:00 PM
: Everyday 10:30 AM - 7:00 PM
: Everyday 10:30 AM - 7:00 PM
: Everyday 10:30 AM - 7:00 PM
: Everyday 10:30 AM - 7:00 PM