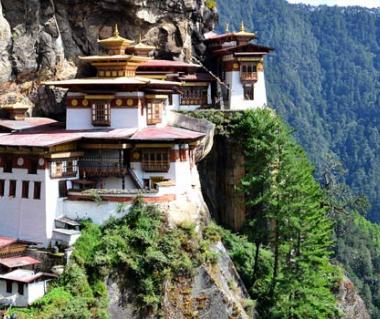 Bhutan Trip Planner
Plan your customized trip plan for Bhutan. Choose from Top Toursim cities and tourist attarctions of Bhutan using trip planner.
Bhutan Overview
THE CULTURE! They say that this is one of the happiest places on earth and so far, we've heard no one say otherwise. Everything in Bhutan is based on the assumption that the final goal of anything is an inner happiness. Buddhism plays a greater part in everyday life, and has seeped deeply into the culture here. Development here isn't as breakneck as it has been outside, and so much of the country preserves day-to-day traditions that are centuries old.
THE SPICY FOOD! The Bhutanese must have evolved differently from the rest of the world. Chilly permeates every meal, and the locals quite nonchalantly have it raw. So, yes, you're going to spend half of your every meal gulping cold water or sucking on ice.
NATURE! The appeal of Bhutan's natural beauty lies in how entirely un- commercialised it is. The lands, mountains, rivers and lakes are pretty much virginal. Trekking through it all will remove you from your regular life in a way you've never felt before.
GETTING IN:
Tourism in Bhutan is highly restricted. The government charges a special fee of USD 200-250 per person per day for the visa, which is applied for online and payment made to the Tourism Council of Bhutan. Carry two passport sized photos on entry. Paro International Airport is only directly accessible by India, Nepal, Singapore and Thailand, so the visa requirements for these countries will have to be separately fulfilled. Start planning the visa at least 2 months before your visit.
Druk Air is the only airline allowed flights in and out of the country, and the flights tend to be highly limited. To get in by car (which is only possible with India), you need special road permits. There are also buses that operate from Siliguri and Kolkata for pretty cheap rates.
Understand that this visa is inclusive of the price of accommodation, food, a tour guide, transport, trekking/camping equipment and all other minor charges.
GETTING AROUND:
Road permits (available in Thimpu) are required to get around the country. Since your transport will be taken care of by the local tour authority, don't bother looking around for other methods. Hitch-hiking is also popular; it's customary to pay or offer small presents, though some will waive such gifts.
THINGS TO DO:
Bhutan is a magnificent place on Earth that invites tourists owing to happiness and the culture that it exudes. There are plenty of things to do in Bhutan. From here, you can see Mt Everest for a divine view; visit Thimpu or Paro, the cultural sites of Buddhism or head on to Jaigaon for shopping. Punakha is also famous for its monasteries and river rafting opportunities. People who wish to have a rendezvous with the nightlife of Bhutan can go to Phuntholing and Motithang. Then there are other tourist attractions in Bhutan such as Trongsa which is the gateway to alluring Bumthang, where four sacred valleys hide a string of ancient monasteries and captivating country towns. People also visit Jakar, and from there roam along the scenic Chokhor Valley and visit ancient chapels and chortens set amidst sublime mountain scenery.You can also take a trek to Taktsang (Tiger's Nest) Goemba which tops the list of things to do in Bhutan. This revered monastery is legendary as Guru Rinpoche flew to this site on a magical tiger and meditated in a cave before continuing his journey to spread Buddhism across the Himalaya. With an array of things to do and see in Bhutan, a visit to this country can be a fulfilling experience.
EAT AND DRINK:
Chilly, cheese and rice dominate every meal, whether it's vegetarian or meat. Apart from that there is a heavy Indian influence on cooking here. A local spirit fermented from rice or corn called ara is pretty easily available. Tea however, is the true national drink.
ACCOMODATION:
Again, as this is usually provided as part of your daily visa fee, you'll be put up at some comfortable 3 star hotels. The truly luxurious five star hotel brands are only available at major cities, and are usually only accessible by Indians.
CELEBRATE:
The main yearly event here is the Tshechu, the celebration of Guru Rimpoche's birthday - a day of cleansing, masked dancing and blesses seeking. However, this is celebrated at different times throughout the year at different places, and each place puts its own interpretation on the fest. The other fests to watch out for are the Punaka at Dromchoe, the Tamshingphala Choepa in Bumthang and the Black Necked Crane Festival.
Searching for something specific?