Best Time To Visit Bikaner
Explore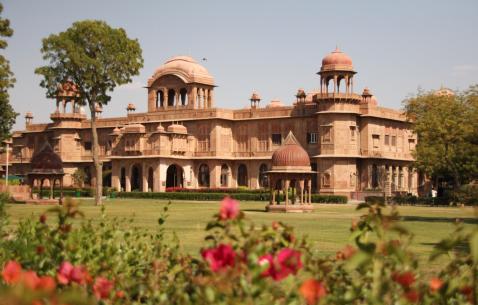 Best Time To Go To Bikaner
Bikaner is located in the middle of Thar Desert region in Rajasthan making it quite hot. There is little rainfall annually. So plan your trip accordingly.
Summer: (March to July) These months are hottest with temperatures sometimes hitting high as 47 degree Celsius.
Monsoon: (July to September) There's little rainfall between these months with average precipitation being around 91.1mm.
Winter: (October to February) Temperature is fairly cold during winter when it ranges from 5-23 degree Celsius.
November to February remains as the best time to visit Bikaner as the weather remains pleasant and is the best time to visit. In fact in January there's a camel riding festival which is enjoyed by a lot of foreigners.
Best time to go to Bikaner Attractions

: Everyday 10:00 AM - 2:00 PM
: Everyday 10:00 AM - 2:00 PM
: Everyday 10:00 AM - 2:00 PM
: Everyday 10:00 AM - 2:00 PM
: Everyday 10:00 AM - 2:00 PM
: Everyday 10:00 AM - 2:00 PM
: Everyday 10:00 AM - 2:00 PM
: Everyday 10:00 AM - 2:00 PM
: Everyday 10:00 AM - 2:00 PM
: Everyday 10:00 AM - 2:00 PM
: Everyday 10:00 AM - 2:00 PM
: Everyday 10:00 AM - 2:00 PM

: Everyday 2:00 PM - 5:30 PM
: Everyday 2:00 PM - 5:30 PM
: Everyday 2:00 PM - 5:30 PM
: Everyday 2:00 PM - 5:30 PM
: Everyday 2:00 PM - 5:30 PM
: Everyday 2:00 PM - 5:30 PM
: Everyday 2:00 PM - 5:30 PM
: Everyday 2:00 PM - 5:30 PM
: Everyday 2:00 PM - 5:30 PM
: Everyday 2:00 PM - 5:30 PM
: Everyday 2:00 PM - 5:30 PM
: Everyday 2:00 PM - 5:30 PM

: Everyday 7:00 AM - 8:00 PM
: Everyday 7:00 AM - 8:00 PM
: Everyday 7:00 AM - 8:00 PM
: Everyday 7:00 AM - 8:00 PM
: Everyday 7:00 AM - 8:00 PM
: Everyday 7:00 AM - 8:00 PM
: Everyday 7:00 AM - 8:00 PM
: Everyday 7:00 AM - 8:00 PM
: Everyday 7:00 AM - 8:00 PM
: Everyday 7:00 AM - 8:00 PM
: Everyday 7:00 AM - 8:00 PM
: Everyday 7:00 AM - 8:00 PM

: Everyday 6:00 AM - 8:00 PM
: Everyday 6:00 AM - 8:00 PM
: Everyday 6:00 AM - 8:00 PM
: Everyday 6:00 AM - 8:00 PM
: Everyday 6:00 AM - 8:00 PM
: Everyday 6:00 AM - 8:00 PM
: Everyday 6:00 AM - 8:00 PM
: Everyday 6:00 AM - 8:00 PM
: Everyday 6:00 AM - 8:00 PM
: Everyday 6:00 AM - 8:00 PM
: Everyday 6:00 AM - 8:00 PM
: Everyday 6:00 AM - 8:00 PM

: Everyday 10:00 AM - 5:00 PM
: Everyday 10:00 AM - 5:00 PM
: Everyday 10:00 AM - 5:00 PM
: Everyday 10:00 AM - 5:00 PM
: Everyday 10:00 AM - 5:00 PM
: Everyday 10:00 AM - 5:00 PM
: Everyday 10:00 AM - 5:00 PM
: Everyday 10:00 AM - 5:00 PM
: Everyday 10:00 AM - 5:00 PM
: Everyday 10:00 AM - 5:00 PM
: Everyday 10:00 AM - 5:00 PM
: Everyday 10:00 AM - 5:00 PM

: Everyday 2:00 PM - 7:00 PM
: Everyday 2:00 PM - 7:00 PM
: Everyday 2:00 PM - 7:00 PM
: Everyday 2:00 PM - 7:00 PM
: Everyday 2:00 PM - 7:00 PM
: Everyday 2:00 PM - 7:00 PM
: Everyday 2:00 PM - 7:00 PM
: Everyday 2:00 PM - 7:00 PM
: Everyday 2:00 PM - 7:00 PM
: Everyday 2:00 PM - 7:00 PM
: Everyday 2:00 PM - 7:00 PM
: Everyday 2:00 PM - 7:00 PM

: Everyday 5:00 AM - 8:00 PM
: Everyday 5:00 AM - 8:00 PM
: Everyday 5:00 AM - 8:00 PM
: Everyday 5:00 AM - 8:00 PM
: Everyday 5:00 AM - 8:00 PM
: Everyday 5:00 AM - 8:00 PM
: Everyday 5:00 AM - 8:00 PM
: Everyday 5:00 AM - 8:00 PM
: Everyday 5:00 AM - 8:00 PM
: Everyday 5:00 AM - 8:00 PM
: Everyday 5:00 AM - 8:00 PM
: Everyday 5:00 AM - 8:00 PM

: Everyday 10:00 AM - 7:00 PM
: Everyday 10:00 AM - 7:00 PM
: Everyday 10:00 AM - 7:00 PM
: Everyday 10:00 AM - 7:00 PM
: Everyday 10:00 AM - 7:00 PM
: Everyday 10:00 AM - 7:00 PM
: Everyday 10:00 AM - 7:00 PM
: Everyday 10:00 AM - 7:00 PM
: Everyday 10:00 AM - 7:00 PM
: Everyday 10:00 AM - 7:00 PM
: Everyday 10:00 AM - 7:00 PM
: Everyday 10:00 AM - 7:00 PM

: Everyday 7:00 AM - 6:00 PM
: Everyday 7:00 AM - 6:00 PM
: Everyday 7:00 AM - 6:00 PM
: Everyday 7:00 AM - 6:00 PM
: Everyday 7:00 AM - 6:00 PM
: Everyday 7:00 AM - 6:00 PM
: Everyday 7:00 AM - 6:00 PM
: Everyday 7:00 AM - 6:00 PM
: Everyday 7:00 AM - 6:00 PM
: Everyday 7:00 AM - 6:00 PM
: Everyday 7:00 AM - 6:00 PM
: Everyday 7:00 AM - 6:00 PM

: Everyday 10:00 AM - 8:00 PM
: Everyday 10:00 AM - 8:00 PM
: Everyday 10:00 AM - 8:00 PM
: Everyday 10:00 AM - 8:00 PM
: Everyday 10:00 AM - 8:00 PM
: Everyday 10:00 AM - 8:00 PM
: Everyday 10:00 AM - 8:00 PM
: Everyday 10:00 AM - 8:00 PM
: Everyday 10:00 AM - 8:00 PM
: Everyday 10:00 AM - 8:00 PM
: Everyday 10:00 AM - 8:00 PM
: Everyday 10:00 AM - 8:00 PM

: Everyday 9:00 AM - 5:00 PM
: Everyday 9:00 AM - 5:00 PM
: Everyday 9:00 AM - 5:00 PM
: Everyday 9:00 AM - 5:00 PM
: Everyday 9:00 AM - 5:00 PM
: Everyday 9:00 AM - 5:00 PM
: Everyday 9:00 AM - 5:00 PM
: Everyday 9:00 AM - 5:00 PM
: Everyday 9:00 AM - 5:00 PM
: Everyday 9:00 AM - 5:00 PM
: Everyday 9:00 AM - 5:00 PM
: Everyday 9:00 AM - 5:00 PM

: Everyday 10:00 AM - 5:00 PM
: Everyday 10:00 AM - 5:00 PM
: Everyday 10:00 AM - 5:00 PM
: Everyday 10:00 AM - 5:00 PM
: Everyday 10:00 AM - 5:00 PM
: Everyday 10:00 AM - 5:00 PM
: Everyday 10:00 AM - 5:00 PM
: Everyday 10:00 AM - 5:00 PM
: Everyday 10:00 AM - 5:00 PM
: Everyday 10:00 AM - 5:00 PM
: Everyday 10:00 AM - 5:00 PM
: Everyday 10:00 AM - 5:00 PM

: Monday to Saturday 9:00 AM - 5:00 PM
: Monday to Saturday 9:00 AM - 5:00 PM
: Monday to Saturday 9:00 AM - 5:00 PM
: Monday to Saturday 9:00 AM - 5:00 PM
: Monday to Saturday 9:00 AM - 5:00 PM
: Monday to Saturday 9:00 AM - 5:00 PM
: Monday to Saturday 9:00 AM - 5:00 PM
: Monday to Saturday 9:00 AM - 5:00 PM
: Monday to Saturday 9:00 AM - 5:00 PM
: Monday to Saturday 9:00 AM - 5:00 PM
: Monday to Saturday 9:00 AM - 5:00 PM
: Monday to Saturday 9:00 AM - 5:00 PM

: Everyday 6:00 AM - 8:00 PM
: Everyday 6:00 AM - 8:00 PM
: Everyday 6:00 AM - 8:00 PM
: Everyday 6:00 AM - 8:00 PM
: Everyday 6:00 AM - 8:00 PM
: Everyday 6:00 AM - 8:00 PM
: Everyday 6:00 AM - 8:00 PM
: Everyday 6:00 AM - 8:00 PM
: Everyday 6:00 AM - 8:00 PM
: Everyday 6:00 AM - 8:00 PM
: Everyday 6:00 AM - 8:00 PM
: Everyday 6:00 AM - 8:00 PM

: Everyday 24 Hrs
: Everyday 24 Hrs
: Everyday 24 Hrs
: Everyday 24 Hrs
: Everyday 24 Hrs
: Everyday 24 Hrs
: Everyday 24 Hrs
: Everyday 24 Hrs
: Everyday 24 Hrs
: Everyday 24 Hrs
: Everyday 24 Hrs
: Everyday 24 Hrs

: Everyday 24 Hrs
: Everyday 24 Hrs
: Everyday 24 Hrs
: Everyday 24 Hrs
: Everyday 24 Hrs
: Everyday 24 Hrs
: Everyday 24 Hrs
: Everyday 24 Hrs
: Everyday 24 Hrs
: Everyday 24 Hrs
: Everyday 24 Hrs
: Everyday 24 Hrs

: Everyday 24 Hrs
: Everyday 24 Hrs
: Everyday 24 Hrs
: Everyday 24 Hrs
: Everyday 24 Hrs
: Everyday 24 Hrs
: Everyday 24 Hrs
: Everyday 24 Hrs
: Everyday 24 Hrs
: Everyday 24 Hrs
: Everyday 24 Hrs
: Everyday 24 Hrs

: Everyday 24 Hrs
: Everyday 24 Hrs
: Everyday 24 Hrs
: Everyday 24 Hrs
: Everyday 24 Hrs
: Everyday 24 Hrs
: Everyday 24 Hrs
: Everyday 24 Hrs
: Everyday 24 Hrs
: Everyday 24 Hrs
: Everyday 24 Hrs
: Everyday 24 Hrs

: Everyday 24 Hrs
: Everyday 24 Hrs
: Everyday 24 Hrs
: Everyday 24 Hrs
: Everyday 24 Hrs
: Everyday 24 Hrs
: Everyday 24 Hrs
: Everyday 24 Hrs
: Everyday 24 Hrs
: Everyday 24 Hrs
: Everyday 24 Hrs
: Everyday 24 Hrs

: Everyday 24 Hrs
: Everyday 24 Hrs
: Everyday 24 Hrs
: Everyday 24 Hrs
: Everyday 24 Hrs
: Everyday 24 Hrs
: Everyday 24 Hrs
: Everyday 24 Hrs
: Everyday 24 Hrs
: Everyday 24 Hrs
: Everyday 24 Hrs
: Everyday 24 Hrs

: Everyday 24 Hrs
: Everyday 24 Hrs
: Everyday 24 Hrs
: Everyday 24 Hrs
: Everyday 24 Hrs
: Everyday 24 Hrs
: Everyday 24 Hrs
: Everyday 24 Hrs
: Everyday 24 Hrs
: Everyday 24 Hrs
: Everyday 24 Hrs
: Everyday 24 Hrs

: Everyday 9:00 AM - 5:00 PM
: Everyday 9:00 AM - 5:00 PM
: Everyday 9:00 AM - 5:00 PM
: Everyday 9:00 AM - 5:00 PM
: Everyday 9:00 AM - 5:00 PM
: Everyday 9:00 AM - 5:00 PM
: Everyday 9:00 AM - 5:00 PM
: Everyday 9:00 AM - 5:00 PM
: Everyday 9:00 AM - 5:00 PM
: Everyday 9:00 AM - 5:00 PM
: Everyday 9:00 AM - 5:00 PM
: Everyday 9:00 AM - 5:00 PM

: Everyday 8:00 AM - 5:00 PM
: Everyday 8:00 AM - 5:00 PM
: Everyday 8:00 AM - 5:00 PM
: Everyday 8:00 AM - 5:00 PM
: Everyday 8:00 AM - 5:00 PM
: Everyday 8:00 AM - 5:00 PM
: Everyday 8:00 AM - 5:00 PM
: Everyday 8:00 AM - 5:00 PM
: Everyday 8:00 AM - 5:00 PM
: Everyday 8:00 AM - 5:00 PM
: Everyday 8:00 AM - 5:00 PM
: Everyday 8:00 AM - 5:00 PM

: Everyday 2:00 PM - 5:30 PM
: Everyday 2:00 PM - 5:30 PM
: Everyday 2:00 PM - 5:30 PM
: Everyday 2:00 PM - 5:30 PM
: Everyday 2:00 PM - 5:30 PM
: Everyday 2:00 PM - 5:30 PM
: Everyday 2:00 PM - 5:30 PM
: Everyday 2:00 PM - 5:30 PM
: Everyday 2:00 PM - 5:30 PM
: Everyday 2:00 PM - 5:30 PM
: Everyday 2:00 PM - 5:30 PM
: Everyday 2:00 PM - 5:30 PM

: Everyday 5:00 AM - 5:30 PM
: Everyday 5:00 AM - 5:30 PM
: Everyday 5:00 AM - 5:30 PM
: Everyday 5:00 AM - 5:30 PM
: Everyday 5:00 AM - 5:30 PM
: Everyday 5:00 AM - 5:30 PM
: Everyday 5:00 AM - 5:30 PM
: Everyday 5:00 AM - 5:30 PM
: Everyday 5:00 AM - 5:30 PM
: Everyday 5:00 AM - 5:30 PM
: Everyday 5:00 AM - 5:30 PM
: Everyday 5:00 AM - 5:30 PM