Laxmi Niwas Palace
Book Now
Book Now
Book Now
Show More
About Laxmi Niwas Palace, Bikaner
Laxmi Niwas Palace is a former residential palace of the king of the former Bikaner state, Mahārāja Ganga Singh, in Bikaner in the Indian state of Rajasthan. It was designed in 1896 in an Indo-Saracenic style by the British architect, Sir Samuel Swinton Jacob, and built between 1898 and 1902. Upon its completion, plans were already drawn up, again by Jacob, to extend it into the much larger Lalgarh Palace which was constructed between 1902 and 1926. It is now a luxury hotel managed by Golden Triangle Fort & Palace P. Ltd. The magnificent structure in red sandstone is one of the most popular destination for tourists in Bikaner. Stanley Reed, the official reporter of the 1905-06 India tour of the Prince and Princess of Wales (later King George V and Queen Mary of Great Britain) noted that "The Laxmi Niwas Palace is the most perfect modern building in the Indo-Saracenic style in India - an entirely graceful pile of carved red sandstone, nobly proportioned and harmonising entirely with its environment. Their Royal Highnesses have not been more splendidly housed since they landed in Bombay".
Wikipedia
Overview of Laxmi Niwas Palace
Walking past the city of Bikaner, you will come across Laxmi Niwas Palace. Don't expect lot of visitors to Laxmi Niwas Palace since it is not a popular tourist spot in Bikaner.
Top attractions of Bikaner worth your visit include Junagadh Fort, National Research Centre On Camel, Jain Temple Bhandasar, Karni Mata Temple and Lalgarh Palace. Visit these and also discover other interesting things to do in Bikaner before planning.
What's travelling like if you don't want to explore it like a local! Book local Bikaner tours and experiences.
More about Bikaner
Explore Laxmi Niwas Palace and other prime spots of the city using Bikaner trip planner.
Add accommodation and hotels in Bikaner that suit your budget including the most recommended ones like Tanisha Heritage Haweli, Hotel Inderlok, Shri Ganesh Hotel and Hotel Babu Palace.
Choose from variety of exclusive Bikaner vacation packages for your next visit or create own own. Check out the various options for how to reach Bikaner and finish off your vacation package by booking the ideal transfer.
Book Laxmi niwas palace Tickets And Tours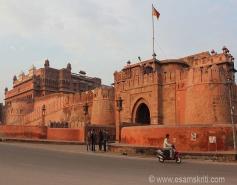 Bask in the glory of the opulence that Rajasthan is on this 5 day tour of the gorgeous state. Cities covered include Jaipur and Bikaner along with the lovely villages of Raisar and Bamblu. And, you will also get to visit a camel breeding farm- a once in a lifetime opportunity.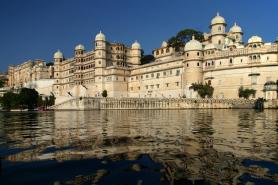 Make the most of your Indian escapade with this tour that covers the cities of Delhi and Agra along with covering 9 major cities in the state of Rajasthan. Spanning 21 days, the tour covers all the top tourist attractions in this city including a visit to the magnificent Taj Mahal.
Share your experience - Rate Laxmi Niwas Palace, Bikaner
Great architecture, delicious Rajasthani food, perfect service and entertainment. Place to visit in Bikaner. Even if you are not staying in this hotel, visit for lunch / dinner it is worth.

The Palace was wonderful. Full of history and majestic. The room was also very comfortable clean and large. 5/5

Superb weekend destination..Preserving rajasthani heritage..Very rightly priced

This was my favorite hotel that I stayed at on my 1.5 month Rajasthan trip. When I was checking out they had a questionnaire for me to fill out. Lighting...5 star....The other hotels I stayed in weren't really bright enough for a man to even shave or for a women to shave her legs. Also...The other hotels weren't bright enough for me to do sewing. I was able to catch up on some sewing. Air conditioning....5 star...ac worked great. Heating.....5 star .....It was cold at night in December. The heater was just wonferful. Most of the other hotels, didn't offer a heater at all. Hot water....5 star....There was as much hot water as I wanted. Many of the other hotels only offered a small, tiny hot water heater. Just enough hot water to wash my hair. Then I washed my body in cold water. (Not acceptable for December). The hotel was just like a museum. I don't think I saw everything and I was there for 3 nights. To sum it up.....The hotel was historic, comfortable, and wonderful. And not crowded, even though all the rooms were full.

Read more

Amazing hospitality by the staff and a great place to stay. The food is great. We enjoyed a cultural/musical night by the pool.
Read all reviews