Best Time To Visit Bologna
Explore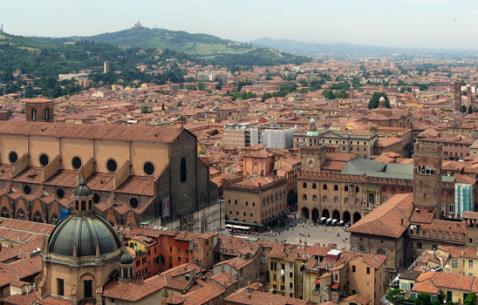 Accommodations with

See All
Best Time To Go To Bologna
Bologna has a humid subtropical climate, while summers are hot and muggy during the months of July and August the temperature rise is at its peak so much so that a number of places are closed. Holidays to Bologna in winters are simply beautiful with heavy snowfall; and though January and February feature cloudless skies, they are the coldest months. As any Bologna travel guide will warn you, Bologna tourist attractions opening times may change with the weather/season.
The best time to visit would be from March to October, it is pleasant enough to visit all the places and sit at one of the Piazza nibbling on your gelato!
Explore the best travel planner for your visit to Bologna and create a flawless plan in few simple steps!
Best time to go to Bologna Attractions

: Everyday 6:00 PM - 9:00 PM
: Everyday 6:00 PM - 9:00 PM
: Everyday 6:00 PM - 9:00 PM
: Everyday 6:00 PM - 9:00 PM
: Everyday 6:00 PM - 9:00 PM
: Everyday 6:00 PM - 9:00 PM
: Everyday 6:00 PM - 9:00 PM
: Everyday 6:00 PM - 9:00 PM
: Everyday 6:00 PM - 9:00 PM
: Everyday 6:00 PM - 9:00 PM
: Everyday 6:00 PM - 9:00 PM
: Everyday 6:00 PM - 9:00 PM

: Everyday 10:00 AM - 4:00 PM
: Everyday 10:00 AM - 4:00 PM
: Everyday 10:00 AM - 4:00 PM
: Everyday 10:00 AM - 4:00 PM
: Everyday 10:00 AM - 4:00 PM
: Everyday 10:00 AM - 4:00 PM
: Everyday 10:00 AM - 4:00 PM
: Everyday 10:00 AM - 4:00 PM
: Everyday 10:00 AM - 4:00 PM
: Everyday 10:00 AM - 4:00 PM
: Everyday 10:00 AM - 4:00 PM
: Everyday 10:00 AM - 4:00 PM

: Everyday 10:00 AM - 2:00 PM
: Everyday 10:00 AM - 2:00 PM
: Everyday 10:00 AM - 2:00 PM
: Everyday 10:00 AM - 2:00 PM
: Everyday 10:00 AM - 2:00 PM
: Everyday 10:00 AM - 2:00 PM
: Everyday 10:00 AM - 2:00 PM
: Everyday 10:00 AM - 2:00 PM
: Everyday 10:00 AM - 2:00 PM
: Everyday 10:00 AM - 2:00 PM
: Everyday 10:00 AM - 2:00 PM
: Everyday 10:00 AM - 2:00 PM

: Everyday 3:00 PM - 11:15 PM
: Everyday 3:00 PM - 11:15 PM
: Everyday 3:00 PM - 11:15 PM
: Everyday 3:00 PM - 11:15 PM
: Everyday 3:00 PM - 11:15 PM
: Everyday 3:00 PM - 11:15 PM
: Everyday 3:00 PM - 11:15 PM
: Everyday 3:00 PM - 11:15 PM
: Everyday 3:00 PM - 11:15 PM
: Everyday 3:00 PM - 11:15 PM
: Everyday 3:00 PM - 11:15 PM
: Everyday 3:00 PM - 11:15 PM

: Everyday 3:00 PM - 1:00 PM; Everyday 3:00 PM - 1:00 PM | 2:30 PM - 3:00 PM
: Everyday 3:00 PM - 1:00 PM; Everyday 3:00 PM - 1:00 PM | 2:30 PM - 3:00 PM
: Everyday 3:00 PM - 1:00 PM; Everyday 3:00 PM - 1:00 PM | 2:30 PM - 3:00 PM
: Everyday 3:00 PM - 1:00 PM; Everyday 3:00 PM - 1:00 PM | 2:30 PM - 3:00 PM
: Everyday 3:00 PM - 1:00 PM; Everyday 3:00 PM - 1:00 PM | 2:30 PM - 3:00 PM
: Everyday 3:00 PM - 1:00 PM; Everyday 3:00 PM - 1:00 PM | 2:30 PM - 3:00 PM
: Everyday 3:00 PM - 1:00 PM; Everyday 3:00 PM - 1:00 PM | 2:30 PM - 3:00 PM
: Everyday 3:00 PM - 1:00 PM; Everyday 3:00 PM - 1:00 PM | 2:30 PM - 3:00 PM
: Everyday 3:00 PM - 1:00 PM; Everyday 3:00 PM - 1:00 PM | 2:30 PM - 3:00 PM
: Everyday 3:00 PM - 1:00 PM; Everyday 3:00 PM - 1:00 PM | 2:30 PM - 3:00 PM
: Everyday 3:00 PM - 1:00 PM; Everyday 3:00 PM - 1:00 PM | 2:30 PM - 3:00 PM
: Everyday 3:00 PM - 1:00 PM; Everyday 3:00 PM - 1:00 PM | 2:30 PM - 3:00 PM

: Monday to Friday 9:00 AM - 5:00 PM; Saturday 9:00 AM - 1:00 PM
: Monday to Friday 9:00 AM - 5:00 PM; Saturday 9:00 AM - 1:00 PM
: Monday to Friday 9:00 AM - 5:00 PM; Saturday 9:00 AM - 1:00 PM
: Monday to Friday 9:00 AM - 5:00 PM; Saturday 9:00 AM - 1:00 PM
: Monday to Friday 9:00 AM - 5:00 PM; Saturday 9:00 AM - 1:00 PM
: Monday to Friday 9:00 AM - 5:00 PM; Saturday 9:00 AM - 1:00 PM
: Monday to Friday 9:00 AM - 5:00 PM; Saturday 9:00 AM - 1:00 PM
: Monday to Friday 9:00 AM - 5:00 PM; Saturday 9:00 AM - 1:00 PM
: Monday to Friday 9:00 AM - 5:00 PM; Saturday 9:00 AM - 1:00 PM
: Monday to Friday 9:00 AM - 5:00 PM; Saturday 9:00 AM - 1:00 PM
: Monday to Friday 9:00 AM - 5:00 PM; Saturday 9:00 AM - 1:00 PM
: Monday to Friday 9:00 AM - 5:00 PM; Saturday 9:00 AM - 1:00 PM

: Tuesday to Saturday 9:00 AM - 6:30 PM
: Tuesday to Saturday 9:00 AM - 6:30 PM
: Tuesday to Saturday 9:00 AM - 6:30 PM
: Tuesday to Saturday 9:00 AM - 6:30 PM
: Tuesday to Saturday 9:00 AM - 6:30 PM
: Tuesday to Saturday 9:00 AM - 6:30 PM
: Tuesday to Saturday 9:00 AM - 6:30 PM
: Tuesday to Saturday 9:00 AM - 6:30 PM
: Tuesday to Saturday 9:00 AM - 6:30 PM
: Tuesday to Saturday 9:00 AM - 6:30 PM
: Tuesday to Saturday 9:00 AM - 6:30 PM
: Tuesday to Saturday 9:00 AM - 6:30 PM

: Everyday 7:00 AM - 9:00 AM
: Everyday 7:00 AM - 9:00 AM
: Everyday 7:00 AM - 9:00 AM
: Everyday 7:00 AM - 9:00 AM
: Everyday 7:00 AM - 9:00 AM
: Everyday 7:00 AM - 9:00 AM
: Everyday 7:00 AM - 9:00 AM
: Everyday 7:00 AM - 9:00 AM
: Everyday 7:00 AM - 9:00 AM
: Everyday 7:00 AM - 9:00 AM
: Everyday 7:00 AM - 9:00 AM
: Everyday 7:00 AM - 9:00 AM

: Tuesday to Sunday 3:00 PM - 6:00 PM
: Tuesday to Sunday 3:00 PM - 6:00 PM
: Tuesday to Sunday 3:00 PM - 6:00 PM
: Tuesday to Sunday 3:00 PM - 6:00 PM
: Tuesday to Sunday 3:00 PM - 6:00 PM
: Tuesday to Sunday 3:00 PM - 6:00 PM
: Tuesday to Sunday 3:00 PM - 6:00 PM
: Tuesday to Sunday 3:00 PM - 6:00 PM
: Tuesday to Sunday 3:00 PM - 6:00 PM
: Tuesday to Sunday 3:00 PM - 6:00 PM
: Tuesday to Sunday 3:00 PM - 6:00 PM
: Tuesday to Sunday 3:00 PM - 6:00 PM

: Monday to Saturday 10:00 AM - 6:00 PM
: Monday to Saturday 10:00 AM - 6:00 PM
: Monday to Saturday 10:00 AM - 6:00 PM
: Monday to Saturday 10:00 AM - 6:00 PM
: Monday to Saturday 10:00 AM - 6:00 PM
: Monday to Saturday 10:00 AM - 6:00 PM
: Monday to Saturday 10:00 AM - 6:00 PM
: Monday to Saturday 10:00 AM - 6:00 PM
: Monday to Saturday 10:00 AM - 6:00 PM
: Monday to Saturday 10:00 AM - 6:00 PM
: Monday to Saturday 10:00 AM - 6:00 PM
: Monday to Saturday 10:00 AM - 6:00 PM

: Tuesday to Sunday 10:00 AM - 3:00 PM
: Tuesday to Sunday 10:00 AM - 3:00 PM
: Tuesday to Sunday 10:00 AM - 3:00 PM
: Tuesday to Sunday 10:00 AM - 3:00 PM
: Tuesday to Sunday 10:00 AM - 3:00 PM
: Tuesday to Sunday 10:00 AM - 3:00 PM
: Tuesday to Sunday 10:00 AM - 3:00 PM
: Tuesday to Sunday 10:00 AM - 3:00 PM
: Tuesday to Sunday 10:00 AM - 3:00 PM
: Tuesday to Sunday 10:00 AM - 3:00 PM
: Tuesday to Sunday 10:00 AM - 3:00 PM
: Tuesday to Sunday 10:00 AM - 3:00 PM

: Tuesday to Sunday 3:00 PM - 6:00 PM
: Tuesday to Sunday 3:00 PM - 6:00 PM
: Tuesday to Sunday 3:00 PM - 6:00 PM
: Tuesday to Sunday 3:00 PM - 6:00 PM
: Tuesday to Sunday 3:00 PM - 6:00 PM
: Tuesday to Sunday 3:00 PM - 6:00 PM
: Tuesday to Sunday 3:00 PM - 6:00 PM
: Tuesday to Sunday 3:00 PM - 6:00 PM
: Tuesday to Sunday 3:00 PM - 6:00 PM
: Tuesday to Sunday 3:00 PM - 6:00 PM
: Tuesday to Sunday 3:00 PM - 6:00 PM
: Tuesday to Sunday 3:00 PM - 6:00 PM

: Tuesday to Saturday 3:00 PM - 5:00 PM
: Tuesday to Saturday 3:00 PM - 5:00 PM
: Tuesday to Saturday 3:00 PM - 5:00 PM
: Tuesday to Saturday 3:00 PM - 5:00 PM
: Tuesday to Saturday 3:00 PM - 5:00 PM
: Tuesday to Saturday 3:00 PM - 5:00 PM
: Tuesday to Saturday 3:00 PM - 5:00 PM
: Tuesday to Saturday 3:00 PM - 5:00 PM
: Tuesday to Saturday 3:00 PM - 5:00 PM
: Tuesday to Saturday 3:00 PM - 5:00 PM
: Tuesday to Saturday 3:00 PM - 5:00 PM
: Tuesday to Saturday 3:00 PM - 5:00 PM

: Friday to Sunday 3:00 PM - 2:00 PM
: Friday to Sunday 3:00 PM - 2:00 PM
: Friday to Sunday 3:00 PM - 2:00 PM
: Friday to Sunday 3:00 PM - 2:00 PM
: Friday to Sunday 3:00 PM - 2:00 PM
: Friday to Sunday 3:00 PM - 2:00 PM
: Friday to Sunday 3:00 PM - 2:00 PM
: Friday to Sunday 3:00 PM - 2:00 PM
: Friday to Sunday 3:00 PM - 2:00 PM
: Friday to Sunday 3:00 PM - 2:00 PM
: Friday to Sunday 3:00 PM - 2:00 PM
: Friday to Sunday 3:00 PM - 2:00 PM

: Monday to Friday 3:00 PM - 4:00 PM
: Monday to Friday 3:00 PM - 4:00 PM
: Monday to Friday 3:00 PM - 4:00 PM
: Monday to Friday 3:00 PM - 4:00 PM
: Monday to Friday 3:00 PM - 4:00 PM
: Monday to Friday 3:00 PM - 4:00 PM
: Monday to Friday 3:00 PM - 4:00 PM
: Monday to Friday 3:00 PM - 4:00 PM
: Monday to Friday 3:00 PM - 4:00 PM
: Monday to Friday 3:00 PM - 4:00 PM
: Monday to Friday 3:00 PM - 4:00 PM
: Monday to Friday 3:00 PM - 4:00 PM

: Tuesday to Sunday 10:00 AM - 3:00 PM
: Tuesday to Sunday 10:00 AM - 3:00 PM
: Tuesday to Sunday 10:00 AM - 3:00 PM
: Tuesday to Sunday 10:00 AM - 3:00 PM
: Tuesday to Sunday 10:00 AM - 3:00 PM
: Tuesday to Sunday 10:00 AM - 3:00 PM
: Tuesday to Sunday 10:00 AM - 3:00 PM
: Tuesday to Sunday 10:00 AM - 3:00 PM
: Tuesday to Sunday 10:00 AM - 3:00 PM
: Tuesday to Sunday 10:00 AM - 3:00 PM
: Tuesday to Sunday 10:00 AM - 3:00 PM
: Tuesday to Sunday 10:00 AM - 3:00 PM

: Tuesday to Friday 10:00 AM - 1:00 PM; Saturday, Sunday 10:30 AM - 1:30 PM
: Tuesday to Friday 10:00 AM - 1:00 PM; Saturday, Sunday 10:30 AM - 1:30 PM
: Tuesday to Friday 10:00 AM - 1:00 PM; Saturday, Sunday 10:30 AM - 1:30 PM
: Tuesday to Friday 10:00 AM - 1:00 PM; Saturday, Sunday 10:30 AM - 1:30 PM
: Tuesday to Friday 10:00 AM - 1:00 PM; Saturday, Sunday 10:30 AM - 1:30 PM
: Tuesday to Friday 10:00 AM - 1:00 PM; Saturday, Sunday 10:30 AM - 1:30 PM
: Tuesday to Friday 10:00 AM - 1:00 PM; Saturday, Sunday 10:30 AM - 1:30 PM
: Tuesday to Friday 10:00 AM - 1:00 PM; Saturday, Sunday 10:30 AM - 1:30 PM
: Tuesday to Friday 10:00 AM - 1:00 PM; Saturday, Sunday 10:30 AM - 1:30 PM
: Tuesday to Friday 10:00 AM - 1:00 PM; Saturday, Sunday 10:30 AM - 1:30 PM
: Tuesday to Friday 10:00 AM - 1:00 PM; Saturday, Sunday 10:30 AM - 1:30 PM
: Tuesday to Friday 10:00 AM - 1:00 PM; Saturday, Sunday 10:30 AM - 1:30 PM

: Everyday 6:30 AM - 10:00 AM; Everyday 6:30 AM - 10:00 AM | 3:30 PM - 6:00 PM
: Everyday 6:30 AM - 10:00 AM; Everyday 6:30 AM - 10:00 AM | 3:30 PM - 6:00 PM
: Everyday 6:30 AM - 10:00 AM; Everyday 6:30 AM - 10:00 AM | 3:30 PM - 6:00 PM
: Everyday 6:30 AM - 10:00 AM; Everyday 6:30 AM - 10:00 AM | 3:30 PM - 6:00 PM
: Everyday 6:30 AM - 10:00 AM; Everyday 6:30 AM - 10:00 AM | 3:30 PM - 6:00 PM
: Everyday 6:30 AM - 10:00 AM; Everyday 6:30 AM - 10:00 AM | 3:30 PM - 6:00 PM
: Everyday 6:30 AM - 10:00 AM; Everyday 6:30 AM - 10:00 AM | 3:30 PM - 6:00 PM
: Everyday 6:30 AM - 10:00 AM; Everyday 6:30 AM - 10:00 AM | 3:30 PM - 6:00 PM
: Everyday 6:30 AM - 10:00 AM; Everyday 6:30 AM - 10:00 AM | 3:30 PM - 6:00 PM
: Everyday 6:30 AM - 10:00 AM; Everyday 6:30 AM - 10:00 AM | 3:30 PM - 6:00 PM
: Everyday 6:30 AM - 10:00 AM; Everyday 6:30 AM - 10:00 AM | 3:30 PM - 6:00 PM
: Everyday 6:30 AM - 10:00 AM; Everyday 6:30 AM - 10:00 AM | 3:30 PM - 6:00 PM

: Everyday 4:00 PM - 6:00 PM
: Everyday 4:00 PM - 6:00 PM
: Everyday 4:00 PM - 6:00 PM
: Everyday 4:00 PM - 6:00 PM
: Everyday 4:00 PM - 6:00 PM
: Everyday 4:00 PM - 6:00 PM
: Everyday 4:00 PM - 6:00 PM
: Everyday 4:00 PM - 6:00 PM
: Everyday 4:00 PM - 6:00 PM
: Everyday 4:00 PM - 6:00 PM
: Everyday 4:00 PM - 6:00 PM
: Everyday 4:00 PM - 6:00 PM

: Tuesday to Sunday 10:00 AM - 1:00 PM
: Tuesday to Sunday 10:00 AM - 1:00 PM
: Tuesday to Sunday 10:00 AM - 1:00 PM
: Tuesday to Sunday 10:00 AM - 1:00 PM
: Tuesday to Sunday 10:00 AM - 1:00 PM
: Tuesday to Sunday 10:00 AM - 1:00 PM
: Tuesday to Sunday 10:00 AM - 1:00 PM
: Tuesday to Sunday 10:00 AM - 1:00 PM
: Tuesday to Sunday 10:00 AM - 1:00 PM
: Tuesday to Sunday 10:00 AM - 1:00 PM
: Tuesday to Sunday 10:00 AM - 1:00 PM
: Tuesday to Sunday 10:00 AM - 1:00 PM

: Monday to Friday 10:00 AM - 1:00 PM
: Monday to Friday 10:00 AM - 1:00 PM
: Monday to Friday 10:00 AM - 1:00 PM
: Monday to Friday 10:00 AM - 1:00 PM
: Monday to Friday 10:00 AM - 1:00 PM
: Monday to Friday 10:00 AM - 1:00 PM
: Monday to Friday 10:00 AM - 1:00 PM
: Monday to Friday 10:00 AM - 1:00 PM
: Monday to Friday 10:00 AM - 1:00 PM
: Monday to Friday 10:00 AM - 1:00 PM
: Monday to Friday 10:00 AM - 1:00 PM
: Monday to Friday 10:00 AM - 1:00 PM

: Everyday 8:00 AM - 1:00 PM
: Everyday 8:00 AM - 1:00 PM
: Everyday 8:00 AM - 1:00 PM
: Everyday 8:00 AM - 1:00 PM
: Everyday 8:00 AM - 1:00 PM
: Everyday 8:00 AM - 1:00 PM
: Everyday 8:00 AM - 1:00 PM
: Everyday 8:00 AM - 1:00 PM
: Everyday 8:00 AM - 1:00 PM
: Everyday 8:00 AM - 1:00 PM
: Everyday 8:00 AM - 1:00 PM
: Everyday 8:00 AM - 1:00 PM

: Everyday 24 Hrs
: Everyday 24 Hrs
: Everyday 24 Hrs
: Everyday 24 Hrs
: Everyday 24 Hrs
: Everyday 24 Hrs
: Everyday 24 Hrs
: Everyday 24 Hrs
: Everyday 24 Hrs
: Everyday 24 Hrs
: Everyday 24 Hrs
: Everyday 24 Hrs

: Everyday 24 Hrs
: Everyday 24 Hrs
: Everyday 24 Hrs
: Everyday 24 Hrs
: Everyday 24 Hrs
: Everyday 24 Hrs
: Everyday 24 Hrs
: Everyday 24 Hrs
: Everyday 24 Hrs
: Everyday 24 Hrs
: Everyday 24 Hrs
: Everyday 24 Hrs

: Everyday 24 Hrs
: Everyday 24 Hrs
: Everyday 24 Hrs
: Everyday 24 Hrs
: Everyday 24 Hrs
: Everyday 24 Hrs
: Everyday 24 Hrs
: Everyday 24 Hrs
: Everyday 24 Hrs
: Everyday 24 Hrs
: Everyday 24 Hrs
: Everyday 24 Hrs

: Everyday 24 Hrs
: Everyday 24 Hrs
: Everyday 24 Hrs
: Everyday 24 Hrs
: Everyday 24 Hrs
: Everyday 24 Hrs
: Everyday 24 Hrs
: Everyday 24 Hrs
: Everyday 24 Hrs
: Everyday 24 Hrs
: Everyday 24 Hrs
: Everyday 24 Hrs

: Everyday 24 Hrs
: Everyday 24 Hrs
: Everyday 24 Hrs
: Everyday 24 Hrs
: Everyday 24 Hrs
: Everyday 24 Hrs
: Everyday 24 Hrs
: Everyday 24 Hrs
: Everyday 24 Hrs
: Everyday 24 Hrs
: Everyday 24 Hrs
: Everyday 24 Hrs

: Everyday 24 Hrs
: Everyday 24 Hrs
: Everyday 24 Hrs
: Everyday 24 Hrs
: Everyday 24 Hrs
: Everyday 24 Hrs
: Everyday 24 Hrs
: Everyday 24 Hrs
: Everyday 24 Hrs
: Everyday 24 Hrs
: Everyday 24 Hrs
: Everyday 24 Hrs

: Everyday 24 Hrs
: Everyday 24 Hrs
: Everyday 24 Hrs
: Everyday 24 Hrs
: Everyday 24 Hrs
: Everyday 24 Hrs
: Everyday 24 Hrs
: Everyday 24 Hrs
: Everyday 24 Hrs
: Everyday 24 Hrs
: Everyday 24 Hrs
: Everyday 24 Hrs

: Everyday 24 Hrs
: Everyday 24 Hrs
: Everyday 24 Hrs
: Everyday 24 Hrs
: Everyday 24 Hrs
: Everyday 24 Hrs
: Everyday 24 Hrs
: Everyday 24 Hrs
: Everyday 24 Hrs
: Everyday 24 Hrs
: Everyday 24 Hrs
: Everyday 24 Hrs