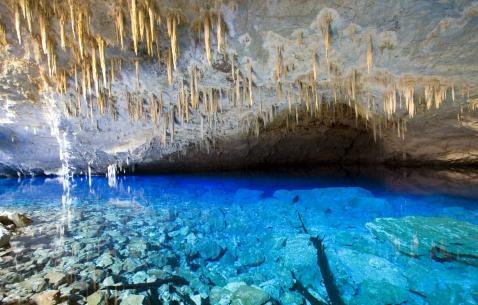 If there is one place on earth where the spectacular visions of the nature find a true expression, then it is Bonito in Brazil. Situated in the middle of a region known as "Caribe do Centro-Oeste" owing to its breathtaking blue hues of its rivers and springs, Bonito has recently emerged as one of the tourist destinations. Owing to the enormous quantity of limestone in the ground, the water of these rivers passes through a real natural filter where impurities are deposited at the bottom of the river bed and the result is the absolute transparency and purity.
Although a small town, Bonito's attractions are innumerable thanks to its preservation of species of fishes, grouts and hundreds of waterfalls that attract tourists from all over the world. And then there are caves that render Bonito more attractive. These caves were formed millions of years ago. Some are underwater, totally or partially, adding even more beauty to their naturally decorated interior. For this reason, Bonito has become a coveted destination for cave divers and those seeking adventure.
Located in the state of Mato Grosso do Sul, Bonito is considered to be one of Brazil's best Ecotourism destinations and stands out with its opportunities for snorkeling, trekking, hiking, horseback riding, bird watching, rafting, rappelling and scuba diving in rivers, lagoons and caves.
Meant as "beautiful" in Portuguese, Bonito dazzles with a stunning network of turquoise rivers and lakes, subterranean caverns, underground springs and plunging cascades which give a life and character to this landscape. There might be people in this world who have never heard of this small town in Brazil, but those who have been here summarize visiting here as an experience in itself- an ideal communion with the manifestations of nature.
Essential travel information and Bonito tips for your visit
Essential Info
Time Zone: Bonito follows UTC/GMT -4hours. No daylight saving time to observe right now.
Currency: Brazilian Real
Electricity: The Brazilian plug type is usually two round thin prongs (C). Some outlets have capacity for both round and flat prongs, but not the flat (grounded) kind with one bigger than the other. Usually if you buy a kit of adaptor plugs, the one for Brazil is included.
Internet: A decent, reliable and fast broadband connection is accessible through the city of Bonito. You will easily find wi-fi connection in all the hotels.
Language: The predominant language spoken in Bonito is Portuguese.
Emergency numbers: Emergency no - 911, 194 Civil Police.
Tipping
The major part of restaurants and bars includes a non obligatory 10% service fee in the bill. It's common to accept the inclusion of the 10%.
Visitors need not bring diving masks, snorkels and diving wear to go on floating tours on local rivers. Rental fees for this equipment are already included in tickets prices.
During summer, the region's hot sun and heat require light clothes, a hat and sun lotion. For trail walks, it is important to carry a backpack, to wear antiskid sneakers or sandals, and a raincoat.
Visits to the majority of attractions in Bonito may only be made through local tourism agencies and always require the help of an accredited guide. Hotels provide contact with agency representatives. Since there is maximum number of visitors allowed for every attraction, it is highly advisable that visitors book tours in advance.