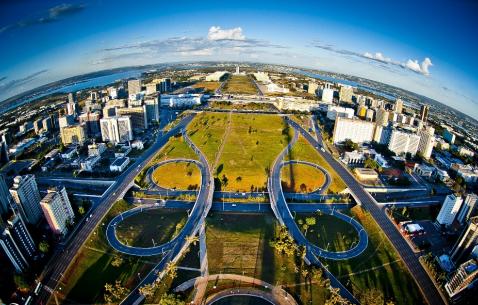 Brasilia succeeded Rio de Janeiro as Brazil's capital in 1960, the reason for which it was built in less than three years. Located in the centre of Brazil, the city shines resplendent with extraordinarily ambitious plan with the works of Lúcio Costa and Oscar Niemeyer that caused a sensation with its avant-garde architecture and its innovative city planning ideals. Since Brasília was planned and constructed as a whole piece, it doesn't have the mix of commercial, residential, and government functions that happens when a city grows over time; instead these uses are strictly divided. Its well planned symmetrical structure has infact become one of the highlights here. The central area is in the form of a large cross with a curving north-south axis, Eixo Rodoviário, and a straight east-west axis, Eixo Monumental. Esplanada dos Ministérios is the central axis with the principal official buildings. Be prepared for plenty of walking, or join a tour to cover the distances between sights.
Today Brasilia is the epitome of modernism. The design was created through the urban principles established by the International Congresses for Modern Architecture, especially the one published in 1942 that proposed strict zoning laws that were function based. The city was viewed as one large entity and machine, and this is reflected in the interaction of the architecture with the city planning.
Apart from its manmade architecture, the city also owns a rich choice of parks and nature reserves that make this city to be called as "green city". Indeed, here you can see unique natural attractions right at every step. The city will be truly loved by fans of ecological tourism. Tourists are recommended to male an excursion to the city's zoo, which is home to hundreds of species of animals, including rare inhabitants of Amazon jungle.
Essential travel information and Brasilia tips for your visit
Essential Info
Time Zone: Brasilia follows UTC/GMT -2hours. No daylight saving time to observe right now.
Currency: Currency used in Brasilia is Brazilian real.
Electricity: The Brazilian plug type is usually two round thin prongs (C). Some outlets have capacity for both round and flat prongs, but not the flat (grounded) kind with one bigger than the other. Usually if you buy a kit of adaptor plugs, the one for Brazil is included.
Internet: A decent, reliable and fast broadband connection is accessible through the city of Brasilia. You will easily find Wi-Fi connection in all the hotels.
Language: The predominant language spoken in Brasilia is Portuguese.
Emergency numbers: Ambulance (3248-3030), 194 for all emergencies.
Tipping
The major part of restaurants and bars includes a non obligatory 10% service fee in the bill. It's common to accept the inclusion of the 10%.
Brasilia is a safe city, but usual measures should be taken. At night, the area near the central bus station is not considered to be safe (prostitution and drugs). Avoid walking alone at night throughout the city.
Try to walk with company, avoiding deserted places or those with bad illumination. Be aware of people approaching to ask for information, especially during the night.
Going home (or to your hotel), do not park immediately. Watch the sides of the buildings and corners and only then stop the vehicle. Do not react to any kind of crime, as the criminals do not act alone.
Brasilia Trip Planner
Plan your customized day by day trip plan for Brasilia. Choose from various experinces categories as adventure, romantic and family and kids friendly for your trip using using Brasilia trip planner.