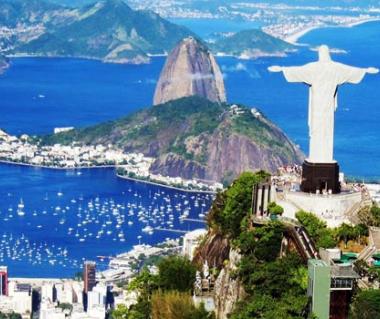 Brazil Overview
Things to know before planning a trip to Brazil. Brazil is a wonderful country with top travel destinations and truly unique tourist features on a world scale. In fact, Brazil has - the world's biggest forest (the Amazon); - the world's biggest tropical coast, with thousands of truly exceptional beaches and resorts; - the world's biggest waterfalls (the Iguassu Falls), - the America's biggest concentration of animal life (the Pantanal)- unique cities (Rio de Janeiro, Salvador da Bahia) where music, exotic elements and the joy and extravagance of their people are truly remarkable and unique. Have a wonderful visit here with the help of this Brazil travel itinerary building tool
Famous for its football (soccer) tradition and its annual Carnaval in Rio de Janeiro, Salvador, Recife, and Olinda.
Getting in and Around Brazil
Air: - By far the largest international airport in Brazil is Sao Paulo-Guarulhos International Airport, which has direct flights to many capital cities in South America. Other direct flights include North America: New York, Chicago, Detroit, Angeles, Miami, Atlanta, Houston, Dallas, and Toronto. Europe: Lisbon by TAP, Madrid by Iberia, Amsterdam and Paris by KLM-Air France, London by British Airways, Frankfurt and Munich by Lufthansa, Istanbul by Turkish Airlines. Asia: Seoul by Korean Air, Tel Aviv by ELAL, Doha by Qatar Airways, and Dubai by Emirates.
Rail: - Train service within Brazil is almost nonexistent.
Best time to visit Brazil
The climate is obviously subject to the sheer size of the land: Summer is from September to March in the south with very high temperatures, heavy tropical downfalls can occur at times. Winter lasts from June to September with warm temperatures. Approaching the equator, the climate becomes more pleasant in summer with temperatures of around 30°C, a tropical breeze and less humidity. You can visit the country throughout the year although it is best to avoid Rio between December and February when the atmosphere can be stifling.
Places to Visit in Brazil
When brainstorming things to do in Brazil, many ideas come to mind: a pilgrimage to the Christ, the Redeemer statue in Rio; exploring the natural beauty of Sugarloaf Mountain and falls, shopping at the Mercado Municipal in Sao Paulo, and admiring the modernism of Brasilia, among others. The diversity of the country's landscapes and people ensure a practically endless list of things to do. In Brazil, you can also go scuba diving, go deep-sea fishing, or witness the sights and sounds of carnival.
Searching for something specific?