Best Time To Visit Brussels
Explore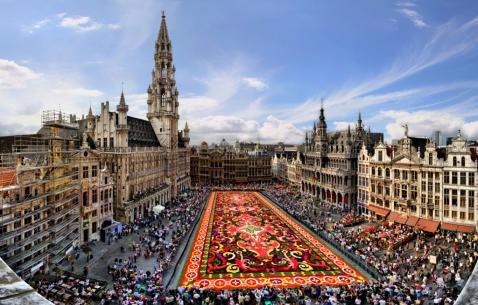 Best Time To Go To Brussels
Brussels is home to an incredibly fickle weather with more than 200 days of rainy days, bright and pleasantly warm summer days and cold, windy days during the peak winters. Each season offers a different experience in Brussels.
Summer (June-August): The summer season embarks the arrival of the peak season in Brussels. The warm sunny days and pleasant evenings attract crowds of tourists from across the globe. The day time temperatures during the summer season fluctuate between a comfortable 20 to 23 degrees Celsius. The summer season might witness some rainy days with precipitation levels between 63.8mm to 77.7 mm. The city is most expensive during this time of the year and it is extremely hard to find reasonable accommodations as most of the hotels are booked. Make sure to do our bookings in advance if you wish to visit Brussels during the summer season.
Fall (September-October): The fall season provides a great sweet spot to visit Brussels. The peak season ends by late September and the weather is still pleasant and comfortable with the day time temperatures fluctuating between 14 to 19 degrees. The fall season is witness to some showers with a precipitation level between 63mm to 68mm. The prices start dropping during this time of the year as the city prepares for the off season. Most of the summer crowds have also left by late September providing a great opportunity for a hassle-free exploration of the city. This is the best time to bag some discounts and cheap deals.
Winter (November-February): The winter season in Brussels is wet and extremely cold with the temperatures dropping as low as -2 degrees Celsius. The season also experiences heavy rainfalls with precipitation levels between 71.1mm to 79.5mm. The prices during the winter season are at an all-time low excluding the holiday season. The holiday season in Brussels begins during mid-November when many tourists come into the city to celebrate Christmas and the New Year. The festive spirit takes over the city and there are many parties organised during the holiday season.
Spring (March-May): Spring season is the most pleasant time to visit Brussels. The temperatures remain between a comfortable 8 to 13 degrees Celsius and it is a great time to indulge in sightseeing tours and outdoor activities. The city is relatively empty during the spring season as the summer crowds have not arrived yet. The prices in the city are also low during this time of the year and it is a great time to bag some discounts and cheap deals on hotels and flights. Be sure to carry light woollens if you plan to visit Brussels during the spring season as the evenings and the nights can get very cold.
The best time to visit Brussels is during the summer season (June to August) as the climate is pleasant and the city is alive and thriving with activity. However, if you wish to avoid the inflated peak season prices and the crowded streets, consider visiting Brussels during the winter (November to February) or the spring season (March to May)
Best time to go to Brussels Attractions

: Everyday 10:00 AM - 6:00 PM
: Everyday 10:00 AM - 6:00 PM
: Everyday 10:00 AM - 6:00 PM
: Everyday 10:00 AM - 6:00 PM
: Everyday 10:00 AM - 6:00 PM
: Everyday 10:00 AM - 6:00 PM
: Everyday 10:00 AM - 6:00 PM
: Everyday 10:00 AM - 6:00 PM
: Everyday 10:00 AM - 6:00 PM
: Everyday 10:00 AM - 6:00 PM
: Everyday 10:00 AM - 6:00 PM
: Everyday 10:00 AM - 6:00 PM

: Wednesday, Sunday 1:00 PM - 3:00 PM
: Wednesday, Sunday 1:00 PM - 3:00 PM
: Wednesday, Sunday 1:00 PM - 3:00 PM
: Wednesday, Sunday 1:00 PM - 3:00 PM
: Wednesday, Sunday 1:00 PM - 3:00 PM
: Wednesday, Sunday 1:00 PM - 3:00 PM
: Wednesday, Sunday 1:00 PM - 3:00 PM
: Wednesday, Sunday 1:00 PM - 3:00 PM
: Wednesday, Sunday 1:00 PM - 3:00 PM
: Wednesday, Sunday 1:00 PM - 3:00 PM
: Wednesday, Sunday 1:00 PM - 3:00 PM
: Wednesday, Sunday 1:00 PM - 3:00 PM

: Everyday 9:00 AM - 5:00 PM
: Everyday 9:00 AM - 5:00 PM
: Everyday 9:00 AM - 5:00 PM
: Everyday 9:00 AM - 5:00 PM
: Everyday 9:00 AM - 5:00 PM
: Everyday 9:00 AM - 5:00 PM
: Everyday 9:00 AM - 5:00 PM
: Everyday 9:00 AM - 5:00 PM
: Everyday 9:00 AM - 5:00 PM
: Everyday 9:00 AM - 5:00 PM
: Everyday 9:00 AM - 5:00 PM
: Everyday 9:00 AM - 5:00 PM

: Tuesday to Sunday 10:00 AM - 3:00 PM
: Tuesday to Sunday 10:00 AM - 3:00 PM
: Tuesday to Sunday 10:00 AM - 3:00 PM
: Tuesday to Sunday 10:00 AM - 3:00 PM
: Tuesday to Sunday 10:00 AM - 3:00 PM
: Tuesday to Sunday 10:00 AM - 3:00 PM
: Tuesday to Sunday 10:00 AM - 3:00 PM
: Tuesday to Sunday 10:00 AM - 3:00 PM
: Tuesday to Sunday 10:00 AM - 3:00 PM
: Tuesday to Sunday 10:00 AM - 3:00 PM
: Tuesday to Sunday 10:00 AM - 3:00 PM
: Tuesday to Sunday 10:00 AM - 3:00 PM

: Everyday 7:00 AM - 2:00 PM
: Everyday 7:00 AM - 2:00 PM
: Everyday 7:00 AM - 2:00 PM
: Everyday 7:00 AM - 2:00 PM
: Everyday 7:00 AM - 2:00 PM
: Everyday 7:00 AM - 2:00 PM
: Everyday 7:00 AM - 2:00 PM
: Everyday 7:00 AM - 2:00 PM
: Everyday 7:00 AM - 2:00 PM
: Everyday 7:00 AM - 2:00 PM
: Everyday 7:00 AM - 2:00 PM
: Everyday 7:00 AM - 2:00 PM

: Tuesday to Sunday 10:00 AM - 2:00 PM
: Tuesday to Sunday 10:00 AM - 2:00 PM
: Tuesday to Sunday 10:00 AM - 2:00 PM
: Tuesday to Sunday 10:00 AM - 2:00 PM
: Tuesday to Sunday 10:00 AM - 2:00 PM
: Tuesday to Sunday 10:00 AM - 2:00 PM
: Tuesday to Sunday 10:00 AM - 2:00 PM
: Tuesday to Sunday 10:00 AM - 2:00 PM
: Tuesday to Sunday 10:00 AM - 2:00 PM
: Tuesday to Sunday 10:00 AM - 2:00 PM
: Tuesday to Sunday 10:00 AM - 2:00 PM
: Tuesday to Sunday 10:00 AM - 2:00 PM

: Everyday 9:00 AM - 5:00 PM
: Everyday 9:00 AM - 5:00 PM
: Everyday 9:00 AM - 5:00 PM
: Everyday 9:00 AM - 5:00 PM
: Everyday 9:00 AM - 5:00 PM
: Everyday 9:00 AM - 5:00 PM
: Everyday 9:00 AM - 5:00 PM
: Everyday 9:00 AM - 5:00 PM
: Everyday 9:00 AM - 5:00 PM
: Everyday 9:00 AM - 5:00 PM
: Everyday 9:00 AM - 5:00 PM
: Everyday 9:00 AM - 5:00 PM

: Everyday 2:00 PM - 8:00 PM
: Everyday 2:00 PM - 8:00 PM
: Everyday 2:00 PM - 8:00 PM
: Everyday 2:00 PM - 8:00 PM
: Everyday 2:00 PM - 8:00 PM
: Everyday 2:00 PM - 8:00 PM
: Everyday 2:00 PM - 8:00 PM
: Everyday 2:00 PM - 8:00 PM
: Everyday 2:00 PM - 8:00 PM
: Everyday 2:00 PM - 8:00 PM
: Everyday 2:00 PM - 8:00 PM
: Everyday 2:00 PM - 8:00 PM

: Everyday 10:00 AM - 4:00 PM
: Everyday 10:00 AM - 4:00 PM
: Everyday 10:00 AM - 4:00 PM
: Everyday 10:00 AM - 4:00 PM
: Everyday 10:00 AM - 4:00 PM
: Everyday 10:00 AM - 4:00 PM
: Everyday 10:00 AM - 4:00 PM
: Everyday 10:00 AM - 4:00 PM
: Everyday 10:00 AM - 4:00 PM
: Everyday 10:00 AM - 4:00 PM
: Everyday 10:00 AM - 4:00 PM
: Everyday 10:00 AM - 4:00 PM

: Tuesday to Sunday 10:00 AM - 3:00 PM
: Tuesday to Sunday 10:00 AM - 3:00 PM
: Tuesday to Sunday 10:00 AM - 3:00 PM
: Tuesday to Sunday 10:00 AM - 3:00 PM
: Tuesday to Sunday 10:00 AM - 3:00 PM
: Tuesday to Sunday 10:00 AM - 3:00 PM
: Tuesday to Sunday 10:00 AM - 3:00 PM
: Tuesday to Sunday 10:00 AM - 3:00 PM
: Tuesday to Sunday 10:00 AM - 3:00 PM
: Tuesday to Sunday 10:00 AM - 3:00 PM
: Tuesday to Sunday 10:00 AM - 3:00 PM
: Tuesday to Sunday 10:00 AM - 3:00 PM

: Everyday 10:00 AM - 4:00 PM
: Everyday 10:00 AM - 4:00 PM
: Everyday 10:00 AM - 4:00 PM
: Everyday 10:00 AM - 4:00 PM
: Everyday 10:00 AM - 4:00 PM
: Everyday 10:00 AM - 4:00 PM
: Everyday 10:00 AM - 4:00 PM
: Everyday 10:00 AM - 4:00 PM
: Everyday 10:00 AM - 4:00 PM
: Everyday 10:00 AM - 4:00 PM
: Everyday 10:00 AM - 4:00 PM
: Everyday 10:00 AM - 4:00 PM

: Monday, Tuesday, Thursday, Friday, Saturday 10:00 AM - 3:00 PM
: Monday, Tuesday, Thursday, Friday, Saturday 10:00 AM - 3:00 PM
: Monday, Tuesday, Thursday, Friday, Saturday 10:00 AM - 3:00 PM
: Monday, Tuesday, Thursday, Friday, Saturday 10:00 AM - 3:00 PM
: Monday, Tuesday, Thursday, Friday, Saturday 10:00 AM - 3:00 PM
: Monday, Tuesday, Thursday, Friday, Saturday 10:00 AM - 3:00 PM
: Monday, Tuesday, Thursday, Friday, Saturday 10:00 AM - 3:00 PM
: Monday, Tuesday, Thursday, Friday, Saturday 10:00 AM - 3:00 PM
: Monday, Tuesday, Thursday, Friday, Saturday 10:00 AM - 3:00 PM
: Monday, Tuesday, Thursday, Friday, Saturday 10:00 AM - 3:00 PM
: Monday, Tuesday, Thursday, Friday, Saturday 10:00 AM - 3:00 PM
: Monday, Tuesday, Thursday, Friday, Saturday 10:00 AM - 3:00 PM

: Monday 1:00 PM - 5:00 PM; Tuesday to Sunday 10:00 AM - 4:00 PM
: Monday 1:00 PM - 5:00 PM; Tuesday to Sunday 10:00 AM - 4:00 PM
: Monday 1:00 PM - 5:00 PM; Tuesday to Sunday 10:00 AM - 4:00 PM
: Monday 1:00 PM - 5:00 PM; Tuesday to Sunday 10:00 AM - 4:00 PM
: Monday 1:00 PM - 5:00 PM; Tuesday to Sunday 10:00 AM - 4:00 PM
: Monday 1:00 PM - 5:00 PM; Tuesday to Sunday 10:00 AM - 4:00 PM
: Monday 1:00 PM - 5:00 PM; Tuesday to Sunday 10:00 AM - 4:00 PM
: Monday 1:00 PM - 5:00 PM; Tuesday to Sunday 10:00 AM - 4:00 PM
: Monday 1:00 PM - 5:00 PM; Tuesday to Sunday 10:00 AM - 4:00 PM
: Monday 1:00 PM - 5:00 PM; Tuesday to Sunday 10:00 AM - 4:00 PM
: Monday 1:00 PM - 5:00 PM; Tuesday to Sunday 10:00 AM - 4:00 PM
: Monday 1:00 PM - 5:00 PM; Tuesday to Sunday 10:00 AM - 4:00 PM

: Wednesday to Sunday 10:00 AM - 4:00 PM
: Wednesday to Sunday 10:00 AM - 4:00 PM
: Wednesday to Sunday 10:00 AM - 4:00 PM
: Wednesday to Sunday 10:00 AM - 4:00 PM
: Wednesday to Sunday 10:00 AM - 4:00 PM
: Wednesday to Sunday 10:00 AM - 4:00 PM
: Wednesday to Sunday 10:00 AM - 4:00 PM
: Wednesday to Sunday 10:00 AM - 4:00 PM
: Wednesday to Sunday 10:00 AM - 4:00 PM
: Wednesday to Sunday 10:00 AM - 4:00 PM
: Wednesday to Sunday 10:00 AM - 4:00 PM
: Wednesday to Sunday 10:00 AM - 4:00 PM

: Everyday 10:00 AM - 3:00 PM
: Everyday 10:00 AM - 3:00 PM
: Everyday 10:00 AM - 3:00 PM
: Everyday 10:00 AM - 3:00 PM
: Everyday 10:00 AM - 3:00 PM
: Everyday 10:00 AM - 3:00 PM
: Everyday 10:00 AM - 3:00 PM
: Everyday 10:00 AM - 3:00 PM
: Everyday 10:00 AM - 3:00 PM
: Everyday 10:00 AM - 3:00 PM
: Everyday 10:00 AM - 3:00 PM
: Everyday 10:00 AM - 3:00 PM

: Everyday 10:00 AM - 4:00 PM
: Everyday 10:00 AM - 4:00 PM
: Everyday 10:00 AM - 4:00 PM
: Everyday 10:00 AM - 4:00 PM
: Everyday 10:00 AM - 4:00 PM
: Everyday 10:00 AM - 4:00 PM
: Everyday 10:00 AM - 4:00 PM
: Everyday 10:00 AM - 4:00 PM
: Everyday 10:00 AM - 4:00 PM
: Everyday 10:00 AM - 4:00 PM
: Everyday 10:00 AM - 4:00 PM
: Everyday 10:00 AM - 4:00 PM

: Tuesday to Friday 10:00 AM - 1:00 PM; Saturday, Sunday 10:00 AM - 5:00 PM
: Tuesday to Friday 10:00 AM - 1:00 PM; Saturday, Sunday 10:00 AM - 5:00 PM
: Tuesday to Friday 10:00 AM - 1:00 PM; Saturday, Sunday 10:00 AM - 5:00 PM
: Tuesday to Friday 10:00 AM - 1:00 PM; Saturday, Sunday 10:00 AM - 5:00 PM
: Tuesday to Friday 10:00 AM - 1:00 PM; Saturday, Sunday 10:00 AM - 5:00 PM
: Tuesday to Friday 10:00 AM - 1:00 PM; Saturday, Sunday 10:00 AM - 5:00 PM
: Tuesday to Friday 10:00 AM - 1:00 PM; Saturday, Sunday 10:00 AM - 5:00 PM
: Tuesday to Friday 10:00 AM - 1:00 PM; Saturday, Sunday 10:00 AM - 5:00 PM
: Tuesday to Friday 10:00 AM - 1:00 PM; Saturday, Sunday 10:00 AM - 5:00 PM
: Tuesday to Friday 10:00 AM - 1:00 PM; Saturday, Sunday 10:00 AM - 5:00 PM
: Tuesday to Friday 10:00 AM - 1:00 PM; Saturday, Sunday 10:00 AM - 5:00 PM
: Tuesday to Friday 10:00 AM - 1:00 PM; Saturday, Sunday 10:00 AM - 5:00 PM

: Everyday 8:00 AM - 6:00 PM
: Everyday 8:00 AM - 6:00 PM
: Everyday 8:00 AM - 6:00 PM
: Everyday 8:00 AM - 6:00 PM
: Everyday 8:00 AM - 6:00 PM
: Everyday 8:00 AM - 6:00 PM
: Everyday 8:00 AM - 6:00 PM
: Everyday 8:00 AM - 6:00 PM
: Everyday 8:00 AM - 6:00 PM
: Everyday 8:00 AM - 6:00 PM
: Everyday 8:00 AM - 6:00 PM
: Everyday 8:00 AM - 6:00 PM

: Everyday 11:00 AM - 5:00 PM
: Everyday 11:00 AM - 5:00 PM
: Everyday 11:00 AM - 5:00 PM
: Everyday 11:00 AM - 5:00 PM
: Everyday 11:00 AM - 5:00 PM
: Everyday 11:00 AM - 5:00 PM
: Everyday 11:00 AM - 5:00 PM
: Everyday 11:00 AM - 5:00 PM
: Everyday 11:00 AM - 5:00 PM
: Everyday 11:00 AM - 5:00 PM
: Everyday 11:00 AM - 5:00 PM
: Everyday 11:00 AM - 5:00 PM

: Everyday 10:00 AM - 3:00 PM
: Everyday 10:00 AM - 3:00 PM
: Everyday 10:00 AM - 3:00 PM
: Everyday 10:00 AM - 3:00 PM
: Everyday 10:00 AM - 3:00 PM
: Everyday 10:00 AM - 3:00 PM
: Everyday 10:00 AM - 3:00 PM
: Everyday 10:00 AM - 3:00 PM
: Everyday 10:00 AM - 3:00 PM
: Everyday 10:00 AM - 3:00 PM
: Everyday 10:00 AM - 3:00 PM
: Everyday 10:00 AM - 3:00 PM

: Tuesday to Sunday 2:00 PM - 4:00 PM
: Tuesday to Sunday 2:00 PM - 4:00 PM
: Tuesday to Sunday 2:00 PM - 4:00 PM
: Tuesday to Sunday 2:00 PM - 4:00 PM
: Tuesday to Sunday 2:00 PM - 4:00 PM
: Tuesday to Sunday 2:00 PM - 4:00 PM
: Tuesday to Sunday 2:00 PM - 4:00 PM
: Tuesday to Sunday 2:00 PM - 4:00 PM
: Tuesday to Sunday 2:00 PM - 4:00 PM
: Tuesday to Sunday 2:00 PM - 4:00 PM
: Tuesday to Sunday 2:00 PM - 4:00 PM
: Tuesday to Sunday 2:00 PM - 4:00 PM

:
:
:
:
:
:
: Tuesday to Sunday 10:30 AM - 1:00 PM
:
:
:

: Everyday 10:00 AM - 5:00 PM
: Everyday 10:00 AM - 5:00 PM
: Everyday 10:00 AM - 5:00 PM
: Everyday 10:00 AM - 5:00 PM
: Everyday 10:00 AM - 5:00 PM
: Everyday 10:00 AM - 5:00 PM
: Everyday 10:00 AM - 5:00 PM
: Everyday 10:00 AM - 5:00 PM
: Everyday 10:00 AM - 5:00 PM
: Everyday 10:00 AM - 5:00 PM
: Everyday 10:00 AM - 5:00 PM
: Everyday 10:00 AM - 5:00 PM

: Thursday to Sunday 11:00 AM - 5:00 PM
: Thursday to Sunday 11:00 AM - 5:00 PM
: Thursday to Sunday 11:00 AM - 5:00 PM
: Thursday to Sunday 11:00 AM - 5:00 PM
: Thursday to Sunday 11:00 AM - 5:00 PM
: Thursday to Sunday 11:00 AM - 5:00 PM
: Thursday to Sunday 11:00 AM - 5:00 PM
: Thursday to Sunday 11:00 AM - 5:00 PM
: Thursday to Sunday 11:00 AM - 5:00 PM
: Thursday to Sunday 11:00 AM - 5:00 PM
: Thursday to Sunday 11:00 AM - 5:00 PM
: Thursday to Sunday 11:00 AM - 5:00 PM

: Everyday 10:00 AM - 7:00 PM
: Everyday 10:00 AM - 7:00 PM
: Everyday 10:00 AM - 7:00 PM
: Everyday 10:00 AM - 7:00 PM
: Everyday 10:00 AM - 7:00 PM
: Everyday 10:00 AM - 7:00 PM
: Everyday 10:00 AM - 7:00 PM
: Everyday 10:00 AM - 7:00 PM
: Everyday 10:00 AM - 7:00 PM
: Everyday 10:00 AM - 7:00 PM
: Everyday 10:00 AM - 7:00 PM
: Everyday 10:00 AM - 7:00 PM

: Everyday 9:00 AM - 2:00 PM
: Everyday 9:00 AM - 2:00 PM
: Everyday 9:00 AM - 2:00 PM
: Everyday 9:00 AM - 2:00 PM
: Everyday 9:00 AM - 2:00 PM
: Everyday 9:00 AM - 2:00 PM
: Everyday 9:00 AM - 2:00 PM
: Everyday 9:00 AM - 2:00 PM
: Everyday 9:00 AM - 2:00 PM
: Everyday 9:00 AM - 2:00 PM
: Everyday 9:00 AM - 2:00 PM
: Everyday 9:00 AM - 2:00 PM

: Tuesday to Sunday 10:00 AM - 3:00 PM
: Tuesday to Sunday 10:00 AM - 3:00 PM
: Tuesday to Sunday 10:00 AM - 3:00 PM
: Tuesday to Sunday 10:00 AM - 3:00 PM
: Tuesday to Sunday 10:00 AM - 3:00 PM
: Tuesday to Sunday 10:00 AM - 3:00 PM
: Tuesday to Sunday 10:00 AM - 3:00 PM
: Tuesday to Sunday 10:00 AM - 3:00 PM
: Tuesday to Sunday 10:00 AM - 3:00 PM
: Tuesday to Sunday 10:00 AM - 3:00 PM
: Tuesday to Sunday 10:00 AM - 3:00 PM
: Tuesday to Sunday 10:00 AM - 3:00 PM

: Everyday 8:00 AM - 6:00 PM
: Everyday 8:00 AM - 6:00 PM
: Everyday 8:00 AM - 6:00 PM
: Everyday 8:00 AM - 6:00 PM
: Everyday 8:00 AM - 6:00 PM
: Everyday 8:00 AM - 6:00 PM
: Everyday 8:00 AM - 6:00 PM
: Everyday 8:00 AM - 6:00 PM
: Everyday 8:00 AM - 6:00 PM
: Everyday 8:00 AM - 6:00 PM
: Everyday 8:00 AM - 6:00 PM
: Everyday 8:00 AM - 6:00 PM