Best Time To Visit Budapest
Explore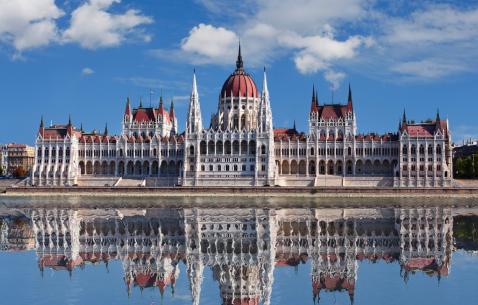 Best Time To Go To Budapest
Budapest is home to a pleasant, relatively mind and idyllic weather. The temperatures are comfortable and rarely exceed bearable levels. The winters are cold and the winter season is considered to be the off season in the city. The summers are the wettest and the hottest of all seasons. Despite the unpleasant summer climate, tourists flood the city, making the summer season the peak season.
Summer (June-August) – The summers in Budapest are the wettest and the hottest. However, the daytime temperatures are between a comfortable 24 to 27 degrees Celsius, the heavy rainfall can hinder the sightseeing tours and outdoor activities. The summer season see high precipitation levels between 51 to 63mm. The summer season is the peak season as tourists from across the world flood the city. It can be very difficult to find hotels and other accommodations, therefore make sure to book in advance. The summer season also experiences inflated rates that can make the trip expensive.
Fall (September-November) – The arrival of the Fall season embarks a significant drop in the heat with the day time falling between 22 to 8 degrees Celsius. There is a significant drop in precipitation levels as well, between 33 to 52mm. The month of November is chilly and experiences heavy rainfall. The fall season is a great time to visit Budapest as most of the summer crowds have left and the town is preparing for the winter season. The rates are relatively cheaper as compared to the peak season and it is easy to find accommodation. This is the best time to look for discounted deals.
Winter (December-February) – The winters in Budapest are very cold and snowfall is common. Most of the attractions are shut during the winter season. The day time temperatures during the winter season fall as low as -2 degrees during the peak winters. One can find a plethora of picturesque locations and scenic spots in the city during the winter season. Budapest is cheapest during the winter season and it is easy to find good hotels within the budget.
Spring (March-May) – Spring season is a pleasant time in Budapest. The weather starts to get warmer as the day time temperatures rise from 10 degrees Celsius in March to 21 degrees Celsius in May. The city is just waking up from the cold winters and hence the city is very affordable. The summer crowds have not arrived yet, making it easier to find hotels within the budget and possible even bag some discounts and deals.
The best time to visit Budapest would be during the fall season (September to November) and the spring season (March to May). These seasons boast a pleasant climate, cheap rates, readily available accommodation and less crowds, making these seasons a perfect time to visit Budapest.
Best time to go to Budapest Attractions

: Everyday 9:00 AM - 3:00 PM
: Everyday 9:00 AM - 3:00 PM
: Everyday 9:00 AM - 3:00 PM
: Everyday 9:00 AM - 3:00 PM
: Everyday 9:00 AM - 3:00 PM
: Everyday 9:00 AM - 3:00 PM
: Everyday 9:00 AM - 3:00 PM
: Everyday 9:00 AM - 3:00 PM
: Everyday 9:00 AM - 3:00 PM
: Everyday 9:00 AM - 3:00 PM
: Everyday 9:00 AM - 3:00 PM
: Everyday 9:00 AM - 3:00 PM

: Monday to Friday 10:00 AM - 2:00 PM; Saturday 9:00 AM - 2:00 PM; Sunday 1:00 PM - 5:00 PM
: Monday to Friday 10:00 AM - 2:00 PM; Saturday 9:00 AM - 2:00 PM; Sunday 1:00 PM - 5:00 PM
: Monday to Friday 10:00 AM - 2:00 PM; Saturday 9:00 AM - 2:00 PM; Sunday 1:00 PM - 5:00 PM
: Monday to Friday 10:00 AM - 2:00 PM; Saturday 9:00 AM - 2:00 PM; Sunday 1:00 PM - 5:00 PM
: Monday to Friday 10:00 AM - 2:00 PM; Saturday 9:00 AM - 2:00 PM; Sunday 1:00 PM - 5:00 PM
: Monday to Friday 10:00 AM - 2:00 PM; Saturday 9:00 AM - 2:00 PM; Sunday 1:00 PM - 5:00 PM
: Monday to Friday 10:00 AM - 2:00 PM; Saturday 9:00 AM - 2:00 PM; Sunday 1:00 PM - 5:00 PM
: Monday to Friday 10:00 AM - 2:00 PM; Saturday 9:00 AM - 2:00 PM; Sunday 1:00 PM - 5:00 PM
: Monday to Friday 10:00 AM - 2:00 PM; Saturday 9:00 AM - 2:00 PM; Sunday 1:00 PM - 5:00 PM
: Monday to Friday 10:00 AM - 2:00 PM; Saturday 9:00 AM - 2:00 PM; Sunday 1:00 PM - 5:00 PM
: Monday to Friday 10:00 AM - 2:00 PM; Saturday 9:00 AM - 2:00 PM; Sunday 1:00 PM - 5:00 PM
: Monday to Friday 10:00 AM - 2:00 PM; Saturday 9:00 AM - 2:00 PM; Sunday 1:00 PM - 5:00 PM

: Everyday 3:00 PM - 7:00 PM
: Everyday 3:00 PM - 7:00 PM
: Everyday 3:00 PM - 7:00 PM
: Everyday 3:00 PM - 7:00 PM
: Everyday 3:00 PM - 7:00 PM
: Everyday 3:00 PM - 7:00 PM
: Everyday 3:00 PM - 7:00 PM
: Everyday 3:00 PM - 7:00 PM
: Everyday 3:00 PM - 7:00 PM
: Everyday 3:00 PM - 7:00 PM
: Everyday 3:00 PM - 7:00 PM
: Everyday 3:00 PM - 7:00 PM

: Wednesday to Sunday 5:00 PM - 8:00 PM
: Wednesday to Sunday 5:00 PM - 8:00 PM
: Wednesday to Sunday 5:00 PM - 8:00 PM
: Wednesday to Sunday 5:00 PM - 8:00 PM
: Wednesday to Sunday 5:00 PM - 8:00 PM
: Wednesday to Sunday 5:00 PM - 8:00 PM
: Wednesday to Sunday 5:00 PM - 8:00 PM
: Wednesday to Sunday 5:00 PM - 8:00 PM
: Wednesday to Sunday 5:00 PM - 8:00 PM
: Wednesday to Sunday 5:00 PM - 8:00 PM
: Wednesday to Sunday 5:00 PM - 8:00 PM
: Wednesday to Sunday 5:00 PM - 8:00 PM

: Everyday 10:00 AM - 4:00 PM
: Everyday 10:00 AM - 4:00 PM
: Everyday 10:00 AM - 4:00 PM
: Everyday 10:00 AM - 4:00 PM
: Everyday 10:00 AM - 4:00 PM
: Everyday 10:00 AM - 4:00 PM
: Everyday 10:00 AM - 4:00 PM
: Everyday 10:00 AM - 4:00 PM
: Everyday 10:00 AM - 4:00 PM
: Everyday 10:00 AM - 4:00 PM
: Everyday 10:00 AM - 4:00 PM
: Everyday 10:00 AM - 4:00 PM

: Everyday 10:00 AM - 5:00 PM
: Everyday 10:00 AM - 5:00 PM
: Everyday 10:00 AM - 5:00 PM
: Everyday 10:00 AM - 5:00 PM
: Everyday 10:00 AM - 5:00 PM
: Everyday 10:00 AM - 5:00 PM
: Everyday 10:00 AM - 5:00 PM
: Everyday 10:00 AM - 5:00 PM
: Everyday 10:00 AM - 5:00 PM
: Everyday 10:00 AM - 5:00 PM
: Everyday 10:00 AM - 5:00 PM
: Everyday 10:00 AM - 5:00 PM

: Everyday 6:00 AM - 6:00 PM
: Everyday 6:00 AM - 6:00 PM
: Everyday 6:00 AM - 6:00 PM
: Everyday 6:00 AM - 6:00 PM
: Everyday 6:00 AM - 6:00 PM
: Everyday 6:00 AM - 6:00 PM
: Everyday 6:00 AM - 6:00 PM
: Everyday 6:00 AM - 6:00 PM
: Everyday 6:00 AM - 6:00 PM
: Everyday 6:00 AM - 6:00 PM
: Everyday 6:00 AM - 6:00 PM
: Everyday 6:00 AM - 6:00 PM

: Everyday 10:00 AM - 6:00 PM
: Everyday 10:00 AM - 6:00 PM
: Everyday 10:00 AM - 6:00 PM
: Everyday 10:00 AM - 6:00 PM
: Everyday 10:00 AM - 6:00 PM
: Everyday 10:00 AM - 6:00 PM
: Everyday 10:00 AM - 6:00 PM
: Everyday 10:00 AM - 6:00 PM
: Everyday 10:00 AM - 6:00 PM
: Everyday 10:00 AM - 6:00 PM
: Everyday 10:00 AM - 6:00 PM
: Everyday 10:00 AM - 6:00 PM

: Everyday 6:00 PM - 8:00 PM
: Everyday 6:00 PM - 8:00 PM
: Everyday 6:00 PM - 8:00 PM
: Everyday 6:00 PM - 8:00 PM
: Everyday 6:00 PM - 8:00 PM
: Everyday 6:00 PM - 8:00 PM
: Everyday 6:00 PM - 8:00 PM
: Everyday 6:00 PM - 8:00 PM
: Everyday 6:00 PM - 8:00 PM
: Everyday 6:00 PM - 8:00 PM
: Everyday 6:00 PM - 8:00 PM
: Everyday 6:00 PM - 8:00 PM

: Everyday 6:00 PM - 5:00 PM
: Everyday 6:00 PM - 5:00 PM
: Everyday 6:00 PM - 5:00 PM
: Everyday 6:00 PM - 5:00 PM
: Everyday 6:00 PM - 5:00 PM
: Everyday 6:00 PM - 5:00 PM
: Everyday 6:00 PM - 5:00 PM
: Everyday 6:00 PM - 5:00 PM
: Everyday 6:00 PM - 5:00 PM
: Everyday 6:00 PM - 5:00 PM
: Everyday 6:00 PM - 5:00 PM
: Everyday 6:00 PM - 5:00 PM

: Everyday 10:00 AM - 1:00 PM
: Everyday 10:00 AM - 1:00 PM
: Everyday 10:00 AM - 1:00 PM
: Everyday 10:00 AM - 1:00 PM
: Everyday 10:00 AM - 1:00 PM
: Everyday 10:00 AM - 1:00 PM
: Everyday 10:00 AM - 1:00 PM
: Everyday 10:00 AM - 1:00 PM
: Everyday 10:00 AM - 1:00 PM
: Everyday 10:00 AM - 1:00 PM
: Everyday 10:00 AM - 1:00 PM
: Everyday 10:00 AM - 1:00 PM

: Tuesday to Sunday 11:00 AM - 4:00 PM
: Tuesday to Sunday 11:00 AM - 4:00 PM
: Tuesday to Sunday 11:00 AM - 4:00 PM
: Tuesday to Sunday 11:00 AM - 4:00 PM
: Tuesday to Sunday 11:00 AM - 4:00 PM
: Tuesday to Sunday 11:00 AM - 4:00 PM
: Tuesday to Sunday 11:00 AM - 4:00 PM
: Tuesday to Sunday 11:00 AM - 4:00 PM
: Tuesday to Sunday 11:00 AM - 4:00 PM
: Tuesday to Sunday 11:00 AM - 4:00 PM
: Tuesday to Sunday 11:00 AM - 4:00 PM
: Tuesday to Sunday 11:00 AM - 4:00 PM

: Tuesday to Sunday 10:00 AM - 4:00 PM
: Tuesday to Sunday 10:00 AM - 4:00 PM
: Tuesday to Sunday 10:00 AM - 4:00 PM
: Tuesday to Sunday 10:00 AM - 4:00 PM
: Tuesday to Sunday 10:00 AM - 4:00 PM
: Tuesday to Sunday 10:00 AM - 4:00 PM
: Tuesday to Sunday 10:00 AM - 4:00 PM
: Tuesday to Sunday 10:00 AM - 4:00 PM
: Tuesday to Sunday 10:00 AM - 4:00 PM
: Tuesday to Sunday 10:00 AM - 4:00 PM
: Tuesday to Sunday 10:00 AM - 4:00 PM
: Tuesday to Sunday 10:00 AM - 4:00 PM

: Everyday 3:00 PM - 7:00 PM
: Everyday 3:00 PM - 7:00 PM
: Everyday 3:00 PM - 7:00 PM
: Everyday 3:00 PM - 7:00 PM
: Everyday 3:00 PM - 7:00 PM
: Everyday 3:00 PM - 7:00 PM
: Everyday 3:00 PM - 7:00 PM
: Everyday 3:00 PM - 7:00 PM
: Everyday 3:00 PM - 7:00 PM
: Everyday 3:00 PM - 7:00 PM
: Everyday 3:00 PM - 7:00 PM
: Everyday 3:00 PM - 7:00 PM

: Tuesday to Sunday 11:00 AM - 3:00 PM
: Tuesday to Sunday 11:00 AM - 3:00 PM
: Tuesday to Sunday 11:00 AM - 3:00 PM
: Tuesday to Sunday 11:00 AM - 3:00 PM
: Tuesday to Sunday 11:00 AM - 3:00 PM
: Tuesday to Sunday 11:00 AM - 3:00 PM
: Tuesday to Sunday 11:00 AM - 3:00 PM
: Tuesday to Sunday 11:00 AM - 3:00 PM
: Tuesday to Sunday 11:00 AM - 3:00 PM
: Tuesday to Sunday 11:00 AM - 3:00 PM
: Tuesday to Sunday 11:00 AM - 3:00 PM
: Tuesday to Sunday 11:00 AM - 3:00 PM

: Everyday 3:00 PM - 8:00 PM
: Everyday 3:00 PM - 8:00 PM
: Everyday 3:00 PM - 8:00 PM
: Everyday 3:00 PM - 8:00 PM
: Everyday 3:00 PM - 8:00 PM
: Everyday 3:00 PM - 8:00 PM
: Everyday 3:00 PM - 8:00 PM
: Everyday 3:00 PM - 8:00 PM
: Everyday 3:00 PM - 8:00 PM
: Everyday 3:00 PM - 8:00 PM
: Everyday 3:00 PM - 8:00 PM
: Everyday 3:00 PM - 8:00 PM

: Monday, Tuesday, Wednesday, Thursday, Sunday 11:00 AM - 3:30 PM; Friday 10:00 AM - 1:30 PM
: Monday, Tuesday, Wednesday, Thursday, Sunday 11:00 AM - 3:30 PM; Friday 10:00 AM - 1:30 PM
: Monday, Tuesday, Wednesday, Thursday, Sunday 11:00 AM - 3:30 PM; Friday 10:00 AM - 3:00 PM
: Monday, Tuesday, Wednesday, Thursday, Sunday 11:00 AM - 3:30 PM; Friday 10:00 AM - 4:00 PM
: Monday, Tuesday, Wednesday, Thursday, Sunday 11:00 AM - 3:30 PM; Friday 10:00 AM - 4:00 PM
: Monday, Tuesday, Wednesday, Thursday, Sunday 11:00 AM - 3:30 PM; Friday 10:00 AM - 4:00 PM
: Monday, Tuesday, Wednesday, Thursday, Sunday 11:00 AM - 3:30 PM; Friday 10:00 AM - 4:00 PM
: Monday, Tuesday, Wednesday, Thursday, Sunday 11:00 AM - 3:30 PM; Friday 10:00 AM - 4:00 PM
: Monday, Tuesday, Wednesday, Thursday, Sunday 11:00 AM - 3:30 PM; Friday 10:00 AM - 4:00 PM
: Monday, Tuesday, Wednesday, Thursday, Sunday 11:00 AM - 3:30 PM; Friday 10:00 AM - 4:00 PM
: Monday, Tuesday, Wednesday, Thursday, Sunday 11:00 AM - 3:30 PM; Friday 10:00 AM - 1:30 PM
: Monday, Tuesday, Wednesday, Thursday, Sunday 11:00 AM - 3:30 PM; Friday 10:00 AM - 1:30 PM

: Everyday 4:00 PM - 9:00 PM
: Everyday 4:00 PM - 9:00 PM
: Everyday 4:00 PM - 9:00 PM
: Everyday 4:00 PM - 9:00 PM
: Everyday 4:00 PM - 9:00 PM
: Everyday 4:00 PM - 9:00 PM
: Everyday 4:00 PM - 9:00 PM
: Everyday 4:00 PM - 9:00 PM
: Everyday 4:00 PM - 9:00 PM
: Everyday 4:00 PM - 9:00 PM
: Everyday 4:00 PM - 9:00 PM
: Everyday 4:00 PM - 9:00 PM

: Everyday 10:00 AM - 6:30 PM
: Everyday 10:00 AM - 6:30 PM
: Everyday 10:00 AM - 6:30 PM
: Everyday 10:00 AM - 6:30 PM
: Everyday 10:00 AM - 6:30 PM
: Everyday 10:00 AM - 6:30 PM
: Everyday 10:00 AM - 6:30 PM
: Everyday 10:00 AM - 6:30 PM
: Everyday 10:00 AM - 6:30 PM
: Everyday 10:00 AM - 6:30 PM
: Everyday 10:00 AM - 6:30 PM
: Everyday 10:00 AM - 6:30 PM

: Everyday 11:00 AM - 5:00 PM
: Everyday 11:00 AM - 5:00 PM
: Everyday 11:00 AM - 5:00 PM
: Everyday 11:00 AM - 5:00 PM
: Everyday 11:00 AM - 5:00 PM
: Everyday 11:00 AM - 5:00 PM
: Everyday 11:00 AM - 5:00 PM
: Everyday 11:00 AM - 5:00 PM
: Everyday 11:00 AM - 5:00 PM
: Everyday 11:00 AM - 5:00 PM
: Everyday 11:00 AM - 5:00 PM
: Everyday 11:00 AM - 5:00 PM

: Everyday 11:00 AM - 5:00 PM
: Everyday 11:00 AM - 5:00 PM
: Everyday 11:00 AM - 5:00 PM
: Everyday 11:00 AM - 5:00 PM
: Everyday 11:00 AM - 5:00 PM
: Everyday 11:00 AM - 5:00 PM
: Everyday 11:00 AM - 5:00 PM
: Everyday 11:00 AM - 5:00 PM
: Everyday 11:00 AM - 5:00 PM
: Everyday 11:00 AM - 5:00 PM
: Everyday 11:00 AM - 5:00 PM
: Everyday 11:00 AM - 5:00 PM

: Everyday 4:00 PM - 9:00 PM
: Everyday 4:00 PM - 9:00 PM
: Everyday 4:00 PM - 9:00 PM
: Everyday 4:00 PM - 9:00 PM
: Everyday 4:00 PM - 9:00 PM
: Everyday 4:00 PM - 9:00 PM
: Everyday 4:00 PM - 9:00 PM
: Everyday 4:00 PM - 9:00 PM
: Everyday 4:00 PM - 9:00 PM
: Everyday 4:00 PM - 9:00 PM
: Everyday 4:00 PM - 9:00 PM
: Everyday 4:00 PM - 9:00 PM

: Everyday 10:00 AM - 3:00 PM
: Everyday 10:00 AM - 3:00 PM
: Everyday 10:00 AM - 3:00 PM
: Everyday 10:00 AM - 3:00 PM
: Everyday 10:00 AM - 3:00 PM
: Everyday 10:00 AM - 3:00 PM
: Everyday 10:00 AM - 3:00 PM
: Everyday 10:00 AM - 3:00 PM
: Everyday 10:00 AM - 3:00 PM
: Everyday 10:00 AM - 3:00 PM
: Everyday 10:00 AM - 3:00 PM
: Everyday 10:00 AM - 3:00 PM

: Tuesday to Sunday 10:00 AM - 4:00 PM
: Tuesday to Sunday 10:00 AM - 4:00 PM
: Tuesday to Sunday 10:00 AM - 4:00 PM
: Tuesday to Sunday 10:00 AM - 4:00 PM
: Tuesday to Sunday 10:00 AM - 4:00 PM
: Tuesday to Sunday 10:00 AM - 4:00 PM
: Tuesday to Sunday 10:00 AM - 4:00 PM
: Tuesday to Sunday 10:00 AM - 4:00 PM
: Tuesday to Sunday 10:00 AM - 4:00 PM
: Tuesday to Sunday 10:00 AM - 4:00 PM
: Tuesday to Sunday 10:00 AM - 4:00 PM
: Tuesday to Sunday 10:00 AM - 4:00 PM

: Everyday 4:00 PM - 8:00 PM
: Everyday 4:00 PM - 8:00 PM
: Everyday 4:00 PM - 8:00 PM
: Everyday 4:00 PM - 8:00 PM
: Everyday 4:00 PM - 8:00 PM
: Everyday 4:00 PM - 8:00 PM
: Everyday 4:00 PM - 8:00 PM
: Everyday 4:00 PM - 8:00 PM
: Everyday 4:00 PM - 8:00 PM
: Everyday 4:00 PM - 8:00 PM
: Everyday 4:00 PM - 8:00 PM
: Everyday 4:00 PM - 8:00 PM

: Everyday 10:00 AM - 8:30 PM
: Everyday 10:00 AM - 8:30 PM
: Everyday 10:00 AM - 8:30 PM
: Everyday 10:00 AM - 8:30 PM
: Everyday 10:00 AM - 8:30 PM
: Everyday 10:00 AM - 8:30 PM
: Everyday 10:00 AM - 8:30 PM
: Everyday 10:00 AM - 8:30 PM
: Everyday 10:00 AM - 8:30 PM
: Everyday 10:00 AM - 8:30 PM
: Everyday 10:00 AM - 8:30 PM
: Everyday 10:00 AM - 8:30 PM

: Everyday 8:00 AM - 6:00 PM
: Everyday 8:00 AM - 6:00 PM
: Everyday 8:00 AM - 6:00 PM
: Everyday 8:00 AM - 6:00 PM
: Everyday 8:00 AM - 6:00 PM
: Everyday 8:00 AM - 6:00 PM
: Everyday 8:00 AM - 6:00 PM
: Everyday 8:00 AM - 6:00 PM
: Everyday 8:00 AM - 6:00 PM
: Everyday 8:00 AM - 6:00 PM
: Everyday 8:00 AM - 6:00 PM
: Everyday 8:00 AM - 6:00 PM

: Everyday 9:00 AM - 6:00 PM
: Everyday 9:00 AM - 6:00 PM
: Everyday 9:00 AM - 6:00 PM
: Everyday 9:00 AM - 6:00 PM
: Everyday 9:00 AM - 6:00 PM
: Everyday 9:00 AM - 6:00 PM
: Everyday 9:00 AM - 6:00 PM
: Everyday 9:00 AM - 6:00 PM
: Everyday 9:00 AM - 6:00 PM
: Everyday 9:00 AM - 6:00 PM
: Everyday 9:00 AM - 6:00 PM
: Everyday 9:00 AM - 6:00 PM

: Everyday 11:00 AM - 3:00 PM
: Everyday 11:00 AM - 3:00 PM
: Everyday 11:00 AM - 3:00 PM
: Everyday 11:00 AM - 3:00 PM
: Everyday 11:00 AM - 3:00 PM
: Everyday 11:00 AM - 3:00 PM
: Everyday 11:00 AM - 3:00 PM
: Everyday 11:00 AM - 3:00 PM
: Everyday 11:00 AM - 3:00 PM
: Everyday 11:00 AM - 3:00 PM
: Everyday 11:00 AM - 3:00 PM
: Everyday 11:00 AM - 3:00 PM