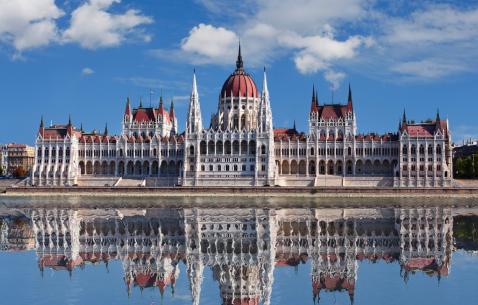 The Best Things To Do in Budapest
Budapest is an exquisite city and is full of surprises and treasures, with its lively centre, pretty parks, majestic river, tall church spires and lavish spas. The best way to know the city is to explore it and indulge in some of the best things to do in Budapest, which include historic attractions recognized as World Heritage Sites, such as Castle District, with the Royal Palace, Matthias Church, Fishermen's Bastion, Chain Bridge, the Parliament and Andrássy Avenue. Budapest is home to a plethora of museums and galleries and activities, the most significant ones being the National Gallery, House of Terror, Ethnographic Museum, Memento Park, Natural History Museum and the The Music Museum. One can find beautiful cathedrals like St. Stephen Cathedral, Matthias Church, the Rock Church; monuments and landmark structures like Heroes' Square, Chain Bridge, the Shoes on the Danube memorial; and green spaces like Margaret Island and City Park dotted across the city. Budapest has much more to it than historical sights and monuments. There are several activities one can indulge into, such as walking and bicycle tours, boating at the City Park Lake, skating and open air Ping Pong. The ones who are looking for entertainment opportunities, Budapest has a thriving performing arts scene and hosts many shows, concerts and performances, most notably, Capital Circus of Budapest, Hungarian State Opera House, Theatre Madách, Budapest Operetta Theatre,Merlin International Theatre,National Dance Theatre and the MU Theatre. One of the top things to do when in Budapest is to attend the annual extravagant festivals that the city hosts, such as the Jewish Summer Festival, Sziget and Budapest Christmas Market. Walk down the narrow cobbled streets of Budapest, and you'd be surprised by the memorable experiences that the city would offer.
Things to do in Budapest in December
Budapest during the time of Winter gets carpeted in snow and the whole place looks totally beautiful, like a fairyland. Here are some of the things to do in Budapest in Winter. Go on Ice Skating at the City Park. The open-air artificial rink in place is one of the popular spots for locals as well as the tourists. For an amazing time with your family, head to the Normafa that will be brimming with several winter sports activities to keep you entertained.
While you can gulp down glasses of Mulled Wine anytime of the year, during the time of December with the wonderful climate in place, it becomes extra special. Taking about Mulled Wine and Winter, the auspicious festival of Christmas will be just around the corner and the whole place is totally lit in lights. Check out the array of Christmas Markets with its ornate decorations, especially the market at the Vörösmarty Square. Some of the other festivals that you should get an experience of includes, Mangalica Festival and Fish Festival.
To keep yourselves warm during the time of the Winter, take a dip in the Budapest famous thermal waters of Széchenyi Thermal Bath, Gellért, and Veli Bej. This is also featured under the list of what to do in Budapest in 2 days.
Things to do in Budapest in November
November in Budapest marks the end of Autumn and the magic of the Autumn leaves and the mix of the Winter is what November in Budapest is all about. Grab your tickets for the Hungarian Opera State House that features Otello, Carmen, Nutcracker Ballets, and Madama Butterfly. Meander through the Christmas markets for a traditional Christmas vibe and make the most of the central Xmas fair.
Head to the Danube Palace or the Budai Vigado Concert Hall to catch a Hungarian Folk Dance Show that conveys the traditional Hungarian culture. For the party lovers, November is the ideal time as there are several bath parties and Lukacs Baths is the magical place to be in. For music lovers, you have St Michael Church Concerts and for art lovers, there is the Art Market Budapest. And the main highlight in November is the Halloween Boat Party in Budapest at the Parliament, one of the cool things to do in Budapest.
Things to do in Budapest in March
Take a soothing dip at the Széchenyi Thermal Bath or the Lukacs Bath where it isn't just getting comforted but both the locations come alive with laser party and music during the time of March and one of the fun things to do in Budapest is to dance to the electronic music with cocktails and beers.
To have a romantic time with your loved one get on board a Budapest River Cruise that comes with dinner, live entertainment, and sight-seeing activities. Keep your Calendar open, as the month March is full with dozen of music concerts and in addition to that, you also have the Budapest Spring Festival. Catch the parade during the St.Patrick's day, soak in the cultural events at the Budapest Palace of Arts, and the Budapest Opera house. Taste the true Hungarian flavors at the Handmade Hungarian Flavors Fair that is a treat for the foodies.
Things to do in Budapest in May
The month of May in Budapest is brimming with a lot of festivals. Some of them that you should check out includes International Comic Book Festival, Szekler Festival, Judafest Festival, Foie Gras Festival Budapest, Obuda Day Festival, and Budapest Bread Festival.
When you have had enough of the festivals, go on a guided tour of the cultural gem of Buda Castle. The whole place is beautiful and offers amazing views of the city. The grandeur and the views on offer, makes it a must visit. Equally competing is the Fisherman's Bastion with its fabulous views. The stunning architecture and the photo ops, make it a romantic place to hang around.
Go on a visit to the absolutely gorgeous St. Stephen's Basilica ornately designed on the interior. If you appreciate cathedrals, then this is the right place to visit. Now that you have interacted with the divine, head to the House of Terror that comprises of the exhibits from the fascist and the communist regimes. The whole place is historical and moving.
Things to do in Budapest in April
Make the most of the Spring Fair at the Vörösmarty Square, chat with the local craftsmen, and get something unique to remember Budapest by. Soak in the Easter Festival atmosphere on full swing at the Buda Castle and the Vajdahunyad Castle. The whole place will be buzzing with activity and is adorned with a dozen shops to stop by.
Admire the cherry blossom blooming in their bright colors at the botanical garden of Fuveszkert. The whole experience is just mesmerizing and is romantic. Remember to grab your tickets for the dance performances held at the National Dance Theater and the Festival Theater. Get busy on the field by taking part in the Budapest Half Marathon.
Things to do in Budapest Stag
Looking for a place to host a bachelorette party? Then look no far because Budapest has got you covered. Overflowing with a varied range of Stag activities to choose from, your Bachelerotte party wouldn't be any better. Start your adventure by indulging in Bar Crawling tasting drinks on the go, be a man take that rifle and start shooting, go cruising on the Budapest river with unlimited drinks on dinner on offer, get into kart and have a race with your besties, take a stroll across the Széchenyi Chain Bridge which is one of the ideal things to do in Budapest at night, spend time at the Hősök tere, and play a game of Bubble football. To get an idea of the nightlife in Budapest, go clubbing and explore the city on a beer bike.
Explore the travel planning tool for your visit to Budapest and create a flawless plan in few simple steps!
174 Tourist Attractions in Budapest

Must see places in Budapest ranked on popularity. Here is the complete list of best attractions in Budapest and point of interests to visit.
Tourist Attractions Near Budapest
Find Your Budapest Attractions on Map
Types of Things To Do in Budapest
Find more attractions and places to visit in Budapest under these things to do categories.
Top Budapest Activities And Tours
Explore the best things to do in Budapest. These are the most preferred tourist activities.
Find more places to see in Budapest
Hősök tere (Heroes' Square)

Historic and Protected Sites

Budavári Palota

Historic and Protected Sites

Bécsi-kapu

Historic and Protected Sites

St. Stephen's Basillica Treasury

Szent Istvan ter, Budapest, Hungary 1051

Historic and Protected Sites

1956-os Emlékmű

56-Osok Tere

Historic and Protected Sites

Budai Vár

5 Országház u.

Historic and Protected Sites
View On Map
Városligeti-tó

Városligeti-tó, 1146 Ungheria

Lakes

Park Horgász Egyesület

Lakes
View On Map
Ráth György Museum

Városligeti fasor 12

Museums

Vasarely Múzeum

Szentlélek tér 6

Museums

Közlekedési Múzeum

Városligeti krt. 11

Museums

Kiscelli Múzeum - Fővárosi Képtár

Kiscelli u. 108

Museums

Kresz Géza Mentőmúzeum

Markó u. 22

Museums

Néprajzi Múzeum

Kossuth Lajos tér 12

Museums
View On Map
MindQuest

VII Klauzál u. 19

Amusement Parks

Parapark

VIII Vajdahunyad u. 4

Amusement Parks

Palackozott Italok Boltja

Amusement Parks

Ability Park Klub

Ceglédi út 1-3

Amusement Parks

KölyökPark - Pólus Center

Szentmihályi út 131

Amusement Parks

ExitPoint Games

Amusement Parks

Arcades
View On Map
NégyesHatos Wesselényi Söröző

Erzsébet krt.. 28

Bars

Magyar Söröző

József krt. 75

Bars

Restaurants

Captain Cook Pub

Bajcsy-Zsilinszky út 19/a

Bars

Cafes, Coffee and Tea Houses

Restaurants

Yellow Zebra Bar

Kazinczy u. 5

Bars

Restaurants

Caledonia Scottish Pub

Mozsár u. 9

Bars

Restaurants

KIOSK Budapest

Március 15. tér 4

Bars

International

Cafes, Coffee and Tea Houses
View On Map
Grand Casino

Deák Ferenc u. 13

Casinos and Gaming

Belvárosi Kaszinó Szerencsejáték Szervező Kft

Vigadó u. 2

Casinos and Gaming

6. Sz. Lottózó

Károly krt. 1

Casinos and Gaming

Szerencsejáték Zrt. 89. Sz. Lottózó

Béke tér 12

Casinos and Gaming

Szerencsejáték Zrt. 61. Sz. Lottózó

Tétényi út 63

Casinos and Gaming

Szerencsejáték Zrt. 3. Sz. Lottózó

Szent István krt. 25

Casinos and Gaming
View On Map
Gesztenyéskert

Playgrounds

Dog Parks

Mélygarázs Budapest Erzsébet tér

Károlyi Mihály u. 11

Dog Parks

Kutyafuttató (Sasad Liget)

Dog Parks
View On Map
Szentendrei-sziget déli csücsök

Beaches

Szigetcsépi Strand

Beaches
View On Map
Sisakvirág Tanösvény 4 - Bükkös

Hiking

Sisakvirág tanösvény 7

Hiking

Végvári (Szent Mihály) szikla

Hiking
View On Map
Vadászati Kulturális Egyesület

Pákász u. 7 I/2

Hunting and Fishing

Magyar Tájékozódási Futó Szövetség

Istvánmezei út 1-3. Iii. Emelet 310

Hunting and Fishing

Lemezbörze - Memory International Kft

Laborc u. 44

Hunting and Fishing

Magyar Országos Horgász Szövetség

Korompai u. 17

Hunting and Fishing

Fővadászbolt

József krt. 66

Hunting and Fishing

Vadőr Kft

Karvaly u. 10/D

Hunting and Fishing
View On Map
What To Do in Budapest: Day-Wise Ideas
Find what not to miss in Budapest! Recommended Budapest itineraries and vacation ideas created by travelers across the world.