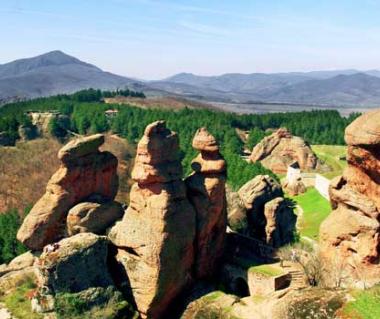 Bulgaria Trip Planner
Plan your customized trip plan for Bulgaria. Choose from Top Toursim cities and tourist attarctions of Bulgaria using trip planner.
Bulgaria Overview
Bulgaria is located in Eastern Europe and is bordered by the River Danube and Romania to the north, by Turkey and Greece to the south, by the Black Sea to the east and by Serbia and Montenegro and the Former Yugoslav Republic of Macedonia to the west. The country is traversed by the Balkan Mountains, which extend to the shores of the Black Sea and its golden beaches. If you are keen on art and culture, Bulgaria is the ideal destination for you. Churches dating back centuries, Greek and Byzantine ruins, lovely mountain villages, the seaside resorts of the Black Sea, museums full of priceless treasures, walks in the fragrant Rose Valley and cities with lovely old houses spread out over cliffs - there's more to Bulgaria than words can conjure.
How to enter:-
Air: - There are four international airports: Sofia, Varna, Bourgas, and Plovdiv. There are a lot of charter and last-minute flight offers to Varna or Bourgasleaving from Western Europe (especially Germany and Great Britain). You can go from German airports to Bulgaria and back for less than €100, if you are lucky.
Rail: - International trains provide a large number of routes to Bulgaria, notably Sofia and Varna, arriving from such places as Kiev, Istanbul, Vienna, and other common cities. The primary trains from Bucharest to Sofia, and back, run twice daily through the border city of Rousse.
Climate and best time to visit: - The climate of Bulgaria is temperate, and typically continental. The winters are cold and damp, with the bulk of the year's precipitation falling in the winter months, mainly in the form of snow. Summers tend to be hot and comparatively dry, although the weather is generally somewhat cooler in the mountains than it is in the plains. Spring in April and May are good months as the weather is bracing, albeit a little chilly. In the autumn season September - October, again the climate is good with cool days and evenings getting chilly.
What to see:- Bulgaria's main lure is its long, sandy Black Sea Coast – which still boasts swaths of stunning beaches and picturesque bays despite the expansive construction work – but there is so much more to this country, Networks of well-maintained hiking trails and horse-riding routes allow you to discover Bulgaria's lush mountainous and forested landscapes, especially around the Rila and Pirin Mountains, inhabited by bears, lynx, rare birds and other kinds of wildlife now becoming scarce elsewhere in Europe.
Searching for something specific?