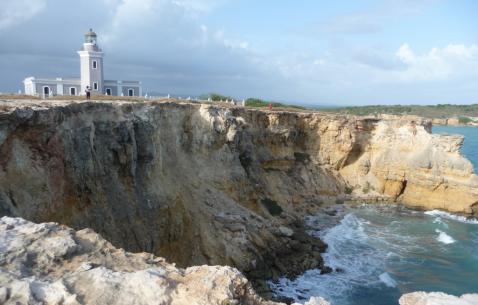 Cabo Rojo is a quaint, but vibrant town on the south west coast of Puerto Rico. It forms part of the San German- Cabo Rojo metropolitan area. The name (which means Red Cape in English) comes from the reddish colour of the famous Cabo Rojo Salt Flats, as well as the reddish tint that can be observed on the limestone cliffs when approaching the town from the sea. Legend has it that Chritopher Columbus himself was the one to name Cabo Rojo. Cabo Rojo is a very small town, and yet it is one of the most popular destination for tourists in Puerto Rico. They welcome a lot of visitors from USA all year round, and many more from around the world during the peak seasons. The tourism in Cabo Rojo has flourished over the years, having seen the development of hotels, marinas and nightclubs. Boqueron Beach, in particular, has become a very popular haunt for tourists interested in partying. The party literally goes on all night long during the weekends, as the entire area is lit up and filled with tourists and locals alike.
Aside from the party culture, monuments and natural wonders make up a good portion of the lists of things to do in Cabo Rojo as well. The Cabo Rojo National Wildlife Refuge is home for a number of native bird species including the endangered Yellow-shouldered Blackbird also known as La Mariquita de Puerto Rico or Capitan. It is truly a haven for birdwatchers and nature lovers. It is also home to the famous Cabo Rojo Salt Flats, which are considered to be a wonder of nature in Puerto Rico. These sites aren't just tourist attractions, but have great ecological significance.
Cabo Rojo is home to a number of historical Puerto Rican monuments. These include the San Miguel Arcangel Church, the Downtown Market Plaza and the famous Cabo Rojo lighthouse. Amazingly, Cabo Rojo also has a church named Schoenstatt Shrine, which was founded there by a movement of German Catholics. It is but one of the small treasures that Cabo Rojo holds.
Travel guides hail Cabo Rojo for its water based activities. It has every option, from fishing to jet skis, depending on your tastes. You can go fishing into the sea, where you will try your luck in catching some huge fish like the Tarpon. You can even choose to go for adventure sports, where you can Jet Ski along the coast line, take a banana boat ride or even go underwater snorkelling. When you're not indulging in fun activities, you can visit one of the many beaches in Cabo Rojo, including the happening Boqueron Beach and the tranquil Playa Sucia. The waters around every beach are crystal clear and blue, and it makes for a very picturesque sight indeed.
In a nutshell, Cabo Rojo has it all. It might be a small town, but it is undoubtedly one of the most happening places in Puerto Rico, with more and more tourists thronging to its beaches every year. That, coupled with its natural and historical delights, makes it one of the most interesting places you could visit during your time in Puerto Rico.
Essential travel information and Cabo Rojo tips for your visit
Make sure you carry a lot of mosquito repellent, as there will be a lot of outdoor activities in the sultry Puerto Rican weather.
Many roads in Cabo Rojo are unpaved, or dirt trails. Make sure you carry a map or a GPS device whenever you're travelling.
Cabo Rojo turns into quite the party place over the weekend. You should schedule your trip accordingly, so that you can do the leisurely activities through the week and have a great time out when the weekend comes knocking.