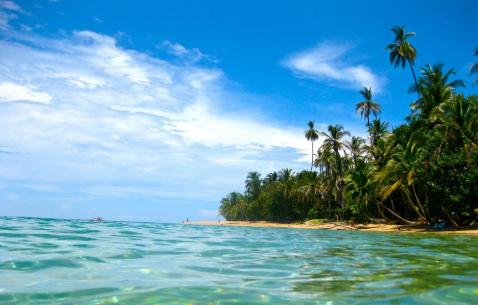 Cahuita, Paradise on Earth, tucked away from the hustle and bustle of hectic city life. Emerald wilderness, tropical flowers in bloom, exotic palm trees bowing to the ultramarine blue seas, stretches of white sandy beaches, all welcome you to satiate your desire for peace and tranquillity. Feast your eyes on the beauty of incredible merging of colours all over Cahuita.
The beach is bathed with white fluffs of froth on top of the overflowing waves. Swim below the waters to see colourful coral reefs and fish darting to and fro seeming like reflection of the rainbow. The endless sea seems to merge with the horizon and it's hard to tell the end of the water and the beginning of the sky. Wrap yourself with the Caribbean palette and simply stroll on the beach, discover wonders under water or catch a perfect wave above to surf.
Cities around Cahuita have been rocked and rolled by change but Cahuita still holds on to its tradition. It is a fun place where you shed all your stress and have a fun filled vacation. Traditional dirt roads are dotted with houses which rest on stilts. This is to safeguard the houses since Cahuita is so close to the shoreline. The influence of centuries-old Afro-Caribbean culture had a deep impact on Cahuita. The first permanent settler, a turtle fisherman named William Smith moved his family here and now his descendants along with other immigrants run Cahuita, and they make excellent impromptu travel guides.
Music has been central to Caribbean culture since Africans settled here and this had extended to the intoxicating cuisine as well. The melange of cuisines from diverse countries have added to the charm of Cahuita. Various culture from ethnic backgrounds has introduced diverse ingredients in the local cuisine thus giving it a touch of excellence. The local diet which comprises of fresh fruits and vegetables, fish and meat is healthy. The culture confluence in Caribbean cuisine has turned Cahuita into a food lover's paradise. Cahuita is a small city located on the Caribbean coast of Costa Rica.
Cahuita is located in the Talamanca Canton of Limón Province. Cahuita is the capital of the Cahuita District. Due to its proximity to the Caribbean shoreline, Cahuita is renowned for its beaches, and in sharp contrast, the jungle and parks are breath taking as well. Many roads are composed of dirt, gravel and stone and visitors require a 4WD to visit places. Your travel information for Chuita won't have much public transport options – go there and play it by the ear.
Several tours in Cahuita take you to different excursions such as horseback riding, sport fishing, restaurants for cooking your catch, and to the national park where you have an option for swimming. You can also rent a car and drive on your own from coast to coast experiencing constant sunny weather. Other Cahuita tourist attractions include the new botanical garden and outdoor museum where there are plenty of opportunities for wildlife sightings. The Playa Negra is a long black sand beach, ideal for surfing and swimming. The wildlife centre and botanical gardens rehabilitates injured and rescued animals and provides education on conservation of wildlife. Here you see a range of tropical birds and flowers in a riot of colours. Mariposario de Cahuita is a butterfly farm. Enjoy the harmony between the local residents and the eco-friendly caterpillars. And be sure to see the Sloths!
Essential travel information and Cahuita tips for your visit
DOS AND DON'TS:
If you carry USD make sure it is free of tears, folds and creases for it could get rejected. Keep cash in a secured wallet which cannot be cut by a knife.
Carry at least 2 ATM cards which will come in handy in case you lose or replace one of them.
Keep a print of your passport with you at all times, and get another print once the passport has been stamped upon arrival.
It's easier to pay in local currency so that you don't face errors in exchange rates.
Print a copy of reservations such as hotels, shuffle bus, prepaid tours, car rentals, bus schedules.
Print a copy of contact names, numbers, email ids, address.
Print a copy of intended itinerary and let someone take a copy if something unexpected happens, it will be easy to locate you.
Carry sun screens, bug sprays, mini first aid kit, camera, battery, charger, and torch.
Cahuita Trip Planner
Plan your customized day by day trip plan for Cahuita. Choose from various experinces categories as adventure, romantic and family and kids friendly for your trip using using Cahuita trip planner.