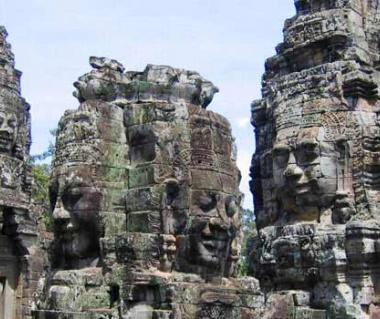 Cambodia Trip Planner
Plan your customized trip plan for Cambodia. Choose from Top Toursim cities and tourist attarctions of Cambodia using trip planner.
Cambodia Overview
Cambodia is bordered by Thailand, Laos and Vietnam and in its turbulent past, was invaded by two of its neighbors several times. It shares the powerful Mekong River with Laos and Vietnam. The river enters the country from Laos in the North, and in its southbound journey almost divides Cambodia into halves.
The Mekong splits off into two at Phnom Penh, Cambodia's capital, before ending in Vietnam. One of its tributaries feeds.
Tonle Sap (Great Lake), the largest fresh water lake in Southeast Asia, which lies south of Siem Reap, the town closest to the Angkor temple complex.
It is known as the Land of Smiles, Cambodia's gentle culture is influenced by Theravada Buddhism practiced by the bulk of its 13 million ethnic Khmer who live alongside substantial minorities of Chinese, Vietnamese, Cham Muslims and hill tribes.
Climate and when to go:- Cambodia has a classic tropical monsoon climate. Temperatures range from 21º C to 35° C, although they can exceed 40 °C in the steamy month of April.
You can visit the city in the dry season as it is from November to March .Temperatures can fall to the low 20s in the cool months of December and January when there is little rainfall, low humidity, light breezes and cool evenings. This is peak tourist season for the temples and the beaches.
Where to stay:-
Heritage Suites Hotel:-Find French colonial cool, contemporary design and Cambodian chic in the Heritage Suites Hotel. Part of the Relais Group, this unique boutique hotel of 26 suites and rooms is in a quiet neighborhood between a Catholic church and a temple. It is only a 10 minute tuk-tu ride to the central market. A parked vintage sports car in front, oversized bath tubs, private steam baths and open air showers are only part of the luxury, Rates from US$425-$520.
Raffles Grand Hotel D'Angkor:-Fully restored classic Raffles Grand Hotel D'Angkor is unsurpassed for charm, service and luxury. Its staterooms have large French doors and balconies, the landmark rooms are decorated with more antique detail and porcelain bathrooms and the personal suites are each designed around a unique theme. The on premise spa is hedonistic.
Viroth's Hotel:- It is cheap and chic and gives its guests minimalist chic and a private patio for only US$60. Cozy lounge beds surround a large salt water pool. There are seven guestrooms and candlelight dining on the rooftop.
What to see:-
Angkor Complex:-The sprawling megalithic complex of Angkor is no longer Asia's best kept secret. Hidden for centuries by jungles, Cambodia's ancient treasures and far-flung temples are at last emerging. More and more
visitors are being lured to explore these mysterious temples and the rich and proud civilization that lived in them.
Angkor Wat:-Set on top of a 27m artificial hill, Wat Phnom is Phnom Penh's tallest temple and the center of activity during Pchum Ben, the Festival of the Dead. Legend has it that Madam Penh built the temple in 1373 to house six Buddha statues that were washed up by the Mekong River.
Phnom Kulen:-Phnom Kulen is the holiest mountain in Cambodia.
Preah Khan:-Preah Khan was the largest temple complex built during the Angkor era. Spread over an area of 5 sq km, it exceeds Angkor Thom (3.3 sq kms) and Banteay Chmar (4 sq kms). Built originally for a Hindu god, it became a Buddhist temple in the 12th century.
Where to be:-
Aspara Dance:-For a taste of the traditional, restaurants and hotels offer cultural performances which is the only way tourists can get to enjoy the Khmer aspara dancing. although in Phnom Penh, there are performances by the Royal Ballet of Cambodia.
Happy hour at Pub Street:-Happy hour starts early at Pub Street, with the Temple Bar redefining the concept by offering happy hour deals from 10am -10pm. Many places stay open to as late as 4 am.
Hip FCC Angkor:- overlooks the Siem Reap River and is an offshoot of the Phnom Penh landmark. It has cocktails, wines and a full bar with a price tag of US$3 and upwards.
Sports Bar:- on Alley Street is the first sports bar in town. It has a good range of beer for US$1.00 each, a pool table and a chance to watch the games on large screen HD TVs.
Giddy Gecko:- Uniquely decorated Giddy Gecko is one of the newest lounges in Siem Reap. Refresh with full range of drinks and juices and relax to music while trying out their fruit-flavored water or hookah pipes.
Discos and Live Music in Siem Reap
For a local vibe, Zone One, Martini and Son San discos get hopping around 10pm until 2-3am. They attract mainly a young and lively Cambodian crowd, and are excellent places to get to hang out with them.
There is more of a selection these days of live music now that Angkor Palace Resort and Sokha Angkor Resort have Filipino bands playing pop music every evening. Live music can also be heard at the Blarney Stone, Red Orchid and Green Mango.
What to eat:-
Khmer Kitchen Restaurant:- in The Alley is almost everyone's favorite. A family run restaurant with an exceptional menu, it serves Khmer home cooking with an occasional modern twist for between US$2-US$3 per entrée.
Khmer-Asian fusion cuisine,:- check out L'Escale des Arts & des Sens by celebrity chef Didier Corlou. Pick from either an indoor jazzy atmosphere or star-lit garden dining to sample wonderful tapas and rice wine .
Snazzy Angkor Café:-, close to the temple complex, sells good coffee, tea, sandwiches and pastries supplied by Blue Pumpkin in its shop which also has a little gallery for art and souvenirs.
Blue Pumpkin:- A top favorite of locals and tourists alike, Blue Pumpkin in town sells freshly baked crusty croissants, pastries French bread and home-made ice-cream. A top spot for breakfast or brunch but stays open till 10pm.
Events and other information:-
Exuberant Water Festival -
The Water Festival in Phnom Penh in November features hundreds of brightly colored boats from Cambodia's villages battling for winning honors over 3 days of intense competition. This is an exuberant and festive time in Phnom Penh as millions flock in from all round the country to enjoy the live concerts, hundreds of food stands, nightly fireworks and, of course, the opportunity to cheer more than twenty thousand rowers on the banks of the Tonle Sap and Mekong rivers.
Searching for something specific?