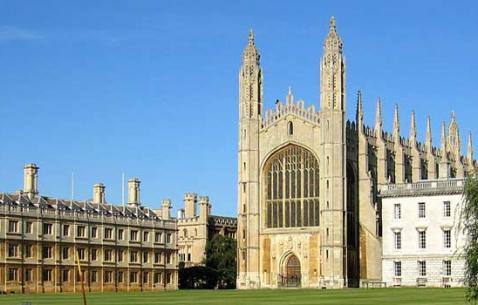 When was the last time you wrote a poem? Cambridge, with its lawns laden with lush leaves, aristocratic architecture that's centuries old and a name synonymous with academic brilliance, will make you feel like doing just that. It's not a surprise that hordes of visitors are attracted to this idyllic little town.
With some of the world's most fascinating museums and galleries, as well as some of the best colleges in the English speaking world, all kinds of prospective students, holiday-makers and lovers of the arts and sciences visit this city with the intention of exploring its rich culture and heritage.
Whether you're keen on visiting the famous Cambridge University grounds or you just want to picnic in one of the lusciously green gardens, you're bound to fall in love with the place. It's a city that has been immortalized in countless songs, poems, plays and books and constantly inspires some of the brightest minds in the world.
It's also a city which prides itself in having age old traditions, some of which have been around for hundreds of years. Cambridge itineraries are always filled with activities!
Historically, settlements have existed in the Cambridge area from as long ago as the 1st Century BC. The earliest proof of occupation was discovered under the grounds of the Fitzwilliam College. There has been evidence that Romans once settled upon the land as well, and after their departure, came the Saxons, who named the area 'Grantabrycge', which later evolved into 'Cambridge'.
The Vikings set foot and with their vigorous trading practices, helped the city grow at a rapid pace, and then left, ultimately putting the power back into the hands of the Saxons. They started to build churches and mint currency and in 1068, William of Normandy built a castle a top Castle Hill and the city came under control of the King and his deputies. The first town charter was granted by King Henry the First, which gave Cambridge a monopoly over waterborne traffic, much to their advantage.
When a group of students fled from Oxford, terrified by a few hostile townspeople, they decided to set up their own educational institution and in 1209, Cambridge University was formed. After having played a major role in the British Civil War and after the introduction of the railway in 1845, the town was slowly starting to develop economically. In the 20th century the town began to modernize, with the introduction of shopping arcades.
Cambridge, throughout its history, has been a significant city. As it started to grow economically, it also grew intellectually, with the likes of Sir Isaac Newton and Rutherford having brainstormed within the university's confines. Today, it's this same university that has produced some of the era's greatest poets, politicians, scientists and dramatists.
Today, the average visitor is drawn into three basic elements that have always defined Cambridge- its artistic beauty, its natural beauty and its booming college culture.
Those who relish art, fall in love with the magnificent King's College Chapel and the small pieces of beauty that speckle the campus area such as the Mathematical Bridge and the Bridge of Sighs. The beautifully landscaped and maintained Cambridge American Cemetery and Memorial is another beauty, though a much more sober one. Galleries like the Fitzwilliam Museum and Kettle's Yard House hold innumerable beauties; ancient art and artefacts from all over the world! Plan your trip to Cambridge and get a glimpse of its art!
Those who adore flowers and plant life will be deeply moved at the amazing array of life that exists within the greenhouses of the Cambridge Botanic Gardens, or the beautiful sprawling lawns filled with wildflowers of Anglesey Abbey. The Backs also provide some lovely views of Lake Cam, where local students go 'punting'. There's also the charming Orchard Tea Garden where you can sip tea, under a tree and feel the breeze as you please. A top-must-do's on every itinerary planner of Cambridge!
Cambridge's college culture is perhaps most apparent when you see the kind of variety in the museums of the city. There's the ScottPolar Research Institute, that documents mankind's exploration into the North and South Poles, and the Centre for Computing History, that is gathering 'relics' of the information age so that we can trace it in the future. With a list of alumni that features Stephen Hawking, Charles Darwin, Sir Francis Bacon, Virginia Woolf, David Attenborough, Jane Goodall, Sylvia Plath, Lord Byron, John Milton, Amartya Sen, Oliver Cromwell, Manmohan Singh and innumerable other great individuals, is it any wonder that the city is so jam packed with fascinating libraries, archives, galleries and, of course, stories?
Cambridge tourism, with its warm, dry weather, is a beautiful town and truly a sight for sore eyes. With tales around every corner, and its traffic free roads, it's a peaceful little haven for intellectual and artistic development and expression. It's also a good place to just kick back, relax and forget your problems. Bask in the warm sun, and drink some tea and try to remember the last time you wrote a poem.
Essential travel information and Cambridge tips for your visit
Cycling on the pavement (sidewalk) is not generally permitted unless there is a specifically signed shared-use cycle lane.
Driving a car around the town isn't advised as the roads are small and narrow and the local government is trying to endorse renewable methods of transport as much as possible.
Please be quiet and respectful when you're on University grounds because, at the end of the day, it's still an educational institution.
Cambridge Trip Planner
Plan your customized day by day trip plan for Cambridge. Choose from various experinces categories as adventure, romantic and family and kids friendly for your trip using using Cambridge trip planner.
The best tours and activities in the city, guided by experts to give you a local insight to the best of Cambridge