Best Time To Visit Cambridge
Explore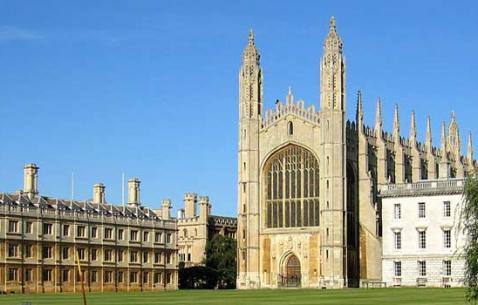 Best Time To Go To Cambridge
Cambridge weather is temperate, maritime climate, greatly influenced by the Gulf Stream. This has resulted in the city being one of the driest in the country, sometimes falling into the semi-arid category. While all four seasons occur, there's no dramatic change in temperature.
Summer (Jun-Sep): It's very warm and sunny, with rare rain showers. The temperature will linger around 20°C during the day and 16°C during the nights.
Autumn (Oct-Nov): This is cool and cloudy, with an average high of 13°C that starts decreasing. Sunshine levels reduce rapidly and rain turns into light lingering drizzle.
Winter (Dec-Feb): This is quite cold, with highs of 6°C and lows of 2°C. It rains quite heavily(for Cambridge) during December and January, and becomes dry during February.
Spring (March-May): The temperature starts becoming mild again, creeping up to a 10°C. Moderate rainfall and cool winds make the weather quite pleasant. By mid-May, the temperature starts going up once more.
The best time to visit is during mid-spring till the end of summer as it's bright, pleasant and dry during that period. The famous Cambridge Folk Festival also takes place during June-July.
Best time to go to Cambridge Attractions

: Tuesday to Saturday 10:00 AM - 5:00 PM; Sunday 10:00 AM - 5:00 PM
: Tuesday to Saturday 10:00 AM - 5:00 PM; Sunday 10:00 AM - 5:00 PM
: Tuesday to Saturday 10:00 AM - 5:00 PM; Sunday 10:00 AM - 5:00 PM
: Tuesday to Saturday 10:00 AM - 5:00 PM; Sunday 10:00 AM - 5:00 PM
: Tuesday to Saturday 10:00 AM - 5:00 PM; Sunday 10:00 AM - 5:00 PM
: Tuesday to Saturday 10:00 AM - 5:00 PM; Sunday 10:00 AM - 5:00 PM
: Tuesday to Saturday 10:00 AM - 5:00 PM; Sunday 10:00 AM - 5:00 PM
: Tuesday to Saturday 10:00 AM - 5:00 PM; Sunday 10:00 AM - 5:00 PM
: Tuesday to Saturday 10:00 AM - 5:00 PM; Sunday 10:00 AM - 5:00 PM
: Tuesday to Saturday 10:00 AM - 5:00 PM; Sunday 10:00 AM - 5:00 PM
: Tuesday to Saturday 10:00 AM - 5:00 PM; Sunday 10:00 AM - 5:00 PM
: Tuesday to Saturday 10:00 AM - 5:00 PM; Sunday 10:00 AM - 5:00 PM

: Everyday 9:00 AM - 3:30 PM
: Everyday 9:00 AM - 3:30 PM
: Everyday 9:00 AM - 3:30 PM
: Everyday 9:00 AM - 3:30 PM
: Everyday 9:00 AM - 3:30 PM
: Everyday 9:00 AM - 3:30 PM
: Everyday 9:00 AM - 3:30 PM
: Everyday 9:00 AM - 3:30 PM
: Everyday 9:00 AM - 3:30 PM
: Everyday 9:00 AM - 3:30 PM
: Everyday 9:00 AM - 3:30 PM
: Everyday 9:00 AM - 3:30 PM

: Everyday 10:00 AM - 5:00 PM
: Everyday 10:00 AM - 5:00 PM
: Everyday 10:00 AM - 5:00 PM
: Everyday 10:00 AM - 5:00 PM
: Everyday 10:00 AM - 5:00 PM
: Everyday 10:00 AM - 5:00 PM
: Everyday 10:00 AM - 5:00 PM
: Everyday 10:00 AM - 5:00 PM
: Everyday 10:00 AM - 5:00 PM
: Everyday 10:00 AM - 5:00 PM
: Everyday 10:00 AM - 5:00 PM
: Everyday 10:00 AM - 5:00 PM

: Everyday 10:00 AM - 4:00 PM
: Everyday 10:00 AM - 5:00 PM
: Everyday 10:00 AM - 5:00 PM
: Everyday 10:00 AM - 6:00 PM
: Everyday 10:00 AM - 6:00 PM
: Everyday 10:00 AM - 6:00 PM
: Everyday 10:00 AM - 6:00 PM
: Everyday 10:00 AM - 6:00 PM
: Everyday 10:00 AM - 6:00 PM
: Everyday 10:00 AM - 5:00 PM
: Everyday 10:00 AM - 4:00 PM
: Everyday 10:00 AM - 4:00 PM

: Everyday 11:00 AM - 5:00 PM
: Everyday 11:00 AM - 5:00 PM
: Everyday 11:00 AM - 5:00 PM
: Everyday 11:00 AM - 5:00 PM
: Everyday 11:00 AM - 5:00 PM
: Everyday 11:00 AM - 5:00 PM
: Everyday 11:00 AM - 5:00 PM
: Everyday 11:00 AM - 5:00 PM
: Everyday 11:00 AM - 5:00 PM
: Everyday 11:00 AM - 5:00 PM
: Everyday 11:00 AM - 5:00 PM
: Everyday 11:00 AM - 5:00 PM

: Everyday 9:00 AM - 5:00 PM
: Everyday 9:00 AM - 5:00 PM
: Everyday 9:00 AM - 5:00 PM
: Everyday 9:00 AM - 5:00 PM
: Everyday 9:00 AM - 5:00 PM
: Everyday 9:00 AM - 5:00 PM
: Everyday 9:00 AM - 5:00 PM
: Everyday 9:00 AM - 5:00 PM
: Everyday 9:00 AM - 5:00 PM
: Everyday 9:00 AM - 5:00 PM
: Everyday 9:00 AM - 5:00 PM
: Everyday 9:00 AM - 5:00 PM

: Everyday 10:00 AM - 5:00 PM
: Everyday 10:00 AM - 5:00 PM
: Everyday 10:00 AM - 5:00 PM
: Everyday 10:00 AM - 5:00 PM
: Everyday 10:00 AM - 5:00 PM
: Everyday 10:00 AM - 5:00 PM
: Everyday 10:00 AM - 5:00 PM
: Everyday 10:00 AM - 5:00 PM
: Everyday 10:00 AM - 5:00 PM
: Everyday 10:00 AM - 5:00 PM
: Everyday 10:00 AM - 5:00 PM
: Everyday 10:00 AM - 5:00 PM

: Everyday 10:00 AM - 4:00 PM
: Everyday 10:00 AM - 4:00 PM
: Everyday 10:00 AM - 4:00 PM
: Everyday 10:00 AM - 4:00 PM
: Everyday 10:00 AM - 4:00 PM
: Everyday 10:00 AM - 4:00 PM
: Everyday 10:00 AM - 4:00 PM
: Everyday 10:00 AM - 4:00 PM
: Everyday 10:00 AM - 4:00 PM
: Everyday 10:00 AM - 4:00 PM
: Everyday 10:00 AM - 4:00 PM
: Everyday 10:00 AM - 4:00 PM

: Wednesday to Sunday 10:00 AM - 5:00 PM
: Wednesday to Sunday 10:00 AM - 5:00 PM
: Wednesday to Sunday 10:00 AM - 5:00 PM
: Wednesday to Sunday 10:00 AM - 5:00 PM
: Wednesday to Sunday 10:00 AM - 5:00 PM
: Wednesday to Sunday 10:00 AM - 5:00 PM
: Wednesday to Sunday 10:00 AM - 5:00 PM
: Wednesday to Sunday 10:00 AM - 5:00 PM
: Wednesday to Sunday 10:00 AM - 5:00 PM
: Wednesday to Sunday 10:00 AM - 5:00 PM
: Wednesday to Sunday 10:00 AM - 5:00 PM
: Wednesday to Sunday 10:00 AM - 5:00 PM

: Everyday 24 Hrs
: Everyday 24 Hrs
: Everyday 24 Hrs
: Everyday 24 Hrs
: Everyday 24 Hrs
: Everyday 24 Hrs
: Everyday 24 Hrs
: Everyday 24 Hrs
: Everyday 24 Hrs
: Everyday 24 Hrs
: Everyday 24 Hrs
: Everyday 24 Hrs

: Everyday :00 AM - 2:00 PM
: Everyday :00 AM - 2:00 PM
: Everyday :00 AM - 2:00 PM
: Everyday :00 AM - 2:00 PM
: Everyday :00 AM - 2:00 PM
: Everyday :00 AM - 2:00 PM
: Everyday :00 AM - 2:00 PM
: Everyday :00 AM - 2:00 PM
: Everyday :00 AM - 2:00 PM
: Everyday :00 AM - 2:00 PM
: Everyday :00 AM - 2:00 PM
: Everyday :00 AM - 2:00 PM

: Tuesday to Sunday 11:30 AM - 5:00 PM
: Tuesday to Sunday 11:30 AM - 5:00 PM
: Tuesday to Sunday 11:30 AM - 5:00 PM
: Tuesday to Sunday 11:30 AM - 5:00 PM
: Tuesday to Sunday 11:30 AM - 5:00 PM
: Tuesday to Sunday 11:30 AM - 5:00 PM
: Tuesday to Sunday 11:30 AM - 5:00 PM
: Tuesday to Sunday 11:30 AM - 5:00 PM
: Tuesday to Sunday 11:30 AM - 5:00 PM
: Tuesday to Sunday 11:30 AM - 5:00 PM
: Tuesday to Sunday 11:30 AM - 5:00 PM
: Tuesday to Sunday 11:30 AM - 5:00 PM

: Everyday 10:00 AM - 6:00 PM
: Everyday 10:00 AM - 6:00 PM
: Everyday 10:00 AM - 6:00 PM
: Everyday 10:00 AM - 6:00 PM
: Everyday 10:00 AM - 6:00 PM
: Everyday 10:00 AM - 6:00 PM
: Everyday 10:00 AM - 6:00 PM
: Everyday 10:00 AM - 6:00 PM
: Everyday 10:00 AM - 6:00 PM
: Everyday 10:00 AM - 6:00 PM
: Everyday 10:00 AM - 6:00 PM
: Everyday 10:00 AM - 6:00 PM

: Everyday 10:00 AM - 4:00 PM
: Everyday 10:00 AM - 4:00 PM
: Everyday 10:00 AM - 4:00 PM
: Everyday 10:00 AM - 4:00 PM
: Everyday 10:00 AM - 4:00 PM
: Everyday 10:00 AM - 4:00 PM
: Everyday 10:00 AM - 4:00 PM
: Everyday 10:00 AM - 4:00 PM
: Everyday 10:00 AM - 4:00 PM
: Everyday 10:00 AM - 4:00 PM
: Everyday 10:00 AM - 4:00 PM
: Everyday 10:00 AM - 4:00 PM

: Everyday 9:00 AM - 5:30 PM
: Everyday 9:00 AM - 5:30 PM
: Everyday 9:00 AM - 5:30 PM
: Everyday 9:00 AM - 5:30 PM
: Everyday 9:00 AM - 5:30 PM
: Everyday 9:00 AM - 5:30 PM
: Everyday 9:00 AM - 5:30 PM
: Everyday 9:00 AM - 5:30 PM
: Everyday 9:00 AM - 5:30 PM
: Everyday 9:00 AM - 5:30 PM
: Everyday 9:00 AM - 5:30 PM
: Everyday 9:00 AM - 5:30 PM

: Everyday 24 Hrs
: Everyday 24 Hrs
: Everyday 24 Hrs
: Everyday 24 Hrs
: Everyday 24 Hrs
: Everyday 24 Hrs
: Everyday 24 Hrs
: Everyday 24 Hrs
: Everyday 24 Hrs
: Everyday 24 Hrs
: Everyday 24 Hrs
: Everyday 24 Hrs

: Everyday 24 Hrs
: Everyday 24 Hrs
: Everyday 24 Hrs
: Everyday 24 Hrs
: Everyday 24 Hrs
: Everyday 24 Hrs
: Everyday 24 Hrs
: Everyday 24 Hrs
: Everyday 24 Hrs
: Everyday 24 Hrs
: Everyday 24 Hrs
: Everyday 24 Hrs

: Everyday 24 Hrs
: Everyday 24 Hrs
: Everyday 24 Hrs
: Everyday 24 Hrs
: Everyday 24 Hrs
: Everyday 24 Hrs
: Everyday 24 Hrs
: Everyday 24 Hrs
: Everyday 24 Hrs
: Everyday 24 Hrs
: Everyday 24 Hrs
: Everyday 24 Hrs

: Everyday 24 Hrs
: Everyday 24 Hrs
: Everyday 24 Hrs
: Everyday 24 Hrs
: Everyday 24 Hrs
: Everyday 24 Hrs
: Everyday 24 Hrs
: Everyday 24 Hrs
: Everyday 24 Hrs
: Everyday 24 Hrs
: Everyday 24 Hrs
: Everyday 24 Hrs

: Everyday 24 Hrs
: Everyday 24 Hrs
: Everyday 24 Hrs
: Everyday 24 Hrs
: Everyday 24 Hrs
: Everyday 24 Hrs
: Everyday 24 Hrs
: Everyday 24 Hrs
: Everyday 24 Hrs
: Everyday 24 Hrs
: Everyday 24 Hrs
: Everyday 24 Hrs

: Everyday 2:00 AM - 1:00 PM
: Everyday 2:00 AM - 1:00 PM
: Everyday 2:00 AM - 1:00 PM
: Everyday 2:00 AM - 1:00 PM
: Everyday 2:00 AM - 1:00 PM
: Everyday 2:00 AM - 1:00 PM
: Everyday 2:00 AM - 1:00 PM
: Everyday 2:00 AM - 1:00 PM
: Everyday 2:00 AM - 1:00 PM
: Everyday 2:00 AM - 1:00 PM
: Everyday 2:00 AM - 1:00 PM
: Everyday 2:00 AM - 1:00 PM

: Everyday 24 Hrs
: Everyday 24 Hrs
: Everyday 24 Hrs
: Everyday 24 Hrs
: Everyday 24 Hrs
: Everyday 24 Hrs
: Everyday 24 Hrs
: Everyday 24 Hrs
: Everyday 24 Hrs
: Everyday 24 Hrs
: Everyday 24 Hrs
: Everyday 24 Hrs

: Everyday 24 Hrs
: Everyday 24 Hrs
: Everyday 24 Hrs
: Everyday 24 Hrs
: Everyday 24 Hrs
: Everyday 24 Hrs
: Everyday 24 Hrs
: Everyday 24 Hrs
: Everyday 24 Hrs
: Everyday 24 Hrs
: Everyday 24 Hrs
: Everyday 24 Hrs

: Everyday 24 Hrs
: Everyday 24 Hrs
: Everyday 24 Hrs
: Everyday 24 Hrs
: Everyday 24 Hrs
: Everyday 24 Hrs
: Everyday 24 Hrs
: Everyday 24 Hrs
: Everyday 24 Hrs
: Everyday 24 Hrs
: Everyday 24 Hrs
: Everyday 24 Hrs

: Everyday 24 Hrs
: Everyday 24 Hrs
: Everyday 24 Hrs
: Everyday 24 Hrs
: Everyday 24 Hrs
: Everyday 24 Hrs
: Everyday 24 Hrs
: Everyday 24 Hrs
: Everyday 24 Hrs
: Everyday 24 Hrs
: Everyday 24 Hrs
: Everyday 24 Hrs