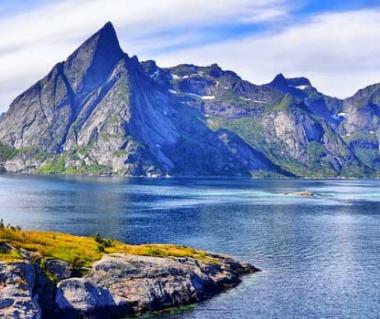 Canada Trip Planner
Plan your customized trip plan for Canada. Choose from Top Toursim cities and tourist attarctions of Canada using trip planner.
Canada Overview
Canada is the incredibly picturesque country in North America where serenity meets splendor in an ideal merger of the two. The seasons change and drape the country in their vibrant colors. Snow white in winter, Bright and blue in summer and yellow and red of the falling leaves in autumn, the country is always an exquisite sight to see.
Canada is the second-largest country in the world and the vast land holds many surprises within it. If it is nature you seek, Canada is certain to be a vast wonderland for you. There is an astonishing array of animal life both in the Canadian Mainland as well as in the ocean surrounding it. It is an ideal haunt for people who have an adventurous and nature-loving spirit.
Famous for the maple syrup, the maple toffee, and the gorgeous maple leaves, Canada is sure to be loved by people with a sweet tooth. The people of Canada are also known to be equally sweet though. Known for being extremely mild-mannered and jolly, the people of Canada are also known to be open and welcoming. Even as a society, Canada is known to be a liberal and open country. This is certainly good news for the tourist.
Hockey, which Canadians are absolutely crazy about, forms another interesting part of the country's identity. The Hockey culture is absolutely fascinating for the tourist, with the NHL (National Hockey League) being a National passion. You can definitely check out a game to take in the exuberant atmosphere.
Canada has managed to preserve the past even though it is in step with the times which is perhaps what makes it so unique. The country has a lot of character and a lot to offer. It may not be exotic but its subtlety is very fascinating.
What to see?
Each of the Provinces of Canada has a very unique style and culture to it. The feel of each place is very different so it makes sense to get a taste of each while traveling. However, even if you plan to stay in a single province you will find a lot to do. Here is a list of places that are a must-visit.
Quebec: Quebec has a typical Francophone culture so you will get to see a little bit of France during your trip to Canada. Be sure to learn just a little bit of Tourist French when traveling here. "Bonjour" (Good Day- A common greeting) "Comment cava?" (How do you do) and Merci (Thank you), S'ilVous plait (Please) are your perfect starter kit. There are pretty castles, timeworn houses and several places to see.
Ontario: Ontario is where you can see the Canadian side of Niagara Falls. The cities of Toronto and Ottawa (the capital of the country) fall within this region. This region is mostly full of busy cities and skyscrapers.
Novia Scotia: Nova Scotia which means New Scotland will give you the distinct impression of having stepped into the past. Dainty homes and lighthouses adorn the vast fields with green grass. The strong influence of European cultures is very apparent in Nova Scotia. If you want to go off the beaten track in Canada Nova Scotia is your perfect destination. Sea-food lovers will love this place as it is as fresh as it gets here. Halifax is the sea-facing city that foodies should plan for.
British Columbia: This region is a treat for nature lovers and thrill-seekers. Adventure sports like surfing, parasailing etc are very popular. There are also several wildlife parks with rare species preserved within them. Your Canada Adventure awaits you at British Columbia.
Manitoba: In a quaint little place called Churchill in the Manitoba Province you will be able to see Polar Bears. Yes. Actual Polar bears! The Hudson Bay is also the site from where you can see the phenomenon called Aurora Borealis or Northern Lights. Several other interesting marine animals can be seen by the explorer. Beluga whales are not to be missed.
Whether you decide to explore a lot of regions or just one Canada has a lot to offer.
Best time to Visit Canada
The Weather in Canada tends to vary depending upon the place you plan to visit. The Northern regions are very cold whereas the southern regions while still quite cool are very pleasant in summer.
Summer: Summer is perfect for visiting but it is the peak tourist season so expect huge crowds at all the popular places. The weather is very pleasant and perfect for long walks.
Fall: Fall or autumn is undoubtedly the best time to visit Canada. The months of September and October are the best time. The leaves are always falling from the trees in colorful clusters.
Winter: Winters are very cold but if you want to do Snow Sports, it is the ideal time to go. But do beware; Canadian winters can be really harsh to those who aren't accustomed to them.
Getting in and around Canada
Getting to: Air Travel is obviously the best way to go to Canada. All the major cities in Canada have international airports with flights from major airports reaching Canada throughout the year. Be sure to book in advance during summer as the costs increase in tourist season. If you are in the US there are Bus and Train Services between the two countries. You can also visit the country via Cruise liner if you wish.
Getting around: Public transport in Canada is easy to use and very accessible in most major cities. Trains and buses are available to most major areas of interest. In fact, traveling across Canada by train is both convenient and scenic. The larger cities also have subways or even sky trains for faster and easier transportation. If you want to travel inexpensively, you should definitely use Public transport as the schedules are easy to follow. If you plan to be in the country for a long time, it will make sense to buy a Coach pass which will enable you to travel across almost the entire country and to all the major cities. In some cases, you can use the same pass to travel within these cities as well. Boats and ferries are also a feasible option in some cities. Alternatively, you can also hire a car or bus (if you are in a big group) but it is expensive. If you plan to drive yourself you will need the appropriate international driving license. The roads are extremely well maintained so it is a good option to travel by car. You can also rent an RV and tour all the cities through the mobile home. There are plenty of spots all around the country to park and dock them.
What to try out?
Taffy: Taffy is a chewy toffee that you get in Maple flavor in Canada. Maple syrup is poured over the snow to make a chewy, sugary and tasty candy that tourists love. You can get this in stores but do try to look for people making it fresh in winter and spring.
The Quebec Winter Carnival: If you are brave enough to visit Canada in winter you are in for a real treat. Canada has a frosty tradition of celebrating the Carnival a week before Lent. There are parades, floats and parties and everything is snow themed so all the more fun. They also have several winter sports that are played during this time.
Mont Blanc: Mont Blanc is certainly the mountaineer's paradise. Trekking, mountain-climbing and everything in between is very popular here but there is more. If you intend to try skiing, snow surfing and anything related to snow Mont Blanc is the best place to do it. Dog sledding and ski lifts are other activities to try out. Be sure to try at least one of the snow sports when in Canada. They are a rare experience.
Searching for something specific?