Best Time To Visit Canterbury
Explore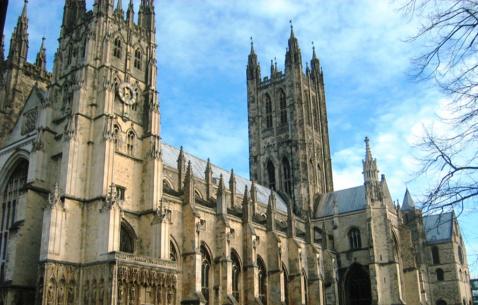 Best Time To Go To Canterbury
The weather of Canterbury is mild, humid and temperate with warm summers and no dry season.
Winters: The climate is the coldest during December, January and February. Temperatures during the night stay just above freezing and daytime temperatures average 8°Celcius.
Spring: Spring brings with it a pleasant climate during the months of March and April.
Summers: By May, Canterbury's weather dramatically improves and clearly marks the end of spring and the beginning of the summer. The hottest and most humid months are July and August.
Autumn: By September end, the city faces a change in climate and the temperature starts dropping.
The best time to visit Canterbury is in the months of March to September.
Best time to go to Canterbury Attractions

: Monday to Saturday 11:00 AM - 3:00 PM; Sunday 1:00 PM - 2:00 PM
: Monday to Saturday 11:00 AM - 3:00 PM; Sunday 1:00 PM - 2:00 PM
: Monday to Saturday 11:00 AM - 3:00 PM; Sunday 1:00 PM - 2:00 PM
: Monday to Saturday 11:00 AM - 3:00 PM; Sunday 1:00 PM - 2:00 PM
: Monday to Saturday 11:00 AM - 3:00 PM; Sunday 1:00 PM - 2:00 PM
: Monday to Saturday 11:00 AM - 3:00 PM; Sunday 1:00 PM - 2:00 PM
: Monday to Saturday 11:00 AM - 3:00 PM; Sunday 1:00 PM - 2:00 PM
: Monday to Saturday 11:00 AM - 3:00 PM; Sunday 1:00 PM - 2:00 PM
: Monday to Saturday 11:00 AM - 3:00 PM; Sunday 1:00 PM - 2:00 PM
: Monday to Saturday 11:00 AM - 3:00 PM; Sunday 1:00 PM - 2:00 PM
: Monday to Saturday 11:00 AM - 3:00 PM; Sunday 1:00 PM - 2:00 PM
: Monday to Saturday 11:00 AM - 3:00 PM; Sunday 1:00 PM - 2:00 PM

: Everyday 10:00 AM - 1:00 PM
: Everyday 10:00 AM - 1:00 PM
: Everyday 10:00 AM - 1:00 PM
: Everyday 10:00 AM - 1:00 PM
: Everyday 10:00 AM - 1:00 PM
: Everyday 10:00 AM - 1:00 PM
: Everyday 10:00 AM - 1:00 PM
: Everyday 10:00 AM - 1:00 PM
: Everyday 10:00 AM - 1:00 PM
: Everyday 10:00 AM - 1:00 PM
: Everyday 10:00 AM - 1:00 PM
: Everyday 10:00 AM - 1:00 PM

: Monday to Saturday 9:00 AM - 6:00 PM
: Monday to Saturday 9:00 AM - 6:00 PM
: Monday to Saturday 9:00 AM - 6:00 PM
: Monday to Saturday 9:00 AM - 6:00 PM
: Monday to Saturday 9:00 AM - 6:00 PM
: Monday to Saturday 9:00 AM - 6:00 PM
: Monday to Saturday 9:00 AM - 6:00 PM
: Monday to Saturday 9:00 AM - 6:00 PM
: Monday to Saturday 9:00 AM - 6:00 PM
: Monday to Saturday 9:00 AM - 6:00 PM
: Monday to Saturday 9:00 AM - 6:00 PM
: Monday to Saturday 9:00 AM - 6:00 PM

: Everyday 10:00 AM - 1:00 PM
: Everyday 10:00 AM - 1:00 PM
: Everyday 10:00 AM - 1:00 PM
: Everyday 10:00 AM - 1:00 PM
: Everyday 10:00 AM - 1:00 PM
: Everyday 10:00 AM - 1:00 PM
: Everyday 10:00 AM - 1:00 PM
: Everyday 10:00 AM - 1:00 PM
: Everyday 10:00 AM - 1:00 PM
: Everyday 10:00 AM - 1:00 PM
: Everyday 10:00 AM - 1:00 PM
: Everyday 10:00 AM - 1:00 PM

: Everyday 9:00 AM - 3:00 PM
: Everyday 9:00 AM - 3:00 PM
: Everyday 9:00 AM - 3:00 PM
: Everyday 9:00 AM - 3:00 PM
: Everyday 9:00 AM - 3:00 PM
: Everyday 9:00 AM - 3:00 PM
: Everyday 9:00 AM - 3:00 PM
: Everyday 9:00 AM - 3:00 PM
: Everyday 9:00 AM - 3:00 PM
: Everyday 9:00 AM - 3:00 PM
: Everyday 9:00 AM - 3:00 PM
: Everyday 9:00 AM - 3:00 PM

: Everyday 10:00 AM - 5:00 PM
: Everyday 10:00 AM - 5:00 PM
: Everyday 10:00 AM - 5:00 PM
: Everyday 10:00 AM - 5:00 PM
: Everyday 10:00 AM - 5:00 PM
: Everyday 10:00 AM - 5:00 PM
: Everyday 10:00 AM - 5:00 PM
: Everyday 10:00 AM - 5:00 PM
: Everyday 10:00 AM - 5:00 PM
: Everyday 10:00 AM - 5:00 PM
: Everyday 10:00 AM - 5:00 PM
: Everyday 10:00 AM - 5:00 PM

: Everyday 11:00 AM - 2:00 PM
: Everyday 11:00 AM - 2:00 PM
: Everyday 11:00 AM - 2:00 PM
: Everyday 11:00 AM - 2:00 PM
: Everyday 11:00 AM - 2:00 PM
: Everyday 11:00 AM - 2:00 PM
: Everyday 11:00 AM - 2:00 PM
: Everyday 11:00 AM - 2:00 PM
: Everyday 11:00 AM - 2:00 PM
: Everyday 11:00 AM - 2:00 PM
: Everyday 11:00 AM - 2:00 PM
: Everyday 11:00 AM - 2:00 PM

: Saturday, Sunday 10:00 AM - 1:00 PM
: Saturday, Sunday 10:00 AM - 1:00 PM
: Everyday 10:00 AM - 1:00 PM
: Everyday 10:00 AM - 1:00 PM
: Everyday 10:00 AM - 1:00 PM
: Everyday 10:00 AM - 1:00 PM
: Everyday 10:00 AM - 1:00 PM
: Everyday 10:00 AM - 1:00 PM
: Wednesday to Sunday 10:00 AM - 1:00 PM
: Saturday, Sunday 10:00 AM - 1:00 PM

: Everyday 10:00 AM - 3:00 PM
: Everyday 10:00 AM - 3:00 PM
: Everyday 10:00 AM - 3:00 PM
: Everyday 10:00 AM - 3:00 PM
: Everyday 10:00 AM - 3:00 PM
: Everyday 10:00 AM - 3:00 PM
: Everyday 10:00 AM - 3:00 PM
: Everyday 10:00 AM - 3:00 PM
: Everyday 10:00 AM - 3:00 PM
: Everyday 10:00 AM - 3:00 PM
: Everyday 10:00 AM - 3:00 PM
: Everyday 10:00 AM - 3:00 PM

: Everyday 9:30 AM - 4:00 PM
: Everyday 9:30 AM - 4:00 PM
: Everyday 9:30 AM - 4:00 PM
: Everyday 9:30 AM - 4:00 PM
: Everyday 9:30 AM - 4:00 PM
: Everyday 9:30 AM - 4:00 PM
: Everyday 9:30 AM - 4:00 PM
: Everyday 9:30 AM - 4:00 PM
: Everyday 9:30 AM - 4:00 PM
: Everyday 9:30 AM - 4:00 PM
: Everyday 9:30 AM - 4:00 PM
: Everyday 9:30 AM - 4:00 PM

:
:
:
:
: Wednesday to Sunday 11:00 AM - 2:00 PM
: Wednesday to Sunday 11:00 AM - 2:00 PM
: Wednesday to Sunday 11:00 AM - 2:00 PM

: Everyday 9:00 AM - 3:00 PM
: Everyday 9:00 AM - 3:00 PM
: Everyday 9:00 AM - 3:00 PM
: Everyday 9:00 AM - 3:00 PM
: Everyday 9:00 AM - 3:00 PM
: Everyday 9:00 AM - 3:00 PM
: Everyday 9:00 AM - 3:00 PM
: Everyday 9:00 AM - 3:00 PM
: Everyday 9:00 AM - 3:00 PM
: Everyday 9:00 AM - 3:00 PM
: Everyday 9:00 AM - 3:00 PM
: Everyday 9:00 AM - 3:00 PM

: Monday to Saturday 2:00 PM - 4:00 PM
: Monday to Saturday 2:00 PM - 4:00 PM
: Monday to Saturday 2:00 PM - 4:00 PM
: Monday to Saturday 2:00 PM - 4:00 PM
: Monday to Saturday 2:00 PM - 4:00 PM
: Monday to Saturday 2:00 PM - 4:00 PM
: Monday to Saturday 2:00 PM - 4:00 PM
: Monday to Saturday 2:00 PM - 4:00 PM
: Monday to Saturday 2:00 PM - 4:00 PM
: Monday to Saturday 2:00 PM - 4:00 PM
: Monday to Saturday 2:00 PM - 4:00 PM
: Monday to Saturday 2:00 PM - 4:00 PM

: Everyday 10:00 AM - 3:00 PM
: Everyday 10:00 AM - 3:00 PM
: Everyday 10:00 AM - 3:00 PM
: Everyday 10:00 AM - 3:00 PM
: Everyday 10:00 AM - 3:00 PM
: Everyday 10:00 AM - 3:00 PM
: Everyday 10:00 AM - 3:00 PM
: Everyday 10:00 AM - 3:00 PM
: Everyday 10:00 AM - 3:00 PM
: Everyday 10:00 AM - 3:00 PM
: Everyday 10:00 AM - 3:00 PM
: Everyday 10:00 AM - 3:00 PM

: Everyday 5:00 PM - 9:30 PM
: Everyday 5:00 PM - 9:30 PM
: Everyday 5:00 PM - 9:30 PM
: Everyday 5:00 PM - 9:30 PM
: Everyday 5:00 PM - 9:30 PM
: Everyday 5:00 PM - 9:30 PM
: Everyday 5:00 PM - 9:30 PM
: Everyday 5:00 PM - 9:30 PM
: Everyday 5:00 PM - 9:30 PM
: Everyday 5:00 PM - 9:30 PM
: Everyday 5:00 PM - 9:30 PM
: Everyday 5:00 PM - 9:30 PM

: Everyday 11:00 AM - 2:00 PM
: Everyday 11:00 AM - 2:00 PM
: Everyday 11:00 AM - 2:00 PM
: Everyday 11:00 AM - 2:00 PM
: Everyday 11:00 AM - 2:00 PM
: Everyday 11:00 AM - 2:00 PM
: Everyday 11:00 AM - 2:00 PM
: Everyday 11:00 AM - 2:00 PM
: Everyday 11:00 AM - 2:00 PM
: Everyday 11:00 AM - 2:00 PM
: Everyday 11:00 AM - 2:00 PM
: Everyday 11:00 AM - 2:00 PM

: Everyday 10:00 AM - 2:00 PM
: Everyday 10:00 AM - 2:00 PM
: Everyday 10:00 AM - 2:00 PM
: Everyday 10:00 AM - 2:00 PM
: Everyday 10:00 AM - 2:00 PM
: Everyday 10:00 AM - 2:00 PM
: Everyday 10:00 AM - 2:00 PM
: Everyday 10:00 AM - 2:00 PM
: Everyday 10:00 AM - 2:00 PM
: Everyday 10:00 AM - 2:00 PM
: Everyday 10:00 AM - 2:00 PM
: Everyday 10:00 AM - 2:00 PM

: Everyday 9:00 AM - 4:00 PM
: Everyday 9:00 AM - 4:00 PM
: Everyday 9:00 AM - 4:00 PM
: Everyday 9:00 AM - 4:00 PM
: Everyday 9:00 AM - 4:00 PM
: Everyday 9:00 AM - 4:00 PM
: Everyday 9:00 AM - 4:00 PM
: Everyday 9:00 AM - 4:00 PM
: Everyday 9:00 AM - 4:00 PM
: Everyday 9:00 AM - 4:00 PM
: Everyday 9:00 AM - 4:00 PM
: Everyday 9:00 AM - 4:00 PM

: Everyday 11:00 AM - 7:00 PM
: Everyday 11:00 AM - 7:00 PM
: Everyday 11:00 AM - 7:00 PM
: Everyday 11:00 AM - 7:00 PM
: Everyday 11:00 AM - 7:00 PM
: Everyday 11:00 AM - 7:00 PM
: Everyday 11:00 AM - 7:00 PM
: Everyday 11:00 AM - 7:00 PM
: Everyday 11:00 AM - 7:00 PM
: Everyday 11:00 AM - 7:00 PM
: Everyday 11:00 AM - 7:00 PM
: Everyday 11:00 AM - 7:00 PM

: Everyday 8:00 PM - 11:59 PM
: Everyday 8:00 PM - 11:59 PM
: Everyday 8:00 PM - 11:59 PM
: Everyday 8:00 PM - 11:59 PM
: Everyday 8:00 PM - 11:59 PM
: Everyday 8:00 PM - 11:59 PM
: Everyday 8:00 PM - 11:59 PM
: Everyday 8:00 PM - 11:59 PM
: Everyday 8:00 PM - 11:59 PM
: Everyday 8:00 PM - 11:59 PM
: Everyday 8:00 PM - 11:59 PM
: Everyday 8:00 PM - 11:59 PM

: Everyday 8:00 PM - 11:59 PM
: Everyday 8:00 PM - 11:59 PM
: Everyday 8:00 PM - 11:59 PM
: Everyday 8:00 PM - 11:59 PM
: Everyday 8:00 PM - 11:59 PM
: Everyday 8:00 PM - 11:59 PM
: Everyday 8:00 PM - 11:59 PM
: Everyday 8:00 PM - 11:59 PM
: Everyday 8:00 PM - 11:59 PM
: Everyday 8:00 PM - 11:59 PM
: Everyday 8:00 PM - 11:59 PM
: Everyday 8:00 PM - 11:59 PM

: Everyday 6:00 AM - 10:00 AM
: Everyday 6:00 AM - 10:00 AM
: Everyday 6:00 AM - 10:00 AM
: Everyday 6:00 AM - 10:00 AM
: Everyday 6:00 AM - 10:00 AM
: Everyday 6:00 AM - 10:00 AM
: Everyday 6:00 AM - 10:00 AM
: Everyday 6:00 AM - 10:00 AM
: Everyday 6:00 AM - 10:00 AM
: Everyday 6:00 AM - 10:00 AM
: Everyday 6:00 AM - 10:00 AM
: Everyday 6:00 AM - 10:00 AM

: Everyday 11:00 AM - 2:00 PM
: Everyday 11:00 AM - 2:00 PM
: Everyday 11:00 AM - 2:00 PM
: Everyday 11:00 AM - 2:00 PM
: Everyday 11:00 AM - 2:00 PM
: Everyday 11:00 AM - 2:00 PM
: Everyday 11:00 AM - 2:00 PM
: Everyday 11:00 AM - 2:00 PM
: Everyday 11:00 AM - 2:00 PM
: Everyday 11:00 AM - 2:00 PM
: Everyday 11:00 AM - 2:00 PM
: Everyday 11:00 AM - 2:00 PM

: Everyday 11:00 AM - 2:00 PM
: Everyday 11:00 AM - 2:00 PM
: Everyday 11:00 AM - 2:00 PM
: Everyday 11:00 AM - 2:00 PM
: Everyday 11:00 AM - 2:00 PM
: Everyday 11:00 AM - 2:00 PM
: Everyday 11:00 AM - 2:00 PM
: Everyday 11:00 AM - 2:00 PM
: Everyday 11:00 AM - 2:00 PM
: Everyday 11:00 AM - 2:00 PM
: Everyday 11:00 AM - 2:00 PM
: Everyday 11:00 AM - 2:00 PM

: Everyday 11:00 AM - 3:00 PM
: Everyday 11:00 AM - 3:00 PM
: Everyday 11:00 AM - 3:00 PM
: Everyday 11:00 AM - 3:00 PM
: Everyday 11:00 AM - 3:00 PM
: Everyday 11:00 AM - 3:00 PM
: Everyday 11:00 AM - 3:00 PM
: Everyday 11:00 AM - 3:00 PM
: Everyday 11:00 AM - 3:00 PM
: Everyday 11:00 AM - 3:00 PM
: Everyday 11:00 AM - 3:00 PM
: Everyday 11:00 AM - 3:00 PM

: Monday to Saturday 10:00 AM - 2:00 PM
: Monday to Saturday 10:00 AM - 2:00 PM
: Monday to Saturday 10:00 AM - 2:00 PM
: Monday to Saturday 10:00 AM - 2:00 PM
: Monday to Saturday 10:00 AM - 2:00 PM
: Monday to Saturday 10:00 AM - 2:00 PM
: Monday to Saturday 10:00 AM - 2:00 PM
: Monday to Saturday 10:00 AM - 2:00 PM
: Monday to Saturday 10:00 AM - 2:00 PM
: Monday to Saturday 10:00 AM - 2:00 PM
: Monday to Saturday 10:00 AM - 2:00 PM
: Monday to Saturday 10:00 AM - 2:00 PM