Best Time To Visit Carcassonne
Explore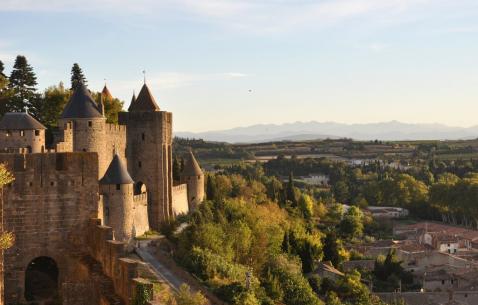 Best Time To Go To Carcassonne
Summer: Summers in Carcassonne last between the months of May and September. The temperature varies between 12 °C to 30°C.
Winter: Carcassonne weather starts getting cold October onwards till April. The temperature varies between 3°C to 15°C.
Monsoons: The city has rainfalls between the months of October and April. The months of October, November, December and April have the highest number of rainfall days averaging 12 days a month.
Best time to visit Carcassonne is between May to September and January to March.
Best time to go to Carcassonne Attractions

: Everyday 24 Hrs
: Everyday 24 Hrs
: Everyday 24 Hrs
: Everyday 24 Hrs
: Everyday 24 Hrs
: Everyday 24 Hrs
: Everyday 24 Hrs
: Everyday 24 Hrs
: Everyday 24 Hrs
: Everyday 24 Hrs
: Everyday 24 Hrs
: Everyday 24 Hrs

: Everyday 7:00 AM - 8:00 AM
: Everyday 7:00 AM - 8:00 AM
: Everyday 7:00 AM - 8:00 AM
: Everyday 7:00 AM - 8:00 AM
: Everyday 7:00 AM - 8:00 AM
: Everyday 7:00 AM - 8:00 AM
: Everyday 7:00 AM - 8:00 AM
: Everyday 7:00 AM - 8:00 AM
: Everyday 7:00 AM - 8:00 AM
: Everyday 7:00 AM - 8:00 AM
: Everyday 7:00 AM - 8:00 AM
: Everyday 7:00 AM - 8:00 AM

: Everyday 8:00 AM - 7:00 PM
: Everyday 8:00 AM - 7:00 PM
: Everyday 8:00 AM - 7:00 PM
: Everyday 8:00 AM - 7:00 PM
: Everyday 8:00 AM - 7:00 PM
: Everyday 8:00 AM - 7:00 PM
: Everyday 8:00 AM - 7:00 PM
: Everyday 8:00 AM - 7:00 PM
: Everyday 8:00 AM - 7:00 PM
: Everyday 8:00 AM - 7:00 PM
: Everyday 8:00 AM - 7:00 PM
: Everyday 8:00 AM - 7:00 PM

: Everyday 9:30 AM - 5:00 PM
: Everyday 9:30 AM - 5:00 PM
: Everyday 9:30 AM - 5:00 PM
: Everyday 9:30 AM - 5:00 PM
: Everyday 9:30 AM - 5:00 PM
: Everyday 9:30 AM - 5:00 PM
: Everyday 9:30 AM - 5:00 PM
: Everyday 9:30 AM - 5:00 PM
: Everyday 9:30 AM - 5:00 PM
: Everyday 9:30 AM - 5:00 PM
: Everyday 9:30 AM - 5:00 PM
: Everyday 9:30 AM - 5:00 PM

: Everyday 24 Hrs
: Everyday 24 Hrs
: Everyday 24 Hrs
: Everyday 24 Hrs
: Everyday 24 Hrs
: Everyday 24 Hrs
: Everyday 24 Hrs
: Everyday 24 Hrs
: Everyday 24 Hrs
: Everyday 24 Hrs
: Everyday 24 Hrs
: Everyday 24 Hrs

: Everyday 10:30 AM - 7:00 PM
: Everyday 10:30 AM - 7:00 PM
: Everyday 10:30 AM - 7:00 PM
: Everyday 10:30 AM - 7:00 PM
: Everyday 10:30 AM - 7:00 PM
: Everyday 10:30 AM - 7:00 PM
: Everyday 10:30 AM - 7:00 PM
: Everyday 10:30 AM - 7:00 PM
: Everyday 10:30 AM - 7:00 PM
: Everyday 10:30 AM - 7:00 PM
: Everyday 10:30 AM - 7:00 PM
: Everyday 10:30 AM - 7:00 PM

: Everyday 10:00 AM - 7:00 PM
: Everyday 10:00 AM - 7:00 PM
: Everyday 10:00 AM - 7:00 PM
: Everyday 10:00 AM - 7:00 PM
: Everyday 10:00 AM - 7:00 PM
: Everyday 10:00 AM - 7:00 PM
: Everyday 10:00 AM - 7:00 PM
: Everyday 10:00 AM - 7:00 PM
: Everyday 10:00 AM - 7:00 PM
: Everyday 10:00 AM - 7:00 PM
: Everyday 10:00 AM - 7:00 PM
: Everyday 10:00 AM - 7:00 PM

: Everyday 9:00 AM - 3:00 PM
: Everyday 9:00 AM - 3:00 PM
: Everyday 9:00 AM - 3:00 PM
: Everyday 9:00 AM - 3:00 PM
: Everyday 9:00 AM - 3:00 PM
: Everyday 9:00 AM - 3:00 PM
: Everyday 9:00 AM - 3:00 PM
: Everyday 9:00 AM - 3:00 PM
: Everyday 9:00 AM - 3:00 PM
: Everyday 9:00 AM - 3:00 PM
: Everyday 9:00 AM - 3:00 PM
: Everyday 9:00 AM - 3:00 PM

: Everyday 24 Hrs
: Everyday 24 Hrs
: Everyday 24 Hrs
: Everyday 24 Hrs
: Everyday 24 Hrs
: Everyday 24 Hrs
: Everyday 24 Hrs
: Everyday 24 Hrs
: Everyday 24 Hrs
: Everyday 24 Hrs
: Everyday 24 Hrs
: Everyday 24 Hrs

: Everyday 10:00 AM - 6:00 PM
: Everyday 10:00 AM - 6:00 PM
: Everyday 10:00 AM - 6:00 PM
: Everyday 10:00 AM - 6:00 PM
: Everyday 10:00 AM - 6:00 PM
: Everyday 10:00 AM - 6:00 PM
: Everyday 10:00 AM - 6:00 PM
: Everyday 10:00 AM - 6:00 PM
: Everyday 10:00 AM - 6:00 PM
: Everyday 10:00 AM - 5:00 PM
: Everyday 10:00 AM - 5:00 PM

: Everyday 1:00 PM - 6:00 PM
: Everyday 1:00 PM - 6:00 PM
: Everyday 1:00 PM - 6:00 PM
: Everyday 1:00 PM - 6:00 PM
: Everyday 1:00 PM - 6:00 PM
: Everyday 1:00 PM - 6:00 PM
: Everyday 1:00 PM - 6:00 PM
: Everyday 1:00 PM - 6:00 PM
: Everyday 1:00 PM - 6:00 PM
: Everyday 1:00 PM - 6:00 PM
: Everyday 1:00 PM - 6:00 PM
: Everyday 1:00 PM - 6:00 PM

: Everyday 10:00 AM - 6:00 PM
: Everyday 10:00 AM - 6:00 PM
: Everyday 10:00 AM - 6:00 PM
: Everyday 10:00 AM - 6:00 PM
: Everyday 10:00 AM - 6:00 PM
: Everyday 10:00 AM - 6:00 PM
: Everyday 10:00 AM - 6:00 PM
: Everyday 10:00 AM - 6:00 PM
: Everyday 10:00 AM - 6:00 PM
: Everyday 10:00 AM - 6:00 PM
: Everyday 10:00 AM - 6:00 PM
: Everyday 10:00 AM - 6:00 PM

: Everyday 9:00 AM - 6:00 PM; Everyday 9:00 AM - 6:00 PM | 2:00 PM - 6:00 PM
: Everyday 9:00 AM - 6:00 PM; Everyday 9:00 AM - 6:00 PM | 2:00 PM - 6:00 PM
: Everyday 9:00 AM - 6:00 PM; Everyday 9:00 AM - 6:00 PM | 2:00 PM - 6:00 PM
: Everyday 9:00 AM - 6:00 PM; Everyday 9:00 AM - 6:00 PM | 2:00 PM - 6:00 PM
: Everyday 9:00 AM - 6:00 PM; Everyday 9:00 AM - 6:00 PM | 2:00 PM - 6:00 PM
: Everyday 9:00 AM - 6:00 PM; Everyday 9:00 AM - 6:00 PM | 2:00 PM - 6:00 PM
: Everyday 9:00 AM - 6:00 PM; Everyday 9:00 AM - 6:00 PM | 2:00 PM - 6:00 PM
: Everyday 9:00 AM - 6:00 PM; Everyday 9:00 AM - 6:00 PM | 2:00 PM - 6:00 PM
: Everyday 9:00 AM - 6:00 PM; Everyday 9:00 AM - 6:00 PM | 2:00 PM - 6:00 PM
: Everyday 9:00 AM - 6:00 PM; Everyday 9:00 AM - 6:00 PM | 2:00 PM - 6:00 PM
: Everyday 9:00 AM - 6:00 PM; Everyday 9:00 AM - 6:00 PM | 2:00 PM - 6:00 PM
: Everyday 9:00 AM - 6:00 PM; Everyday 9:00 AM - 6:00 PM | 2:00 PM - 6:00 PM

: Everyday 24 Hrs
: Everyday 24 Hrs
: Everyday 24 Hrs
: Everyday 24 Hrs
: Everyday 24 Hrs
: Everyday 24 Hrs
: Everyday 24 Hrs
: Everyday 24 Hrs
: Everyday 24 Hrs
: Everyday 24 Hrs
: Everyday 24 Hrs
: Everyday 24 Hrs

: Tuesday to Saturday 9:30 AM - 1:00 PM; Tuesday to Saturday 9:30 AM - 1:00 PM | 2:00 PM - 7:00 PM
: Tuesday to Saturday 9:30 AM - 1:00 PM; Tuesday to Saturday 9:30 AM - 1:00 PM | 2:00 PM - 7:00 PM
: Tuesday to Saturday 9:30 AM - 1:00 PM; Tuesday to Saturday 9:30 AM - 1:00 PM | 2:00 PM - 7:00 PM
: Tuesday to Saturday 9:30 AM - 1:00 PM; Tuesday to Saturday 9:30 AM - 1:00 PM | 2:00 PM - 7:00 PM
: Tuesday to Saturday 9:30 AM - 1:00 PM; Tuesday to Saturday 9:30 AM - 1:00 PM | 2:00 PM - 7:00 PM
: Tuesday to Saturday 9:30 AM - 1:00 PM; Tuesday to Saturday 9:30 AM - 1:00 PM | 2:00 PM - 7:00 PM
: Tuesday to Saturday 9:30 AM - 1:00 PM; Tuesday to Saturday 9:30 AM - 1:00 PM | 2:00 PM - 7:00 PM
: Tuesday to Saturday 9:30 AM - 1:00 PM; Tuesday to Saturday 9:30 AM - 1:00 PM | 2:00 PM - 7:00 PM
: Tuesday to Saturday 9:30 AM - 1:00 PM; Tuesday to Saturday 9:30 AM - 1:00 PM | 2:00 PM - 7:00 PM
: Tuesday to Saturday 9:30 AM - 1:00 PM; Tuesday to Saturday 9:30 AM - 1:00 PM | 2:00 PM - 7:00 PM
: Tuesday to Saturday 9:30 AM - 1:00 PM; Tuesday to Saturday 9:30 AM - 1:00 PM | 2:00 PM - 7:00 PM
: Tuesday to Saturday 9:30 AM - 1:00 PM; Tuesday to Saturday 9:30 AM - 1:00 PM | 2:00 PM - 7:00 PM

: Monday to Friday 9:00 AM - 5:00 PM
: Monday to Friday 9:00 AM - 5:00 PM
: Monday to Friday 9:00 AM - 5:00 PM
: Monday to Friday 9:00 AM - 5:00 PM
: Monday to Friday 9:00 AM - 5:00 PM
: Monday to Friday 9:00 AM - 5:00 PM
: Monday to Friday 9:00 AM - 5:00 PM
: Monday to Friday 9:00 AM - 5:00 PM
: Monday to Friday 9:00 AM - 5:00 PM
: Monday to Friday 9:00 AM - 5:00 PM
: Monday to Friday 9:00 AM - 5:00 PM
: Monday to Friday 9:00 AM - 5:00 PM

: Tuesday to Saturday 9:00 AM - 2:30 PM; Tuesday to Saturday 9:00 AM - 2:30 PM | 6:00 PM - 11:00 PM
: Tuesday to Saturday 9:00 AM - 2:30 PM; Tuesday to Saturday 9:00 AM - 2:30 PM | 6:00 PM - 11:00 PM
: Tuesday to Saturday 9:00 AM - 2:30 PM; Tuesday to Saturday 9:00 AM - 2:30 PM | 6:00 PM - 11:00 PM
: Tuesday to Saturday 9:00 AM - 2:30 PM; Tuesday to Saturday 9:00 AM - 2:30 PM | 6:00 PM - 11:00 PM
: Tuesday to Saturday 9:00 AM - 2:30 PM; Tuesday to Saturday 9:00 AM - 2:30 PM | 6:00 PM - 11:00 PM
: Tuesday to Saturday 9:00 AM - 2:30 PM; Tuesday to Saturday 9:00 AM - 2:30 PM | 6:00 PM - 11:00 PM
: Tuesday to Saturday 9:00 AM - 2:30 PM; Tuesday to Saturday 9:00 AM - 2:30 PM | 6:00 PM - 11:00 PM
: Tuesday to Saturday 9:00 AM - 2:30 PM; Tuesday to Saturday 9:00 AM - 2:30 PM | 6:00 PM - 11:00 PM
: Tuesday to Saturday 9:00 AM - 2:30 PM; Tuesday to Saturday 9:00 AM - 2:30 PM | 6:00 PM - 11:00 PM
: Tuesday to Saturday 9:00 AM - 2:30 PM; Tuesday to Saturday 9:00 AM - 2:30 PM | 6:00 PM - 11:00 PM
: Tuesday to Saturday 9:00 AM - 2:30 PM; Tuesday to Saturday 9:00 AM - 2:30 PM | 6:00 PM - 11:00 PM
: Tuesday to Saturday 9:00 AM - 2:30 PM; Tuesday to Saturday 9:00 AM - 2:30 PM | 6:00 PM - 11:00 PM

: Everyday 8:00 AM - 8:00 PM
: Everyday 8:00 AM - 8:00 PM
: Everyday 8:00 AM - 8:00 PM
: Everyday 8:00 AM - 8:00 PM
: Everyday 8:00 AM - 8:00 PM
: Everyday 8:00 AM - 8:00 PM
: Everyday 8:00 AM - 8:00 PM
: Everyday 8:00 AM - 8:00 PM
: Everyday 8:00 AM - 8:00 PM
: Everyday 8:00 AM - 8:00 PM
: Everyday 8:00 AM - 8:00 PM
: Everyday 8:00 AM - 8:00 PM

: Everyday 7:30 AM - 8:00 PM
: Everyday 7:30 AM - 8:00 PM
: Everyday 7:30 AM - 8:00 PM
: Everyday 7:30 AM - 8:00 PM
: Everyday 7:30 AM - 8:00 PM
: Everyday 7:30 AM - 8:00 PM
: Everyday 7:30 AM - 8:00 PM
: Everyday 7:30 AM - 8:00 PM
: Everyday 7:30 AM - 8:00 PM
: Everyday 7:30 AM - 8:00 PM
: Everyday 7:30 AM - 8:00 PM
: Everyday 7:30 AM - 8:00 PM

: Everyday 7:30 AM - 11:59 PM
: Everyday 7:30 AM - 11:59 PM
: Everyday 7:30 AM - 11:59 PM
: Everyday 7:30 AM - 11:59 PM
: Everyday 7:30 AM - 11:59 PM
: Everyday 7:30 AM - 11:59 PM
: Everyday 7:30 AM - 11:59 PM
: Everyday 7:30 AM - 11:59 PM
: Everyday 7:30 AM - 11:59 PM
: Everyday 7:30 AM - 11:59 PM
: Everyday 7:30 AM - 11:59 PM
: Everyday 7:30 AM - 11:59 PM

: Everyday 00:1 AM - :15 AM; Everyday 00:1 AM - :15 AM | 5:15 AM - 11:59 PM
: Everyday 00:1 AM - :15 AM; Everyday 00:1 AM - :15 AM | 5:15 AM - 11:59 PM
: Everyday 00:1 AM - :15 AM; Everyday 00:1 AM - :15 AM | 5:15 AM - 11:59 PM
: Everyday 00:1 AM - :15 AM; Everyday 00:1 AM - :15 AM | 5:15 AM - 11:59 PM
: Everyday 00:1 AM - :15 AM; Everyday 00:1 AM - :15 AM | 5:15 AM - 11:59 PM
: Everyday 00:1 AM - :15 AM; Everyday 00:1 AM - :15 AM | 5:15 AM - 11:59 PM
: Everyday 00:1 AM - :15 AM; Everyday 00:1 AM - :15 AM | 5:15 AM - 11:59 PM
: Everyday 00:1 AM - :15 AM; Everyday 00:1 AM - :15 AM | 5:15 AM - 11:59 PM
: Everyday 00:1 AM - :15 AM; Everyday 00:1 AM - :15 AM | 5:15 AM - 11:59 PM
: Everyday 00:1 AM - :15 AM; Everyday 00:1 AM - :15 AM | 5:15 AM - 11:59 PM
: Everyday 00:1 AM - :15 AM; Everyday 00:1 AM - :15 AM | 5:15 AM - 11:59 PM
: Everyday 00:1 AM - :15 AM; Everyday 00:1 AM - :15 AM | 5:15 AM - 11:59 PM

: Tuesday to Saturday 11:30 AM - 3:00 PM; Tuesday to Saturday 11:30 AM - 3:00 PM | 6:30 PM - 11:00 PM
: Tuesday to Saturday 11:30 AM - 3:00 PM; Tuesday to Saturday 11:30 AM - 3:00 PM | 6:30 PM - 11:00 PM
: Tuesday to Saturday 11:30 AM - 3:00 PM; Tuesday to Saturday 11:30 AM - 3:00 PM | 6:30 PM - 11:00 PM
: Tuesday to Saturday 11:30 AM - 3:00 PM; Tuesday to Saturday 11:30 AM - 3:00 PM | 6:30 PM - 11:00 PM
: Tuesday to Saturday 11:30 AM - 3:00 PM; Tuesday to Saturday 11:30 AM - 3:00 PM | 6:30 PM - 11:00 PM
: Tuesday to Saturday 11:30 AM - 3:00 PM; Tuesday to Saturday 11:30 AM - 3:00 PM | 6:30 PM - 11:00 PM
: Tuesday to Saturday 11:30 AM - 3:00 PM; Tuesday to Saturday 11:30 AM - 3:00 PM | 6:30 PM - 11:00 PM
: Tuesday to Saturday 11:30 AM - 3:00 PM; Tuesday to Saturday 11:30 AM - 3:00 PM | 6:30 PM - 11:00 PM
: Tuesday to Saturday 11:30 AM - 3:00 PM; Tuesday to Saturday 11:30 AM - 3:00 PM | 6:30 PM - 11:00 PM
: Tuesday to Saturday 11:30 AM - 3:00 PM; Tuesday to Saturday 11:30 AM - 3:00 PM | 6:30 PM - 11:00 PM
: Tuesday to Saturday 11:30 AM - 3:00 PM; Tuesday to Saturday 11:30 AM - 3:00 PM | 6:30 PM - 11:00 PM
: Tuesday to Saturday 11:30 AM - 3:00 PM; Tuesday to Saturday 11:30 AM - 3:00 PM | 6:30 PM - 11:00 PM

: Monday, Wednesday 9:15 AM - 4:45 PM; Tuesday, Thursday, Friday 9:15 AM - 6:00 PM; Saturday 10:00 AM - 6:00 PM; Sunday 10:00 AM - 3:00 PM
: Monday, Wednesday 9:15 AM - 4:45 PM; Tuesday, Thursday, Friday 9:15 AM - 6:00 PM; Saturday 10:00 AM - 6:00 PM; Sunday 10:00 AM - 3:00 PM
: Monday, Wednesday 9:15 AM - 4:45 PM; Tuesday, Thursday, Friday 9:15 AM - 6:00 PM; Saturday 10:00 AM - 6:00 PM; Sunday 10:00 AM - 3:00 PM
: Monday, Wednesday 9:15 AM - 4:45 PM; Tuesday, Thursday, Friday 9:15 AM - 6:00 PM; Saturday 10:00 AM - 6:00 PM; Sunday 10:00 AM - 3:00 PM
: Monday, Wednesday 9:15 AM - 4:45 PM; Tuesday, Thursday, Friday 9:15 AM - 6:00 PM; Saturday 10:00 AM - 6:00 PM; Sunday 10:00 AM - 3:00 PM
: Monday, Wednesday 9:15 AM - 4:45 PM; Tuesday, Thursday, Friday 9:15 AM - 6:00 PM; Saturday 10:00 AM - 6:00 PM; Sunday 10:00 AM - 3:00 PM
: Monday, Wednesday 9:15 AM - 4:45 PM; Tuesday, Thursday, Friday 9:15 AM - 6:00 PM; Saturday 10:00 AM - 6:00 PM; Sunday 10:00 AM - 3:00 PM
: Monday, Wednesday 9:15 AM - 4:45 PM; Tuesday, Thursday, Friday 9:15 AM - 6:00 PM; Saturday 10:00 AM - 6:00 PM; Sunday 10:00 AM - 3:00 PM
: Monday, Wednesday 9:15 AM - 4:45 PM; Tuesday, Thursday, Friday 9:15 AM - 6:00 PM; Saturday 10:00 AM - 6:00 PM; Sunday 10:00 AM - 3:00 PM
: Monday, Wednesday 9:15 AM - 4:45 PM; Tuesday, Thursday, Friday 9:15 AM - 6:00 PM; Saturday 10:00 AM - 6:00 PM; Sunday 10:00 AM - 3:00 PM
: Monday, Wednesday 9:15 AM - 4:45 PM; Tuesday, Thursday, Friday 9:15 AM - 6:00 PM; Saturday 10:00 AM - 6:00 PM; Sunday 10:00 AM - 3:00 PM
: Monday, Wednesday 9:15 AM - 4:45 PM; Tuesday, Thursday, Friday 9:15 AM - 6:00 PM; Saturday 10:00 AM - 6:00 PM; Sunday 10:00 AM - 3:00 PM

: Everyday 24 Hrs
: Everyday 24 Hrs
: Everyday 24 Hrs
: Everyday 24 Hrs
: Everyday 24 Hrs
: Everyday 24 Hrs
: Everyday 24 Hrs
: Everyday 24 Hrs
: Everyday 24 Hrs
: Everyday 24 Hrs
: Everyday 24 Hrs
: Everyday 24 Hrs

: Monday to Saturday :00 AM - 2:30 PM; Monday to Saturday :00 AM - 2:30 PM | 7:00 PM - 10:30 PM
: Monday to Saturday :00 AM - 2:30 PM; Monday to Saturday :00 AM - 2:30 PM | 7:00 PM - 10:30 PM
: Monday to Saturday :00 AM - 2:30 PM; Monday to Saturday :00 AM - 2:30 PM | 7:00 PM - 10:30 PM
: Monday to Saturday :00 AM - 2:30 PM; Monday to Saturday :00 AM - 2:30 PM | 7:00 PM - 10:30 PM
: Monday to Saturday :00 AM - 2:30 PM; Monday to Saturday :00 AM - 2:30 PM | 7:00 PM - 10:30 PM
: Monday to Saturday :00 AM - 2:30 PM; Monday to Saturday :00 AM - 2:30 PM | 7:00 PM - 10:30 PM
: Monday to Saturday :00 AM - 2:30 PM; Monday to Saturday :00 AM - 2:30 PM | 7:00 PM - 10:30 PM
: Monday to Saturday :00 AM - 2:30 PM; Monday to Saturday :00 AM - 2:30 PM | 7:00 PM - 10:30 PM
: Monday to Saturday :00 AM - 2:30 PM; Monday to Saturday :00 AM - 2:30 PM | 7:00 PM - 10:30 PM
: Monday to Saturday :00 AM - 2:30 PM; Monday to Saturday :00 AM - 2:30 PM | 7:00 PM - 10:30 PM
: Monday to Saturday :00 AM - 2:30 PM; Monday to Saturday :00 AM - 2:30 PM | 7:00 PM - 10:30 PM
: Monday to Saturday :00 AM - 2:30 PM; Monday to Saturday :00 AM - 2:30 PM | 7:00 PM - 10:30 PM