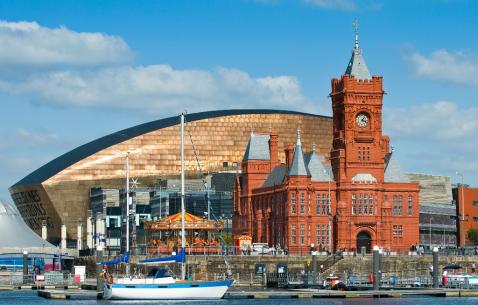 "And above all, watch with glittering eyes the whole world around you because the greatest secrets are always hidden in the most unlikely places." said Roald Dahl, most likely with his home city in mind. With fields of luscious green, crystal clear water and a menagerie of stories and secrets, Cardiff tours are incomparable. Once known mainly as a market city, it has transformed into a travelers dream with all kinds of beautiful castles, gardens and exhibitions to take in. It's also a great place to immerse yourself in Welsh history and culture, with local handicrafts and cuisine being as widely available as top commercial brand names.
Come visit Cardiff, the 'City of Castles', home of Doctor Who and one of the world's greatest ports and enjoy your time by the sea. Feast on local delicacies while the bustling city transitions before your eyes from dawn to dusk before your eyes.
The Romans created a fort on the River Taff and this fort grew into the great Cardiff Castle that stands today and the area has been inhabited since then. In the 15th century, the town was destroyed, thus hampering its growth until the industrial revolution, which was the turning point in the city's history. The Marquess's of Bute were responsible for much of the city's development, with different members of the family contributing in different areas. The second Marquess built a canal which facilitated exporting coal from Welsh's valleys to the rest of the world. The third Marquess was known for his architectural patronage, leaving behind the stunning Cardiff Castle and the equally lovely Castel Coch. In 1901, Cardiff was the third largest port in the British Empire, resulting in it finally being granted city status and it became the capital of Wales in 1955.
Cardiff is currently the country's largest city, and the 9th largest in the U.K. It's the city's top most commercial centre, thanks to its export – not to mention Cardiff's fame a tourism hotspot. With more and more people becoming aware of their Welsh heritage, interest in visiting the country has gone up. Cardiff travel, with its central location, efficient local transportation system, natural beauty and a host of promenades, shopping complexes and multi-cuisine restaurants, is the perfect destination for those who wish to explore Wales.
Most of the country's national sporting and cultural institutions have made their home here such as the Cardiff International Sports Village and the BBC Drama Village. The Millennium Centre hosts top class sporting events and concerts, which get broadcasted internationally. It's also the seat of the National Assembly of Wales and a host of other politically important buildings. Cardiff is also home to numerous natural conservation areas, making its parks important sites for Wales' natural flora and fauna. On top of all this, this is where the TV phenomenon 'Doctor Who' is filmed, along with numerous other television shows and movies.
The city has something for everyone, from enormous green parks filled with natural wonders to man-made seaside promenades with all the latest brands.
You can take in some of the architectural splendour of Cardiff by viewing the graceful Cardiff Castle, Castell Coch, and numerous other Victorian era beauties. Llandaff Cathedral is one of the oldest religious sites in Europe and once was the center of the ancient town of Llandaff. These buildings are a mix of architectural designs and styles and each has a story of its own, spanning hundreds of years of existence. St. Fagan's National History Museum is a large, open air museum filled with buildings from different locations of Wales, all from different eras. From the time of the Romans to present day, visiting the ancient structures of the city will tell you more about its past.
There are numerous museums, galleries and exhibitions that showcase the many stories behind this town. Besides St. Fagans, there's the National Museum of Cardiff, which has an excellent collection of paintings, archaeological finds and other exhibits. The Cardiff Story elaborates upon the growth of Cardiff in particular. Then there's Techniquest, a high energy, interactive science museum which hosts all kinds of programs, shows and experiments in order to generate a wider love and appreciation for the scientific world.
The athletically inclined will feel right at home here, with many parts of the city solely for cyclists and pedestrians. The Cardiff Bay has a wealth of water sports and cycle shops, from diving and swimming to sailing and boat tours. Go cycling down the Bay Barrage, grab a rugby match at the Millennium Centre or hike up Mount Caerphilly. You can even play a few rounds of paintball at the brilliant Delta Force Paintball arena.
If you're a nature lover, then out of everyone, you might just enjoy Cardiff the most! With Bute Park, Roath Park and other gorgeous nature reserves within its boundaries, the city has many priceless samples of the flora and fauna that is native to Wales. There's also Flat Holm Island and the Cardiff Bay Wetlands Reserve which will show you different terrain and the plants and animals that solely exist upon it.
If you'd like a good pampering, then the sea-side resort of Penarth will satiate you, as will the many salons and parlours on the Bay. Fancy outdoor gastro-pubs and al fresco restaurants are a favourite during the day, since you can dine and wine while watching the sea. Mermaid Quay is another area full of fine dining restaurants and all kinds of luxuries. For those who'd like to cut costs, there are numerous good quality restaurants and bars, as well as the fact that many of the city's most fascinating attractions are free of cost!
Cardiff is a multi faceted city, with its ancient history that contrasts with the thriving, modern metropolis that is it today. Green and beautiful, it's a natural wonderland and with its upcoming entertainment industry, it's soon to be an exceedingly popular city with visitors from all over the world. There's wholesome, family fun to be found, as well as more daring and adventurous activities more suited for smaller groups and regardless of what kind of experience you're looking for, Cardiff probably has it.
Essential travel information and Cardiff tips for your visit
Watch a rugby match at the Millennium Stadium.
Look out for the 2014 'Hay Festival', a book fair that plans to hold festivities in the city this year.
If you're driving a car or cycling, be careful of the pedestrians as Cardiff is a mostly pedestrian friendly city.
Avail the city's local transportation like the Water Bus. They are efficient have their own websites, from where you can plan your entire journey.
The best tours and activities in the city, guided by experts to give you a local insight to the best of Cardiff