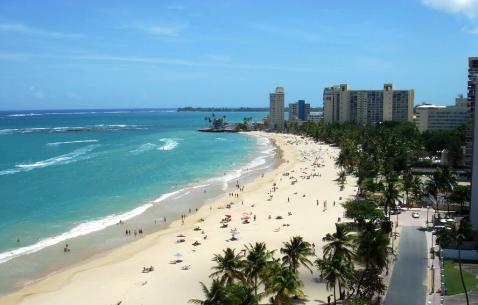 Vacation planners might find it hard to make a rigid Carolina itinerary, but the spontaneity part of the charm of the place.
Was there a giant race of humans before us? Could there been a giant race existing here on earth solving conflicts and problems with a duel? Fortunately this is fiction and not fact. Carolina, is Puerto Rico's fourth largest city and was known as the Land of Giants and Arm hackers. Carolina got this name due to Don Felipe Birriel Gonzalez, a man who stood seven feet eleven inches tall.
Carolina is also home to several giants, honourable people like poet Julia De Burgos and most notably the first Latin American player Roberto Clemente. This is home to Jesus T Pinero, the first Puerto Rican to be appointed as governor by the U.S government. Situated on the north of San Juan, this Atlantic City is a favoured tourist destination. It was known as Trujillo Bajo, but then got changed by Don Gasper Martinez to Carolina in honour of his daughter Carolina de San Juan.
It was once an important centre for sugar production. Today, Carolina is Puerto Rico's fourth largest city and is dubbed the Industrial Capital of Puerto Rico for its concentration of factories. Carolina lies on the Atlantic Coast and is one of Puerto Rico's most important tourist centres. Luis Munoz Marin International Airport, while incorrectly thought to be in San Juan, it is actually located in Isla Verde, which is geographically part of Carolina. Also located in Carolina are a large group of hotels, which sit by Carolina's large beach area.
Carolina is the home of Plaza Carolina, one of Puerto Rico's largest shopping malls. Executive Airlines, an aircraft ground handling company and subsidiary of American Airlines, is headquartered on the grounds of Luis Munoz Marin International Airport in Carolina. Carolina has manufacturing industries which deal with pharmaceutical, medical equipment and chemical products.
In recent years, Carolina has seen the building of the Ciudad Deportiva Roberto Clemente or Roberto Clemente Sports City, a sports and recreation facility that aims to become a youth sports school, and the Roberto Clemente Stadium, host to many entertainment events and to the 2003 and 2007 Caribbean World Series. There are many cultural events running throughout the year, mostly local and few international ones of great repute.
The attractions in Carolina draw a large number of tourists every year. Tourist information is usually easy to find - the locals are known for their hospitality and care. The guides in all the tours are bilingual. The Carolina Beach is a Blue Flag Beach, and the most popular tourist attraction around, which means the water is pristine and the beach is immaculate. All the hotels in Carolina have access to water sports and it's very diverse. It's an excellent place for outdoorsy vacations - Surfing, Scuba Diving, Waterboarding, Kite boarding are extreme adventure sports and there are many tours available according to your interests. Fishing and deep sea diving is another attraction and Zip lines, Tension bridges, Rope work and Rappelling have now become thrilling sports and a rage throughout the world. Caves exploration in Carolina is another thing to do you can enjoy and the eco tours give you a good idea on how the locals are so proud of their heritage and are so eco-friendly.
Nightlife in Carolina is electrifying – consult local a local travel guide for the best tips. Mega beach parties, reggae raves, casinos, bars and discotheques go wild at night. But the humans are not only the nocturnal creature here Coqui is the common name for several species of small frogs endemic to Carolina. They are named for the very loud mating call which the males of two species, the common coqui and the mountain coqui, make at night. The coqui is one of the most common frogs in Puerto Rico with more than 16 different species found within its territory.
The local culture and cuisine is spread out throughout Carolina the locals are always in a festive mood, very welcoming and very colourful.
Essential travel information and Carolina tips for your visit
Depending on which tour you take, be appropriately dressed. If it is zip lining, climbing or riding an ATV, which is an all-terrain vehicle, wear long pants or long shorts, and close toe shoes.
If you are at the beach wear plenty of sunscreen and re-apply often. It is safe to wear flip flops since the beaches are sandy and rock free.
Drink plenty of water to keep yourself hydrated.
Carry your camera, wear sunglasses and carry a hat during the day.
Carry a copy of your identification and vouchers if you have booked online.
The locals are very laid back, so don't be in a rush, just relax and take your time, since they are not rushing you.
Some of the bars and casinos expect formal dressing, so find out details before you visit these places.
Carry your credit/debit cards since they accept all international cards.
Follow all the safety instructions given to you at the touring camps and feel free to ask any questions to the guides.
Carolina Trip Planner
Plan your customized day by day trip plan for Carolina. Choose from various experinces categories as adventure, romantic and family and kids friendly for your trip using using Carolina trip planner.