Best Time To Visit Changchun
Explore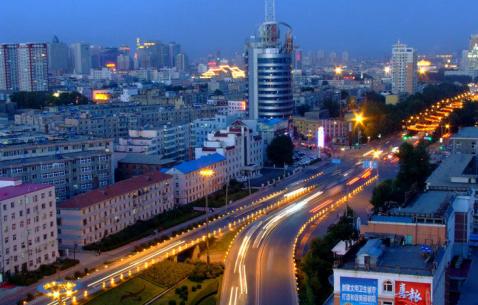 Best Time To Go To Changchun
Changchun has a humid continental type of climate that is largely influenced by the monsoons.
Summer (May - September): The weather during summers is humid with average highs of 20 °C.
Winter (November - February): Daily high temperatures average at around -3 °C and lows have been knows to reach below -20 °C. Even with such freezing temperatures, there is little snow.
Spring (March - April): Spring season is usually dry and windy; temperatures during the day average at around 10 °C and at night can reach below 2 °C.
Autumn (September - November): You can expect low precipitation during autumn. Average temperatures are 18 °C during the day and around 5 °C at night.
The best time to visit Changchun would be right before the freezing winters during the fall season when the weather is comfortable.
Best time to go to Changchun Attractions

: Everyday 9:00 AM - 2:00 PM
: Everyday 9:00 AM - 2:00 PM
: Everyday 9:00 AM - 2:00 PM
: Everyday 9:00 AM - 2:00 PM
: Everyday 9:00 AM - 2:00 PM
: Everyday 9:00 AM - 2:00 PM
: Everyday 9:00 AM - 2:00 PM
: Everyday 9:00 AM - 2:00 PM
: Everyday 9:00 AM - 2:00 PM
: Everyday 9:00 AM - 2:00 PM
: Everyday 9:00 AM - 2:00 PM
: Everyday 9:00 AM - 2:00 PM

: Everyday 8:30 AM - 3:00 PM
: Everyday 8:30 AM - 3:00 PM
: Everyday 8:30 AM - 3:00 PM
: Everyday 8:30 AM - 3:00 PM
: Everyday 8:30 AM - 3:00 PM
: Everyday 8:30 AM - 3:00 PM
: Everyday 8:30 AM - 3:00 PM
: Everyday 8:30 AM - 3:00 PM
: Everyday 8:30 AM - 3:00 PM
: Everyday 8:30 AM - 3:00 PM
: Everyday 8:30 AM - 3:00 PM
: Everyday 8:30 AM - 3:00 PM

: Everyday 8:00 AM - 3:00 PM
: Everyday 8:00 AM - 3:00 PM
: Everyday 8:00 AM - 3:00 PM
: Everyday 8:00 AM - 3:00 PM
: Everyday 8:00 AM - 3:00 PM
: Everyday 8:00 AM - 3:00 PM
: Everyday 8:00 AM - 3:00 PM
: Everyday 8:00 AM - 3:00 PM
: Everyday 8:00 AM - 3:00 PM
: Everyday 8:00 AM - 3:00 PM
: Everyday 8:00 AM - 3:00 PM
: Everyday 8:00 AM - 3:00 PM

: Everyday 7:00 AM - 6:00 PM
: Everyday 7:00 AM - 6:00 PM
: Everyday 7:00 AM - 6:00 PM
: Everyday 7:00 AM - 6:00 PM
: Everyday 7:00 AM - 6:00 PM
: Everyday 7:00 AM - 6:00 PM
: Everyday 7:00 AM - 6:00 PM
: Everyday 7:00 AM - 6:00 PM
: Everyday 7:00 AM - 6:00 PM
: Everyday 7:00 AM - 6:00 PM
: Everyday 7:00 AM - 6:00 PM
: Everyday 7:00 AM - 6:00 PM

: Everyday 8:00 AM - 5:00 PM
: Everyday 8:00 AM - 5:00 PM
: Everyday 8:00 AM - 5:00 PM
: Everyday 8:00 AM - 5:00 PM
: Everyday 8:00 AM - 5:00 PM
: Everyday 8:00 AM - 5:00 PM
: Everyday 8:00 AM - 5:00 PM
: Everyday 8:00 AM - 5:00 PM
: Everyday 8:00 AM - 5:00 PM
: Everyday 8:00 AM - 5:00 PM
: Everyday 8:00 AM - 5:00 PM
: Everyday 8:00 AM - 5:00 PM

: Everyday 7:30 AM - 3:00 PM
: Everyday 7:30 AM - 3:00 PM
: Everyday 7:30 AM - 3:00 PM
: Everyday 7:30 AM - 3:00 PM
: Everyday 7:30 AM - 3:00 PM
: Everyday 7:30 AM - 3:00 PM
: Everyday 7:30 AM - 3:00 PM
: Everyday 7:30 AM - 3:00 PM
: Everyday 7:30 AM - 3:00 PM
: Everyday 7:30 AM - 3:00 PM
: Everyday 7:30 AM - 3:00 PM
: Everyday 7:30 AM - 3:00 PM

: Everyday 8:30 AM - 3:00 PM
: Everyday 8:30 AM - 3:00 PM
: Everyday 8:30 AM - 3:00 PM
: Everyday 8:30 AM - 3:00 PM
: Everyday 8:30 AM - 3:00 PM
: Everyday 8:30 AM - 3:00 PM
: Everyday 8:30 AM - 3:00 PM
: Everyday 8:30 AM - 3:00 PM
: Everyday 8:30 AM - 3:00 PM
: Everyday 8:30 AM - 3:00 PM
: Everyday 8:30 AM - 3:00 PM
: Everyday 8:30 AM - 3:00 PM

: Everyday 8:00 AM - 4:00 PM
: Everyday 8:00 AM - 4:00 PM
: Everyday 8:00 AM - 4:00 PM
: Everyday 8:00 AM - 4:00 PM
: Everyday 8:00 AM - 4:00 PM
: Everyday 8:00 AM - 4:00 PM
: Everyday 8:00 AM - 4:00 PM
: Everyday 8:00 AM - 4:00 PM
: Everyday 8:00 AM - 4:00 PM
: Everyday 8:00 AM - 4:00 PM
: Everyday 8:00 AM - 4:00 PM
: Everyday 8:00 AM - 4:00 PM

: Everyday 9:00 AM - 2:00 PM
: Everyday 9:00 AM - 2:00 PM
: Everyday 9:00 AM - 2:00 PM
: Everyday 9:00 AM - 2:00 PM
: Everyday 9:00 AM - 2:00 PM
: Everyday 9:00 AM - 2:00 PM
: Everyday 9:00 AM - 2:00 PM
: Everyday 9:00 AM - 2:00 PM
: Everyday 9:00 AM - 2:00 PM
: Everyday 9:00 AM - 2:00 PM
: Everyday 9:00 AM - 2:00 PM
: Everyday 9:00 AM - 2:00 PM

: Everyday 8:00 AM - 2:00 PM
: Everyday 8:00 AM - 2:00 PM
: Everyday 8:00 AM - 2:00 PM
: Everyday 8:00 AM - 2:00 PM
: Everyday 8:00 AM - 2:00 PM
: Everyday 8:00 AM - 2:00 PM
: Everyday 8:00 AM - 2:00 PM
: Everyday 8:00 AM - 2:00 PM
: Everyday 8:00 AM - 2:00 PM
: Everyday 8:00 AM - 2:00 PM
: Everyday 8:00 AM - 2:00 PM
: Everyday 8:00 AM - 2:00 PM