Best Time To Visit Changsha
Explore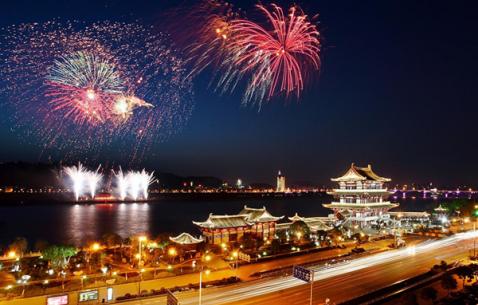 Best Time To Go To Changsha
Changsha is characterized by humid subtropical climate with four seasons.
Summer (June – September): Summers are very hot and humid. There can be heavy showers occasionally. The average temperature here is about 33°Celcius.
Winter (December – February): Though the temperature rarely falls below zero, winters are considerably cold and humid in Changsha.
Spring (March – May): There may be a transition in the weather from occasional heat to rainfall and humidity. Sometimes, the temperature might drop below 0°Celcius.
Autumn (October – November): Autumns are cool and comfortable. The weather is pleasant and dry with moderate temperatures.
The best time to visit Changsha is during autumn and winter, i.e. October through February.
Best time to go to Changsha Attractions

: Everyday 4:00 PM - 6:00 PM
: Everyday 4:00 PM - 6:00 PM
: Everyday 4:00 PM - 6:00 PM
: Everyday 4:00 PM - 6:00 PM
: Everyday 4:00 PM - 6:00 PM
: Everyday 4:00 PM - 6:00 PM
: Everyday 4:00 PM - 6:00 PM
: Everyday 4:00 PM - 6:00 PM
: Everyday 4:00 PM - 6:00 PM
: Everyday 4:00 PM - 6:00 PM
: Everyday 4:00 PM - 6:00 PM
: Everyday 4:00 PM - 6:00 PM

: Everyday 3:00 PM - 4:00 PM
: Everyday 3:00 PM - 4:00 PM
: Everyday 3:00 PM - 4:00 PM
: Everyday 3:00 PM - 4:00 PM
: Everyday 3:00 PM - 4:00 PM
: Everyday 3:00 PM - 4:00 PM
: Everyday 3:00 PM - 4:00 PM
: Everyday 3:00 PM - 4:00 PM
: Everyday 3:00 PM - 4:00 PM
: Everyday 3:00 PM - 4:00 PM
: Everyday 3:00 PM - 4:00 PM
: Everyday 3:00 PM - 4:00 PM

: Everyday 11:00 AM - 1:00 PM
: Everyday 11:00 AM - 1:00 PM
: Everyday 11:00 AM - 1:00 PM
: Everyday 11:00 AM - 1:00 PM
: Everyday 11:00 AM - 1:00 PM
: Everyday 11:00 AM - 1:00 PM
: Everyday 11:00 AM - 1:00 PM
: Everyday 11:00 AM - 1:00 PM
: Everyday 11:00 AM - 1:00 PM
: Everyday 11:00 AM - 1:00 PM
: Everyday 11:00 AM - 1:00 PM
: Everyday 11:00 AM - 1:00 PM

: Everyday 4:00 PM - 5:00 PM
: Everyday 4:00 PM - 5:00 PM
: Everyday 4:00 PM - 5:00 PM
: Everyday 4:00 PM - 5:00 PM
: Everyday 4:00 PM - 5:00 PM
: Everyday 4:00 PM - 5:00 PM
: Everyday 4:00 PM - 5:00 PM
: Everyday 4:00 PM - 5:00 PM
: Everyday 4:00 PM - 5:00 PM
: Everyday 4:00 PM - 5:00 PM
: Everyday 4:00 PM - 5:00 PM
: Everyday 4:00 PM - 5:00 PM

: Tuesday to Sunday 10:00 AM - 5:00 PM
: Tuesday to Sunday 10:00 AM - 5:00 PM
: Tuesday to Sunday 10:00 AM - 5:00 PM
: Tuesday to Sunday 10:00 AM - 5:00 PM
: Tuesday to Sunday 10:00 AM - 5:00 PM
: Tuesday to Sunday 10:00 AM - 5:00 PM
: Tuesday to Sunday 10:00 AM - 5:00 PM
: Tuesday to Sunday 10:00 AM - 5:00 PM
: Tuesday to Sunday 10:00 AM - 5:00 PM
: Tuesday to Sunday 10:00 AM - 5:00 PM
: Tuesday to Sunday 10:00 AM - 5:00 PM
: Tuesday to Sunday 10:00 AM - 5:00 PM

: Monday to Friday 6:30 PM - 7:30 PM; Saturday, Sunday 9:30 AM - 7:30 PM
: Monday to Friday 6:30 PM - 7:30 PM; Saturday, Sunday 9:30 AM - 7:30 PM
: Monday to Friday 6:30 PM - 7:30 PM; Saturday, Sunday 9:30 AM - 7:30 PM
: Monday to Friday 6:30 PM - 7:30 PM; Saturday, Sunday 9:30 AM - 7:30 PM
: Monday to Friday 6:30 PM - 7:30 PM; Saturday, Sunday 9:30 AM - 7:30 PM
: Monday to Friday 6:30 PM - 7:30 PM; Saturday, Sunday 9:30 AM - 7:30 PM
: Monday to Friday 6:30 PM - 7:30 PM; Saturday, Sunday 9:30 AM - 7:30 PM
: Monday to Friday 6:30 PM - 7:30 PM; Saturday, Sunday 9:30 AM - 7:30 PM
: Monday to Friday 6:30 PM - 7:30 PM; Saturday, Sunday 9:30 AM - 7:30 PM
: Monday to Friday 6:30 PM - 7:30 PM; Saturday, Sunday 9:30 AM - 7:30 PM
: Monday to Friday 6:30 PM - 7:30 PM; Saturday, Sunday 9:30 AM - 7:30 PM
: Monday to Friday 6:30 PM - 7:30 PM; Saturday, Sunday 9:30 AM - 7:30 PM

: Everyday 5:00 PM - 6:00 PM
: Everyday 5:00 PM - 6:00 PM
: Everyday 5:00 PM - 6:00 PM
: Everyday 5:00 PM - 6:00 PM
: Everyday 5:00 PM - 6:00 PM
: Everyday 5:00 PM - 6:00 PM
: Everyday 5:00 PM - 6:00 PM
: Everyday 5:00 PM - 6:00 PM
: Everyday 5:00 PM - 6:00 PM
: Everyday 5:00 PM - 6:00 PM
: Everyday 5:00 PM - 6:00 PM
: Everyday 5:00 PM - 6:00 PM

: Everyday 3:00 PM - 5:00 PM
: Everyday 3:00 PM - 5:00 PM
: Everyday 3:00 PM - 5:00 PM
: Everyday 3:00 PM - 5:00 PM
: Everyday 3:00 PM - 5:00 PM
: Everyday 3:00 PM - 5:00 PM
: Everyday 3:00 PM - 5:00 PM
: Everyday 3:00 PM - 5:00 PM
: Everyday 3:00 PM - 5:00 PM
: Everyday 3:00 PM - 5:00 PM
: Everyday 3:00 PM - 5:00 PM
: Everyday 3:00 PM - 5:00 PM

: Everyday 7:30 AM - 8:30 AM
: Everyday 7:30 AM - 8:30 AM
: Everyday 7:30 AM - 8:30 AM
: Everyday 7:30 AM - 8:30 AM
: Everyday 7:30 AM - 8:30 AM
: Everyday 7:30 AM - 8:30 AM
: Everyday 7:30 AM - 8:30 AM
: Everyday 7:30 AM - 8:30 AM
: Everyday 7:30 AM - 8:30 AM
: Everyday 7:30 AM - 8:30 AM
: Everyday 7:30 AM - 8:30 AM
: Everyday 7:30 AM - 8:30 AM

: Everyday 11:00 AM - 8:30 AM
: Everyday 11:00 AM - 8:30 AM
: Everyday 11:00 AM - 8:30 AM
: Everyday 11:00 AM - 8:30 AM
: Everyday 11:00 AM - 8:30 AM
: Everyday 11:00 AM - 8:30 AM
: Everyday 11:00 AM - 8:30 AM
: Everyday 11:00 AM - 8:30 AM
: Everyday 11:00 AM - 8:30 AM
: Everyday 11:00 AM - 8:30 AM
: Everyday 11:00 AM - 8:30 AM
: Everyday 11:00 AM - 8:30 AM

: Everyday 4:00 PM - 5:00 PM
: Everyday 4:00 PM - 5:00 PM
: Everyday 4:00 PM - 5:00 PM
: Everyday 4:00 PM - 5:00 PM
: Everyday 4:00 PM - 5:00 PM
: Everyday 4:00 PM - 5:00 PM
: Everyday 4:00 PM - 5:00 PM
: Everyday 4:00 PM - 5:00 PM
: Everyday 4:00 PM - 5:00 PM
: Everyday 4:00 PM - 5:00 PM
: Everyday 4:00 PM - 5:00 PM
: Everyday 4:00 PM - 5:00 PM

: Everyday 3:00 PM - 4:00 PM
: Everyday 3:00 PM - 4:00 PM
: Everyday 3:00 PM - 4:00 PM
: Everyday 3:00 PM - 4:00 PM
: Everyday 3:00 PM - 4:00 PM
: Everyday 3:00 PM - 4:00 PM
: Everyday 3:00 PM - 4:00 PM
: Everyday 3:00 PM - 4:00 PM
: Everyday 3:00 PM - 4:00 PM
: Everyday 3:00 PM - 4:00 PM
: Everyday 3:00 PM - 4:00 PM
: Everyday 3:00 PM - 4:00 PM

: Everyday 1:00 PM - 2:00 PM
: Everyday 1:00 PM - 2:00 PM
: Everyday 1:00 PM - 2:00 PM
: Everyday 1:00 PM - 2:00 PM
: Everyday 1:00 PM - 2:00 PM
: Everyday 1:00 PM - 2:00 PM
: Everyday 1:00 PM - 2:00 PM
: Everyday 1:00 PM - 2:00 PM
: Everyday 1:00 PM - 2:00 PM
: Everyday 1:00 PM - 2:00 PM
: Everyday 1:00 PM - 2:00 PM
: Everyday 1:00 PM - 2:00 PM

: Everyday 4:00 PM - 5:00 PM
: Everyday 4:00 PM - 5:00 PM
: Everyday 4:00 PM - 5:00 PM
: Everyday 4:00 PM - 5:00 PM
: Everyday 4:00 PM - 5:00 PM
: Everyday 4:00 PM - 5:00 PM
: Everyday 4:00 PM - 5:00 PM
: Everyday 4:00 PM - 5:00 PM
: Everyday 4:00 PM - 5:00 PM
: Everyday 4:00 PM - 5:00 PM
: Everyday 4:00 PM - 5:00 PM
: Everyday 4:00 PM - 5:00 PM

: Everyday 10:00 AM - 5:00 PM
: Everyday 10:00 AM - 5:00 PM
: Everyday 10:00 AM - 5:00 PM
: Everyday 10:00 AM - 5:00 PM
: Everyday 10:00 AM - 5:00 PM
: Everyday 10:00 AM - 5:00 PM
: Everyday 10:00 AM - 5:00 PM
: Everyday 10:00 AM - 5:00 PM
: Everyday 10:00 AM - 5:00 PM
: Everyday 10:00 AM - 5:00 PM
: Everyday 10:00 AM - 5:00 PM
: Everyday 10:00 AM - 5:00 PM

: Everyday 4:00 PM - 6:00 PM
: Everyday 4:00 PM - 6:00 PM
: Everyday 4:00 PM - 6:00 PM
: Everyday 4:00 PM - 6:00 PM
: Everyday 4:00 PM - 6:00 PM
: Everyday 4:00 PM - 6:00 PM
: Everyday 4:00 PM - 6:00 PM
: Everyday 4:00 PM - 6:00 PM
: Everyday 4:00 PM - 6:00 PM
: Everyday 4:00 PM - 6:00 PM
: Everyday 4:00 PM - 6:00 PM
: Everyday 4:00 PM - 6:00 PM

: Tuesday to Sunday 1:00 PM - 3:00 PM
: Tuesday to Sunday 1:00 PM - 3:00 PM
: Tuesday to Sunday 1:00 PM - 3:00 PM
: Tuesday to Sunday 1:00 PM - 3:00 PM
: Tuesday to Sunday 1:00 PM - 3:00 PM
: Tuesday to Sunday 1:00 PM - 3:00 PM
: Tuesday to Sunday 1:00 PM - 3:00 PM
: Tuesday to Sunday 1:00 PM - 3:00 PM
: Tuesday to Sunday 1:00 PM - 3:00 PM
: Tuesday to Sunday 1:00 PM - 3:00 PM
: Tuesday to Sunday 1:00 PM - 3:00 PM
: Tuesday to Sunday 1:00 PM - 3:00 PM

: Everyday 7:00 PM - 10:00 PM
: Everyday 7:00 PM - 10:00 PM
: Everyday 7:00 PM - 10:00 PM
: Everyday 7:00 PM - 10:00 PM
: Everyday 7:00 PM - 10:00 PM
: Everyday 7:00 PM - 10:00 PM
: Everyday 7:00 PM - 10:00 PM
: Everyday 7:00 PM - 10:00 PM
: Everyday 7:00 PM - 10:00 PM
: Everyday 7:00 PM - 10:00 PM
: Everyday 7:00 PM - 10:00 PM
: Everyday 7:00 PM - 10:00 PM

: Everyday 8:00 PM - 10:00 PM
: Everyday 8:00 PM - 10:00 PM
: Everyday 8:00 PM - 10:00 PM
: Everyday 8:00 PM - 10:00 PM
: Everyday 8:00 PM - 10:00 PM
: Everyday 8:00 PM - 10:00 PM
: Everyday 8:00 PM - 10:00 PM
: Everyday 8:00 PM - 10:00 PM
: Everyday 8:00 PM - 10:00 PM
: Everyday 8:00 PM - 10:00 PM
: Everyday 8:00 PM - 10:00 PM
: Everyday 8:00 PM - 10:00 PM

: Everyday 4:00 PM - 8:00 PM
: Everyday 4:00 PM - 8:00 PM
: Everyday 4:00 PM - 8:00 PM
: Everyday 4:00 PM - 8:00 PM
: Everyday 4:00 PM - 8:00 PM
: Everyday 4:00 PM - 8:00 PM
: Everyday 4:00 PM - 8:00 PM
: Everyday 4:00 PM - 8:00 PM
: Everyday 4:00 PM - 8:00 PM
: Everyday 4:00 PM - 8:00 PM
: Everyday 4:00 PM - 8:00 PM
: Everyday 4:00 PM - 8:00 PM

: Everyday 9:00 PM - 11:59 PM
: Everyday 9:00 PM - 11:59 PM
: Everyday 9:00 PM - 11:59 PM
: Everyday 9:00 PM - 11:59 PM
: Everyday 9:00 PM - 11:59 PM
: Everyday 9:00 PM - 11:59 PM
: Everyday 9:00 PM - 11:59 PM
: Everyday 9:00 PM - 11:59 PM
: Everyday 9:00 PM - 11:59 PM
: Everyday 9:00 PM - 11:59 PM
: Everyday 9:00 PM - 11:59 PM
: Everyday 9:00 PM - 11:59 PM