Best Time To Visit Charlottetown
Explore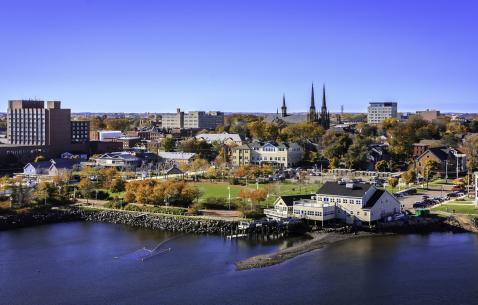 Best Time To Go To Charlottetown
Although one can say that the weather of Charlottetown specifically and Prince Edward Island in general is much milder than the rest of the subcontinent, the rainfall, snow fall and winds nullify this marginally difference in weather. Arguably, the best time to visit this town is in the summer months of May to September.
Summer: Summers bring cheer and birdsongs to beautiful Charlottetown. The temperatures are generally in the range of 20 degree Celsius in the daytime and 14 degree Celsius at night. Summers last from May to almost the month of September when autumn sets in gradually.
Winters: Winters in Charlottetown are crisp with clear skies and slight winds. The winter months are generally November to February. Temperatures are in the range of -3 to -11 degrees Celsius.
Snow and Rain: Expect snowfall in the winter months, especially from December to March. Rainfall is the highest in the month of October even though summer months experience rain too.
Best time to go to Charlottetown Attractions

: Wednesday to Sunday - 4:00 PM
: Wednesday to Sunday - 4:00 PM
: Wednesday to Sunday - 4:00 PM
: Wednesday to Sunday - 4:00 PM
: Wednesday to Sunday - 4:00 PM
: Wednesday to Sunday - 4:00 PM
: Wednesday to Sunday - 4:00 PM
: Wednesday to Sunday - 4:00 PM
: Wednesday to Sunday - 4:00 PM
: Wednesday to Sunday - 4:00 PM
: Wednesday to Sunday - 4:00 PM
: Wednesday to Sunday - 4:00 PM

: Everyday 11:00 AM - 2:00 PM
: Everyday 11:00 AM - 2:00 PM
: Everyday 11:00 AM - 2:00 PM
: Everyday 11:00 AM - 2:00 PM
: Everyday 11:00 AM - 2:00 PM
: Everyday 11:00 AM - 2:00 PM
: Everyday 11:00 AM - 2:00 PM
: Everyday 11:00 AM - 2:00 PM
: Everyday 11:00 AM - 2:00 PM
: Everyday 11:00 AM - 2:00 PM
: Everyday 11:00 AM - 2:00 PM
: Everyday 11:00 AM - 2:00 PM

: Monday to Friday 9:00 AM - 2:00 PM; Monday to Friday 9:00 AM - 2:00 PM | 1:00 PM - 4:00 PM
: Monday to Friday 9:00 AM - 2:00 PM; Monday to Friday 9:00 AM - 2:00 PM | 1:00 PM - 4:00 PM
: Monday to Friday 9:00 AM - 2:00 PM; Monday to Friday 9:00 AM - 2:00 PM | 1:00 PM - 4:00 PM
: Monday to Friday 9:00 AM - 2:00 PM; Monday to Friday 9:00 AM - 2:00 PM | 1:00 PM - 4:00 PM
: Monday to Friday 9:00 AM - 2:00 PM; Monday to Friday 9:00 AM - 2:00 PM | 1:00 PM - 4:00 PM
: Monday to Friday 9:00 AM - 2:00 PM; Monday to Friday 9:00 AM - 2:00 PM | 1:00 PM - 4:00 PM
: Monday to Friday 9:00 AM - 2:00 PM; Monday to Friday 9:00 AM - 2:00 PM | 1:00 PM - 4:00 PM
: Monday to Friday 9:00 AM - 2:00 PM; Monday to Friday 9:00 AM - 2:00 PM | 1:00 PM - 4:00 PM
: Monday to Friday 9:00 AM - 2:00 PM; Monday to Friday 9:00 AM - 2:00 PM | 1:00 PM - 4:00 PM
: Monday to Friday 9:00 AM - 2:00 PM; Monday to Friday 9:00 AM - 2:00 PM | 1:00 PM - 4:00 PM
: Monday to Friday 9:00 AM - 2:00 PM; Monday to Friday 9:00 AM - 2:00 PM | 1:00 PM - 4:00 PM
: Monday to Friday 9:00 AM - 2:00 PM; Monday to Friday 9:00 AM - 2:00 PM | 1:00 PM - 4:00 PM

: Everyday 11:00 AM - 2:00 PM
: Everyday 11:00 AM - 2:00 PM
: Everyday 11:00 AM - 2:00 PM
: Everyday 11:00 AM - 2:00 PM
: Everyday 11:00 AM - 2:00 PM
: Everyday 11:00 AM - 2:00 PM
: Everyday 11:00 AM - 2:00 PM
: Everyday 11:00 AM - 2:00 PM
: Everyday 11:00 AM - 2:00 PM
: Everyday 11:00 AM - 2:00 PM
: Everyday 11:00 AM - 2:00 PM
: Everyday 11:00 AM - 2:00 PM

: Everyday 10:00 AM - 2:00 PM
: Everyday 10:00 AM - 2:00 PM
: Everyday 10:00 AM - 2:00 PM
: Everyday 10:00 AM - 2:00 PM
: Everyday 10:00 AM - 2:00 PM
: Everyday 10:00 AM - 2:00 PM
: Everyday 10:00 AM - 2:00 PM
: Everyday 10:00 AM - 2:00 PM
: Everyday 10:00 AM - 2:00 PM
: Everyday 10:00 AM - 2:00 PM
: Everyday 10:00 AM - 2:00 PM
: Everyday 10:00 AM - 2:00 PM

: Everyday 8:00 AM - 5:00 PM
: Everyday 8:00 AM - 5:00 PM
: Everyday 8:00 AM - 5:00 PM
: Everyday 8:00 AM - 5:00 PM
: Everyday 8:00 AM - 5:00 PM
: Everyday 8:00 AM - 5:00 PM
: Everyday 8:00 AM - 5:00 PM
: Everyday 8:00 AM - 5:00 PM
: Everyday 8:00 AM - 5:00 PM
: Everyday 8:00 AM - 5:00 PM
: Everyday 8:00 AM - 5:00 PM
: Everyday 8:00 AM - 5:00 PM

: Everyday 11:00 AM - 11:59 PM
: Everyday 11:00 AM - 11:59 PM
: Everyday 11:00 AM - 11:59 PM
: Everyday 11:00 AM - 11:59 PM
: Everyday 11:00 AM - 11:59 PM
: Everyday 11:00 AM - 11:59 PM
: Everyday 11:00 AM - 11:59 PM
: Everyday 11:00 AM - 11:59 PM
: Everyday 11:00 AM - 11:59 PM
: Everyday 11:00 AM - 11:59 PM
: Everyday 11:00 AM - 11:59 PM
: Everyday 11:00 AM - 11:59 PM

: Everyday 10:00 AM - 2:00 PM
: Everyday 10:00 AM - 2:00 PM
: Everyday 10:00 AM - 2:00 PM
: Everyday 10:00 AM - 2:00 PM
: Everyday 10:00 AM - 2:00 PM
: Everyday 10:00 AM - 2:00 PM
: Everyday 10:00 AM - 2:00 PM
: Everyday 10:00 AM - 2:00 PM
: Everyday 10:00 AM - 2:00 PM
: Everyday 10:00 AM - 2:00 PM
: Everyday 10:00 AM - 2:00 PM
: Everyday 10:00 AM - 2:00 PM

: Everyday 10:00 AM - 3:00 PM
: Everyday 10:00 AM - 3:00 PM
: Everyday 10:00 AM - 3:00 PM
: Everyday 10:00 AM - 3:00 PM
: Everyday 10:00 AM - 3:00 PM
: Everyday 10:00 AM - 3:00 PM
: Everyday 10:00 AM - 3:00 PM
: Everyday 10:00 AM - 3:00 PM
: Everyday 10:00 AM - 3:00 PM
: Everyday 10:00 AM - 3:00 PM
: Everyday 10:00 AM - 3:00 PM
: Everyday 10:00 AM - 3:00 PM

: Everyday 10:00 AM - 3:30 PM
: Everyday 10:00 AM - 3:30 PM
: Everyday 10:00 AM - 3:30 PM
: Everyday 10:00 AM - 3:30 PM
: Everyday 10:00 AM - 3:30 PM
: Everyday 10:00 AM - 3:30 PM
: Everyday 10:00 AM - 3:30 PM
: Everyday 10:00 AM - 3:30 PM
: Everyday 10:00 AM - 3:30 PM
: Everyday 10:00 AM - 3:30 PM
: Everyday 10:00 AM - 3:30 PM
: Everyday 10:00 AM - 3:30 PM

: Everyday 2:00 PM - 5:00 PM
: Everyday 2:00 PM - 5:00 PM
: Everyday 2:00 PM - 5:00 PM
: Everyday 2:00 PM - 5:00 PM
: Everyday 2:00 PM - 5:00 PM
: Everyday 2:00 PM - 5:00 PM
: Everyday 2:00 PM - 5:00 PM
: Everyday 2:00 PM - 5:00 PM
: Everyday 2:00 PM - 5:00 PM
: Everyday 2:00 PM - 5:00 PM
: Everyday 2:00 PM - 5:00 PM
: Everyday 2:00 PM - 5:00 PM

: Everyday 4:00 PM - 7:00 PM
: Everyday 4:00 PM - 7:00 PM
: Everyday 4:00 PM - 7:00 PM
: Everyday 4:00 PM - 7:00 PM
: Everyday 4:00 PM - 7:00 PM
: Everyday 4:00 PM - 7:00 PM
: Everyday 4:00 PM - 7:00 PM
: Everyday 4:00 PM - 7:00 PM
: Everyday 4:00 PM - 7:00 PM
: Everyday 4:00 PM - 7:00 PM
: Everyday 4:00 PM - 7:00 PM
: Everyday 4:00 PM - 7:00 PM

: Everyday 11:00 AM - 4:00 PM
: Everyday 11:00 AM - 4:00 PM
: Everyday 11:00 AM - 4:00 PM
: Everyday 11:00 AM - 4:00 PM
: Everyday 11:00 AM - 4:00 PM
: Everyday 11:00 AM - 4:00 PM
: Everyday 11:00 AM - 4:00 PM
: Everyday 11:00 AM - 4:00 PM
: Everyday 11:00 AM - 4:00 PM
: Everyday 11:00 AM - 4:00 PM
: Everyday 11:00 AM - 4:00 PM
: Everyday 11:00 AM - 4:00 PM

: Everyday 10:00 AM - 2:00 PM
: Everyday 10:00 AM - 2:00 PM
: Everyday 10:00 AM - 2:00 PM
: Everyday 10:00 AM - 2:00 PM
: Everyday 10:00 AM - 2:00 PM
: Everyday 10:00 AM - 2:00 PM
: Everyday 10:00 AM - 2:00 PM
: Everyday 10:00 AM - 2:00 PM
: Everyday 10:00 AM - 2:00 PM
: Everyday 10:00 AM - 2:00 PM
: Everyday 10:00 AM - 2:00 PM
: Everyday 10:00 AM - 2:00 PM

: Everyday 9:00 AM - 5:00 PM
: Everyday 9:00 AM - 5:00 PM
: Everyday 9:00 AM - 5:00 PM
: Everyday 9:00 AM - 5:00 PM
: Everyday 9:00 AM - 5:00 PM
: Everyday 9:00 AM - 5:00 PM
: Everyday 9:00 AM - 5:00 PM
: Everyday 9:00 AM - 5:00 PM
: Everyday 9:00 AM - 5:00 PM
: Everyday 9:00 AM - 5:00 PM
: Everyday 9:00 AM - 5:00 PM
: Everyday 9:00 AM - 5:00 PM

: Saturday, Sunday 1:00 PM - 5:00 PM
: Saturday, Sunday 1:00 PM - 5:00 PM
: Saturday, Sunday 1:00 PM - 5:00 PM
: Saturday, Sunday 1:00 PM - 5:00 PM
: Saturday, Sunday 1:00 PM - 5:00 PM
: Saturday, Sunday 1:00 PM - 5:00 PM
: Saturday, Sunday 1:00 PM - 5:00 PM
: Saturday, Sunday 1:00 PM - 5:00 PM
: Saturday, Sunday 1:00 PM - 5:00 PM
: Saturday, Sunday 1:00 PM - 5:00 PM
: Saturday, Sunday 1:00 PM - 5:00 PM
: Saturday, Sunday 1:00 PM - 5:00 PM

: Tuesday to Friday 1:00 PM - 6:00 PM; Saturday 10:00 AM - 2:00 PM
: Tuesday to Friday 10:00 AM - 6:00 PM; Saturday 10:00 AM - 2:00 PM
: Tuesday to Friday 10:00 AM - 6:00 PM; Saturday 10:00 AM - 2:00 PM
: Tuesday to Friday 10:00 AM - 6:00 PM; Saturday 10:00 AM - 2:00 PM
: Tuesday to Friday 10:00 AM - 6:00 PM; Saturday 10:00 AM - 2:00 PM
: Tuesday to Friday 10:00 AM - 6:00 PM; Saturday 10:00 AM - 2:00 PM
: Tuesday to Friday 10:00 AM - 6:00 PM; Saturday 10:00 AM - 2:00 PM
: Tuesday to Friday 10:00 AM - 6:00 PM; Saturday 10:00 AM - 2:00 PM
: Tuesday to Friday 10:00 AM - 6:00 PM; Saturday 10:00 AM - 2:00 PM
: Tuesday to Friday 10:00 AM - 6:00 PM; Saturday 10:00 AM - 2:00 PM
: Tuesday to Friday 10:00 AM - 6:00 PM; Saturday 10:00 AM - 2:00 PM
: Tuesday to Friday 10:00 AM - 6:00 PM; Saturday 10:00 AM - 2:00 PM

: Monday to Friday 9:00 AM - 2:00 PM; Monday to Friday 9:00 AM - 2:00 PM | 1:00 PM - 4:00 PM
: Monday to Friday 9:00 AM - 2:00 PM; Monday to Friday 9:00 AM - 2:00 PM | 1:00 PM - 4:00 PM
: Monday to Friday 9:00 AM - 2:00 PM; Monday to Friday 9:00 AM - 2:00 PM | 1:00 PM - 4:00 PM
: Monday to Friday 9:00 AM - 2:00 PM; Monday to Friday 9:00 AM - 2:00 PM | 1:00 PM - 4:00 PM
: Monday to Friday 9:00 AM - 2:00 PM; Monday to Friday 9:00 AM - 2:00 PM | 1:00 PM - 4:00 PM
: Monday to Friday 9:00 AM - 2:00 PM; Monday to Friday 9:00 AM - 2:00 PM | 1:00 PM - 4:00 PM
: Monday to Friday 9:00 AM - 2:00 PM; Monday to Friday 9:00 AM - 2:00 PM | 1:00 PM - 4:00 PM
: Monday to Friday 9:00 AM - 2:00 PM; Monday to Friday 9:00 AM - 2:00 PM | 1:00 PM - 4:00 PM
: Monday to Friday 9:00 AM - 2:00 PM; Monday to Friday 9:00 AM - 2:00 PM | 1:00 PM - 4:00 PM
: Monday to Friday 9:00 AM - 2:00 PM; Monday to Friday 9:00 AM - 2:00 PM | 1:00 PM - 4:00 PM
: Monday to Friday 9:00 AM - 2:00 PM; Monday to Friday 9:00 AM - 2:00 PM | 1:00 PM - 4:00 PM
: Monday to Friday 9:00 AM - 2:00 PM; Monday to Friday 9:00 AM - 2:00 PM | 1:00 PM - 4:00 PM

: Everyday 00:1 AM - :30 AM; Everyday 00:1 AM - :30 AM | 8:00 AM - 11:59 PM
: Everyday 00:1 AM - :30 AM; Everyday 00:1 AM - :30 AM | 8:00 AM - 11:59 PM
: Everyday 00:1 AM - :30 AM; Everyday 00:1 AM - :30 AM | 8:00 AM - 11:59 PM
: Everyday 00:1 AM - :30 AM; Everyday 00:1 AM - :30 AM | 8:00 AM - 11:59 PM
: Everyday 00:1 AM - :30 AM; Everyday 00:1 AM - :30 AM | 8:00 AM - 11:59 PM
: Everyday 00:1 AM - :30 AM; Everyday 00:1 AM - :30 AM | 8:00 AM - 11:59 PM
: Everyday 00:1 AM - :30 AM; Everyday 00:1 AM - :30 AM | 8:00 AM - 11:59 PM
: Everyday 00:1 AM - :30 AM; Everyday 00:1 AM - :30 AM | 8:00 AM - 11:59 PM
: Everyday 00:1 AM - :30 AM; Everyday 00:1 AM - :30 AM | 8:00 AM - 11:59 PM
: Everyday 00:1 AM - :30 AM; Everyday 00:1 AM - :30 AM | 8:00 AM - 11:59 PM
: Everyday 00:1 AM - :30 AM; Everyday 00:1 AM - :30 AM | 8:00 AM - 11:59 PM
: Everyday 00:1 AM - :30 AM; Everyday 00:1 AM - :30 AM | 8:00 AM - 11:59 PM

: Everyday 7:00 AM - 7:00 PM
: Everyday 7:00 AM - 7:00 PM
: Everyday 7:00 AM - 7:00 PM
: Everyday 7:00 AM - 7:00 PM
: Everyday 7:00 AM - 7:00 PM
: Everyday 7:00 AM - 7:00 PM
: Everyday 7:00 AM - 7:00 PM
: Everyday 7:00 AM - 7:00 PM
: Everyday 7:00 AM - 7:00 PM
: Everyday 7:00 AM - 7:00 PM
: Everyday 7:00 AM - 7:00 PM
: Everyday 7:00 AM - 7:00 PM