Best Time To Visit Chartres
Explore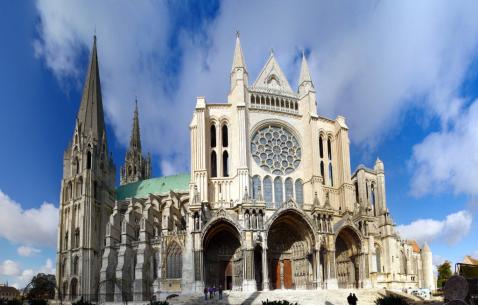 Best Time To Go To Chartres
The climate in Chartres is often humid and mild.
Summer (June – August): The summers are hot with where the temperatures often cross 20°C.
Winter (December – February): The temperature in winter is about 1°C.
Spring (March – May): Springs see an average temperature of 10°C.
Autumn (September – November): Autumns are humid with a temperature of about 8°C.
The best time to visit Chartres would be from April to July.
Best time to go to Chartres Attractions

: Monday to Saturday 10:00 AM - 2:00 PM
: Monday to Saturday 10:00 AM - 2:00 PM
: Monday to Saturday 10:00 AM - 2:00 PM
: Monday to Saturday 10:00 AM - 2:00 PM
: Monday to Saturday 10:00 AM - 2:00 PM
: Monday to Saturday 10:00 AM - 2:00 PM
: Monday to Saturday 10:00 AM - 2:00 PM
: Monday to Saturday 10:00 AM - 2:00 PM
: Monday to Saturday 10:00 AM - 2:00 PM
: Monday to Saturday 10:00 AM - 2:00 PM
: Monday to Saturday 10:00 AM - 2:00 PM
: Monday to Saturday 10:00 AM - 2:00 PM

:
:
:
: Monday, Wednesday, Thursday, Friday 10:00 AM - 2:00 PM; Monday, Wednesday, Thursday, Friday 10:00 AM - 2:00 PM | 2:00 PM - 5:00 PM; Tuesday 2:00 PM - 5:00 PM; Saturday 10:00 AM - 5:00 PM; Saturday 10:00 AM - 5:00 PM | 2:00 PM - 6:00 PM; Sunday 2:00 PM - 6:00 PM
: Monday, Wednesday, Thursday, Friday 10:00 AM - 6:00 PM; Monday, Wednesday, Thursday, Friday 10:00 AM - 6:00 PM | 2:00 PM - 5:00 PM; Tuesday 2:00 PM - 5:00 PM; Saturday 10:00 AM - 5:00 PM; Saturday 10:00 AM - 5:00 PM | 2:00 PM - 6:00 PM; Sunday 2:00 PM - 6:00 PM
: Monday, Wednesday, Thursday, Friday 10:00 AM - 6:00 PM; Monday, Wednesday, Thursday, Friday 10:00 AM - 6:00 PM | 2:00 PM - 5:00 PM; Tuesday 2:00 PM - 5:00 PM; Saturday 10:00 AM - 5:00 PM; Saturday 10:00 AM - 5:00 PM | 2:00 PM - 6:00 PM; Sunday 2:00 PM - 6:00 PM
: Monday, Wednesday, Thursday, Friday 10:00 AM - 6:00 PM; Monday, Wednesday, Thursday, Friday 10:00 AM - 6:00 PM | 2:00 PM - 5:00 PM; Tuesday 2:00 PM - 5:00 PM; Saturday 10:00 AM - 5:00 PM; Saturday 10:00 AM - 5:00 PM | 2:00 PM - 6:00 PM; Sunday 2:00 PM - 6:00 PM
: Monday, Wednesday, Thursday, Friday 10:00 AM - 6:00 PM; Monday, Wednesday, Thursday, Friday 10:00 AM - 6:00 PM | 2:00 PM - 5:00 PM; Tuesday 2:00 PM - 5:00 PM; Saturday 10:00 AM - 5:00 PM; Saturday 10:00 AM - 5:00 PM | 2:00 PM - 6:00 PM; Sunday 2:00 PM - 6:00 PM
: Monday, Wednesday, Thursday, Friday 10:00 AM - 6:00 PM; Monday, Wednesday, Thursday, Friday 10:00 AM - 6:00 PM | 2:00 PM - 5:00 PM; Tuesday 2:00 PM - 5:00 PM; Saturday 10:00 AM - 5:00 PM; Saturday 10:00 AM - 5:00 PM | 2:00 PM - 6:00 PM; Sunday 2:00 PM - 6:00 PM
: Saturday 10:00 AM - 6:00 PM; Saturday 10:00 AM - 6:00 PM | 2:00 PM - 6:00 PM; Sunday 2:00 PM - 6:00 PM
:
:

: Monday to Saturday 10:00 AM - 6:00 PM; Monday to Saturday 10:00 AM - 6:00 PM | 2:30 PM - 5:00 PM
: Monday to Saturday 10:00 AM - 6:00 PM; Monday to Saturday 10:00 AM - 6:00 PM | 2:30 PM - 5:00 PM
: Monday to Saturday 10:00 AM - 6:00 PM; Monday to Saturday 10:00 AM - 6:00 PM | 2:30 PM - 5:00 PM
: Monday to Saturday 10:00 AM - 6:00 PM; Monday to Saturday 10:00 AM - 6:00 PM | 2:30 PM - 5:00 PM
: Monday to Saturday 10:00 AM - 6:00 PM; Monday to Saturday 10:00 AM - 6:00 PM | 2:30 PM - 5:00 PM
: Monday to Saturday 10:00 AM - 6:00 PM; Monday to Saturday 10:00 AM - 6:00 PM | 2:30 PM - 5:00 PM
: Monday to Saturday 10:00 AM - 6:00 PM; Monday to Saturday 10:00 AM - 6:00 PM | 2:30 PM - 5:00 PM
: Monday to Saturday 10:00 AM - 6:00 PM; Monday to Saturday 10:00 AM - 6:00 PM | 2:30 PM - 5:00 PM
: Monday to Saturday 10:00 AM - 6:00 PM; Monday to Saturday 10:00 AM - 6:00 PM | 2:30 PM - 5:00 PM
: Monday to Saturday 10:00 AM - 6:00 PM; Monday to Saturday 10:00 AM - 6:00 PM | 2:30 PM - 5:00 PM
: Monday to Saturday 10:00 AM - 6:00 PM; Monday to Saturday 10:00 AM - 6:00 PM | 2:30 PM - 5:00 PM
: Monday to Saturday 10:00 AM - 6:00 PM; Monday to Saturday 10:00 AM - 6:00 PM | 2:30 PM - 5:00 PM

: Everyday 10:00 AM - 2:00 PM
: Everyday 10:00 AM - 2:00 PM
: Everyday 10:00 AM - 2:00 PM
: Everyday 10:00 AM - 2:00 PM
: Everyday 10:00 AM - 2:00 PM
: Everyday 10:00 AM - 2:00 PM
: Everyday 10:00 AM - 2:00 PM
: Everyday 10:00 AM - 2:00 PM
: Everyday 10:00 AM - 2:00 PM
: Everyday 10:00 AM - 2:00 PM
: Everyday 10:00 AM - 2:00 PM
: Everyday 10:00 AM - 2:00 PM

: Everyday 11:00 AM - 2:00 PM
: Everyday 11:00 AM - 2:00 PM
: Everyday 11:00 AM - 2:00 PM
: Everyday 11:00 AM - 2:00 PM
: Everyday 11:00 AM - 2:00 PM
: Everyday 11:00 AM - 2:00 PM
: Everyday 11:00 AM - 2:00 PM
: Everyday 11:00 AM - 2:00 PM
: Everyday 11:00 AM - 2:00 PM
: Everyday 11:00 AM - 2:00 PM
: Everyday 11:00 AM - 2:00 PM
: Everyday 11:00 AM - 2:00 PM

: Tuesday to Friday 10:00 AM - 2:00 PM; Tuesday to Friday 10:00 AM - 2:00 PM | 1:00 PM - 5:00 PM; Saturday, Sunday 10:00 AM - 2:00 PM; Saturday, Sunday 10:00 AM - 2:00 PM | 1:30 PM - 5:00 PM
: Tuesday to Friday 10:00 AM - 2:00 PM; Tuesday to Friday 10:00 AM - 2:00 PM | 1:00 PM - 5:00 PM; Saturday, Sunday 10:00 AM - 2:00 PM; Saturday, Sunday 10:00 AM - 2:00 PM | 1:30 PM - 5:00 PM
: Tuesday to Friday 10:00 AM - 2:00 PM; Tuesday to Friday 10:00 AM - 2:00 PM | 1:00 PM - 5:00 PM; Saturday, Sunday 10:00 AM - 2:00 PM; Saturday, Sunday 10:00 AM - 2:00 PM | 1:30 PM - 5:00 PM
: Tuesday to Friday 10:00 AM - 2:00 PM; Tuesday to Friday 10:00 AM - 2:00 PM | 1:00 PM - 5:00 PM; Saturday, Sunday 10:00 AM - 2:00 PM; Saturday, Sunday 10:00 AM - 2:00 PM | 1:30 PM - 5:00 PM
: Tuesday to Friday 10:00 AM - 2:00 PM; Tuesday to Friday 10:00 AM - 2:00 PM | 1:00 PM - 5:00 PM; Saturday, Sunday 10:00 AM - 2:00 PM; Saturday, Sunday 10:00 AM - 2:00 PM | 1:30 PM - 5:00 PM
: Tuesday to Friday 10:00 AM - 2:00 PM; Tuesday to Friday 10:00 AM - 2:00 PM | 1:00 PM - 5:00 PM; Saturday, Sunday 10:00 AM - 2:00 PM; Saturday, Sunday 10:00 AM - 2:00 PM | 1:30 PM - 5:00 PM
: Tuesday to Friday 10:00 AM - 2:00 PM; Tuesday to Friday 10:00 AM - 2:00 PM | 1:00 PM - 5:00 PM; Saturday, Sunday 10:00 AM - 2:00 PM; Saturday, Sunday 10:00 AM - 2:00 PM | 1:30 PM - 5:00 PM
: Tuesday to Friday 10:00 AM - 2:00 PM; Tuesday to Friday 10:00 AM - 2:00 PM | 1:00 PM - 5:00 PM; Saturday, Sunday 10:00 AM - 2:00 PM; Saturday, Sunday 10:00 AM - 2:00 PM | 1:30 PM - 5:00 PM
: Tuesday to Friday 10:00 AM - 2:00 PM; Tuesday to Friday 10:00 AM - 2:00 PM | 1:00 PM - 5:00 PM; Saturday, Sunday 10:00 AM - 2:00 PM; Saturday, Sunday 10:00 AM - 2:00 PM | 1:30 PM - 5:00 PM
: Tuesday to Friday 10:00 AM - 2:00 PM; Tuesday to Friday 10:00 AM - 2:00 PM | 1:00 PM - 5:00 PM; Saturday, Sunday 10:00 AM - 2:00 PM; Saturday, Sunday 10:00 AM - 2:00 PM | 1:30 PM - 5:00 PM
: Tuesday to Friday 10:00 AM - 2:00 PM; Tuesday to Friday 10:00 AM - 2:00 PM | 1:00 PM - 5:00 PM; Saturday, Sunday 10:00 AM - 2:00 PM; Saturday, Sunday 10:00 AM - 2:00 PM | 1:30 PM - 5:00 PM
: Tuesday to Friday 10:00 AM - 2:00 PM; Tuesday to Friday 10:00 AM - 2:00 PM | 1:00 PM - 5:00 PM; Saturday, Sunday 10:00 AM - 2:00 PM; Saturday, Sunday 10:00 AM - 2:00 PM | 1:30 PM - 5:00 PM

: Everyday 10:00 AM - 5:00 PM
: Everyday 10:00 AM - 5:00 PM
: Everyday 10:00 AM - 5:00 PM
: Everyday 10:00 AM - 5:00 PM
: Everyday 10:00 AM - 5:00 PM
: Everyday 10:00 AM - 5:00 PM
: Everyday 10:00 AM - 5:00 PM
: Everyday 10:00 AM - 5:00 PM
: Everyday 10:00 AM - 5:00 PM
: Everyday 10:00 AM - 5:00 PM
: Everyday 10:00 AM - 5:00 PM
: Everyday 10:00 AM - 5:00 PM

: Tuesday to Saturday 10:00 AM - 2:00 PM
: Tuesday to Saturday 10:00 AM - 2:00 PM
: Tuesday to Saturday 10:00 AM - 2:00 PM
: Tuesday to Saturday 10:00 AM - 2:00 PM
: Tuesday to Saturday 10:00 AM - 2:00 PM
: Tuesday to Saturday 10:00 AM - 2:00 PM
: Tuesday to Saturday 10:00 AM - 2:00 PM
: Tuesday to Saturday 10:00 AM - 2:00 PM
: Tuesday to Saturday 10:00 AM - 2:00 PM
: Tuesday to Saturday 10:00 AM - 2:00 PM
: Tuesday to Saturday 10:00 AM - 2:00 PM
: Tuesday to Saturday 10:00 AM - 2:00 PM

: Tuesday to Sunday 7:00 PM - 11:59 PM
: Tuesday to Sunday 7:00 PM - 11:59 PM
: Tuesday to Sunday 7:00 PM - 11:59 PM
: Tuesday to Sunday 7:00 PM - 11:59 PM
: Tuesday to Sunday 7:00 PM - 11:59 PM
: Everyday 7:00 PM - 11:59 PM
: Everyday 7:00 PM - 11:59 PM
: Everyday 7:00 PM - 11:59 PM
: Everyday 7:00 PM - 11:59 PM
: Tuesday to Sunday 7:00 PM - 11:59 PM
: Tuesday to Sunday 7:00 PM - 11:59 PM
: Tuesday to Sunday 7:00 PM - 11:59 PM

: Everyday 6:00 PM - 11:59 PM
: Everyday 6:00 PM - 11:59 PM
: Everyday 6:00 PM - 11:59 PM
: Everyday 6:00 PM - 11:59 PM
: Everyday 6:00 PM - 11:59 PM
: Everyday 6:00 PM - 11:59 PM
: Everyday 6:00 PM - 11:59 PM
: Everyday 6:00 PM - 11:59 PM
: Everyday 6:00 PM - 11:59 PM
: Everyday 6:00 PM - 11:59 PM
: Everyday 6:00 PM - 11:59 PM
: Everyday 6:00 PM - 11:59 PM

: Monday to Saturday 10:00 AM - 11:59 PM; Monday to Saturday 10:00 AM - 11:59 PM | 2:00 PM - 4:00 PM; Sunday 2:00 PM - 4:00 PM
: Monday to Saturday 10:00 AM - 4:00 PM; Monday to Saturday 10:00 AM - 4:00 PM | 2:00 PM - 4:00 PM; Sunday 2:00 PM - 4:00 PM
: Monday to Saturday 10:00 AM - 4:00 PM; Monday to Saturday 10:00 AM - 4:00 PM | 2:00 PM - 4:00 PM; Sunday 2:00 PM - 4:00 PM
: Monday to Saturday 10:00 AM - 4:00 PM; Monday to Saturday 10:00 AM - 4:00 PM | 2:00 PM - 4:00 PM; Sunday 2:00 PM - 4:00 PM
: Monday to Saturday 10:00 AM - 4:00 PM; Monday to Saturday 10:00 AM - 4:00 PM | 2:00 PM - 4:00 PM; Sunday 2:00 PM - 4:00 PM
: Monday to Saturday 10:00 AM - 4:00 PM; Monday to Saturday 10:00 AM - 4:00 PM | 2:00 PM - 4:00 PM; Sunday 2:00 PM - 4:00 PM
: Monday to Saturday 10:00 AM - 4:00 PM; Monday to Saturday 10:00 AM - 4:00 PM | 2:00 PM - 4:00 PM; Sunday 2:00 PM - 4:00 PM
: Monday to Saturday 10:00 AM - 4:00 PM; Monday to Saturday 10:00 AM - 4:00 PM | 2:00 PM - 4:00 PM; Sunday 2:00 PM - 4:00 PM
: Monday to Saturday 10:00 AM - 4:00 PM; Monday to Saturday 10:00 AM - 4:00 PM | 2:00 PM - 4:00 PM; Sunday 2:00 PM - 4:00 PM
: Monday to Saturday 10:00 AM - 4:00 PM; Monday to Saturday 10:00 AM - 4:00 PM | 2:00 PM - 4:00 PM; Sunday 2:00 PM - 4:00 PM
: Monday to Saturday 10:00 AM - 4:00 PM; Monday to Saturday 10:00 AM - 4:00 PM | 2:00 PM - 4:00 PM; Sunday 2:00 PM - 4:00 PM
: Monday to Saturday 10:00 AM - 4:00 PM; Monday to Saturday 10:00 AM - 4:00 PM | 2:00 PM - 4:00 PM; Sunday 2:00 PM - 4:00 PM

: Monday to Friday 8:30 AM - 5:30 PM
: Monday to Friday 8:30 AM - 5:30 PM
: Monday to Friday 8:30 AM - 5:30 PM
: Monday to Friday 8:30 AM - 5:30 PM
: Monday to Friday 8:30 AM - 5:30 PM
: Monday to Friday 8:30 AM - 5:30 PM
: Monday to Friday 8:30 AM - 5:30 PM
: Monday to Friday 8:30 AM - 5:30 PM
: Monday to Friday 8:30 AM - 5:30 PM
: Monday to Friday 8:30 AM - 5:30 PM
: Monday to Friday 8:30 AM - 5:30 PM
: Monday to Friday 8:30 AM - 5:30 PM

: Sunday 9:30 AM - 5:30 PM
: Sunday 9:30 AM - 5:30 PM
: Sunday 9:30 AM - 5:30 PM
: Sunday 9:30 AM - 5:30 PM
: Sunday 9:30 AM - 5:30 PM
: Sunday 9:30 AM - 5:30 PM
: Sunday 9:30 AM - 5:30 PM
: Sunday 9:30 AM - 5:30 PM
: Sunday 9:30 AM - 5:30 PM
: Sunday 9:30 AM - 5:30 PM
: Sunday 9:30 AM - 5:30 PM
: Sunday 9:30 AM - 5:30 PM

: Sunday 10:00 AM - 5:30 PM
: Sunday 10:00 AM - 5:30 PM
: Sunday 10:00 AM - 5:30 PM
: Sunday 10:00 AM - 5:30 PM
: Sunday 10:00 AM - 5:30 PM
: Sunday 10:00 AM - 5:30 PM
: Sunday 10:00 AM - 5:30 PM
: Sunday 10:00 AM - 5:30 PM
: Sunday 10:00 AM - 5:30 PM
: Sunday 10:00 AM - 5:30 PM
: Sunday 10:00 AM - 5:30 PM
: Sunday 10:00 AM - 5:30 PM