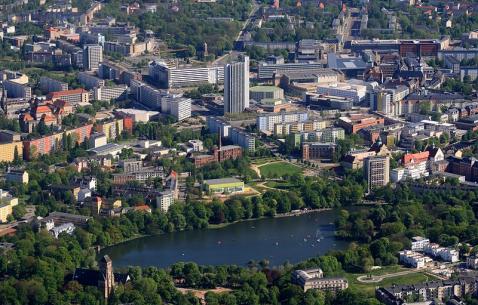 The lively and vibrant city of Chemnitz is situated in southwest Saxony, Germany. Boasting of a rich historical background, Chemnitz had its first brush with fame in the 18th century, when it developed as one of the most important hubs of German machine and textile industries. Owing to its immense economic importance, it was a prime target for the Allied air force during World War II and was almost completely destroyed in the year 1945. Today, with a population of around 250,000, it is fourth largest city in East Germany.
Chemnitz is strikes a great balance between the old-world charm and modernity – historic buildings and communist-era flats along with modern constructions and glamorous structures together shape up the charming character of this city. It is a tourist-friendly place with lots of wonderful sightseeing opportunities, museums, art galleries, parks and architectural marvels.
There are countless options for all types of travellers in Chemnitz- nature-lovers and tourists with kids can find solace in the large number of zoos and parks, architecture-buffs will be delighted at sight of the Victorian-era buildings, history-aficionados will rejoice on visiting the wonderful museums and art galleries while those interested in art and culture will have a great time at the theatres and opera houses!
The fading charm and the rusticism of the bygone era can be felt while traversing through this city even today. A tour of Chemnitz feels like a breath of fresh air, especially if you are tired of visiting the typical crowded tourist spots in the popular German cities. Effortlessly pastoral, the city of Chemnitz is a great way to experience and soak-in the German-Jew history and culture.
Essential travel information and Chemnitz tips for your visit
Time Zone : CEST (Central European Summer Time)- UTC/GMT + 2 hours
Currency : Euro
Electricity : 230 V/50 Hz- Plug Type: F
Internet : A stable internet connection is present at almost all places in Chemnitz. Most tourist spots and hotels also offer free WiFi services to the public.
Languages : Standard German and Chemnitz dialect is spoken throughout Chemnitz. English is fairly understood throughout the city although it is advisable to learn basic German phrases because some remote areas might not be familiar with other languages.
Security : Though Chemnitz is considered to be a safe city, it is better to avoid traveling alone after nightfall in the outskirts.
Tipping : Tipping is expected in Chemnitz. Usually 5-10% of the bill amount is paid as tips in restaurants while porters and housekeeping staff are tipped around 1-3 Euros.
Emergency Contact Number : 112-Ambulance and Fire Brigade 110- Police