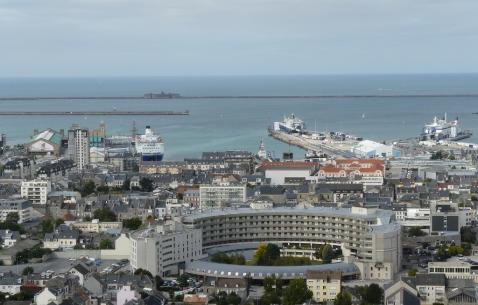 Cherbourg is a town in Normandy, France which is well-known for its outstanding museums and a rich yet grim past. It is world famous for its large harbour. It also happens to be one of the last places that Titanic halted on its voyage before meeting its tragic fate.
Cherbourg's history dates back to the Gallo-Roman period. But the city was mostly recognized after it became a fortress during Anglo-French wars. After railway was built and Napoleon arrived in 1858, the French submarines were built. The port was radically developed during the World War I and a transatlantic station has been built. By 1944, it became the most important port on the Earth. However, it was damaged in the World War II.
The city possesses a peculiar port with an enormous dyke that prevents waves from coming in which is one among many other tourist attractions. Cherbourg also has a large aquarium, number of beaches, museums, parks, gardens, religious constructions and restaurants offering traditional Normandy cuisine.
Cherbourg is an enigma in itself, but one of the must see places in your trip planner. After all, you would be mesmerized by its magnificent coastline, picturesque countryside of the Saire Valley, the beautiful peaks of la Hague and the intoxicating scent of the sea from where you can see the ocean liners crossing the transatlantic.
Essential travel information and Cherbourg tips for your visit
Bring along a nice pair of walking shoes if you plan on getting around the town on foot.
Also carry weather-gear, especially jackets and rain coats as the weather often gets unpredictable due to the changes in the Atlantic.
Cherbourg Trip Planner
Plan your customized day by day trip plan for Cherbourg. Choose from various experinces categories as adventure, romantic and family and kids friendly for your trip using using Cherbourg trip planner.
I want to take a full day tour from the cherbourg cruise terminal to normandy on May 11 for 4 people. Any suggestions?

Answer

Report Abuse

Are there possibilities to travel with a ferry to Guernsey or Jersey from Cherbourg in period from 16 of March to 20 th of March Thanks in advance for your reply.

Answer

Report Abuse

I don't think there is a direct ferry from Cherbourg to Guernsey or Jersey. You will have to take a taxi to Dielette and from Dielette, you can take a Ferry to Guernsey.

Report Abuse