Things to do in Chiang Mai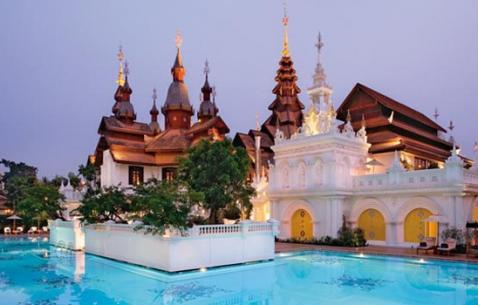 The Best Things To Do in Chiang Mai
Chang Mai is situated in Northern Thailand, 700 kilometres from the capital of Bangkok, and is the second largest city in Thailand. In the past few decades, the city has been transformed from a sleepy little town to a travellers paradise, whilst maintaining its provincial charm. With a history dating back to 1296, the city is a major tourism hub today, boasting ancient temples, an old city with its historical monuments, museums, gardens, parks, hill tribe villages, limestone caves, outdoor activities, adventure sports, markets, cultural performances as well as a vibrant nightlife. The city is much greener and quieter that the capital, surrounded by mountains and lush countryside, making it a perfect travel destination.
The best way to get a taste of this "Rose of the North," is to indulge in some of the best things to do in Chiang Mai, which include tours of Wat Phrathat Doi Suthep, the old city and its various temples and structures like the Wat Phra Singh, Wat Chiang Man, Wat Chedi Luang and Wat Suan Dok. The city is also home to numerous museums that give a glimpse into the rich history and vibrant culture of the area, like the Chiang Mai City Arts & Cultural Centre, Chiang Mai National Museum, Chiang Mai Numismatic Museum and Chiang Mai University Art Museum. The city offers numerous green spaces, parksural attractions and gardens that are a perfect location to spend a lazy afternoon, like Mae Sa Waterfall, Queen Sirikit Botanical Garden and Queen Sirikit Botanical Garden. Other top things to do in Chiang Mai include the Chiang Mai Night Safari, Mae Khampong and Zip-lining, Mae Sa Elephant Training Centre, mountain biking, hiking, dragon boat river rides, river rafting, rich climbing, swimming, orchid & butterfly farms, snake farms, folk dances, Muay Thai fighting performances and Thai Massages. The city also hosts numerous annual festivals that area a major attraction among the visitors, including Chiang Mai Flower Festival, Songkran Festival, Bo Sang Umbrella & Sankampang Handicrafts Festival and the Loi Krathong and Yi Peng Festivals. Chiang Mai is a very special city that proudly boasts its culture that thrives in its small attractions and activities like cooking classes, temple visits and street food, and it is a must to experience the vibrant culture and extraordinary lifestyle of the city at least once.
Explore the travel planning tool for your visit to Chiang Mai and create a flawless plan in few simple steps!
28 Tourist Attractions in Chiang Mai

Must see places in Chiang Mai ranked on popularity. Here is the complete list of best attractions in Chiang Mai and point of interests to visit.
Tourist Attractions Near Chiang Mai
Find Your Chiang Mai Attractions on Map
Types of Things To Do in Chiang Mai
Find more attractions and places to visit in Chiang Mai under these things to do categories.
Top Chiang Mai Activities And Tours
Explore the best things to do in Chiang Mai. These are the most preferred tourist activities.
What To Do in Chiang Mai: Day-Wise Ideas
Find what not to miss in Chiang Mai! Recommended Chiang Mai itineraries and vacation ideas created by travelers across the world.