Things to do in Chiang Rai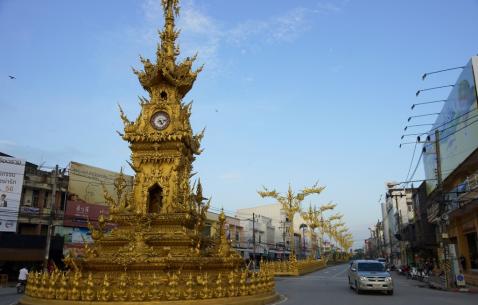 The Best Things To Do in Chiang Rai
The culture and heritage of Chiang Rai is so rich that the city seems to be strewn with a number of attractions that speak volumes about its past as well as present. The pivotal attraction of Chiang Rai is Wat Rong Khun, a Buddhist temple bearing contemporary murals and symbolic images. And then, there are other monasteries and Buddhist temples that speak up of a cultural and religious framework of Chiang Rai and Thailand as a whole. Some are Wat Phra Kaeo, Wat Ming Mueang Temple, Wat Phra That Doi Tong and others. There are also landmarks and parks that hold a distinct value for the landscape of Chiang Rai such as Phu Chi Fa Forest Park, golden Triangle, Singha Park, Kok River, Mae Fah Luang Art And Cultural Park and many others where you can go and relax in the lap of nature. \nYou can also visit its various museums that will acquaint you with the history and culture of Chiang Rai better such as Oub Kham Museum and Hill-tribe Museum and Population and Community Development Education Centre. Don't forget to visit its bustling markets such as Night Bazaar and Chiang Rai walking street market which are some of the quirkiest things to do in Chiang Rai!
Explore the travel planning tool for your visit to Chiang Rai and create a flawless plan in few simple steps!
31 Tourist Attractions in Chiang Rai

Must see places in Chiang Rai ranked on popularity. Here is the complete list of best attractions in Chiang Rai and point of interests to visit.
Tourist Attractions Near Chiang Rai
Find Your Chiang Rai Attractions on Map
Types of Things To Do in Chiang Rai
Find more attractions and places to visit in Chiang Rai under these things to do categories.
Top Chiang Rai Activities And Tours
Explore the best things to do in Chiang Rai. These are the most preferred tourist activities.
What To Do in Chiang Rai: Day-Wise Ideas
Find what not to miss in Chiang Rai! Recommended Chiang Rai itineraries and vacation ideas created by travelers across the world.