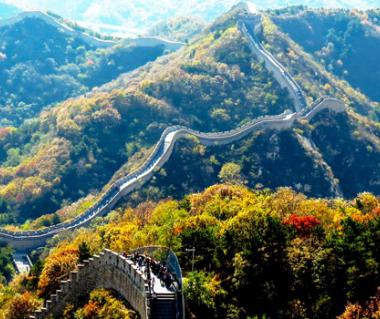 China Trip Planner
Plan your customized trip plan for China. Choose from Top Toursim cities and tourist attarctions of China using trip planner.
China Overview
About China:
China is a giant in many ways. Its enormous size, huge population, political power and tremendous potential certainly make China a force to be reckoned with. But its picturesque beauty, its long history, rich culture and a sense of majesty that the country has make it an absolutely fantastic tourist destination.
China or the People's Republic of China is a land so rich in so many ways that it has become a very popular place for travelers to explore. The rich and interesting culture, poetry and religion are a matter of great fascination for the entire world.
The Oriental architecture of china is both exquisite as well as strong. This finds undeniable proof in The Great Wall of China; the expansive and beautiful stone structure that passes through this stunning country. It is not just the pride of China. It is one of the most iconic constructions in the world. This amazing feat of architecture achieved in the ancient times is impossible to ever replicate. Seeing it is a once in a life time experience like no other. Besides this, the country is full of alluring temples and pagodas that are a feast for the eyes while the philosophy behind them is food for thought.
China is an extremely large mass of land and with great size there is great variety. The 96,600,000 square kilometers of land are home to a variety of animals, birds and plants. It is one of the 17 mega-diverse countries in the world. From the beautiful forests in the middle of the country to the pristine coasts of the yellow sea, the country is equally attractive throughout the massive stretch.
Most importantly China has progressed a lot in terms of economy. The place has become ultra-modern while still preserving its essence. This beautiful amalgamation of the old and the new is certainly worth seeing.
For all these reasons and many more China is slowly becoming a tourist paradise. A trip to the country is sure to be varied and vast; certainly a thought provoking and life changing experience. This Eastern Beauty beckons you! Are you ready to experience its splendor?
When to visit China?
China, due to its huge expanse is the kind of country you can visit throughout the year. It entirely depends on the purpose of your visit. If you want to see snow or try some ice sports the north is your best bet and the south has beautiful sultry beaches in summer. Everything in between is as varied if not more. The weather in general is on the cooler side so you can decide your favorite time according to your purpose.
Monsoon: In China, the monsoons in the north and south differ. The rains usually occur during the months of March and April in the south-east. The western regions receive rain June onwards. The respective rainy seasons are probably not the best times to visit those places but the rain does not normally affect anything too much.
Winter: Winter is an excellent time for all manner of snow activities. November onwards up until the end of February, the country gets colder and colder and the north receives snowfall. Do beware though, in the north eastern part of China the temperatures drop really low.
Summer: the weather is very pleasant in summers. Summers and monsoons are more or less to be counted in the same time period but as mentioned before rains are seen in different regions at different times. May to September is the best time to travel to China. Do keep an umbrella with you if possible though. It will definitely help.
How to reach and how to get around?
Reaching: Beijing Capital airport, one the busiest airports in the world has become the center point for travel in Asia. Almost all countries have flights travelling to Beijing. Other than this, most major cities have international airports, Shanghai International airport being important amongst them. It is definitely necessary to book tickets well in advance, especially when travelling to Beijing.
Getting around China:

Flights: Domestic flights are the fastest and the most convenient way to travel. It is best to book flights from local agents but this might have to be done in advance. However this becomes very economical and simple.
Trains: When travelling from city to city, trains are also a good option. A night train is fast and cheap. When in China however, always remember to book from local agents.
Public transport in China: The public transport in China is slowly and surely improving. Although most major cities are crowded it is possible to get around by Public transport.
What to see?
There is a lot to see in China. The vastness of the country makes this quite obvious. No matter where you intend to go try to explore the unexplored here.
Shanghai: Shanghai on the Yangtze River is an extremely vibrant and beautiful city with a lot of character. You should visit it just for the atmosphere. The city's energetic beating heart is apparent in the way people live and go about their lives. Culture and modernity are beautifully married here.
Beijing: Beijing is known for its significance to the history of China. The city has been the seat of Chinese politics since ancient times. Now the capital, it still holds relics from imperial China safely within its modernized grasp.
Guangzhou: Guangzhou is the capital and biggest city of the Guangdong territory in the People's Republic of China. This beautiful city has so much to offer. From museums, to temples to getaway places, Guangzhou has a lot to explore.
Festivals: The country has a rich and vibrant culture full of celebrations and festivals. If you happen to be visiting during a certain festival it only makes sense to see it but a lot of visitors travel to china for their magnificent fests too!

Dragon Boat Festival: the Dragon Boat Festival is a popular festival in China. There are boat races in several parts of the country and these undoubtedly a thrilling sight to see. Zongzhiwhich is rice wrapped in leaves is eaten during this festival. It usually takes place in June.
Lantern Festival: The Lantern Festival is simple gorgeous. The festival is celebrated probably as homage to the God of Heaven in Chinese culture although there are several myths and agents associated with it. Thousands of brightly colored lanterns decorate the streets and homes in the country sometime during the months of February and March. Chinese delicacies are eaten and the whole place is brightly lit up making it absolutely spectacular to witness.
Spring Festival: The spring festival is perhaps the most important. There is delicious food, great atmosphere and intriguing traditions. The festival is celebrated by cleaning homes and offices thoroughly. It is a long festival leading up to the Chinese new year and if very important to the locals.
What to do and what not to do?
It is important to remember that china has a very hold tradition and it is the kind of country that has a very specific and peculiar culture. It is important to follow a few guidelines while travelling in China:
China has a hierarchy in its culture. You cannot treat your boss the same way you treat your colleague and you cannot treat your friend the same way you will treat a friend's parent. Be aware of this while conducting yourself in both personal and professional environments.
DO learn a few Chinese phrases. English is not used widely in the country although the tourism and business has changed this fact considerably.
Do your homework and read about the country before travelling to it. There are nuances of the culture that you need to know in order to not offend anyone.
People may not follow cues. It is also possible that people spit on the ground. This is the normal practice in china, so don't expect anything else.
Don't be afraid to haggle. A friendly negotiation is always welcome here.
The Chinese eat a wide variety of animals. Besides the definitions of what is considered vegetarian food might be different. If you are religious or strictly vegetarian do confirm the origins of what you are eating. It is bound to be delicious but it may not be what you thought it was.
It is considered necessary to at least try using the chopsticks when eating a Chinese meal. Most of the times it is better to follow what the others are doing while eating
The Chinese also love their liquor. It might be considered rude if you turn down an invitation to drink at the dinner table.
Do not touch anyone on the head. It is considered to be rude. As a general rule try to observe and follow the behavior of other people. This is especially true when it comes to physical contact.
Tipping is not a norm in China. It may be considered insulting.
Do not give cut flowers, knifes (and in general sharp instruments), clocks and white fabric as gifts. People may not accept your gift readily as accepting gifts easily is considered to be rude.
Do not sit down for dinner before the host or the most important person in the room sits down.
Searching for something specific?