Best Time To Visit Colmar
Explore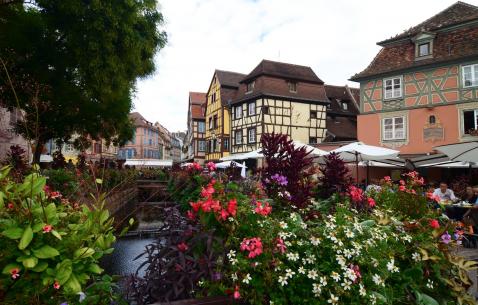 Best Time To Go To Colmar
The climate of Colmar is warm and temperate and the town sees significant amounts of rainfall throughout the year, even in the driest season. The region sees harsh winters with the temperatures falling significantly. The city sees visitors throughout the year and the best time to go to Colmar can be decided by the weather conditions or personal preferences.
Summer (May to August) – The summers in Colmar are hot and relatively dry as compared to the other seasons with very high levels of sunshine. The temperatures during this time can rise up to 25 degrees Celsius. June and august are the wettest months and witness heavy rainfall of about 74mm. On average, the warmest month is July. The summer time seems the most amounts of tourists, which results in a hike in prices of flights, accommodation, food and local travel.
Autumn (September to November) – The autumn season paints the town in golden hues of the vineyards and forests. This is considered one of the best time to watch the vine harvest or be up close and personal with nature and go for hiking, biking, camping and bonfires. Most of the summer crowds have left by this time of the year and the town is less crowded and relatively cheaper than the peak season. The weather is pleasant and the temperatures dropping, fluctuating between 24 and 2 degrees Celsius. October is the driest month with just about 37mm of rainfall.
Winter (December to February) – With the arrival of winters, the mercury drops significantly and the mist and the fog tend to hang around longer. The temperatures remain between 0.6 and 8 degrees Celsius and the season see high precipitation levels. Being the off season, the process during this time of the year are cheap.
Spring (March to April) – Spring season in Colmar is mild and bright. The season sees a few random cold spells and showers. The landscape is lush green during this time of the year with very pleasant weather and the temperatures ranging between 2 to 19 degrees Celsius. The prices start hiking as the preparations for the peak season begin. The summer crowds start coming but the town is less crowded when compared to the summer season, making it easy to explore the Colmar.
The best time to visit Colmar is during the summer season when the weather is warm and the town is full of life. However, one can avoid the hiked prices and overcrowded streets by visiting during the early autumn or late spring season. The prices would be relatively lower and the towns wound be free of the bustling summer crowds.
Best time to go to Colmar Attractions

: Everyday 24 Hrs
: Everyday 24 Hrs
: Everyday 24 Hrs
: Everyday 24 Hrs
: Everyday 24 Hrs
: Everyday 24 Hrs
: Everyday 24 Hrs
: Everyday 24 Hrs
: Everyday 24 Hrs
: Everyday 24 Hrs
: Everyday 24 Hrs
: Everyday 24 Hrs

: Everyday 7:00 AM - 10:00 PM
: Everyday 7:00 AM - 10:00 PM
: Everyday 7:00 AM - 10:00 PM
: Everyday 7:00 AM - 10:00 PM
: Everyday 7:00 AM - 10:00 PM
: Everyday 7:00 AM - 10:00 PM
: Everyday 7:00 AM - 10:00 PM
: Everyday 7:00 AM - 10:00 PM
: Everyday 7:00 AM - 10:00 PM
: Everyday 7:00 AM - 10:00 PM
: Everyday 7:00 AM - 10:00 PM
: Everyday 7:00 AM - 10:00 PM

: Monday, Wednesday, Thursday, Friday, Saturday, Sunday 9:00 AM - 10:00 PM; Monday, Wednesday, Thursday, Friday, Saturday, Sunday 9:00 AM - 10:00 PM | 2:00 PM - 5:00 PM
: Monday, Wednesday, Thursday, Friday, Saturday, Sunday 9:00 AM - 10:00 PM; Monday, Wednesday, Thursday, Friday, Saturday, Sunday 9:00 AM - 10:00 PM | 2:00 PM - 5:00 PM
: Monday, Wednesday, Thursday, Friday, Saturday, Sunday 9:00 AM - 10:00 PM; Monday, Wednesday, Thursday, Friday, Saturday, Sunday 9:00 AM - 10:00 PM | 2:00 PM - 5:00 PM
: Monday, Wednesday, Thursday, Friday, Saturday, Sunday 9:00 AM - 10:00 PM; Monday, Wednesday, Thursday, Friday, Saturday, Sunday 9:00 AM - 10:00 PM | 2:00 PM - 5:00 PM
: Everyday 9:00 AM - 6:00 PM
: Everyday 9:00 AM - 6:00 PM
: Everyday 9:00 AM - 6:00 PM
: Everyday 9:00 AM - 6:00 PM
: Everyday 9:00 AM - 6:00 PM
: Everyday 9:00 AM - 6:00 PM
: Monday, Wednesday, Thursday, Friday, Saturday, Sunday 9:00 AM - 6:00 PM; Monday, Wednesday, Thursday, Friday, Saturday, Sunday 9:00 AM - 6:00 PM | 2:00 PM - 5:00 PM
: Monday, Wednesday, Thursday, Friday, Saturday, Sunday 9:00 AM - 6:00 PM; Monday, Wednesday, Thursday, Friday, Saturday, Sunday 9:00 AM - 6:00 PM | 2:00 PM - 5:00 PM

: Everyday 24 Hrs
: Everyday 24 Hrs
: Everyday 24 Hrs
: Everyday 24 Hrs
: Everyday 24 Hrs
: Everyday 24 Hrs
: Everyday 24 Hrs
: Everyday 24 Hrs
: Everyday 24 Hrs
: Everyday 24 Hrs
: Everyday 24 Hrs
: Everyday 24 Hrs

: Monday, Wednesday, Thursday, Friday, Saturday, Sunday 10:00 AM - 12:00 PM; Monday, Wednesday, Thursday, Friday, Saturday, Sunday 10:00 AM - 12:00 PM | 2:00 PM - 6:00 PM
: Monday, Wednesday, Thursday, Friday, Saturday, Sunday 10:00 AM - 12:00 PM; Monday, Wednesday, Thursday, Friday, Saturday, Sunday 10:00 AM - 12:00 PM | 2:00 PM - 6:00 PM
: Monday, Wednesday, Thursday, Friday, Saturday, Sunday 10:00 AM - 12:00 PM; Monday, Wednesday, Thursday, Friday, Saturday, Sunday 10:00 AM - 12:00 PM | 2:00 PM - 6:00 PM
: Monday, Wednesday, Thursday, Friday, Saturday, Sunday 10:00 AM - 12:00 PM; Monday, Wednesday, Thursday, Friday, Saturday, Sunday 10:00 AM - 12:00 PM | 2:00 PM - 6:00 PM
: Monday, Wednesday, Thursday, Friday, Saturday, Sunday 10:00 AM - 12:00 PM; Monday, Wednesday, Thursday, Friday, Saturday, Sunday 10:00 AM - 12:00 PM | 2:00 PM - 6:00 PM
: Monday, Wednesday, Thursday, Friday, Saturday, Sunday 10:00 AM - 12:00 PM; Monday, Wednesday, Thursday, Friday, Saturday, Sunday 10:00 AM - 12:00 PM | 2:00 PM - 6:00 PM
: Monday, Wednesday, Thursday, Friday, Saturday, Sunday 10:00 AM - 12:00 PM; Monday, Wednesday, Thursday, Friday, Saturday, Sunday 10:00 AM - 12:00 PM | 2:00 PM - 6:00 PM
: Monday, Wednesday, Thursday, Friday, Saturday, Sunday 10:00 AM - 12:00 PM; Monday, Wednesday, Thursday, Friday, Saturday, Sunday 10:00 AM - 12:00 PM | 2:00 PM - 6:00 PM
: Monday, Wednesday, Thursday, Friday, Saturday, Sunday 10:00 AM - 12:00 PM; Monday, Wednesday, Thursday, Friday, Saturday, Sunday 10:00 AM - 12:00 PM | 2:00 PM - 6:00 PM
: Monday, Wednesday, Thursday, Friday, Saturday, Sunday 10:00 AM - 12:00 PM; Monday, Wednesday, Thursday, Friday, Saturday, Sunday 10:00 AM - 12:00 PM | 2:00 PM - 6:00 PM
: Monday, Wednesday, Thursday, Friday, Saturday, Sunday 10:00 AM - 12:00 PM; Monday, Wednesday, Thursday, Friday, Saturday, Sunday 10:00 AM - 12:00 PM | 2:00 PM - 6:00 PM
: Monday, Wednesday, Thursday, Friday, Saturday, Sunday 10:00 AM - 12:00 PM; Monday, Wednesday, Thursday, Friday, Saturday, Sunday 10:00 AM - 12:00 PM | 2:00 PM - 6:00 PM

: Monday, Wednesday, Thursday, Friday, Saturday, Sunday 10:00 AM - 12:00 PM; Monday, Wednesday, Thursday, Friday, Saturday, Sunday 10:00 AM - 12:00 PM | 2:00 PM - 6:00 PM
: Monday, Wednesday, Thursday, Friday, Saturday, Sunday 10:00 AM - 12:00 PM; Monday, Wednesday, Thursday, Friday, Saturday, Sunday 10:00 AM - 12:00 PM | 2:00 PM - 6:00 PM
: Monday, Wednesday, Thursday, Friday, Saturday, Sunday 10:00 AM - 12:00 PM; Monday, Wednesday, Thursday, Friday, Saturday, Sunday 10:00 AM - 12:00 PM | 2:00 PM - 6:00 PM
: Monday, Wednesday, Thursday, Friday, Saturday, Sunday 10:00 AM - 12:00 PM; Monday, Wednesday, Thursday, Friday, Saturday, Sunday 10:00 AM - 12:00 PM | 2:00 PM - 6:00 PM
: Monday, Wednesday, Thursday, Friday, Saturday, Sunday 10:00 AM - 12:00 PM; Monday, Wednesday, Thursday, Friday, Saturday, Sunday 10:00 AM - 12:00 PM | 2:00 PM - 6:00 PM
: Monday, Wednesday, Thursday, Friday, Saturday, Sunday 10:00 AM - 12:00 PM; Monday, Wednesday, Thursday, Friday, Saturday, Sunday 10:00 AM - 12:00 PM | 2:00 PM - 6:00 PM
: Monday, Wednesday, Thursday, Friday, Saturday, Sunday 10:00 AM - 12:00 PM; Monday, Wednesday, Thursday, Friday, Saturday, Sunday 10:00 AM - 12:00 PM | 2:00 PM - 6:00 PM
: Monday, Wednesday, Thursday, Friday, Saturday, Sunday 10:00 AM - 12:00 PM; Monday, Wednesday, Thursday, Friday, Saturday, Sunday 10:00 AM - 12:00 PM | 2:00 PM - 6:00 PM
: Monday, Wednesday, Thursday, Friday, Saturday, Sunday 10:00 AM - 12:00 PM; Monday, Wednesday, Thursday, Friday, Saturday, Sunday 10:00 AM - 12:00 PM | 2:00 PM - 6:00 PM
: Monday, Wednesday, Thursday, Friday, Saturday, Sunday 10:00 AM - 12:00 PM; Monday, Wednesday, Thursday, Friday, Saturday, Sunday 10:00 AM - 12:00 PM | 2:00 PM - 6:00 PM
: Monday, Wednesday, Thursday, Friday, Saturday, Sunday 10:00 AM - 12:00 PM; Monday, Wednesday, Thursday, Friday, Saturday, Sunday 10:00 AM - 12:00 PM | 2:00 PM - 6:00 PM
: Monday, Wednesday, Thursday, Friday, Saturday, Sunday 10:00 AM - 12:00 PM; Monday, Wednesday, Thursday, Friday, Saturday, Sunday 10:00 AM - 12:00 PM | 2:00 PM - 6:00 PM

: Everyday 8:00 AM - 7:00 PM
: Everyday 8:00 AM - 7:00 PM
: Everyday 8:00 AM - 7:00 PM
: Everyday 8:00 AM - 7:00 PM
: Everyday 8:00 AM - 7:00 PM
: Everyday 8:00 AM - 7:00 PM
: Everyday 8:00 AM - 7:00 PM
: Everyday 8:00 AM - 7:00 PM
: Everyday 8:00 AM - 7:00 PM
: Everyday 8:00 AM - 7:00 PM
: Everyday 8:00 AM - 7:00 PM
: Everyday 8:00 AM - 7:00 PM

: Monday, Wednesday, Thursday, Friday, Saturday, Sunday 9:00 AM - 7:00 PM; Monday, Wednesday, Thursday, Friday, Saturday, Sunday 9:00 AM - 7:00 PM | 2:00 PM - 5:00 PM
: Monday, Wednesday, Thursday, Friday, Saturday, Sunday 9:00 AM - 7:00 PM; Monday, Wednesday, Thursday, Friday, Saturday, Sunday 9:00 AM - 7:00 PM | 2:00 PM - 5:00 PM
: Monday, Wednesday, Thursday, Friday, Saturday, Sunday 9:00 AM - 7:00 PM; Monday, Wednesday, Thursday, Friday, Saturday, Sunday 9:00 AM - 7:00 PM | 2:00 PM - 5:00 PM
: Monday, Wednesday, Thursday, Friday, Saturday, Sunday 9:00 AM - 7:00 PM; Monday, Wednesday, Thursday, Friday, Saturday, Sunday 9:00 AM - 7:00 PM | 2:00 PM - 5:00 PM
: Monday, Wednesday, Thursday, Friday, Saturday, Sunday 9:00 AM - 6:00 PM
: Monday, Wednesday, Thursday, Friday, Saturday, Sunday 9:00 AM - 6:00 PM
: Monday, Wednesday, Thursday, Friday, Saturday, Sunday 9:00 AM - 6:00 PM
: Monday, Wednesday, Thursday, Friday, Saturday, Sunday 9:00 AM - 6:00 PM
: Monday, Wednesday, Thursday, Friday, Saturday, Sunday 9:00 AM - 6:00 PM
: Monday, Wednesday, Thursday, Friday, Saturday, Sunday 9:00 AM - 6:00 PM
: Monday, Wednesday, Thursday, Friday, Saturday, Sunday 9:00 AM - 6:00 PM; Monday, Wednesday, Thursday, Friday, Saturday, Sunday 9:00 AM - 6:00 PM | 2:00 PM - 5:00 PM
: Monday, Wednesday, Thursday, Friday, Saturday, Sunday 9:00 AM - 6:00 PM; Monday, Wednesday, Thursday, Friday, Saturday, Sunday 9:00 AM - 6:00 PM | 2:00 PM - 5:00 PM

: Everyday 9:00 AM - 1:45 PM; Everyday 9:00 AM - 1:45 PM | 7:00 PM - 9:45 PM
: Everyday 9:00 AM - 1:45 PM; Everyday 9:00 AM - 1:45 PM | 7:00 PM - 9:45 PM
: Everyday 9:00 AM - 1:45 PM; Everyday 9:00 AM - 1:45 PM | 7:00 PM - 9:45 PM
: Everyday 9:00 AM - 1:45 PM; Everyday 9:00 AM - 1:45 PM | 7:00 PM - 9:45 PM
: Everyday 9:00 AM - 1:45 PM; Everyday 9:00 AM - 1:45 PM | 7:00 PM - 9:45 PM
: Everyday 9:00 AM - 1:45 PM; Everyday 9:00 AM - 1:45 PM | 7:00 PM - 9:45 PM
: Everyday 9:00 AM - 1:45 PM; Everyday 9:00 AM - 1:45 PM | 7:00 PM - 9:45 PM
: Everyday 9:00 AM - 1:45 PM; Everyday 9:00 AM - 1:45 PM | 7:00 PM - 9:45 PM
: Everyday 9:00 AM - 1:45 PM; Everyday 9:00 AM - 1:45 PM | 7:00 PM - 9:45 PM
: Everyday 9:00 AM - 1:45 PM; Everyday 9:00 AM - 1:45 PM | 7:00 PM - 9:45 PM
: Everyday 9:00 AM - 1:45 PM; Everyday 9:00 AM - 1:45 PM | 7:00 PM - 9:45 PM
: Everyday 9:00 AM - 1:45 PM; Everyday 9:00 AM - 1:45 PM | 7:00 PM - 9:45 PM

: Everyday 10:00 AM - 7:00 PM
: Everyday 10:00 AM - 7:00 PM
: Everyday 10:00 AM - 7:00 PM
: Everyday 10:00 AM - 7:00 PM
: Tuesday to Sunday 10:00 AM - 6:00 PM
: Tuesday to Sunday 10:00 AM - 6:00 PM
: Everyday 10:00 AM - 7:00 PM
: Everyday 10:00 AM - 7:00 PM
: Tuesday to Sunday 10:00 AM - 6:00 PM
: Tuesday to Sunday 10:00 AM - 5:00 PM
: Everyday 10:00 AM - 7:00 PM

: Everyday 24 Hrs
: Everyday 24 Hrs
: Everyday 24 Hrs
: Everyday 24 Hrs
: Everyday 24 Hrs
: Everyday 24 Hrs
: Everyday 24 Hrs
: Everyday 24 Hrs
: Everyday 24 Hrs
: Everyday 24 Hrs
: Everyday 24 Hrs
: Everyday 24 Hrs

: Everyday 24 Hrs
: Everyday 24 Hrs
: Everyday 24 Hrs
: Everyday 24 Hrs
: Everyday 24 Hrs
: Everyday 24 Hrs
: Everyday 24 Hrs
: Everyday 24 Hrs
: Everyday 24 Hrs
: Everyday 24 Hrs
: Everyday 24 Hrs
: Everyday 24 Hrs

: Everyday 6:00 AM - 8:00 PM
: Everyday 6:00 AM - 8:00 PM
: Everyday 6:00 AM - 8:00 PM
: Everyday 6:00 AM - 8:00 PM
: Everyday 6:00 AM - 8:00 PM
: Everyday 6:00 AM - 8:00 PM
: Everyday 6:00 AM - 8:00 PM
: Everyday 6:00 AM - 8:00 PM
: Everyday 6:00 AM - 8:00 PM
: Everyday 6:00 AM - 8:00 PM
: Everyday 6:00 AM - 8:00 PM
: Everyday 6:00 AM - 8:00 PM

: Everyday 24 Hrs
: Everyday 24 Hrs
: Everyday 24 Hrs
: Everyday 24 Hrs
: Everyday 24 Hrs
: Everyday 24 Hrs
: Everyday 24 Hrs
: Everyday 24 Hrs
: Everyday 24 Hrs
: Everyday 24 Hrs
: Everyday 24 Hrs
: Everyday 24 Hrs

: Everyday 24 Hrs
: Everyday 24 Hrs
: Everyday 24 Hrs
: Everyday 24 Hrs
: Everyday 24 Hrs
: Everyday 24 Hrs
: Everyday 24 Hrs
: Everyday 24 Hrs
: Everyday 24 Hrs
: Everyday 24 Hrs
: Everyday 24 Hrs
: Everyday 24 Hrs

:
: Monday, Wednesday, Thursday, Friday, Saturday 10:00 AM - 12:00 PM; Monday, Wednesday, Thursday, Friday, Saturday 10:00 AM - 12:00 PM | 2:00 PM - 5:00 PM; Sunday 2:00 PM - 6:00 PM
: Monday, Wednesday, Thursday, Friday, Saturday 10:00 AM - 6:00 PM; Monday, Wednesday, Thursday, Friday, Saturday 10:00 AM - 6:00 PM | 2:00 PM - 5:00 PM; Sunday 2:00 PM - 6:00 PM
: Monday, Wednesday, Thursday, Friday, Saturday 10:00 AM - 6:00 PM; Monday, Wednesday, Thursday, Friday, Saturday 10:00 AM - 6:00 PM | 2:00 PM - 5:00 PM; Sunday 2:00 PM - 6:00 PM
: Monday, Wednesday, Thursday, Friday, Saturday 10:00 AM - 6:00 PM; Monday, Wednesday, Thursday, Friday, Saturday 10:00 AM - 6:00 PM | 2:00 PM - 5:00 PM; Sunday 2:00 PM - 6:00 PM
: Monday, Wednesday, Thursday, Friday, Saturday 10:00 AM - 6:00 PM; Monday, Wednesday, Thursday, Friday, Saturday 10:00 AM - 6:00 PM | 2:00 PM - 5:00 PM; Sunday 2:00 PM - 6:00 PM
: Monday, Wednesday, Thursday, Friday, Saturday 10:00 AM - 6:00 PM; Monday, Wednesday, Thursday, Friday, Saturday 10:00 AM - 6:00 PM | 2:00 PM - 5:00 PM; Sunday 2:00 PM - 6:00 PM
: Monday, Wednesday, Thursday, Friday, Saturday 10:00 AM - 6:00 PM; Monday, Wednesday, Thursday, Friday, Saturday 10:00 AM - 6:00 PM | 2:00 PM - 5:00 PM; Sunday 2:00 PM - 6:00 PM
: Monday, Wednesday, Thursday, Friday, Saturday 10:00 AM - 6:00 PM; Monday, Wednesday, Thursday, Friday, Saturday 10:00 AM - 6:00 PM | 2:00 PM - 5:00 PM; Sunday 2:00 PM - 6:00 PM
: Monday, Wednesday, Thursday, Friday, Saturday 10:00 AM - 6:00 PM; Monday, Wednesday, Thursday, Friday, Saturday 10:00 AM - 6:00 PM | 2:00 PM - 5:00 PM; Sunday 2:00 PM - 6:00 PM
: Monday, Wednesday, Thursday, Friday, Saturday 10:00 AM - 6:00 PM; Monday, Wednesday, Thursday, Friday, Saturday 10:00 AM - 6:00 PM | 2:00 PM - 5:00 PM; Sunday 2:00 PM - 6:00 PM
: Monday, Wednesday, Thursday, Friday, Saturday 10:00 AM - 6:00 PM; Monday, Wednesday, Thursday, Friday, Saturday 10:00 AM - 6:00 PM | 2:00 PM - 5:00 PM; Sunday 2:00 PM - 6:00 PM

: Everyday 10:00 AM - 5:00 PM
: Everyday 10:00 AM - 5:00 PM
: Everyday 10:00 AM - 5:00 PM
: Everyday 10:00 AM - 5:00 PM
: Everyday 10:00 AM - 5:00 PM
: Everyday 10:00 AM - 5:00 PM
: Everyday 10:00 AM - 5:00 PM
: Everyday 10:00 AM - 5:00 PM
: Everyday 10:00 AM - 5:00 PM
: Everyday 10:00 AM - 5:00 PM
: Everyday 10:00 AM - 5:00 PM
: Everyday 10:00 AM - 5:00 PM

: Monday to Saturday 11:00 AM - 2:00 PM; Monday to Saturday 11:00 AM - 2:00 PM | 5:00 PM - 10:00 PM
: Monday to Saturday 11:00 AM - 2:00 PM; Monday to Saturday 11:00 AM - 2:00 PM | 5:00 PM - 10:00 PM
: Monday to Saturday 11:00 AM - 2:00 PM; Monday to Saturday 11:00 AM - 2:00 PM | 5:00 PM - 10:00 PM
: Monday to Saturday 11:00 AM - 2:00 PM; Monday to Saturday 11:00 AM - 2:00 PM | 5:00 PM - 10:00 PM
: Monday to Saturday 11:00 AM - 2:00 PM; Monday to Saturday 11:00 AM - 2:00 PM | 5:00 PM - 10:00 PM
: Monday to Saturday 11:00 AM - 2:00 PM; Monday to Saturday 11:00 AM - 2:00 PM | 5:00 PM - 10:00 PM
: Monday to Saturday 11:00 AM - 2:00 PM; Monday to Saturday 11:00 AM - 2:00 PM | 5:00 PM - 10:00 PM
: Monday to Saturday 11:00 AM - 2:00 PM; Monday to Saturday 11:00 AM - 2:00 PM | 5:00 PM - 10:00 PM
: Monday to Saturday 11:00 AM - 2:00 PM; Monday to Saturday 11:00 AM - 2:00 PM | 5:00 PM - 10:00 PM
: Monday to Saturday 11:00 AM - 2:00 PM; Monday to Saturday 11:00 AM - 2:00 PM | 5:00 PM - 10:00 PM
: Monday to Saturday 11:00 AM - 2:00 PM; Monday to Saturday 11:00 AM - 2:00 PM | 5:00 PM - 10:00 PM
: Monday to Saturday 11:00 AM - 2:00 PM; Monday to Saturday 11:00 AM - 2:00 PM | 5:00 PM - 10:00 PM

: Everyday 24 Hrs
: Everyday 24 Hrs
: Everyday 24 Hrs
: Everyday 24 Hrs
: Everyday 24 Hrs
: Everyday 24 Hrs
: Everyday 24 Hrs
: Everyday 24 Hrs
: Everyday 24 Hrs
: Everyday 24 Hrs
: Everyday 24 Hrs
: Everyday 24 Hrs